Six Tudor Queens by Alison Weir
There are a few greats in the historical fiction world, and Alison Weir is certainly one of them. Weir is a British author and historian, focusing on English royal women. Largely, her work focuses on the Tudor dynasty. Writing both fiction and non-fiction, Weir creates well-rounded, robust characters out of what might otherwise simply seem like historical names. And Weir's Six Tudor Queens series is no exception. I've devoured this series over the past few months and am eager to share about it here!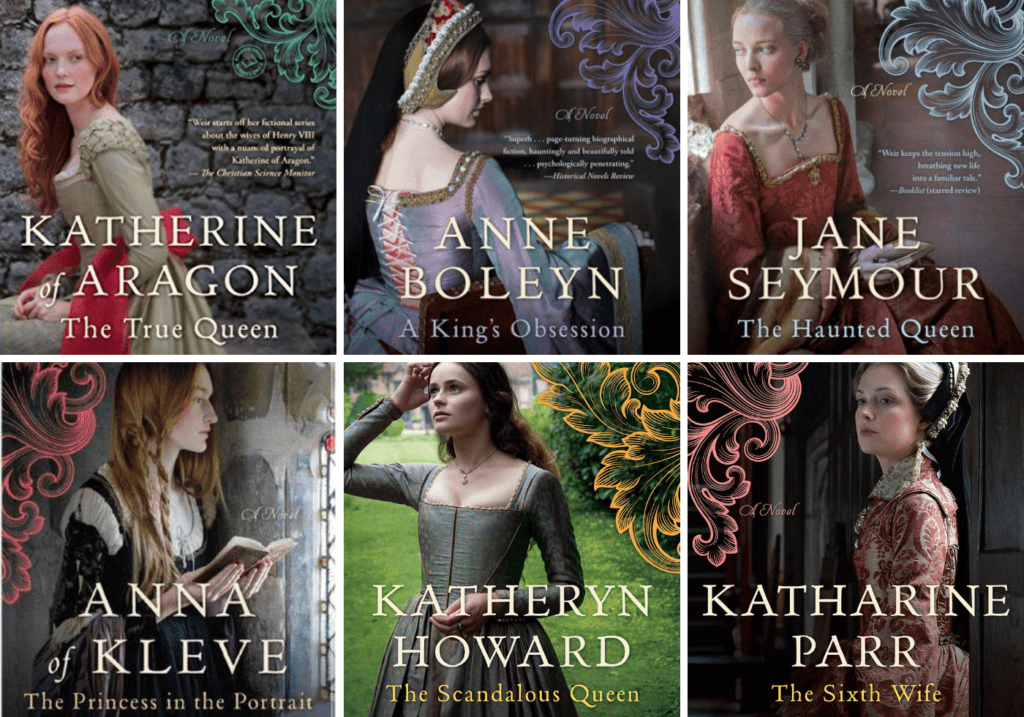 The Six Tudor Queens Series
I am a history lover, through and through. While I came to admire Alison Weir's writing through her non-fiction, I was thrilled with the Six Tudor Queens series. Historical fiction based in fact, the six novels follow the lives of Henry VIII's numerous wives. These novels are well-researched and relatively quick reads. They flow so well you won't want to put them down.
Bestselling author and acclaimed historian Alison Weir takes on what no fiction writer has done before: creating a dramatic six-book series in which each novel covers one of King Henry VIII's wives. In this captivating opening volume, Weir brings to life the tumultuous tale of Katherine of Aragon, Henry's first, devoted, and "true" queen.
Fans of The Spanish Princess are sure to love this novel. Weir illustrates Katherine's early years in England. First, we see her short-lived marriage to Arthur, Prince of Wales. Following Arthur's death, the story turns towards Katherine's second (and more well-known) marriage to Henry VIII. Among other things, the stress of the court and pressures to produce a male heir cause strains in the marriage, even before the emergence of Anne Boleyn. In all, the novel succeeds in painting a picture of Catherine as more than just Henry's cast-off first wife.
In this second novel of Alison Weir's epic Six Tudor Queens series, the acclaimed author and historian weaves exciting new research into the story of Anne Boleyn, Henry VIII's most infamous wife, a woman ahead of her time whose very life—and death—forever changed a nation.
As she does with Katherine of Aragon, Weir creates a nuanced illustration of Anne Boleyn, Henry VIII's notorious second wife. Covering Anne's early years in various courts — the Netherlands and later in France — Weir takes the reader through her lengthy courtship with Henry, into the marriage, and ultimately to Anne's downfall.
Bringing new insight to this compelling story, Alison Weir marries meticulous research with gripping historical fiction to re-create the dramas and intrigues of the most renowned court in English history. At its center is a loving and compassionate woman who captures the heart of a king, and whose life will hang in the balance for it.
Of all Henry VIII's wives, historians seem to overlook Jane Seymour's personality the most. Often, Jane is is known as the only one to succeed in giving Henry a son. She is a tragic but mute figure, largely as she died as a result of the delivery. Weir masterfully compares Jane's subdued personality to Anne's determination, without falling victim to any tired, misogynistic tropes. This novel made me more interested in Jane, to be honest; I want to read some non-fiction about her to learn more about her own political and religious beliefs and goals.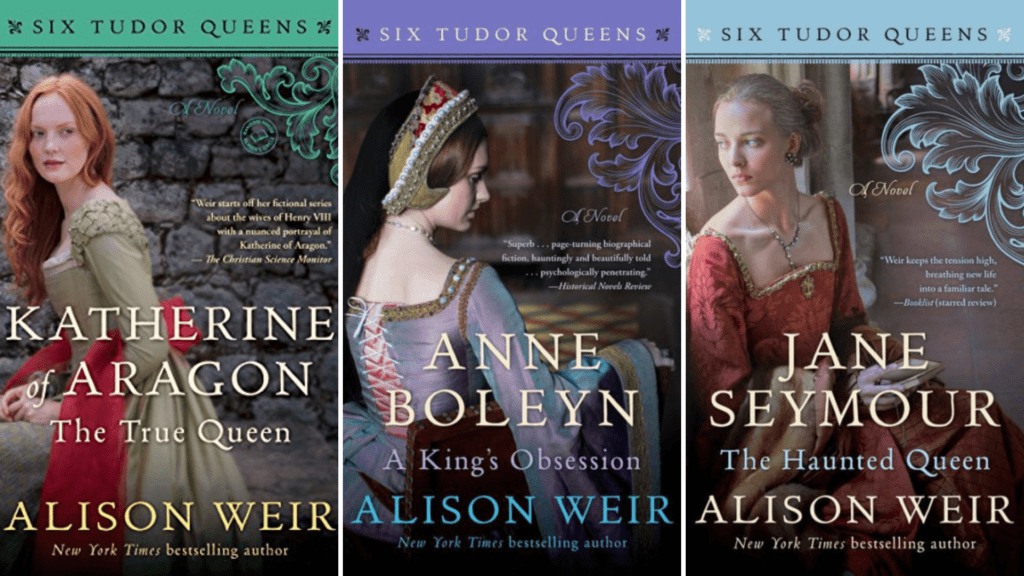 The surprising and dramatic life of the least known of King Henry VIII's wives is illuminated in the fourth volume in the Six Tudor Queens series—for fans of Philippa Gregory, Hilary Mantel, and The Crown.
Like Jane Seymour, Anne of Kleves — or Anna of Kleve — Tudor historians often overlook her. To be honest, of all the novels in the series, this one seems the most outlandish. It was really enjoyable, but it seems heavier on the fiction side of historical fiction. Perhaps this is because relatively little is known about Anna. I haven't been able to find evidence of Anna having two illegitimate children before and after her marriage to the king. Either way, take it with more than a grain of salt, but enjoy it nonetheless.
Bestselling author and acclaimed historian Alison Weir tells the tragic story of Henry VIII's fifth wife, a nineteen-year-old beauty with a hidden past, in this fifth novel in the sweeping Six Tudor Queens series.
Much of Weir's novel about the fifth wife in this lineup covers Katheryn's early years. There is a lot of build up in this book. At many points, I was frustrated that the young woman and would-be queen didn't change course. This novel's triumph is how lifelike it makes it's heroine. As with any historical figure, it is easy to forget the nuances of age, experience, and circumstance. This seems particularly so with shorter-lived characters or those who aren't well documented. In this regard, Katheryn Howard was both. While Katheryn makes some foolish decisions, you'll end this book seeing her for the political pawn that she was.
Bestselling author and acclaimed historian Alison Weir brings her Tudor Queens series to a close with the remarkable story of Henry VIII's sixth and final wife, who manages to survive him and remarry, only to be thrown into a romantic intrigue that threatens the very throne of England.
Last but not least: Katherine Parr. Katherine survived marriage to Henry VIII, outliving him and enjoying a brief widowhood. Weir follows Katherine's life from adolescence throughout her marriage to the king. She does a great job illustrating the formative experiences in this last queen's life. But be warned: you will be frustrated when it comes to Katherine's involvement with her last husband, Thomas Seymour, and his inappropriate overtures to the young Princess Elizabeth.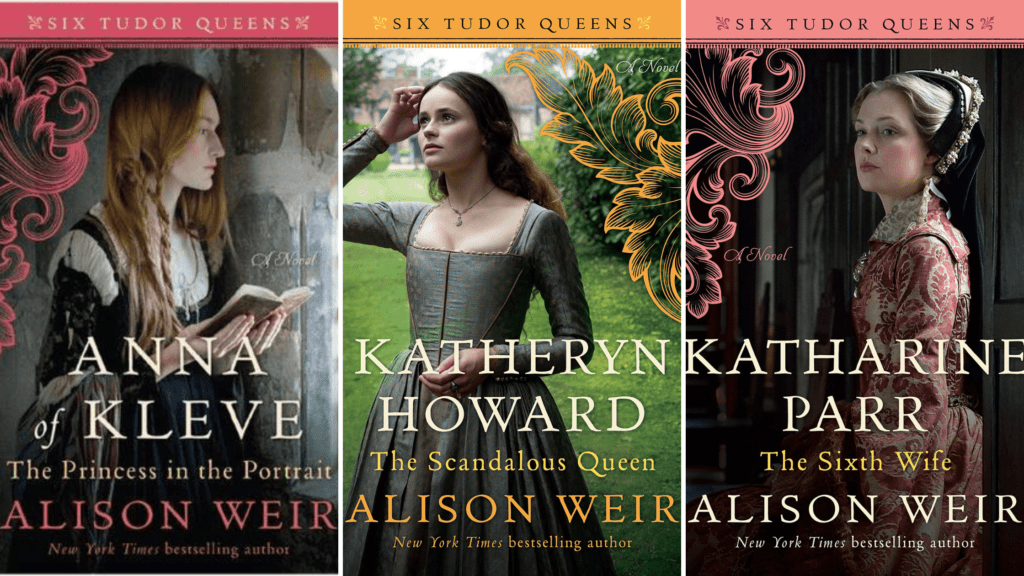 My Favorites from the Six Tudor Queens Series & Closing Thoughts
Of the six novels in this series, I do have a few favorites. My favorites are: Anne Boleyn, A King's Obsession, Jane Seymour, The Haunted Queen, and Katharine Parr, The Sixth Wife. That being said, I do think it is worth reading the entire series — and reading it in order. By the end of it, you'll have a truly robust image of these women in your head. By doing so, you will see the way their stories are intertwined in far more complex ways than history books tell us.
Looking for more historical fiction reads?
Check out my guide to the best historical fiction novels here!