Valentine's Day Outfits
However you plan to spend Valentine's Day, whether you're going to a nice dinner with your partner or enjoying some time with friends, this outfit guide has something for you. I wanted to share some cute Valentine's Day outfit ideas that ran the gamut from dressy to casual, romantic inspired pieces you could wear and re-wear to your heart's content. 
Most finds in this Valentine's Day outfits post are under $100 and from favorite stores of mine, like Madewell, J.Crew, Abercrombie & Fitch, and Reformation. While I love a romantic neckline, I also enjoy comfy clothes, so I was careful to pick a mix of both sorts of styles for your consideration!
P.S. if you're looking to refresh your makeup for Valentine's Day, be sure to check out my review of Sephora Collection's affordable vegan beauty here!
Separates for Valentine's Day
For the separates, I specifically chose pieces that offered some versatility, whether you wanted to dress them up or down. For the separates shared here, each top would look great with jeans as well as a fun skirt, and skirts can be dressed up or down with a blouse or cute tee.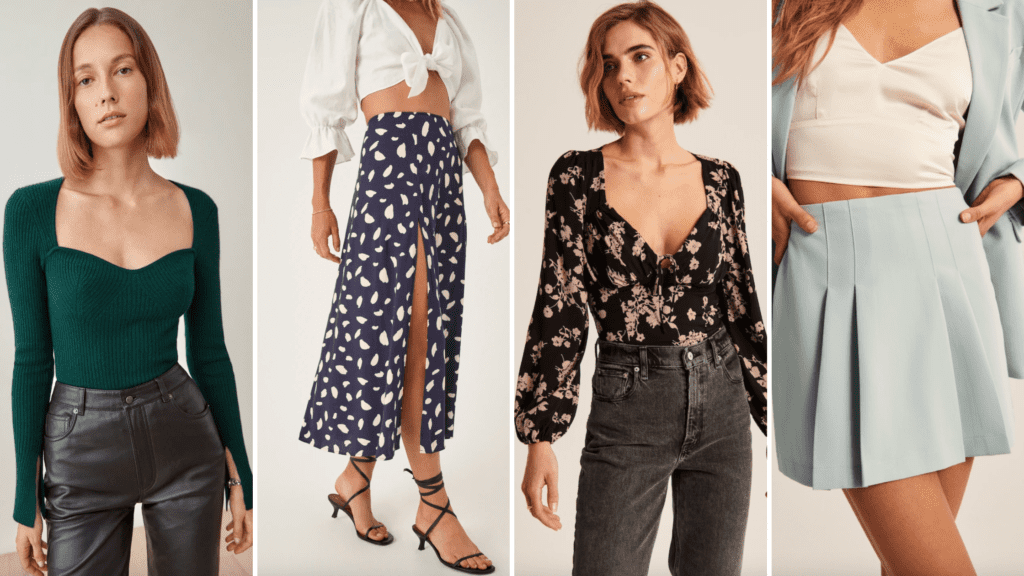 Left to Right: Glenna Cashmere Sweater | Zoe Skirt | Long-Sleeve Ruched Tie-Front Top | Pleated Menswear Skort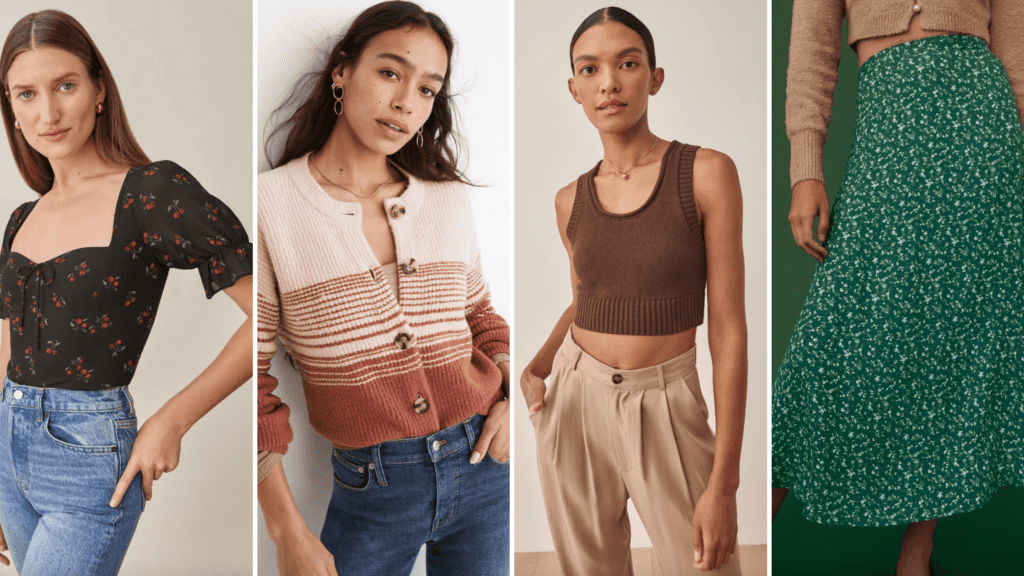 Left to Right: Delevan Top | Striped Corbett Cardigan | Norma Cotton Sweater Tank | Bea Skirt
Dressier Valentine's Day Outfit Ideas
If you're planning a fancy night out for Valentine's this year, here are four of the dressier options you might enjoy. I chose to group the J.Crew skirt on the far left with this section, rather than with the separates, because it seemed like a dressier piece (despite the model here wearing sneakers — I think it'd look great with heels or boots and a nice top or sweater). It also comes in a variety of colors, so you have lots of options.
Otherwise, the dresses featured here are more classically dressy, offering some kind of shimmer or classically romantic style that's perfect for a dinner date!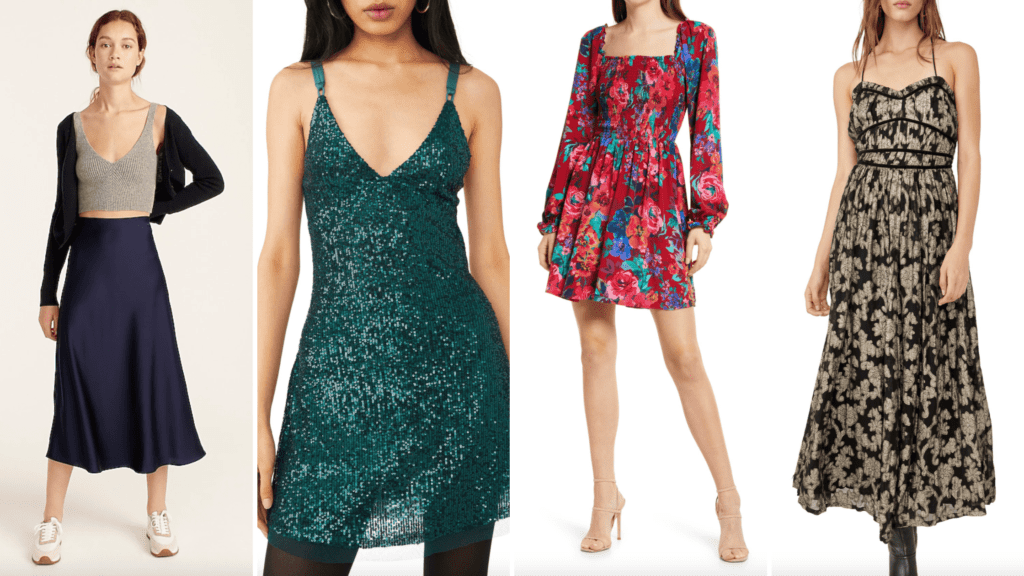 Left to Right: Pull-on Slip Skirt | Gold Rush Minidress (also comes in plum and pearl) | Floral Smocked Long Sleeve Minidress | Charlie Midi Dress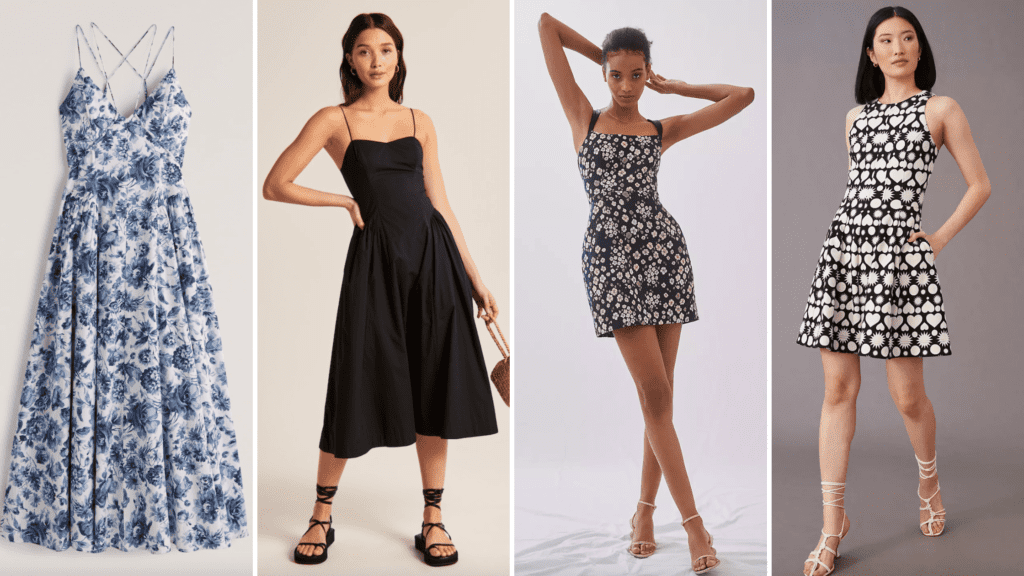 Left to Right: Strappy Plunge Corset Maxi Dress | Dropped Waist Corset Midi Dress | Jacquard Mini Dress | Heart Printed Mini Dress
Floral Valentine's Day Dresses
This last section of dresses are the ones that most spoke to me. While I love to dress up, these are incredibly versatile options that you'll certainly wear over and over again. I particularly like the Free People dress second to the left, which comes in a few different motifs. Madewell currently offers a variety of classically floral-yet-romantic dresses, with the first and third dresses below being my favorites from their current selections. Lastly, J.Crew is really stepping up their dress style, as with this ruffle satin dress on the far right!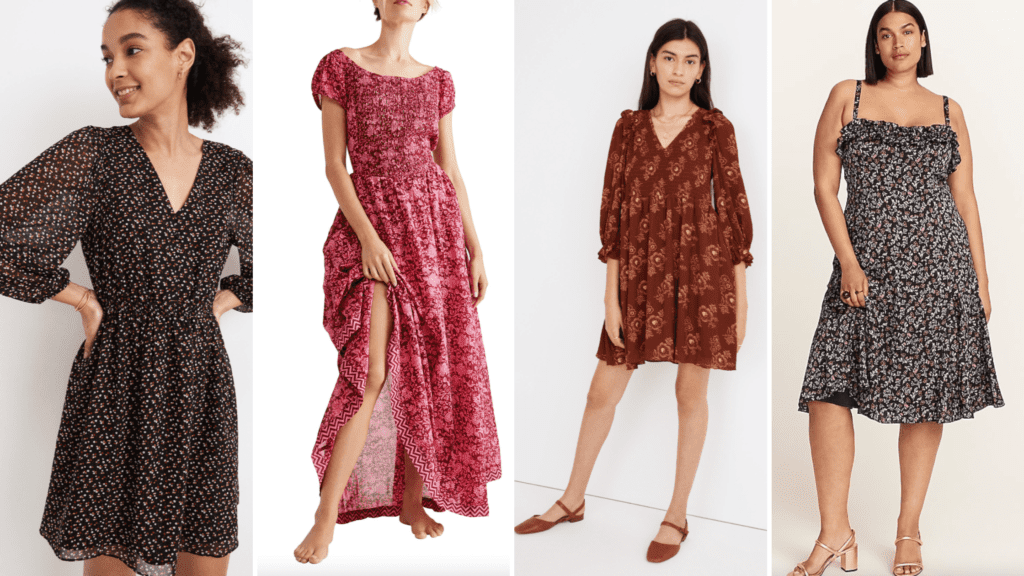 Left to Right: Georgette Button-Front Mini Dress | Ultraviolet Maxi Dress | Lucie V-Neck Smocked Mini Dress | Ruffle Stretch Satin Dress
Now that you have your perfect Valentine's Day outfit, check out my
Valentine's Day Gift Guide
for the perfect token for whoever you're celebrating this year!
*This post was originally published on January 31, 2022. It was most recently updated on February 3, 2022.