My History with Crochet
I love to crochet. I have been crocheting for about as long as I can remember. Definitely, I started before high school. My mom taught me how to crochet on the couch at nights while we watched TV or movies. The muscle memory took a while to latch on, and if I thought about it too much I'd forget how to do it at all. After a while, though, it just clicked.
Now, I can crochet without keeping an eye on the stitches. I really perfected my eyes-off-crochet in two ways: first, because I was always watching TV while I practiced and, second, because I brought yarn with me to my clinic classes and office hours at the law school and practiced crocheting while having conversations or participating in class.
I don't know the terminology for the stitches and I find it pretty hard to read crochet patterns as a result. I'm sure I could teach myself if I sat down and focused on it for a while, but part of the reason I love to crochet is because I can do it while watching TV.
It Keeps My Hands Busy
Part of the reason I love to crochet is that it keeps my hands busy. I'm kind of an antsy person. Before I started getting dip manicures, this meant that I would mess with my nails and bite them down. Crocheting helped (didn't cure, but helped) distract me from this.
Similarly, I fall into the habit of checking my phone a lot on the couch. I just do. I don't think there's anything particularly wrong about being connected, since I like to keep up with group messages with friends and I really love Instagram and Pinterest, but I try not to get obsessive. So, when I crochet, I have to consciously put the hook down for a minute to check what has been going on online. I still stop and check, but it's more mindful — less like walking into a room and forgetting why you are there.
Crochet is a Crafty and Colorful Hobby
I'm a crafty person by nature. I used to like to paint a lot and draw casually; part of me really misses doing needlepoint and cross-stitch, as well. However, with painting and needlepoint, you really need either a bunch of materials (I LOVE shopping for the super fun needlepoint threads because they come in so many colors — I mean, look at this set!) and/or the space to work.
Our apartment is small, but part of my space issue is the cats. Actually, most of my space issues revolve around the cats. They like to be helpful in all things, all the time. It can be really annoying. I'm sure Olivia would love to get paint all over her many toe beans, and while I don't doubt that an Olivia paw print would be a great addition to any painting, I don't want to deal with the clean up.
Similarly, with needlepoint…well, there's a needle. It was hard enough to stitch up the side of the couch (which the cats had scratched up) with a needle and thread without Emory's assistance.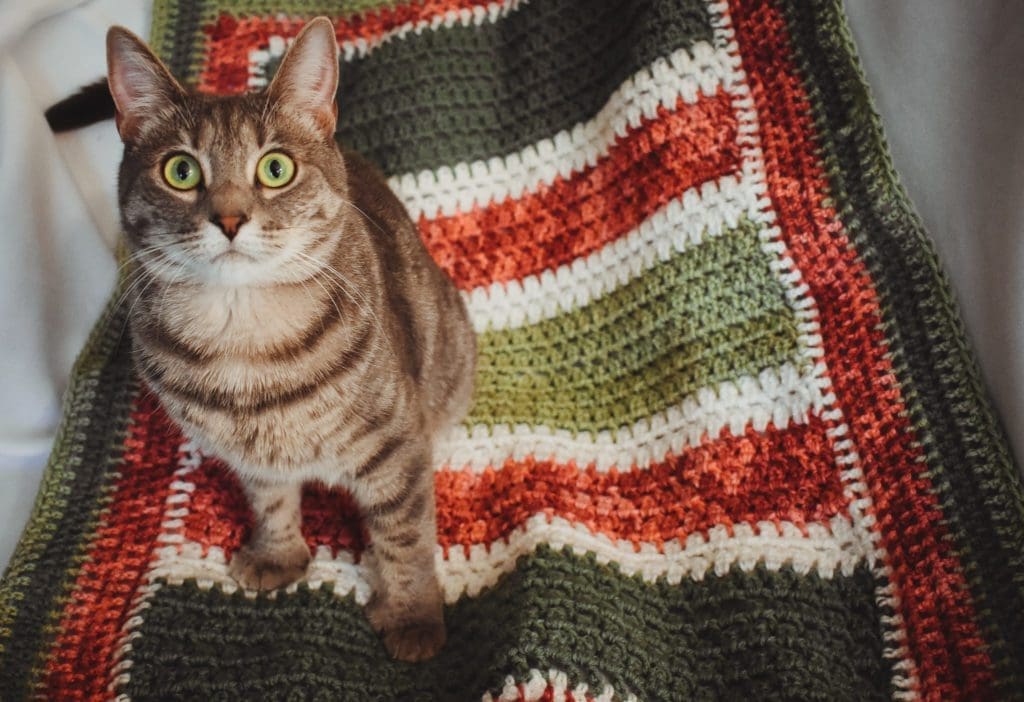 So, back to why I love crochet.
Like the needlepoint floss, yarn comes in so many colors and so many textures. Half the fun of the hobby is just walking through a craft store's yarn section (Joann's is my forever favorite) and touching everything. I love matching different colors together or making blankets of a certain hue. I crochet Cat Mats for my shop, Critter Crafting, which are blankets on a much smaller scale — which means I can more comfortably try out funky colors or make patchwork Mats with the bits and pieces of left over yarn (too much to throw away, not enough to make a full square with).
Crochet is a Handy Side Project
As I mentioned, since I love to crochet, I started a shop that sells Cat Mats. I started making Cat Mats about five years ago — when I adopted Lou — as carrier liners. Lou's first carrier wasn't a hard-case plastic thing that didn't have a liner (I didn't know what to look for when I bought it) so the poor cat rolled around the entire ride home from PetSmart. My mom and I made a bunch and donated a ton of them to the rescue where I got Louis (and later Olivia) from.
Around this time, I opened the Etsy shop and started to sell my Cat Mats. It's a fun side project and a good creative outlet. My cats are pretty great meowdels for it, as you can see. I like working with people to make custom ones, which I've done for a number of my Insta friends from Lou's profile. A portion of the proceeds go towards helping homeless animals, too. Best of both worlds.
Blankets Make Great Gifts
Part of the reason I got into making Cat Mats, besides wanting to make a liner for Louis' carrier so he wouldn't slide around so much, was because blankets take a while to crochet. By a while, I mean a few weeks at best. I'm a fast crocheter, but not that fast.
That antsy-ness I referenced above also translates into me getting distracted or bored of projects quickly. I got tired of making just blankets, especially after I had given them out to all the people I meant to give them out to.
Now, since most of my crochet projects are Cat Mats, blankets are more of a novelty for me. They're fun projects because I love to mix the colors and pick different schemes and square styles.
Blankets make great gifts, and most of my friends have received one from me in the past. They're awesome for house warming gifts, the holidays, graduations, and weddings. My most recent blanket was a blanket and Cat Mat set I made for our friends' wedding. I used their wedding colors and sprayed the Cat Mat with a little nip before I gave it to them.
Also, I occasionally make cotton crochet coasters, which are also a great and easy gift. I like these because the cotton yarn I use has great colors and is super easy to work with.
Getting Out of My Crochet Lull
Part of my intention in writing this is to psych myself back into my hobby. I've fallen out of the habit as of late because of some life stuff.
Like any good hobby, though, it can be good to take a step back and take a break. It makes going back to it all the more enjoyable. Now that I'm getting back into it, I'm excited to see what I can create!
Pick up a unique crochet Cat Mat for your furbaby here!
Looking for more crafts? Check out my Arsty & Crafty Amazon list!