Abercrombie & Fitch Favorite Finds
I've recently rediscovered Abercrombie & Fitch after not having shopped there much since early college. The new styles and fits that the company is offering are far more inclusive than they used to be, and definitely more my current style than they had been for the past few years (I think this has to do with a 90's trend revival which I am 100% ok with).
Between comfy flannels, staple tees, and affordable dresses, I've been really impressed by Abercrombie & Fitch and wanted to share some of my favorite recent finds. The best part? They're all on sale, up to 50% off with most having an extra 20% on top of that.
Sale Favorites from Abercrombie & Fitch
Plaids & Flannels
Lately, I've all but been living in my rotation of Abercrombie & Fitch cropped plaid button-downs. I have four cropped and one full-length, and all have held up well so far. They are easy to style, either with a tank top or cropped sports bra (like my favorite Aerie one here), or buttoned up with shorts or leggings.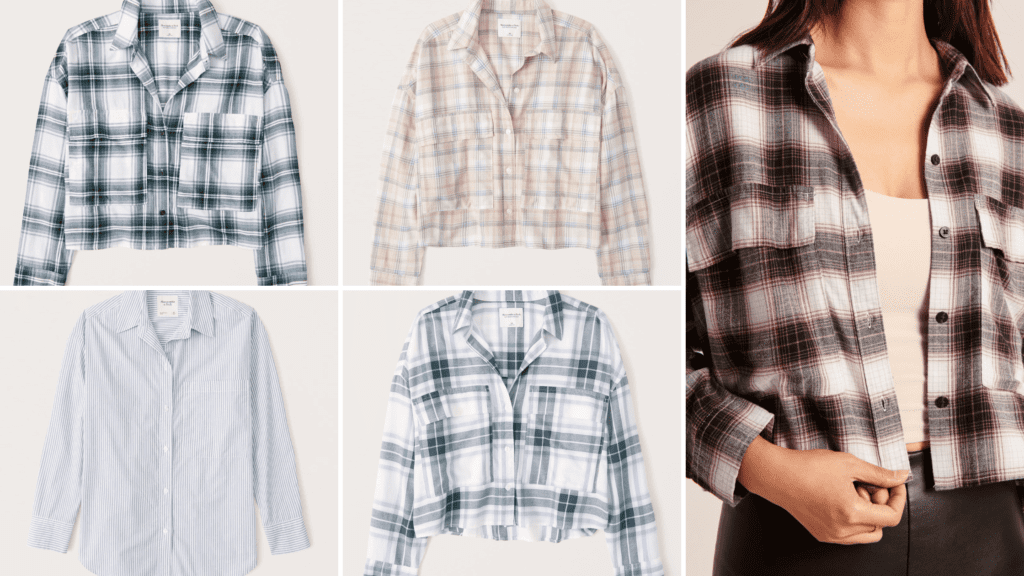 Top Row: 90s Cropped Flannel in Green Plaid | Boxy Flannel Button-Up Shirt in Cream Plaid
Far Right: 90s Cropped Flannel in Burgundy Plaid
Bottom Row: Oversized Poplin Button-Up Shirt | Boxy Flannel Button-Up Shirt in Blue Plaid
Jean Shorts & Bottoms
Abercrombie & Fitch's Curve Love Mid Rise Mom Shorts are super cute, great for petite curvy women. It can be a bit tough to find your size in these, so if you're ordering them, maybe order two sizes and plan to return one. That's what I've done and I've not had any issue returning the wrong sized piece to the store.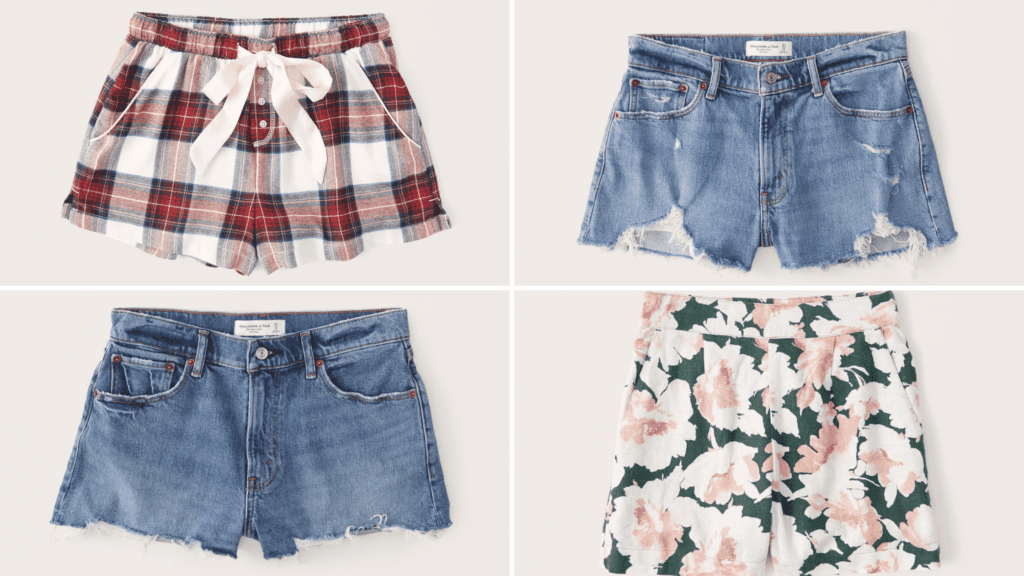 Top Row: Flannel Sleep Shorts | Curve Love Mid Rise Mom Shorts Medium Ripped Wash
Bottom Row: Curve Love Mid Rise Mom Shorts Medium Wash | Linen-Blend Pull-On Shorts
Tees & Tops
There are a lot of dressier options for tops from Abercrombie & Fitch, but I am really drawn to the comfortable, daily-wear styles, like the ones pictured here. I love a great graphic tee, and a cozy crewneck sweatshirt is perfect for winter-to-spring here in Florida.
Top Row: Long-Sleeve Pleated Tie-Sleeve Top | Oversized Boyfriend Woodstock Band Tee | 90s Sharkbite Graphic Crew Sweatshirt (t-shirt option here)
Bottom Row: Elevated Ribbed Squareneck Tank | Essential Linen-Blend Tee | Long-Sleeve Slim Zip Polo
Dresses
There is quite the array of dresses available in the Abercrombie & Fitch sale at the moment, including winter-to-spring options like the deeper florals on either side of the graphic below. While I am most immediately drawn to the green option on the right, I am quite interested in the Traveler Wrap Mini Dress. It looks like the perfect daily-wear dress to just throw on and go!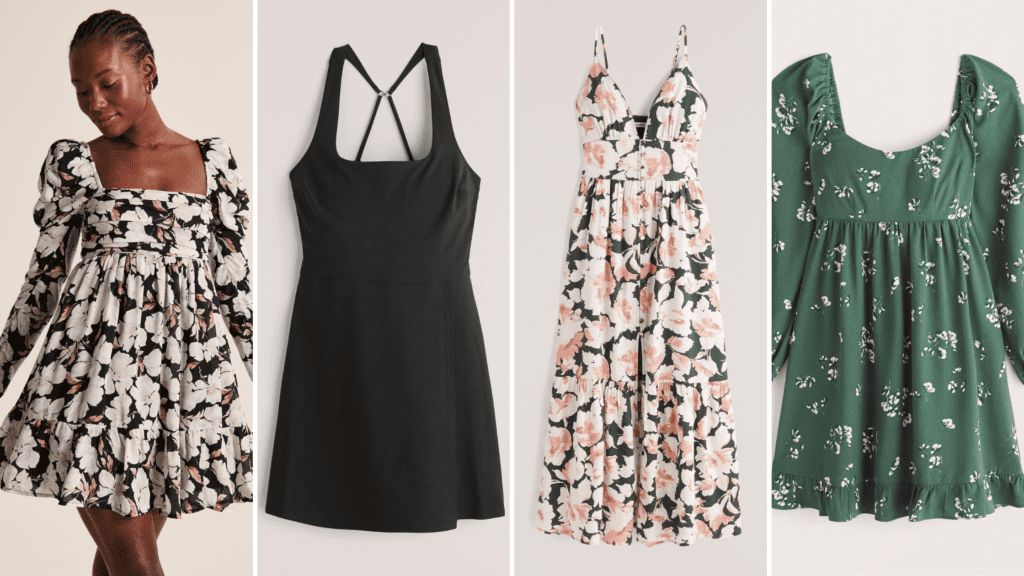 Left to Right: Long-Sleeve Ruched Mini Dress | Traveler Wrap Mini Dress | Button-Through Maxi Dress | Long-Sleeve Scoopneck Mini Dress
Which style here is your favorite? The plaids are my favorites,
and the Curve Love Mid Rise Mom Shorts in Medium Wash are a great staple for me!