A Craft Beer Lovers' Guide to the Best Breweries in Tampa
Tampa Bay, Florida, is home to nearly fifty breweries, ranging in size from small microbrews (including Florida's oldest microbrewery) to large-scale operations like Cigar City or 3 Daughters Brewing. As new residents of the area, Brett and I have been enjoying the many breweries Tampa has to offer. I will update this list as we try new places, so bookmark it or check back for more recommendations! Whether you're local or planning a visit, these are some of the best breweries in Tampa for craft beer lovers:
BarrieHaus Beer Co.
One of our more recent discoveries, BarrieHaus Beer Co. is quickly becoming an all time favorite of Brett and mine. This community-centered microbrewery founded on the passion of family tradition, a love of innovating, and the enjoyment of world-class lager beer. Specializing in German style beers, BarrieHaus grew out of a family brewing business beginning in the 1860s. I highly recommend checking out the brewery's about page here to learn more about the family history involved!
BarrieHaus Beer Co. has been opened here in Tampa going on two years now. Co-owner and head brewer Jim Barrie is a double Gator like myself and went to UF Law before turning towards brewing. He even worked with First Magnitude Brewery in Gainesville, one of my favorites (more on that here).
BarrieHaus offers a wide variety of beers, including a robust menu of flagship beers. Honestly, I've enjoyed every beer I've tried at the brewery. The Family Tradition Vienna Lager is a crowdpleaser, rich and refined with a toasty, malty flavor. Tampa Export, a dortmunder, is also a favorite, brewed in the traditional Munich-style. Ice Works IPA is one of my favorites, a nice and mellow IPA that's great year round.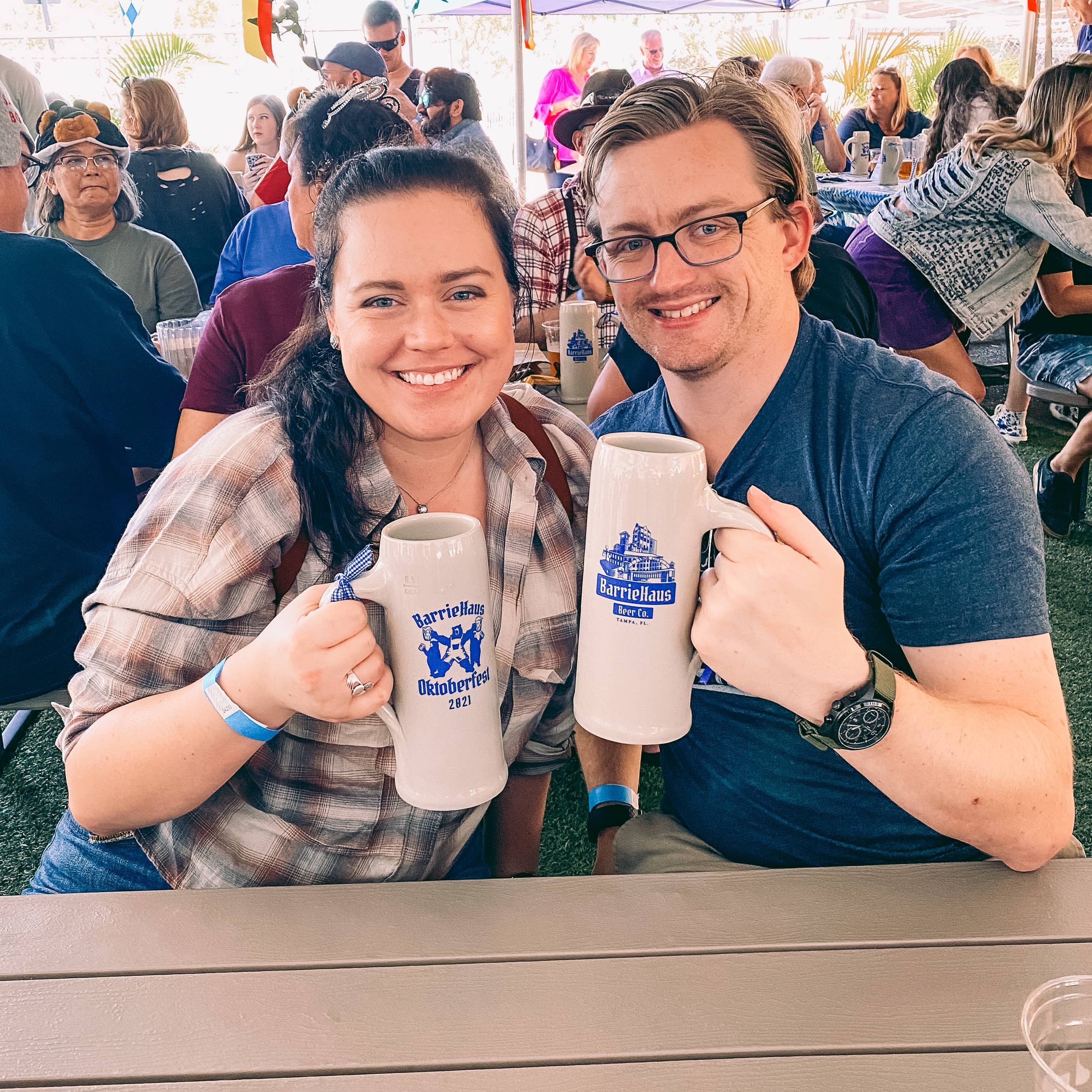 Of course, if you can get their Oktoberfest beers — either the Amber Marine or Gold Festbier — you must get those. They're both amazing.
Visiting BarrieHaus Beer Co.
Address: 1504 E. 5th Ave Tampa, FL 33605
Useful Links: Tour Info | Beer List | Instagram
---
Coppertail Brewing Co.
An artsy brewery with a whimsical backstory, Coppertail Brewing Co. manifests steampunk-oceanic style with a variety of delicious, highly-flavored beers. Fun fact, the brewery is named for a mysterious sea creature from the owner's daughter's imagination.
Coppertail's tasting room is set in a 1920's Arturo Fuente building. The location is "decorated with old world Tampa in mind." Overall, Coppertail offers a unique space, with two stories of indoor and outdoor seating, along with a comfortable vibe.
Coppertail has four core beers. They also have approximately sixteen other taps at any given time (click here for their current tap list). The "core four" offerings include: Free Dive IPA (my favorite), Dependent Pilsner, Night Swim Porter, and Unholy American Trippel Ale. They also offer wine for non-beer drinkers in your retinue, as well as a large food menu.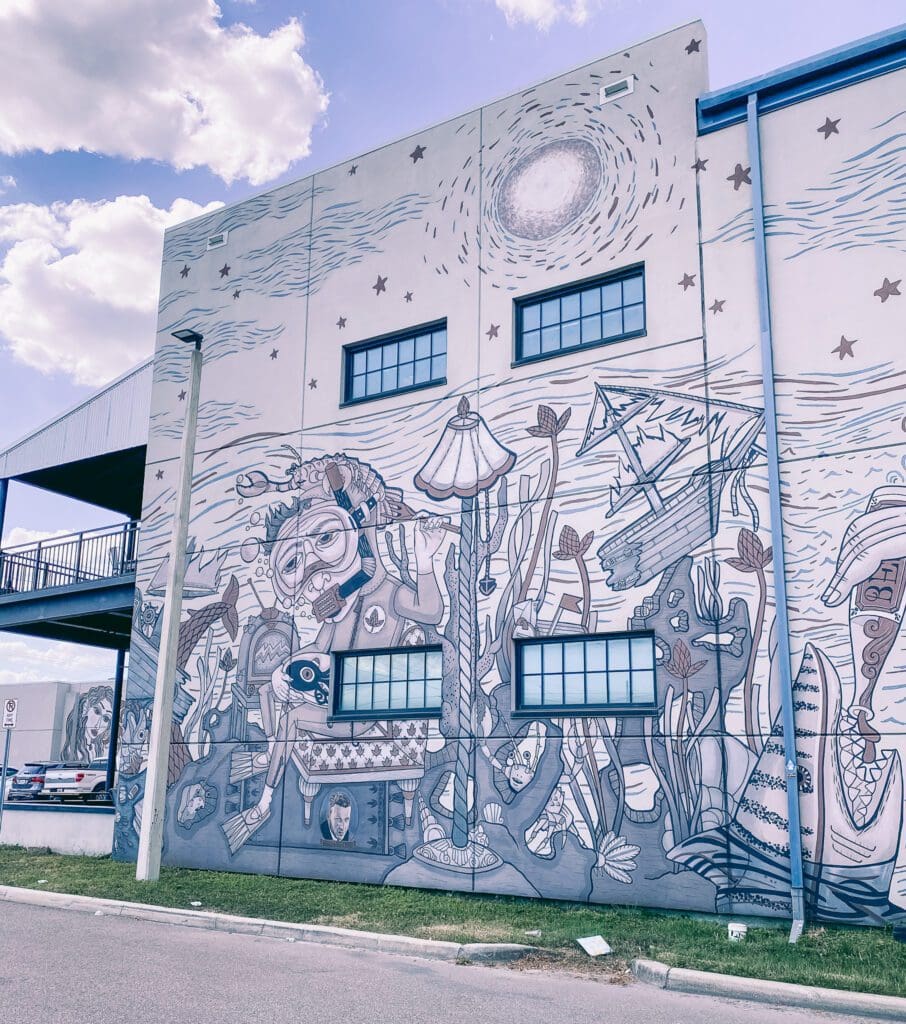 Visiting Coppertail Brewing Co.
Address: 2601 East 2nd Ave. Tampa, Florida 33605
Useful Links: Tour Info | Beer List | Instagram
---
Cigar City Brewing
Started in 2009, Cigar City Brewing (CCB) is one of the most popular breweries in Tampa, Florida. It's also one of my favorites of the Tampa craft breweries we'e tried particularly of the breweries in South Tampa. Featuring quintessentially Floridian flavors, Cigar City Brewing highlights the sun and citrus in a mixture of unique ales and lagers. Their Spruce Street taproom is a large, recently-renovated space with plenty of indoor and outdoor seating. Featuring a full-service kitchen (get the pretzels and the guac) and a colorful store, is is easy to hang out there for hours.
Cigar City Brewing has eight year round beers, including two renditions of a great IPA: Jai Alai and Jai Low. Jai Alai, one of the better known CCB beers, and is readily available throughout Florida. Jai Low is a lighter edition of their popular IPA, "designed with moderation in mind."
Besides these, their year-round beers include: Florida Man Double IPA, Fancy Papers Hazy IPA (another favorite of mine), Margarita Gose German-Style Sour Ale, Guayabera Citra Pale Ale, Maduro Brown Ale, and Frost Proof Belgian-Style White Ale. This is all to say nothing of CCB's seasonal beers, of which Space Pope is my favorite, or the special releases, which offer a wide range of styles.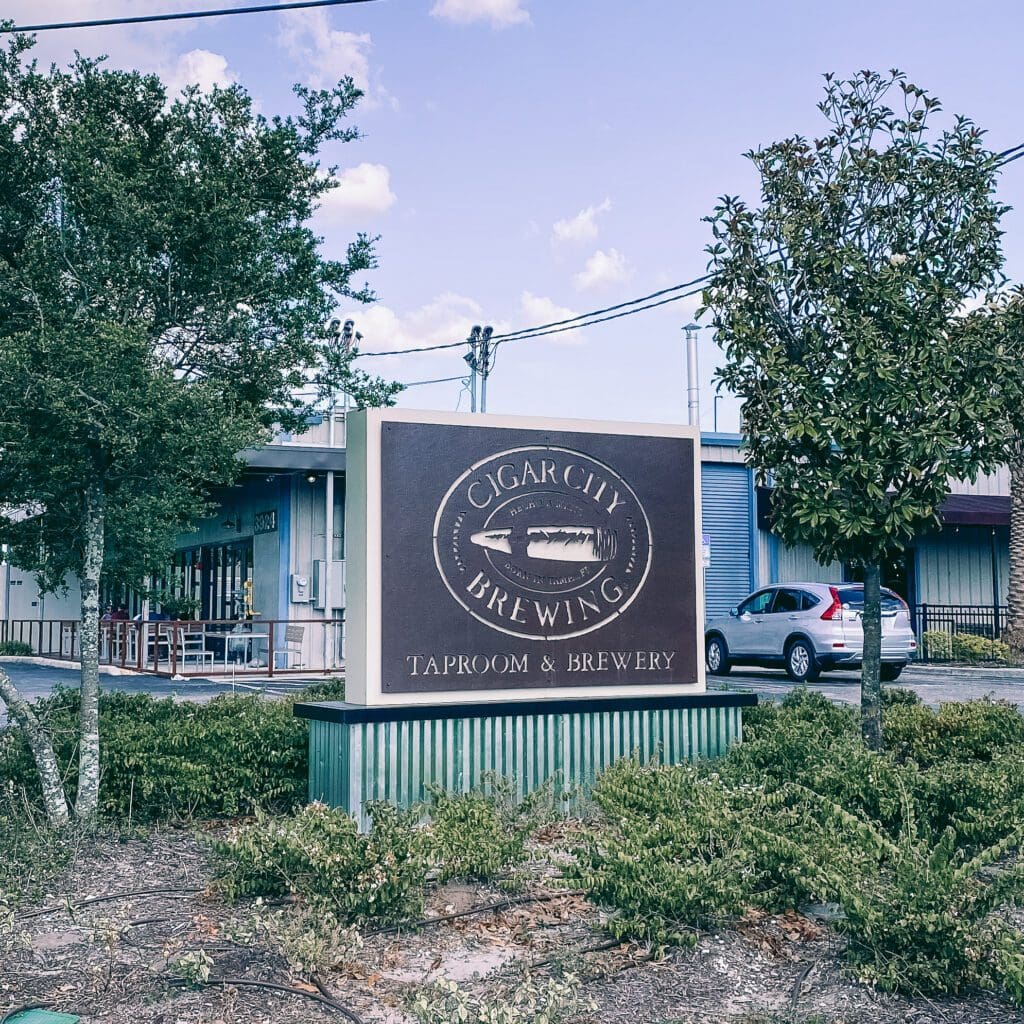 Visiting Cigar City Brewing
Address: 3924 W. Spruce Street Tampa, Florida 33607 (CCB also has locations in Amalie Arena & Tampa Airport)
Useful Links: Tour Info | Beer List | Instagram
---
81 Bay Brewing Co.
The first microbrewery in Tampa, Florida, 81 Bay Brewing Co. is quickly becoming a new favorite hang out of ours. Situated in an unassuming shopping plaza, 81 Bay Brewing Co. is a huge, comfortable space with a variety of great beers and tasty pizzas. All in all, a great hang out spot or casual date night location.
The best part, though…is the brewery cat. Her name is Mittens. I gave her a Cat Mat (this color). We're best friends now. Brett snapped a pic of me taking a picture of her (far left), which is perfect because in a brewery with a cat is, we decided, my natural habitat.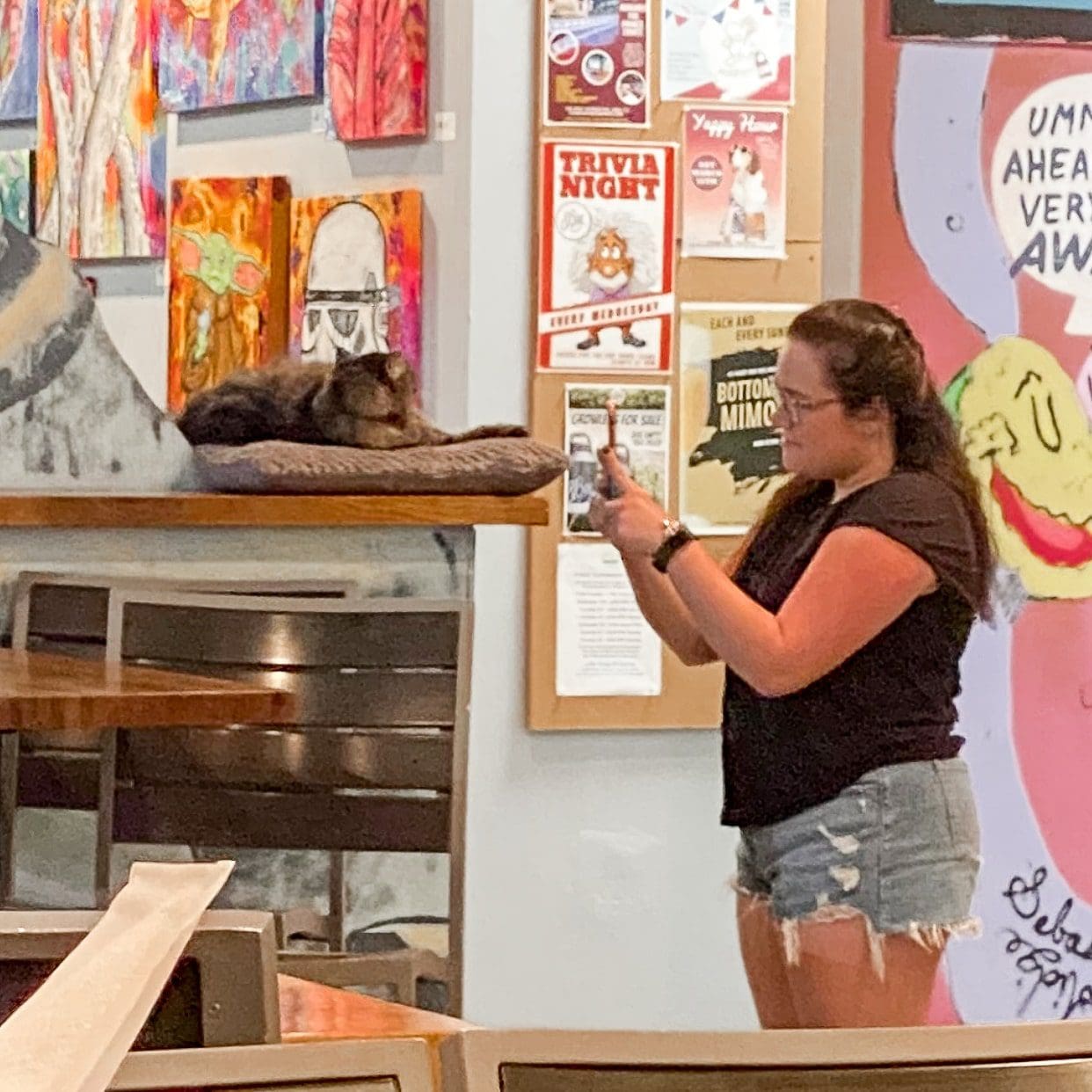 Anyway, 81 Bay Brewing Co. is certainly a Tampa staple, and it offers a variety of weekly specials that promise a good time. They host trivia every Wednesday, for example, plus occasional themed trivia nights. Brett and I visited the brewery for the first time because they hosted Schitt's Creek trivia (we got third place, thank you very much!), which was a blast.
Check out 81 Bay's tap list here for all the up-to-date menu changes. Personally, I am loving The Sun Viking IPA, both because of the name and because of the delicious flavors. It's a great light IPA, perfect for summer here in Florida. Plus, it has a great logo.
Visiting 81 Bay Brewing Co.
Address: 4465 W Gandy Blvd. Suite 600 Tampa, Florida 33611
Useful Links: Website | Beer List | Instagram
---
Tampa Bay Brewing Company
Tampa Bay Brewing Company offers a regular rotation of seasonal releases alongside their year-round regulars. Overall, they focus on hop-centric IPAs, American Pale Ales, and fruit-forward "Florida-weisse" styles.
Unfortunately, there's not a lot of background information about the brewery on their website. However, I found that it was opened in 1995, originally as a home brew supply store owned by husband-and-wife team, Vicki and John Doble. The shop evolved into a family-owned brewery and, now, into a two-location operation based out of Ybor.
Tampa Bay Brewing Company's beers have big flavors, and I really enjoyed the variety of IPAs they offer. My favorite was Old Elephant Foot, a hoppy brew they offer year-round. Reef Donkey is another popular year-round option, offering a dry-hopped American Pale Ale "that drinks like a session IPA."
Besides a tap list of over twenty beers, Tampa Bay Brewing Company also offers a huge food menu with something for everyone's tastes.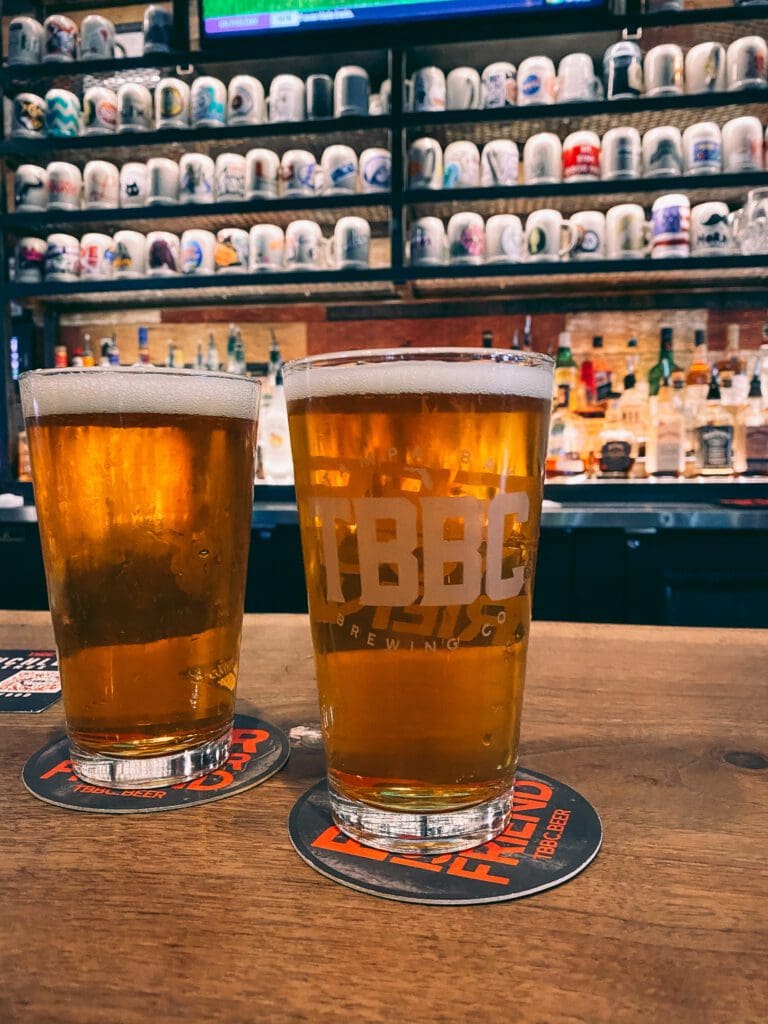 Visiting Tampa Bay Brewing Company
Addresses: Ybor Location – 1600 E 8Th Ave Tampa, Florida 33605 | Westchase Location – 13937 Monroes Business Park Tampa, Florida 33653
Useful Links: Beer List | Instagram
---
Woven Water Brewing Co.
Woven Water Brewing Co. opened in late 2020 in Tampa Heights. With a sizable storefront on Columbus Drive, Woven Water offers a succinct-yet-eclectic tap list, with a variety of great IPAs and sours. The Woven Water beers really run the spectrum, though, from traditional Czech Pilsners and Hefeweizens to Imperial Stouts, so there's something for everyone. Plus, they have some of the best names for their beers.
What I really enjoyed about Woven Water was the Art Deco vibe. The brewery is on the smaller side, but even when it was full of people, it wasn't cramped. There are plenty of seats, including high tops, bar stools, and even some comfy couches. All in all, a great spot to hang out and people watch. Note that they do not have their own kitchen, though, so plan accordingly!
My favorite beer from Woven Water was the Lucid Blurry IPA. This lightly-hazy IPA was easy to drink and very refreshing. Iridescence Double Blurry IPA was also very refreshing, but at 8.2% ABV, it was a bit heavier — although not as heavy as an 8.2% Double IPA might sound! Brett tried the Revenant, which is a fruited sour ale with blackberry, marshmallow, cinnamon, and coffee. I'm not generally a sour fan, and the flavors sounded a bit outrageous for me, but it drank incredibly smoothly! I highly recommend at least getting a sample to check it out because it's so unique.
Visiting Woven Water Brewing Co.
Addresses: 456 W. Columbus Drive Tampa, Florida 33602
Useful Links: Beer List | Instagram
---
Looking for more hidden gems in Tampa?
Check out my Tampa City Guide for all the best restaurants, breweries, coffee shops, and more!
Which of the many Tampa craft breweries should I try next?
Let me know which is your favorite in the comments!
*This post was originally published on June 3, 2021. It was last updated on June 13, 2022.