The Best Tampa Bay Restaurants
Florida's Tampa Bay offers a wide range of restaurants, from casual eateries to fine dining. When we moved to the area, I was overwhelmed by the number of restaurants there were to try. As I talked with people, I began to make a list of all the Tampa Bay restaurants I was told I needed to try. It's been a lot of fun to try out new places, and I definitely already have some favorites to share. As with my Tampa breweries guide, I will update this list as we try new places, so bookmark it or check back for more recommendations! 
The Best Restaurants in Tampa
Cali
Offering a wide range of both traditional and vegetarian options, Cali quickly became a favorite restaurant of mine here in Tampa. With a focus on sustainability, Cali creates delicious dishes that are good for you and the environment, all while being incredibly satisfying. For all the emphasis this restaurant group places on sustainability, I was really impressed with the fact that they've been able to keep the prices reasonable, at the same time.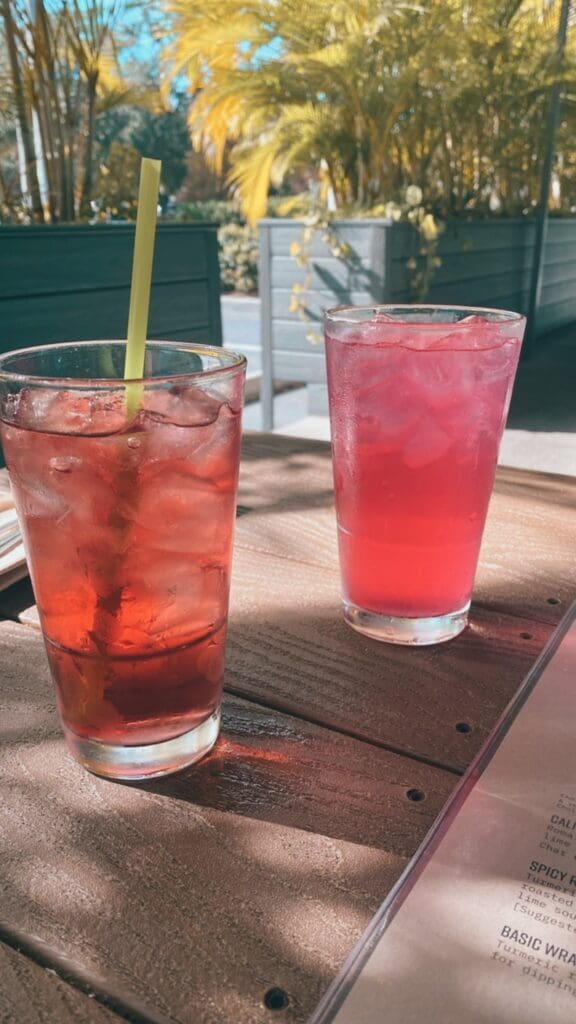 If you're looking for some clean eating, colorful fare, I highly recommend trying Cali out. I especially enjoyed the Big Italy bowl with crispy lentil bites and spaghetti squash. While I wish there were more plant-based protein options, I have to say the lentil bites were absolutely delicious.
Visiting Cali
Address: South Tampa – 217 S Dale Mabry Highway Tampa, FL 33609 | Tampa Palms – 17004 Palm Pointe Dr Tampa, FL 33647 | St. Pete – 1970 37th Ave. N. St. Petersburg, FL 33704 | Brandon – 11230 Sullivan Street Riverview, FL 33578
Useful Links: Website | Menu | Instagram
---
Doc B's Restaurant + Bar
I've been a fan of Doc B's since we lived in Fort Lauderdale, and was excited to see there was a location in the International Plaza Mall here in Tampa. This restaurant is a small chain with just a handful of locations in Florida, Texas, and Illinois. Doc B's specializes in American cuisine, offering a rather large menu of burgers, salads, and — my favorite — "Wok Out" bowls. They also have a rather robust bar menu, with an array of wine and local beer options.
Doc B's Wok Out bowls feature your choice of protein and base with broccoli, mushrooms, carrots, and cashews. There are two options for sauces: sesame teriyaki or a sweet and spicy Thai sauce. Bases include sticky brown rice, lo main (pictured here), or quinoa. I've had both sauces, and enjoyed them both. Pictured here is the lo main Wok Out bowl with sweet and spicy Thai sauce and shrimp; a lot of tasty food for $20!
If you're looking to indulge, Doc B's desserts are pretty amazing — and bigger than you might expect. Brett and I ordered the homemade Oreo ice cream and the Cinnamon Toast Crunch cheesecake to split, thinking they'd be smaller servings. We powered through, though, because they were both so good!
Visiting Doc B's
Address: 2223 N Westshore Blvd #206, Tampa, FL 33607
Useful Links: Website | Menu
---
Forbici Modern Italian
Brett and I stopped in at Forbici in Hyde Park Village on a whim. It was such a lucky find! The atmosphere and menu were both enticing, and the pizzas we got were absolutely delicious.
From appetizers to pastas, bowls to pizzas, Forbici Modern Italian has something for everyone, including a wide range of Impossible Meat! We split the Impossible Meat Meatballs as an appetizer and they were the perfect size to share. The house-made pomodoro sauce was so rich and delicious, a truly authentic flavor!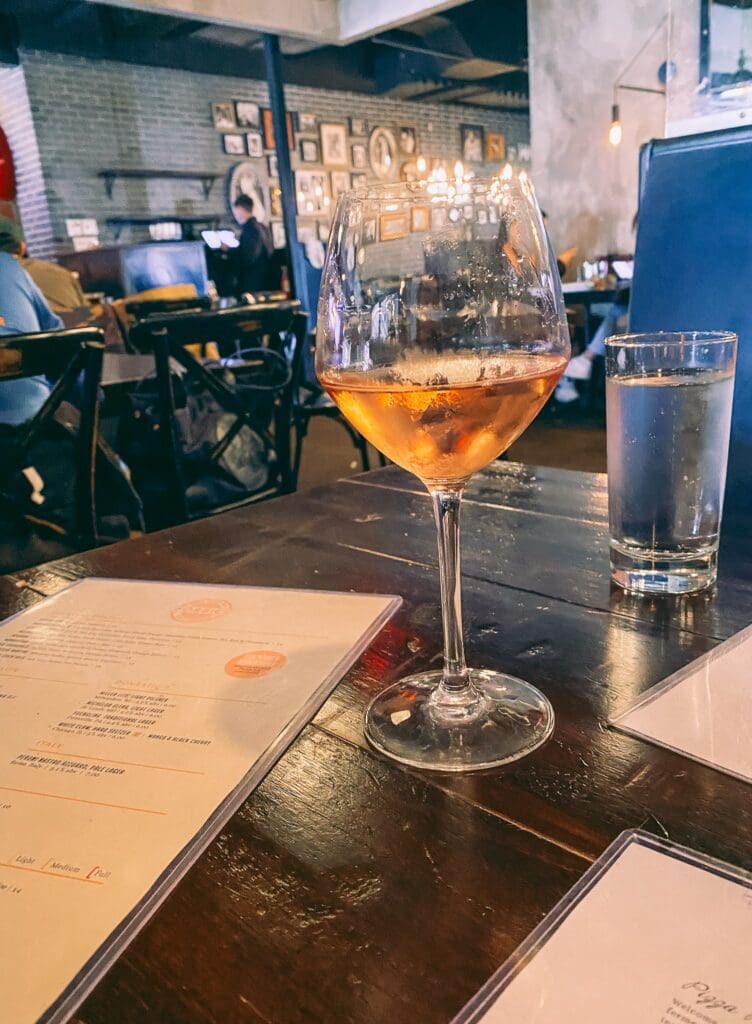 As for the pizzas, Brett and I definitely could have split one, but it was nice to have leftovers, too. Forbici offers both square and round pizzas, made with a light and airy crust. I had the Fiore Teglia (square) pizza and added a side of their truffle cream sauce. So colorful, so good! I can't wait to go back!
Visiting Forbici Modern Italian
Address: 1633 W Snow Ave, Tampa, FL 33606
Useful Links: Website | Menu | Instagram
---
Izakaya Tori
Centrally located on Dale Mabry, not far from Cali (see above), Izakaya Tori is a delicious Japanese tapas restaurant with ramen, sushi, and other classic Japanese dishes. The restaurant itself is a cozy oasis on an otherwise busy street. The space is immersive once you're inside and seated, full of unique art and decor to accent the food.
As far as a sushi spot goes, Izakaya Tori is great for two reasons: one, their rolls are quite sizable (especially for the prices) and, two, there's plenty of options for those who don't care for sushi.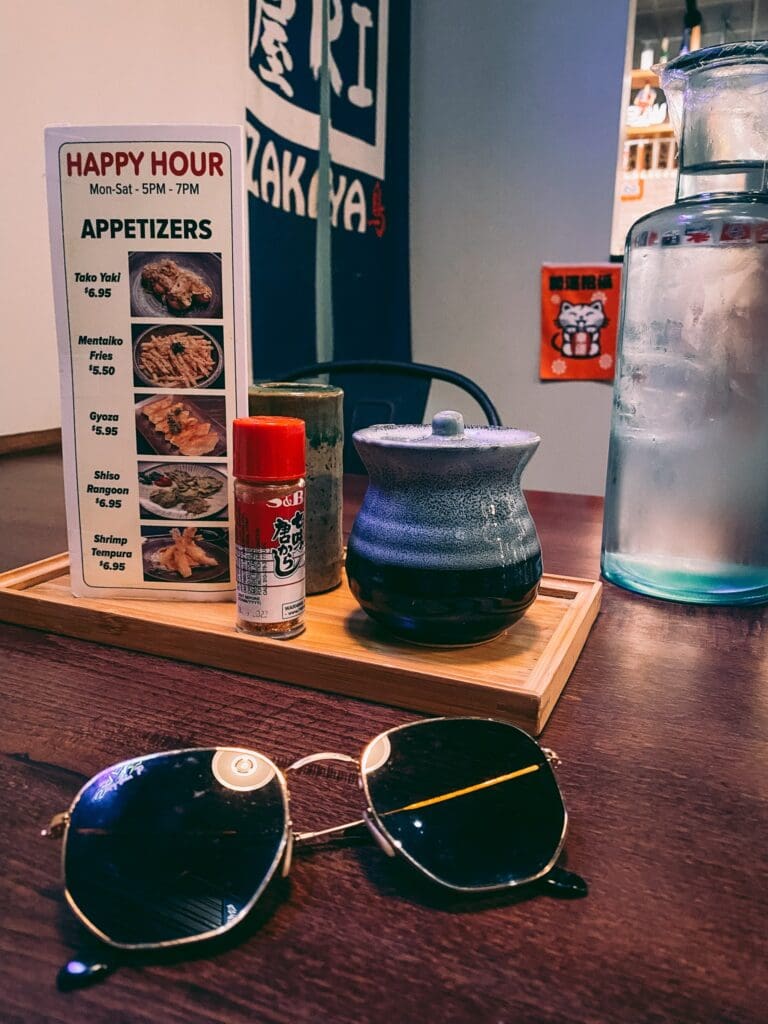 Besides appetizers, I've stuck with sushi thus far, but want to branch out to their various bowls and other entrees after I work through the sushi menu. Their tofu fried rice is calling my name, for example, as is their kimchi cream udon bowl. Side note, they have one of the best ginger salad dressings I've ever had, so definitely give that a shot.
Random pro tip, though: the restaurant can be quite chilly, so definitely bring a sweater!
Visiting Izakaya Tori
Address: 2223 N Westshore Blvd #206310 S Dale Mabry Hwy #140, Tampa, FL 33609
Useful Links: Website | Menu | Instagram
---
Kelp Sushi Joint
If you're looking for great sushi — and sushi at a great price — then Kelp Sushi Joint is a great option. Kelp offers a mix of traditional sushi varieties along with small plates, nigiri, sashimi, and specialty rolls. With their daily special, you can get two classic sushi rolls and a starter for $12.95. I typically get the Crab Rangoons as my starter and the spicy salmon and Florida rolls. It's a testament to how tasty their sushi is that I don't have a picture from there; I always pick up my chopsticks too quickly!
Visiting Kelp Sushi Joint
Address: South Tampa – 3401 West Bay to Bay Blvd Tampa, FL 33629 | Town & Country – 6507 West Waters Ave
Tampa, FL 33634
Useful Links: Website | Menu | Instagram
---
The Library
Designed by the same team as Oxford Exchange, another Tampa favorite of mine, the Library is a beautiful cafe in St. Pete, connected with the Johns Hopkins All Children's Hospital. It is inspired by the George Peabody Library in Baltimore, which opened its doors in 1957. Johns Hopkins was close friends with George Peabody, who inspired him to use his wealth for public good. "The collaboration between these men and the institutions they created is the inspiration for [the Library] restaurant, located within Johns Hopkins All Children's Hospital in St. Petersburg," the website notes.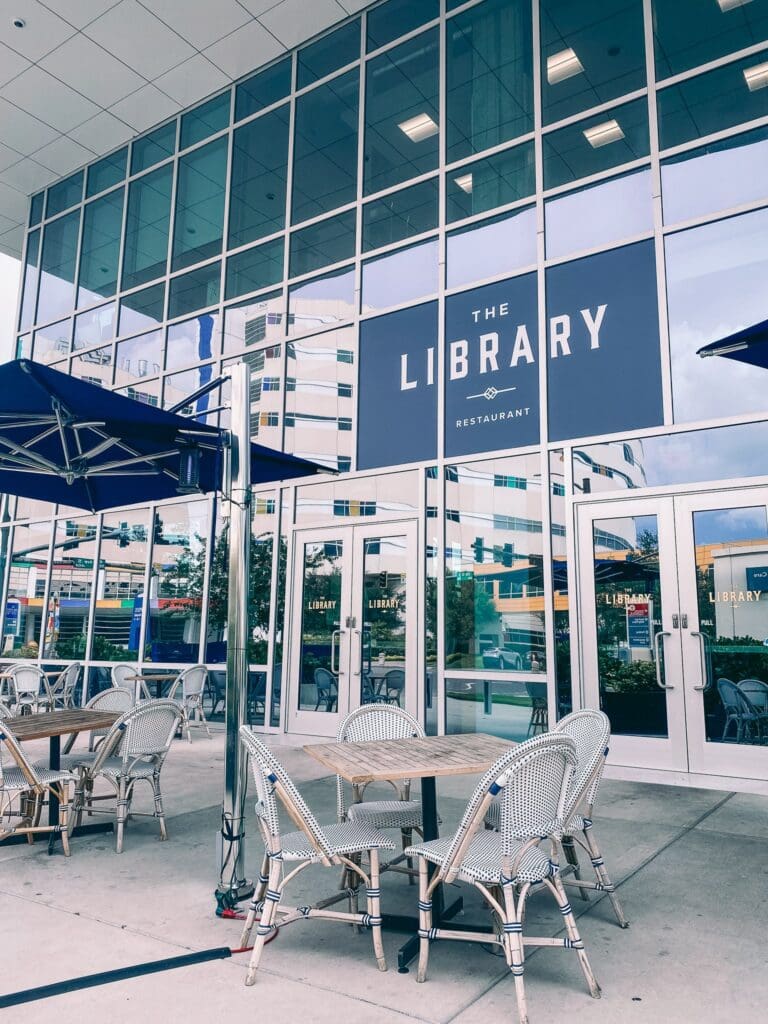 The Library has a whole host of menus, for lunch, dinner, catering, and so on. I visited for lunch and enjoyed the warm burrata small plate and a custom salad with charred broccolini and truffle vinaigrette.
Before or after you dine, I recommend stopping by the coffee bar for a beautifully crafted coffee drink or tea, featuring Buddy Brew coffee and Te Bella teas.
Read my full Cats & Coffee review of The Library here!
Visiting The Library
Address: 600 5th Street South St. Petersburg, Florida 33701 
Useful Links: Website | Menu | Instagram
---
Mad Dogs & Englishmen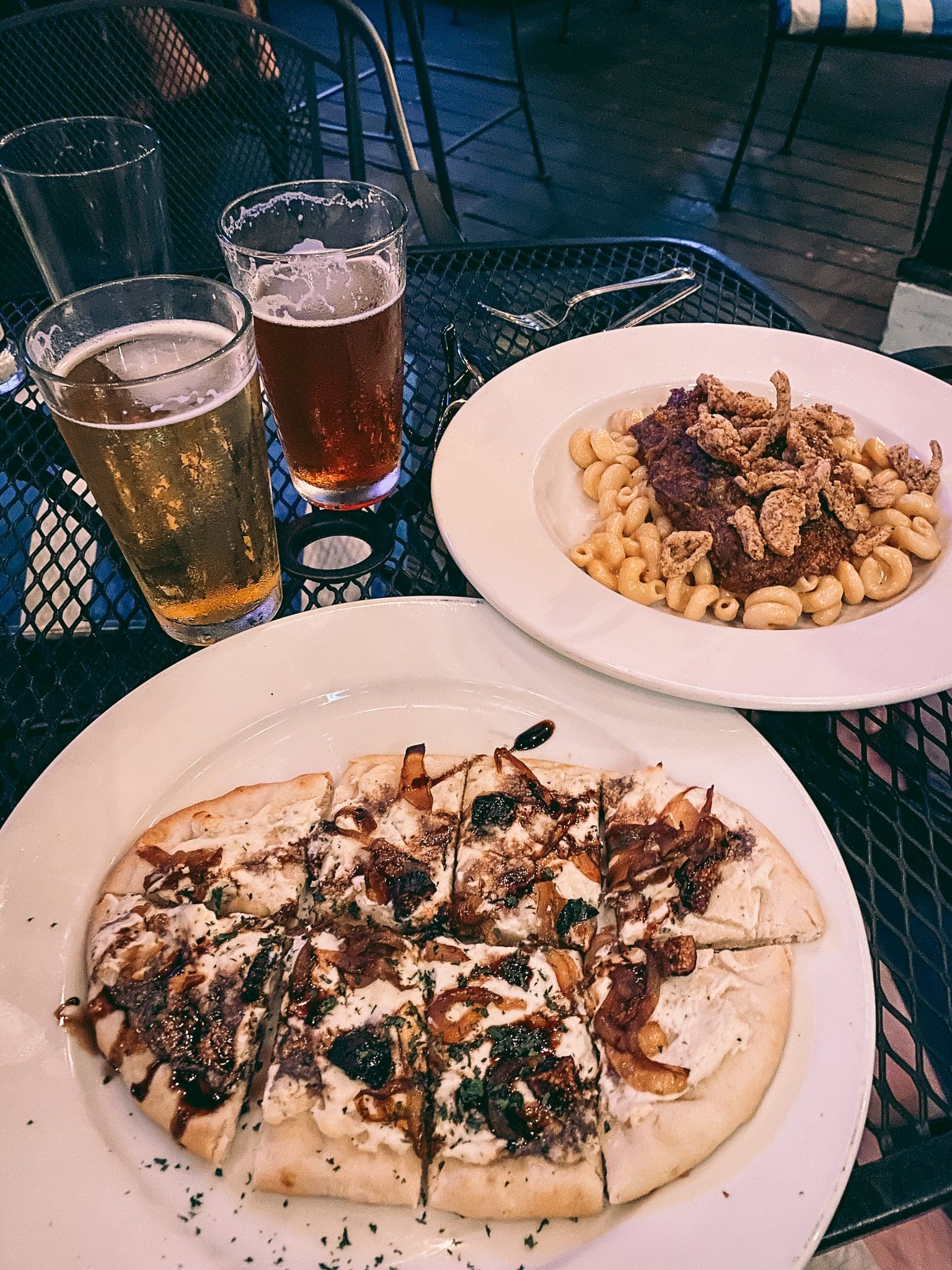 Dedicated to the London in the sixties, "when a new period of optimism and hedonism emerged out of a drab gray post war Britain," Mad Dogs & Englishmen has a fun kitschy feel. This is a truly unique dining experience as far as Tampa Bay restaurants go. Offering an eclectic mix of local craft beers and wine, along with elevated pub-style meals.
For dinner, I had the Goat Cheese Pizza Flatbread while Brett opted for the Piggy Mac. The flatbread was amazing, and a good size for one person. It'd be great to share if you got it and another appetizer. Brett really enjoyed his dish, which was a decadent beer cheese mac n' cheese with pulled BBQ roast pork and tobacco onion straws.
Overall, Mad Dogs & Englishmen is a fun place to hang out when the weather is nice. Their front patio is breezy and great for groups. There is an indoor and outdoor bar option, along with an interior dining room, complete with eclectic decor.
Visiting Mad Dogs & Englishmen
Address: 4115 South MacDill Avenue Tampa, FL 33611
Useful Links: Website | Menu | Instagram
---
Oggi Italian
We went to Oggi for my birthday and I am now obsessed. I picked the website on a whim while looking for available reservations on Open Table for the evening of January 1st. I am so glad that this restaurant caught my eye, because it was some of the best Italian food I've had in Tampa thus far. With sizable portions, a robust menu, and delightful desserts, Oggi is ideal for a date night or group celebration.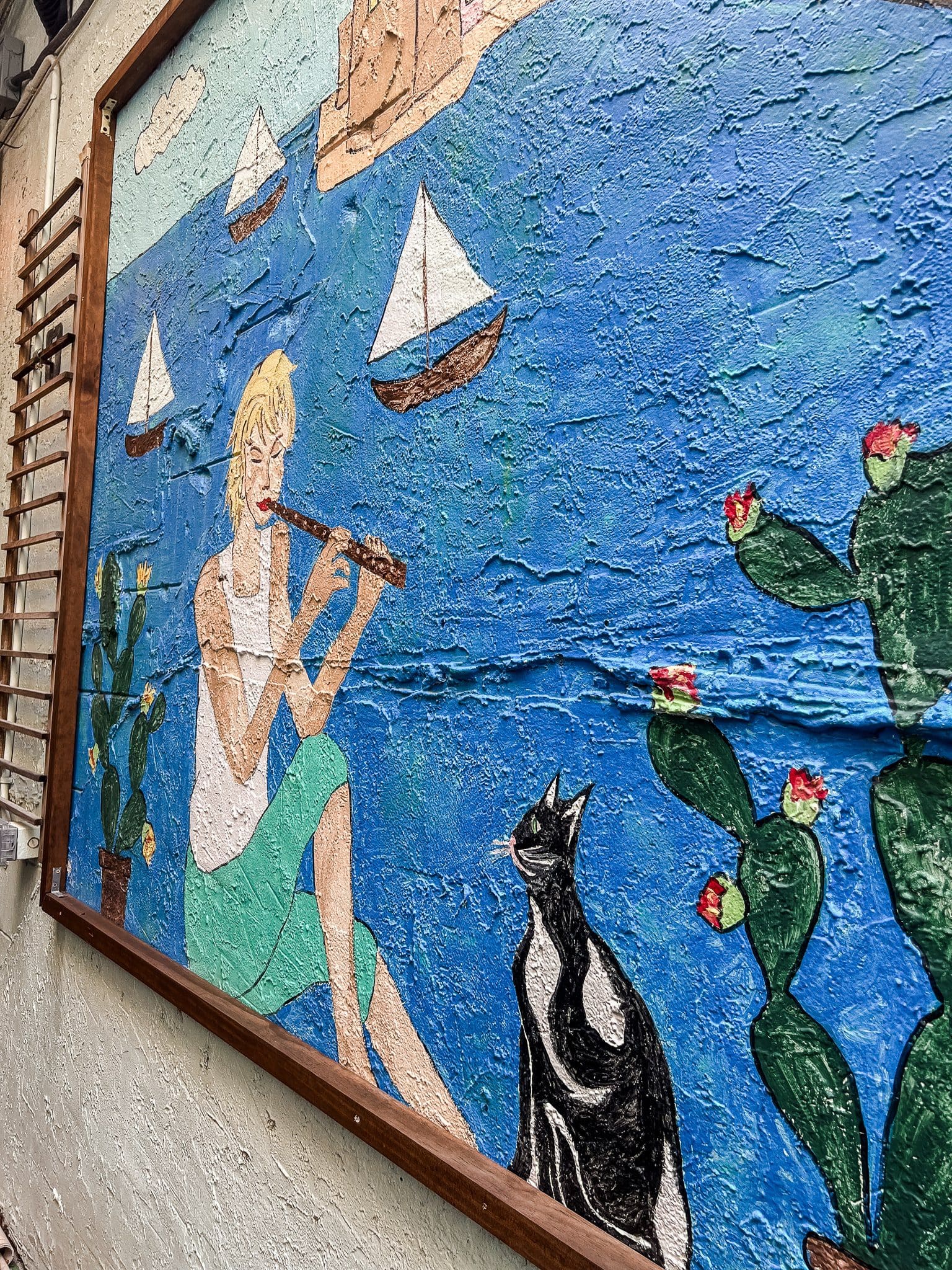 This trip, I opted for the eggplant Parmesan, which was absolutely fantastic. With crisp fried eggplant and a delicious red sauce over angel hair pasta, it was exactly what I wanted to celebrate my birthday with! Plus, each pasta dish comes with an after-dinner espresso, which was a lovely touch. We finished off dinner with a couple cannoli, tiramisu, and a unique pineapple dessert for the table.
I definitely recommend making reservations, though; it's a smaller space and they seem to stay quite busy!
Visiting Oggi Italian
Address: 236 E Davis Blvd., Davis Islands, Florida 33606
Useful Links: Website | Menu | Instagram
---
Olivia
Olivia had been on my must-visit restaurant list for a while, and it's definitely one of the best restaurants in Tampa. This is both because I had heard so many good things about it since moving to Tampa, but also because it shares a name with my beloved furbaby! Brett and I finally made it to the restaurant for our anniversary in November and it was delightful!
A great date night or celebratory dinner spot, Olivia offers a robust menu of appetizers, sharing plates, pizzas, house-made pasta, and more. In my opinion, the varied menu alone makes it the best of the best restaurants in Tampa. The sides are also rather large, so they're great for sharing (especially the truffle mac and cheese). I am eager to try the various fish entrees, but, as it was our first visit, I knew I had to go with pasta for dinner. The cacio e pepe, featuring house-made spaghetti, black pepper, butter, and pecorino foam, was absolutely divine.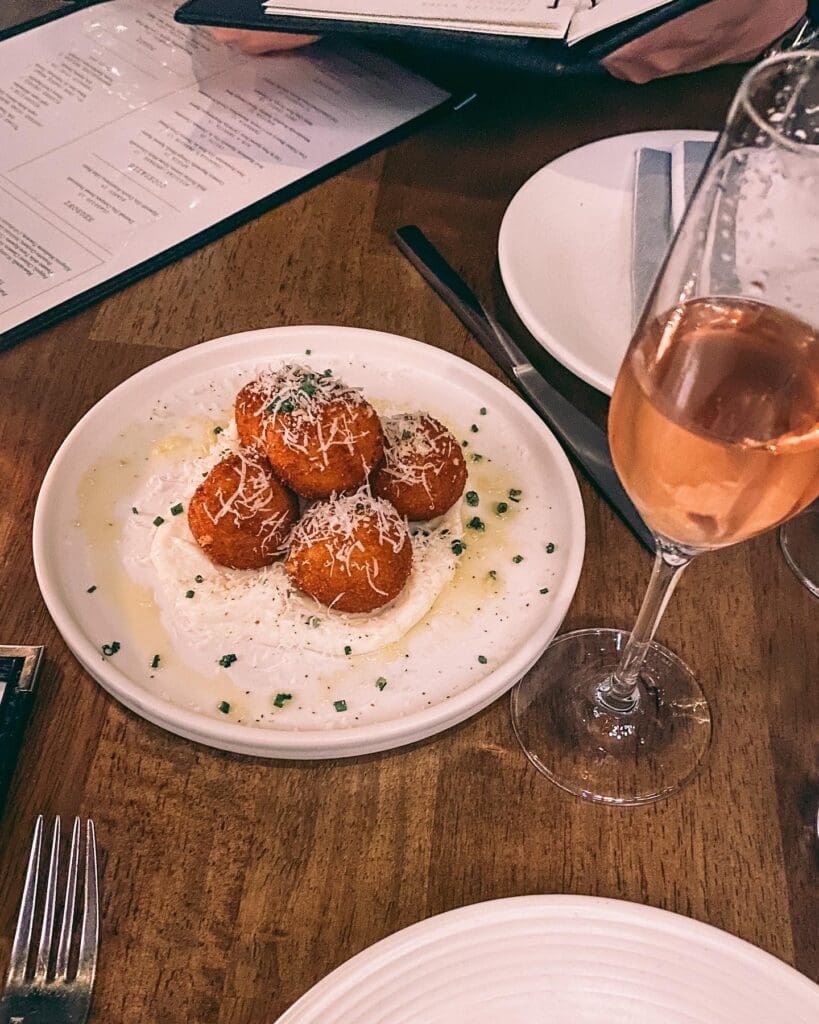 Do yourself a favor and just go ahead and order one or two plates of the arancini (first photo on the left above). These delicate stuffed risotto balls were out of this world. Oh, and if you're thinking of dessert, definitely go for it. The salted caramel cannoli were the perfect way to end the evening!
Visiting Olivia
Address: 3601 W. Swann Ave. Tampa, FL 33609
Useful Links: Website | Menu | Instagram
---
On Swann
Focusing on seasonal New American cuisine prepared in an open-concept kitchen, On Swann is a cute restaurant, perfect for date night or drinks with friends, and features a wide ranging menu. This restaurant focuses on offering local and small-batch ingredients — and beer — to make delicious comfort-food-adjacent meals. Overall, the restaurant was comfortable, featuring a farmhouse inspired design.
Click here for the full Cats & Coffee On Swann restaurant review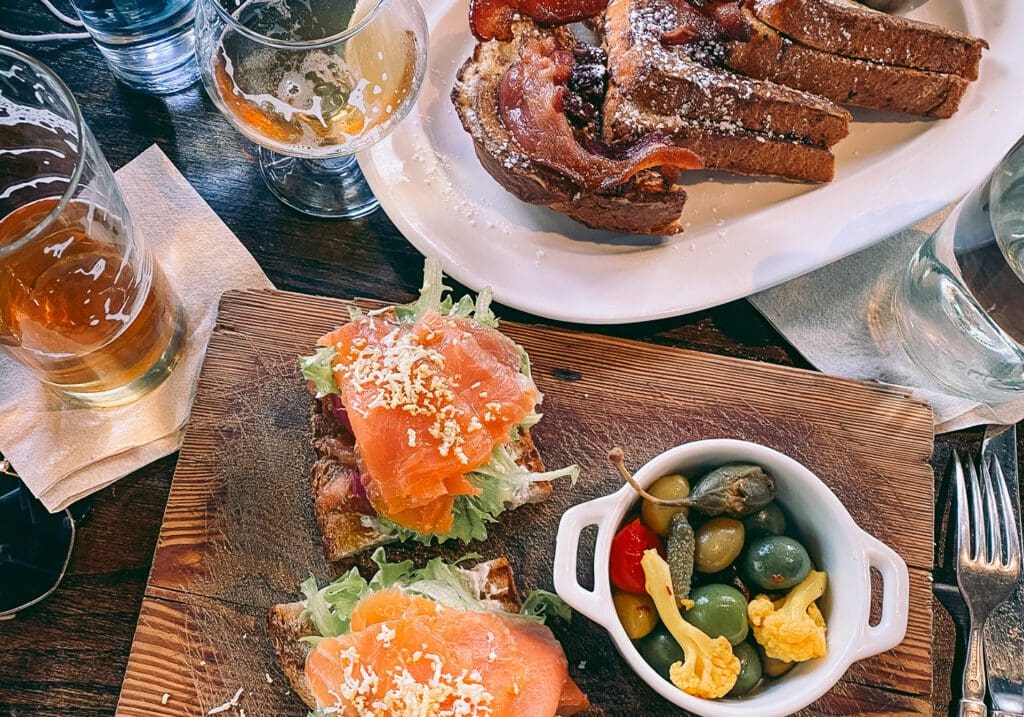 Visiting On Swann
Address: 1501 Swann Ave. Tampa, FL 33606
Useful Links: Website | Menu | Instagram | Full Cats & Coffee Review
---
Oak & Ola
Located within Armature Works, Oak & Ola offers local independent EuroAmerican cuisine in North Tampa Heights. Comfortable in it's atmosphere and timeless in design, the restaurant is a great place to grab a meal with friends. A cast of award-winning chefs create seasonal menus that rotate to reflect local ingredients, making it a shoe-in for one of the best restaurants in Tampa.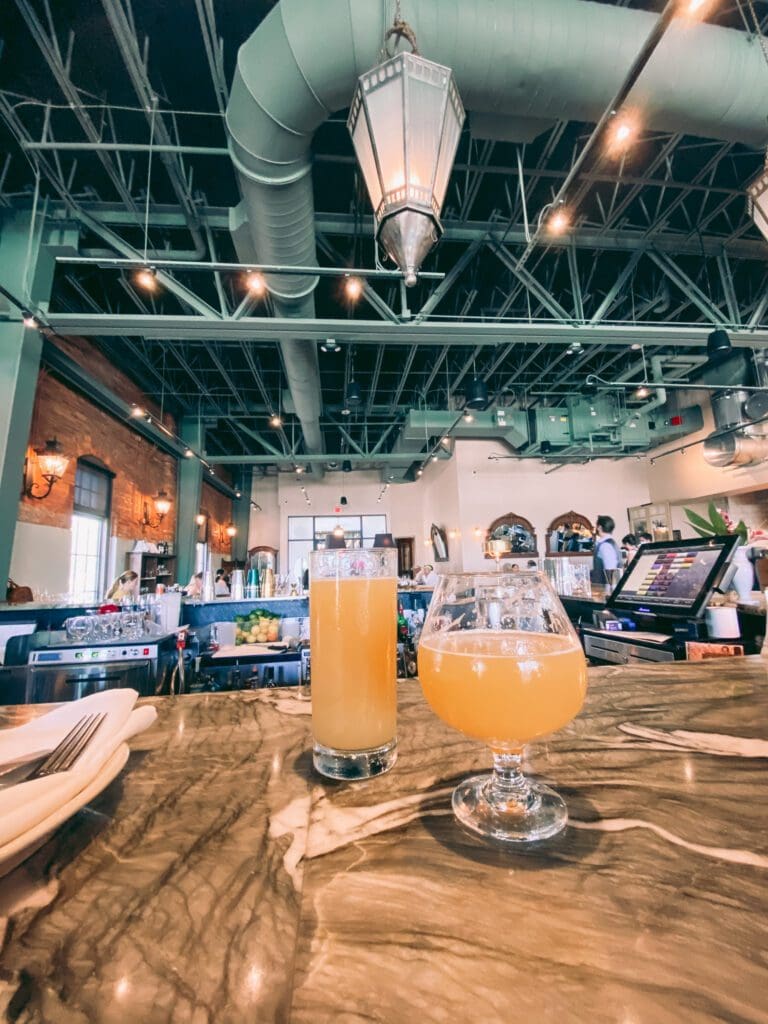 Brett and I stopped in for brunch, which offers a rotating menu of classics with a twist. For example, their current brunch menu offers a rotor of cage free eggs, Yukon potatoes, and red pepper aioli. Brett got a Monte Cristo sandwich from the brunch menu, while I opted for the Mushroom Truffle Fire Roasted Pizza. The pizza was 12 inches and very rich. Ideally, I should have taken some home, but it was so tempting that I ate the whole thing there. No issue, though, because there are lots of nice walking areas outside of the restaurant along the river!
Visiting Oak & Ola
Address: 1910 N Ola Ave, Tampa, FL 33602 (in Armature Works)
Useful Links: Website | Instagram
---
Oxford Exchange
Open for brunch and lunch, Oxford Exchange's restaurant has great food in a beautiful space. As far as Tampa Bay Restaurants go, Oxford Exchange is at the top of my favorites list. Featuring fresh, seasonal dishes, alongside a robust wine, beer, and cocktail list, Oxford Exchange is not only aesthetically pleasing, but also just a great dining experience. Besides great appetizers, salads, and main plates, Oxford Exchange offers a Champagne Bar and Afternoon Tea service (which sounds divine and is on my to-do list).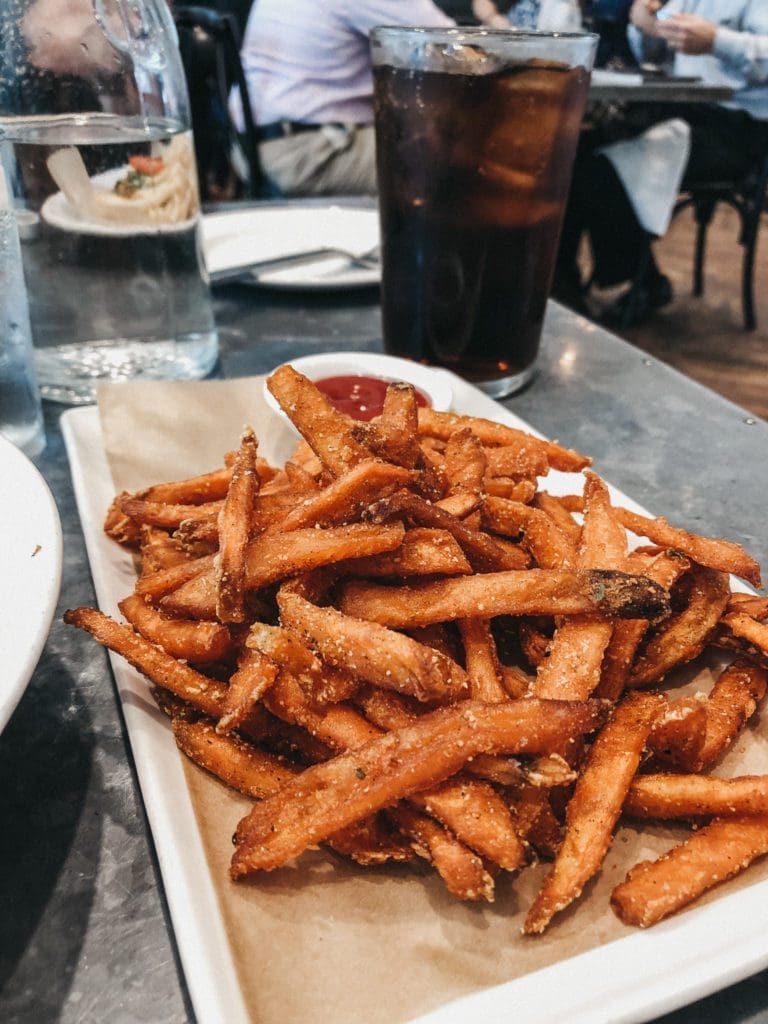 Teas served at Oxford Exchange are from TeBella Tea Company, a favorite of mine, while coffee is from Buddy Brew (which also collaborates with Chill Bros for their Cafe con Leche ice cream — more on that here!). I cannot recommend the affogato enough (pictured below), which features vanilla ice cream and Buddy Brew espresso — absolutely amazing.
Visiting Oxford Exchange
Address: 420 West Kennedy Boulevard Tampa, Florida 33606
Useful Links: Website | Menu | Instagram
---
Piccola Italia Bistro
If you are looking for an authentic Italian dinner, Piccola is the way to go. Piccolo specializes in pasta dishes from Abruzzo, Rome, Bologna, and Naples. Each dish is cooked a special house-made sauce a la "nonna Maria's" home cooking. They also offer pasta making classes, which I definitely want to do!
It's a small restaurant, you have to make reservations, and it's BYOB. The entire place has a home cooked vibe, which was super fun and only authenticated once our food was served. The menu is straight to the point, with a handful of dine in and takeout options that are all available for $12.95, or family-sized/party trays for $39.95 each. The chef offers a huge variety of specials, though, which all sounded absolutely amazing.
One special on the night we visited was a family sized caprese salad, pictured above. It was phenomenal and I knew that I immediately needed to add it to my list of best restaurants in Tampa! We split it as a table and I still had some to take home. Robust olive oil, beautiful tomatoes, and the best mozzarella all on top of a bed of lightly dressed greens. Seriously, could eat it every day.
I had the primavera pasta with shrimp, which featured an avocado cream sauce and linguine, mushroom, bell pepper, and peas. The sauce was, at once, a hearty cream sauce but not too heavy. I've never had avocado in a pasta dish before, but I am a fan now. Definitely save room for dessert, though; I really enjoyed the cannoli and tasted the tiramisu, which was delightful.
Visiting Piccola Italia Bistro
Address: 2140 W Martin Luther King Jr. Blvd Tampa, Florida 33607
Useful Links: Website | Menu
---
The Pub Tampa Bay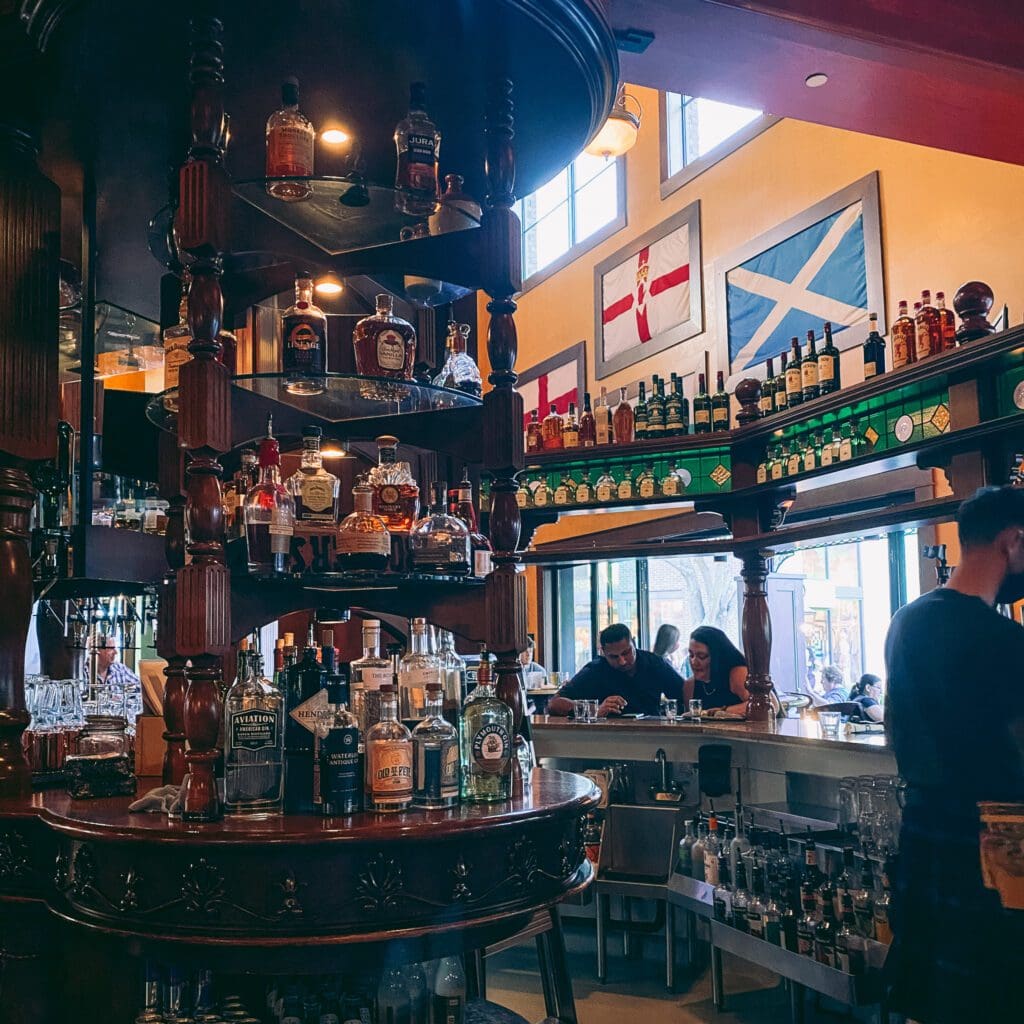 Located in the International Mall complex, along a row of restaurants with outdoor seating, The Pub is a great option for beer lovers. If you're just looking for a pint or a quick bite, the bar is a great option for people watching. Otherwise, there are plenty of traditional seating options both in and outdoors, along with an upstairs dining room and balcony.
Brett and I shared the Belhaven Beer Cheese, which was pretty delicious. I also had their award-winning fish and chips which, I do agree, were pretty amazing.
The Pub often has live music and hosts trivia on Monday nights. There are a number of drink specials throughout the week, which you can see here.
Visiting The Pub Tampa Bay
Address: 2223 N. West Shore Blvd. Tampa, FL 33607 (in the International Mall)
Useful Links: Website | Menu | Instagram
---
Rome + Fig Bistro
Based in North Hyde Park, Rome + Fig is a cute and comfortable space with a great atmosphere and delicious food. A great date night spot or bunch place for the weekend, this restaurant offers delicious salads, unique sharable appetizers, and a robust entree selection.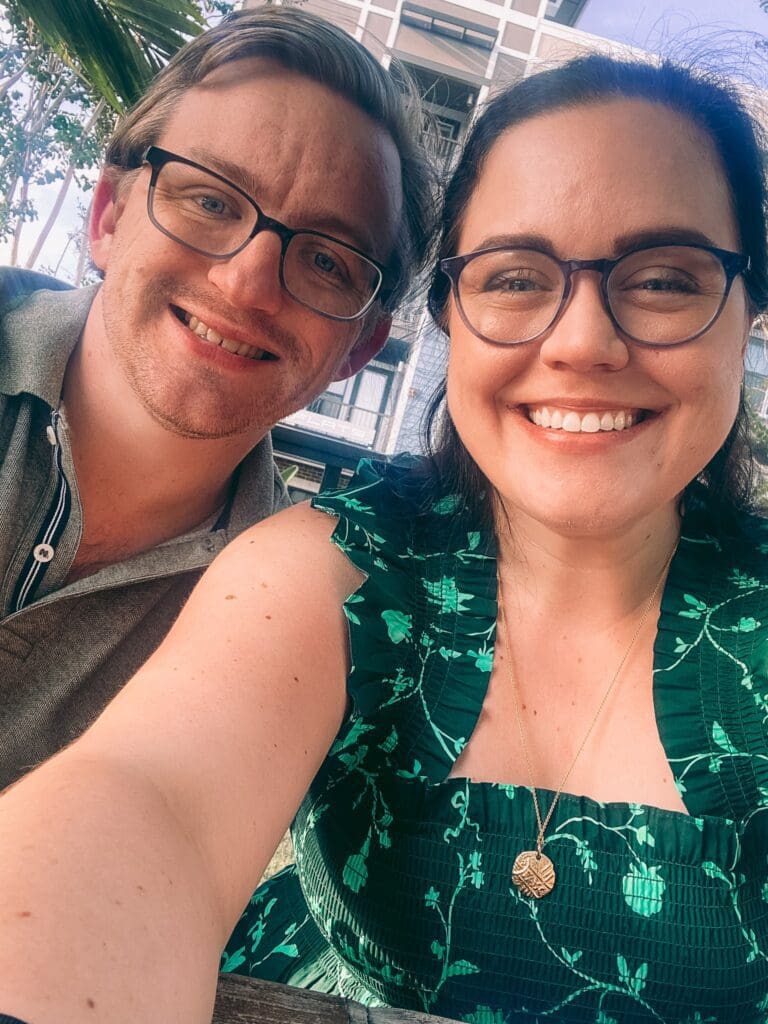 Brett and I went for a double date with our friends on a Saturday night, and were able to get reservations relatively close to our seating time. Beyond a robust food menu, the drink list is overwhelming in the best way. Everything looked so good! They also offered a strong beer and wine selection, featuring both unique local options and classics we all know and love. We were too excited for our food for me to get photos, so check out the restaurant's website for more food imagery.
I enjoyed the kale caesar salad with grilled Scottish salmon, which was more than enough food for a meal, particularly since we split a number of appetizers amongst us to start. The entrees are all quite sizable, and many would be easy to share. Next time we go, I think I'll try to creamy risotto with peaches and marscapone cheese! Definitely one of the cutest and best restaurants in Tampa!
Visiting Rome + Fig Global Bistro
Address: 317 N Rome Ave Tampa, FL 33606
Useful Links: Website | Menu | Instagram
---
Thai Prime Kitchen & Bar
Thai Prime is a fantastic Thai restaurant and in a convenient location right by the International Mall and Tampa Airport. With a focus on providing fresh, high quality, and locally sourced seafood, the Thai Prime menu offers authentic Thai recipes in an inviting atmosphere.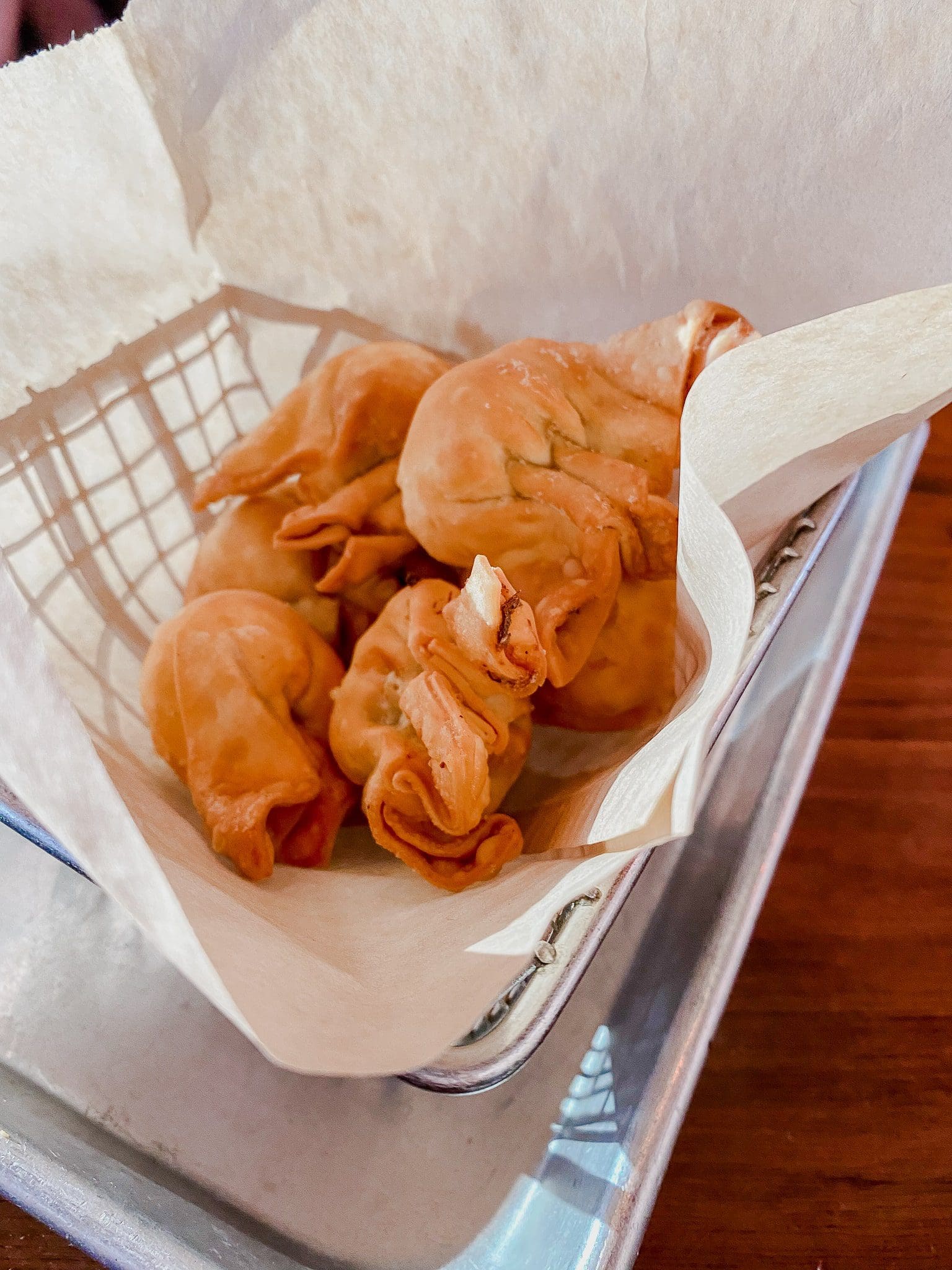 My favorite thing about this restaurant is their sushi menu. Specifically, I love their all-day sushi deal, where you can get four rolls for $24. I have found that this is a great option for a girls' night out; when I meet my friend Lauren there, we each pick two rolls and an appetizer and split everything. The bill, even when we have had a glass of wine each, has never been above $75 before tip. Seriously, it's a great deal.
If you're a fan of Crab Rangoons, you must try Thai Prime's. They add a hint of curry or some other spice and it is just amazing.
Visiting Thai Prime Kitchen & Bar
Address: 4142 West Boy Scout Blvd #5 & 6 Tampa, FL 33607
Useful Links: Website | Menu | Instagram
---
Yummy House China Bistro
A feast for the senses, Yummy House China Bistro is a unique experience from the moment you pull up to the restaurant. Offering a huge variety of delicious dishes for reasonable prices, Yummy House can rightfully be called the best Asian cuisine in South Tampa.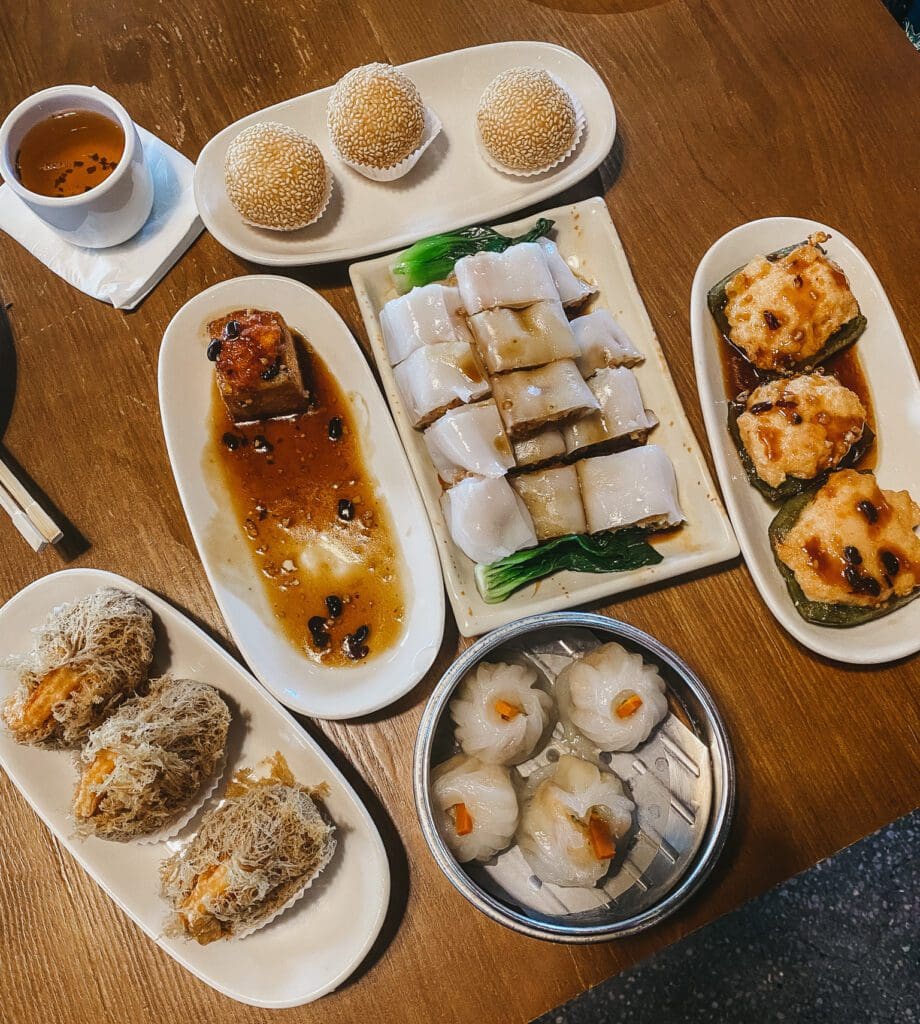 Learn more about the Yummy House Chinese Bistro and explore menu picks in my full restaurant review here.
Visiting Yummy House China Bistro
Address: 302 N Dale Mabry Hwy, Tampa, FL 33609
Dim Sum (Lunch) Hours: Mon-Sun – 11 AM – 2:30 PM | Dinner Hours: Mon-Sun – 5 PM – 9:30 PM
Useful Links: Website | Dim Sum Menu | Full Menu
---
Zukku Sushi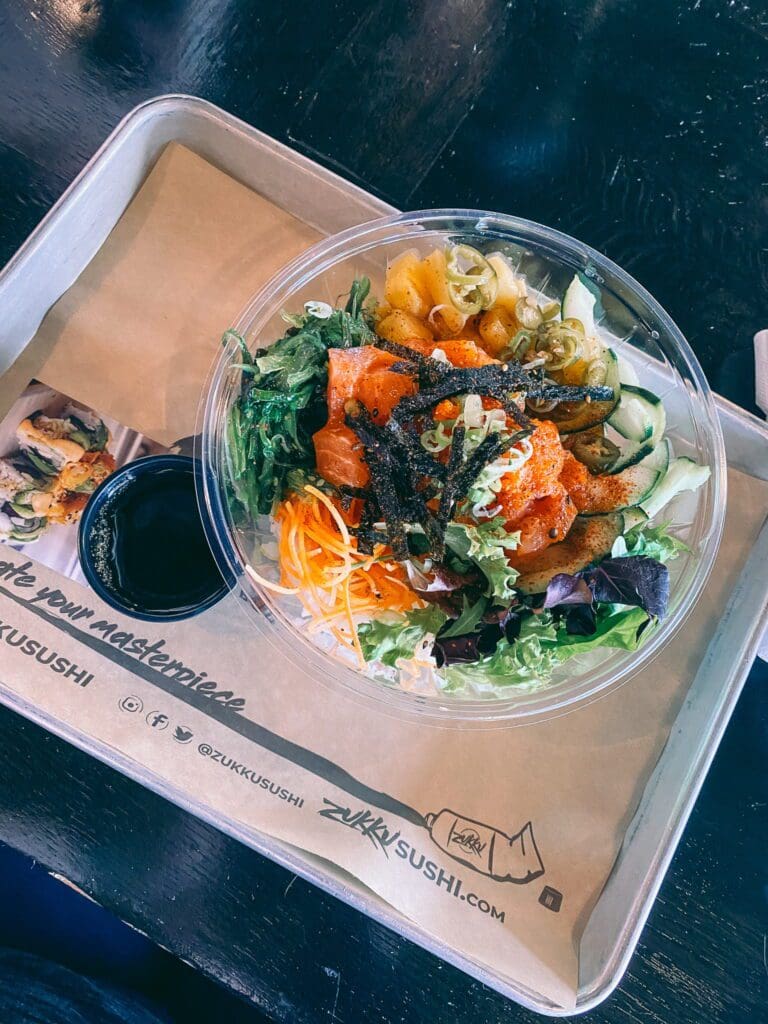 With a beautiful location within Armature Works, Zukku Sushi is a delightfully expressive sushi and poke restaurant. As far as sushi goes, Zukku is one of the best restaurants in Tampa.
At Zukku Shushi, you can pick from the pre-designed rolls, bowls, and sushi burritos on their menu, or you can design your own with their "express yourself" menu (starting at $10.95).
I've eaten at Zukku Sushi twice now, and have tried both their Zukku sushi roll (amazing, didn't get a picture) and the spicy salmon poke bowl, pictured here. Both were fantastic, and I was really impressed with the sheer amount of food I got in the poke bowl, considering it was under $15!
Visiting Zukku Sushi
Address: 1919 N Ola Ave Tampa, FL 33602
Useful Links: Website | Instagram | Menu
---
Click here to check out my ever-growing guide of
the best breweries in Tampa for craft beer lovers!
*This post was originally published on July 8, 2021. It was last updated on July 12, 2022.