Florida Craft Beer
When it comes to craft breweries, Florida has quite the selection to choose from, with over 300 brewing operations. The Florida craft beer scene seems to have grown exponentially lately, with local breweries growing in size, popularity, and renowned. Now, it's not uncommon to have truly local specialty tap options at restaurants (when eating out at restaurants was more of a thing…).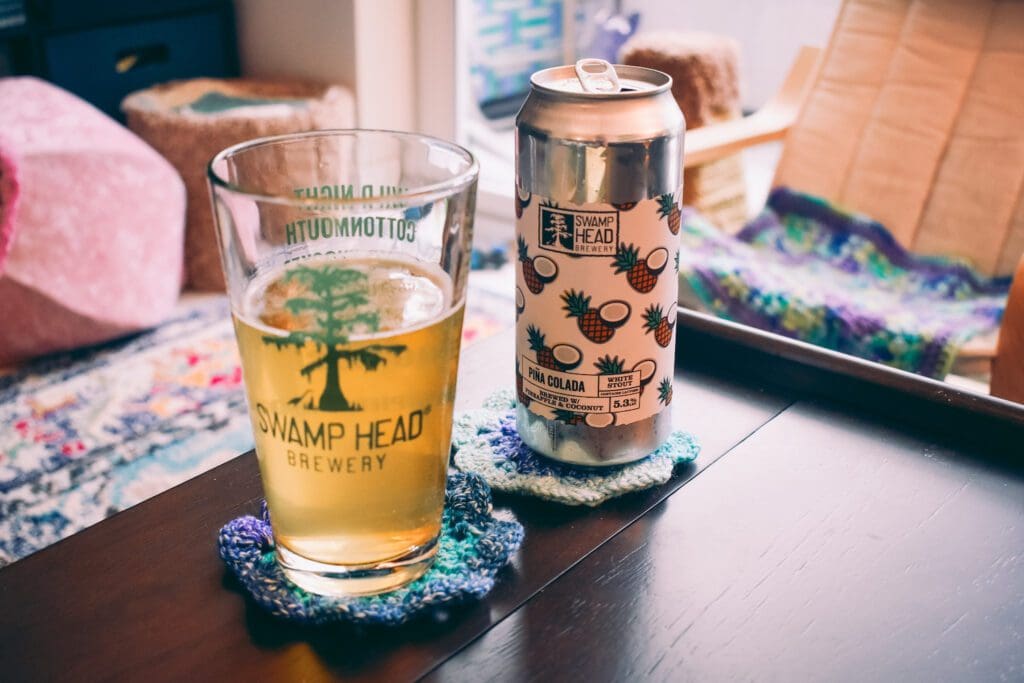 This specialty Florida Craft Beer from Swamp Head sits atop my Critter Crafting Ocean Blue & Teal Coasters, now available in sets of four.
Florida Breweries and the Pandemic
Since the start of social distancing, and the closure of bars and other public places, local breweries have come up with unique ways to keep their to-go operations viable. Breweries have been classed with bars, and were forced to suspend tap room operations with the bar closures here in Florida.
While having a to-go option is better than nothing, it's tough for these smaller businesses to keep their businesses afloat. The Florida Brewers Guild has taken the lead on petitioning for more reasonable regulations in light of the pandemic. For many breweries, it is far easier to maintain social distance in their tap rooms and patios than it is in a traditional bar.
In the past couple weeks, some headway has been made regarding reopening tap rooms around the state. Some breweries have kept their bars closed by choice for the time being, while others have resumed somewhat regular operations.
For example, Swamp Head Brewing in Gainesville — my favorite Florida brewery — has opted to stick with the to-go pick up model. On the other hand, First Magnitude, another Gainesville staple, has opened their facilities to guests once more.
Two quick snaps from our first stop in Gainesville, Swamp Head Brewery, and a capture of the variety available at the First Magnitude drive thru.
Picking up Florida Craft Beer from Gainesville's To-Go Drive Thru Options
A couple weeks ago, Brett and I were in Orlando for a long weekend. We decided to make the drive up to Gainesville, where we both went to law school (double gator for me, thank you very much), to support our favorite Florida breweries. Plus, I was really curious about what their drive-thru set ups looked like.
We drove up to get to-go orders from both Swamp Head and First Magnitude. Both have strong social media presences, so we knew they were putting a lot of time and energy into their drive thru options. I was really impressed with how many different beers both had canned, including specialty brews like seltzers.
I'm glad we went when we did, because First Magnitude shut their drive thru down the other week in favor of opening up their seating area once more. Understandable, but the drive thru was a fun experience!
Specialty Florida Craft Beers for End of Summer
As you can see from this Instagram post, we picked up a lot of different beers to try. We don't get to Swamp Head or First Magnitude often, so we really went all out. Plus, gotta support small business, right?!
Swamp Head's Piña Colada White Stout
Subtly sweet and totally refreshing, this lighter beer is exactly what you'd want on a pool day. And since it's still in the high 90s here in Florida, it has been pretty much the perfect find. Brewed with pineapple and coconut, it hardly seems like a stout; instead, I found it to be almost more reminiscent of a bubbly seltzer than a heavy beer.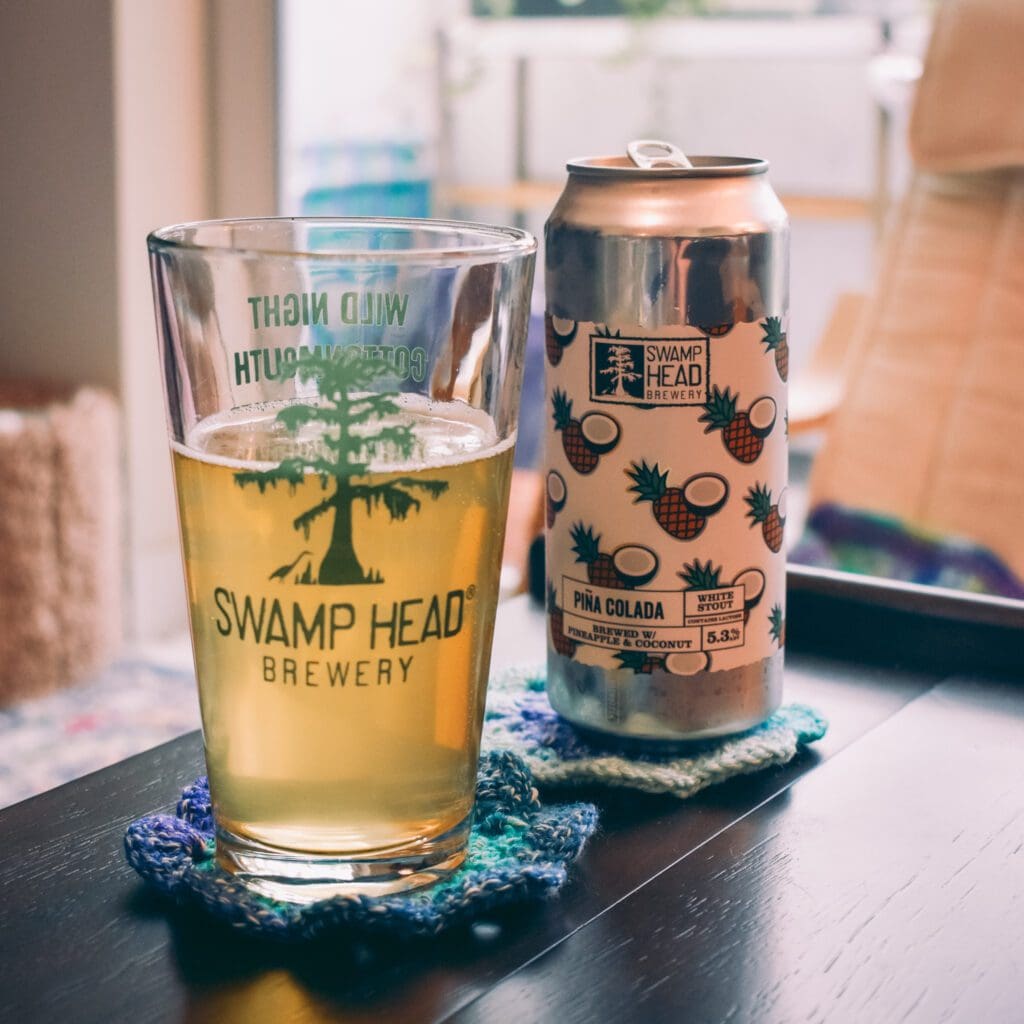 Swamp Head's Piña Colada White Stout sits atop my Critter Crafting Ocean Blue & Teal Coasters, now available in sets of four.
Swamp Head's Hop Swap Stump Knocker American Pale Ale
To celebrate National IPA day this year, Swamp Head made some funky batches of two of their staple beers — and two of my favorites — Big Nose and Stump Knocker. Unfortunately for us, but not too surprising, the brewery had sold out of the Hop Swap Big Nose IPA when we visited. We were able to pick up the Stump Knocker variety, though. Let me tell you — it did not disappoint. This beer featured the same base as the Stump Knocker American Pale Ale, but offered Big Nose's hops varieties, along with some pine and grapefruit for good measure. It's light but hoppy, rich yet drinkable. I'm hoping they make these again!
Swamp Head's Field Trip Amber Ale (Original and Blackberry Varieties)
Have you ever had a peanut butter and jelly beer? Because if you haven't, you really should give it a shot. Even if you don't love darker beers, the mixture is something everyone should experience. This amber ale from Swamp Head truly captures the taste of a PB&J, but not in a sickly sweet way. The original is my favorite, but the blackberry was surprisingly refreshing, too.
First Magnitude Ursa American IPA
Another of my Gainesville favorites, First Magnitude's Ursa IPA is intense yet drinkable. It's a popular beer from this brewery, and one of their staples. Last year, it was even the Silver Medal Winner for Best Florida Beer! Ursa features bright citrus flavors along with a resinous aroma. It's hard to find outside of Gainesville, so I was excited to have picked up two six packs while we could. Unfortunately, it's a favorite of both mine and Brett's, so it didn't last as long as we would have liked (or long enough to get a picture of my own).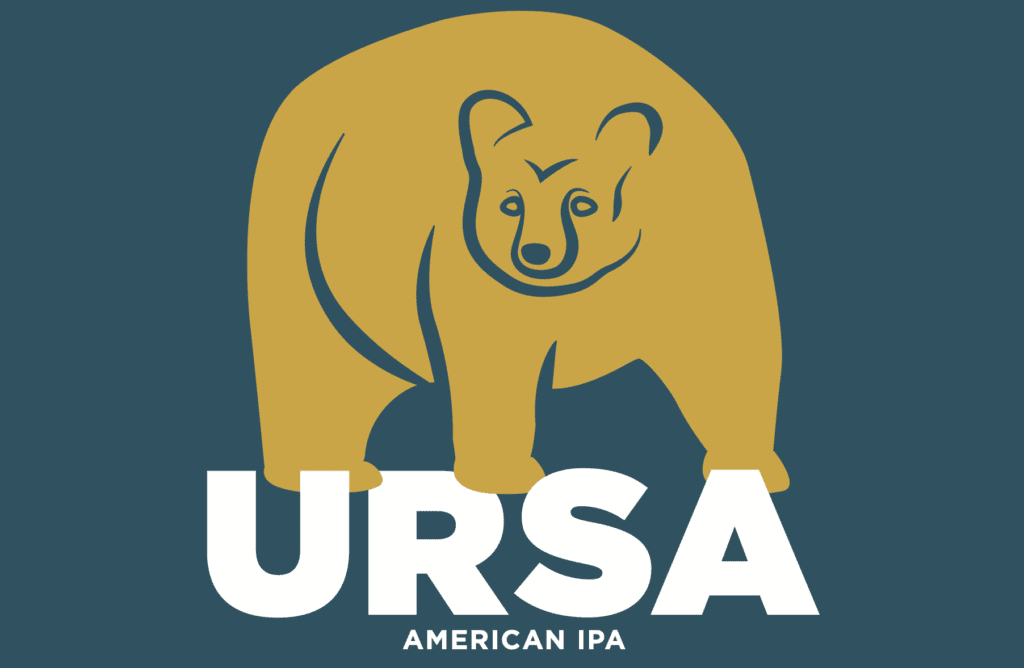 First Magnitude's Make Me a Host Hazy IPA
I love a good pun, and First Mag had a few on their menu, including this Zoom inspired IPA. A New England Style IPA, Make Me a Host was light on the haze and heavy on the flavor (in a good way). Brewed with Citra and El Dorado hops, this beer featured a bright citrus flavor that mixed well with the malted oat base.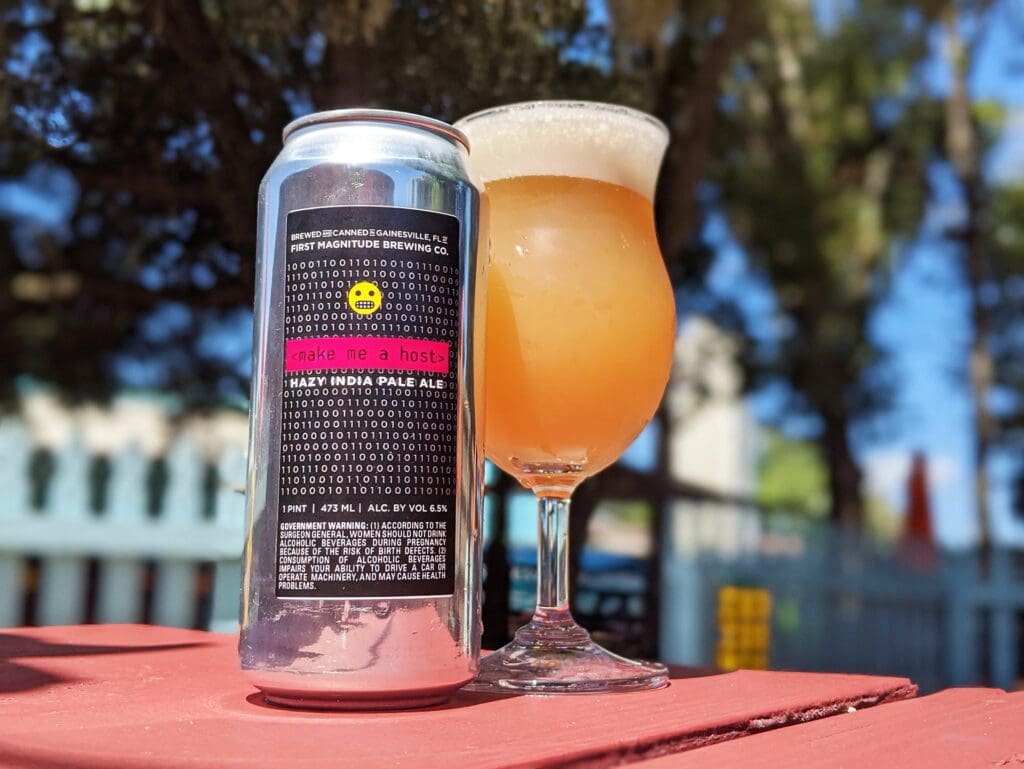 Explore More Florida Craft Beers from Swamp Head and First Magnitude
The beers I listed here are just the tip of the iceberg when it comes to what these two places have to offer. Their Facebook pages have the most up-to-date info about available beers, so check the links below to see what sounds good to you. If you're in the North Florida area, definitely swing by and check them out!
---
Looking For More Great Florida Craft Beer Recommendations? Check Out Some More Favorites:
---