The Basics: How Planoly Works for Social Media Scheduling
Social media is a lot of fun, but managing an account for growth or reach can quickly become stressful and time consuming. That's where scheduling apps come in. There are a ton of options out there, but I've been using Planoly for a couple years now. If you're wondering how Planoly works, I'm happy to report it's a pretty user-friendly product that is quite useful for grid planning, hashtag organization, and even analytics analysis.
What is Planoly and How Does It Work?
First things first, Planoly is a visual planning tool for Instagram. If you're interested in planning out your grid, this is a great option for you.
With Planoly, you can easily plan your content, save hashtags you regularly use together, and analyze certain types of engagement through the platform. Many people find it particularly useful when planning out Instagram marketing campaigns, but it is also suitable for personal use.
This platform allows you to schedule social media posts for Instagram and Pinterest. Use it as a library for all the photos you want to post to Instagram or as a way to plan your grid.
Currently, Planoly allows you to upload and schedule a variety of types of posts, including single images, carousels, videos, Instagram story slides, and Pinterest pins. It also has the option to automatically post Instagram feed posts to Facebook and Twitter.
How to Upload Photos to Your Library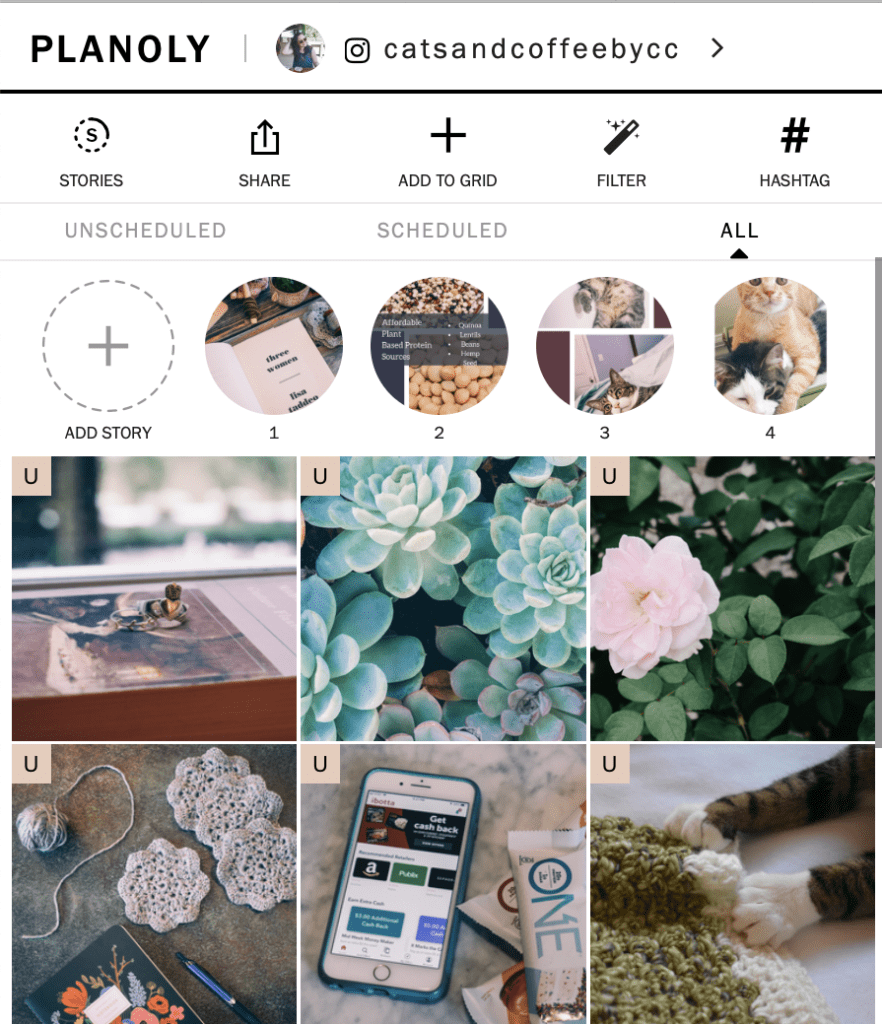 You can upload photos to the app either on their desktop site or on your phone. I prefer to use the desktop version because you can simply drag and drop files into your library.
One of my favorite things about this platform is that you can easily filter which images you see as far as scheduled versus unscheduled goes. As you can see from the cropped desktop screenshot below, you can choose to view "all" images, or filter by scheduled status.
Once you've uploaded images, you can add captions and hashtags largely like you would on Instagram itself. Then you can schedule the post to either auto-post or prompt you to post manually. I prefer to post manually, since I put my hashtags in the first comment rather than in the caption itself.
A note on auto-posting from Planoly: At this time, only Instagram Business Accounts can use the auto-post feature. Creator profiles are not able to auto-post.
Is Planoly Safe to Use?
Yes, Planoly is a safe third-party platform to use to post to Instagram.
There has been some question about whether other such apps can negatively impact you on Instagram or have your account flagged as violating Terms of Service. However, since Planoly is an official Instagram Partner, you don't have to worry about that when using the platform. 
Planoly is an Approved Partner of Instagram
Planoly is an official partner of Instagram, meaning that it was hand-picked by the social media powerhouse as a resource to help users grow on the image-based platform. According to Planoly's blog, "This partnership program was created to help brands and advertisers to find various technology partners and/or collaborators that can help them get further on Instagram and amplify their digital strategies."
Is Planoly Free?
There is a fairly robust free version of this social media scheduling app. The free version allows for two social profiles — one Instagram and one Pinterest account — for one user with 30 uploads per month per profile. This means you can upload 30 images to schedule on Instagram (no videos) and 30 images to schedule on Pinterest. It also comes with basic analytics and a basic version of their new Link in Bio feature.
The paid accounts start at $7 a month and offer far more benefits than the free version, including their recommendations on the best time to post.
I have a custom plan, since I use the platform to schedule for three social profiles, Cats & Coffee, my @kinglouisthexvii catstagram, and my Pinterest account. I wound up upgrading to this custom plan because of my need for three social profiles. For a while, I had a free account and then an account with the basic solo plan but it was enough of a hassle to switch back and forth that I gave in and upgraded.
How I Use Planoly for Cats & Coffee
Honestly, I don't use this app to it's fullest potential, but what I do use it for has been hugely helpful. It has helped me balance my Cats & Coffee content, as well as my Critter Crafting shop, and Louis' Instagram. The platform is hugely helpful for small businesses, especially since it's generally pretty affordable.
Like I mentioned above, I use the app for three social profiles. I primarily use Planoly for Pinterest and hashtag management.
How Planoly Works for Hashtags
While I often find scheduling and planning Instagram posts to be rather difficult, I use my Planoly hashtag library for 95% of my Instagram posts. The app allows you to save sets of hashtags so you don't have to type them in each time you post. It also keeps track of the number of hashtags per group, so you don't have to worry about accidentally going over the allowed 30 tags.
There are other ways to store such hashtag sets, like in phone notes or as keyboard shortcuts. However, how Planoly works for this aspect of social media is just so useful. With notes, I found I kept accidentally deleting hashtags or messing up formatting, and the keyboard shortcuts were annoying to update or remember. With Planoly, I find that it's so easy to hop onto the app, quickly click "copy," and paste them in to a post's first comment.
Why I Love This Platform for Pinterest
Planoly for Pinterest is one of my favorite parts about the scheduling app. In my view, it has three major benefits over scheduling pins solely on Pinterest itself:
First, Planoly allows you to schedule for pages that aren't live yet (IE: posts that haven't been published yet);
Second, it allows you to schedule beyond two weeks (the furthest out you can schedule when using the actual Pinterest website);
Third, in one window, you can schedule a pin to post to different boards at different times.
As such, this has been a really useful tool for evergreen content, either from the Cats & Coffee blog itself or from my crochet shop. For example, my Critter Crafting Pistachio Green Coasters are available year-round, so I am able to schedule pins throughout the year at one time if I so choose.
How Does Planoly Compare to Other Social Media Scheduling Programs?
Planoly vs. Later
As for the question of which is better, Planoly or Later, I would have to say I prefer Planoly. Perhaps if I had started out on Later I would feel differently. But, based on how Planoly works compared to Later, I find the former to be much more user friendly and reliable.
For example, I've found keeping social media accounts connected on Later is more difficult. More than once, my accounts have become disconnected without my knowledge, meaning scheduled posts weren't published.
Is Planoly or Tailwind Better?
It is harder for me to say whether I prefer Planoly for Pinterest or Tailwind more. I only recently started using Tailwind and have really come to love it.
However, Tailwind definitely isn't as user friendly as Planoly. The platform is slower and glitches more often. This is partially because Tailwind does so much more than Planoly. For example it offers "Tailwind Tribes" (an unfortunate name…) that function like Pinterest group boards, as well as some more sophisticated scheduling features like Smart Loops.
As I get more into Tailwind, I may revisit my use of Planoly for Pinterest and see if its worthwhile to stay on the custom plan or to downgrade.
---
Want to try Planoly out for yourself?
Sign up for any plan — free or paid –with my referral link here!
*This post was originally published on September 21, 2020. It was most recently updated on October 2, 2021.