Welcome back to the Cats & Coffee My Current Loves series. This edition features four things that stand out in the last month for me: stickers designed by one of my dearest friends, a great at-home pumpkin spice latte option, a fascinating podcast series from the New York Times, and a kitchen gadget that is making a world of difference in my cooking routine.
Let's dive right in:
Indigo Ink Co. Stickers
My friend Lauren is an amazing artist, with a particular talent for feminist and spooky line work. Earlier this year, she opened an Etsy shop called Indigo Ink Co. You may recognize her pieces from my post about meditation and meditative coloring; she sells digital downloads of her prints on Etsy, and many are well-suited for such coloring!
Besides digital prints, Lauren has branched out into producing cute sticker versions of some of her favorite pieces. I bought a few for myself with the intention of sticking them on my HydroFlasks and Yeti cups. The stickers are super durable and well-made. I particularly like the holographic ones, but am particularly drawn to the adorable baby goat.

Explore all of Lauren's available Indigo Ink Co. prints and stickers here.
Follow Indigo Ink Co. on Instagram here.
La Colombe Pumpkin Spice Draft Latte
I've tried and liked La Colombe Draft Lattes before, so it's not a huge surprise that this Pumpkin Spice version is my new favorite. This ready-to-drink foamy, nitrous coffee is the perfect amount of pumpkin spicy without being too sweet. It has more caffeine, less sugar, and lactose-free milk, so it really covers all the bases for me. I like to pour it over ice, instead of drinking out of the can, but it's totally convenient as a to-go drink, too.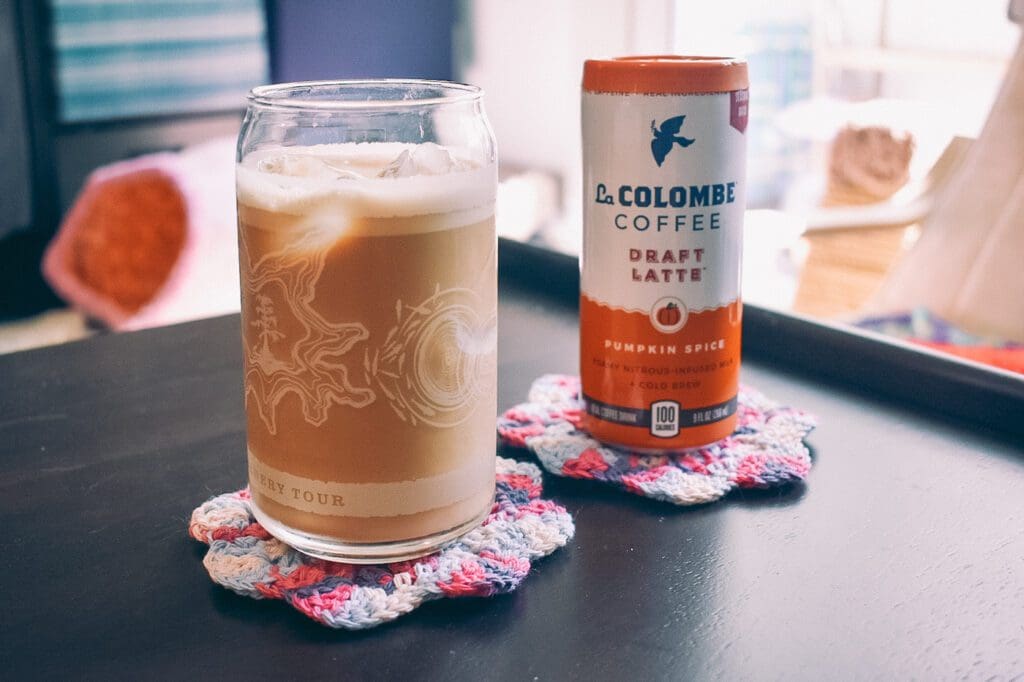 P.S. The Pumpkin Spice Draft Latte is pictured here with my Critter Crafting Blue & Pink Floral-Inspired Colorful Coasters, now available in my crochet shop!
Learn more about the La Colombe Pumpkin Spice Draft Latte here or pick it up from Amazon and Whole Foods here.
Rabbit Hole Podcast from The New York Times
I went back and forth between incorporating Rabbit Hole or The Social Dilemma into this Current Loves post. Both pieces discuss a similar phenomenon. Rabbit Hole provides more micro-level detail, though, than the new documentary, since it largely follows the exact YouTube history of someone who fell into the QAnon and Alt-Right mindset.
I'm getting ahead of myself.
Rabbit Hole is a podcast series from The New York Times with tech columnist Kevin Roose that delves into "what happens when our lives move online." The series covers a broad range of topics, from the purely political to the behind-the-scenes work at YouTube with Susan Wojcicki and the video recommending algorithm. There's even an interview with YouTube sensation PewDiePie, whose name I only knew because of his efforts to be the most subscribed channel on YouTube.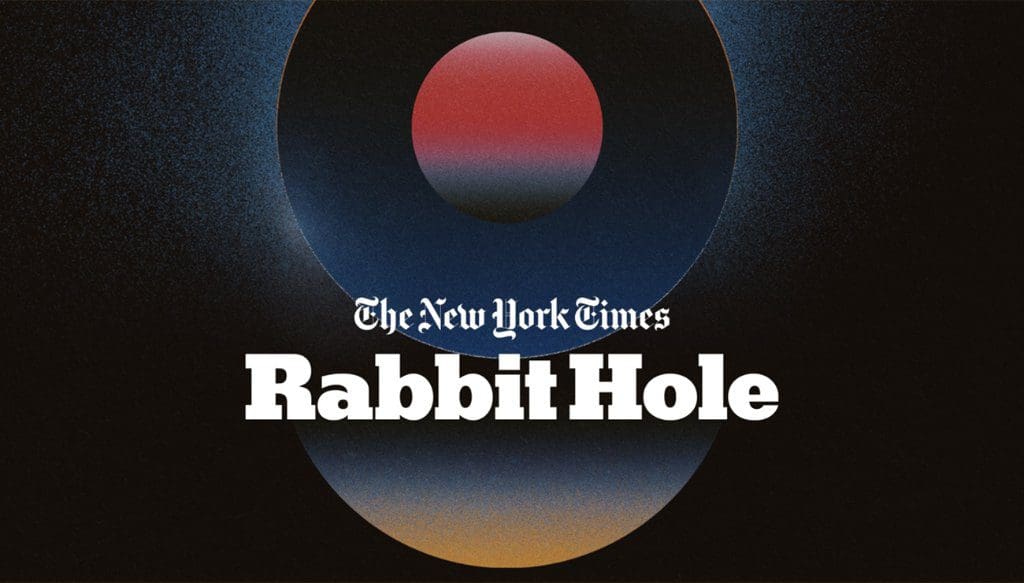 The series does an amazing job weaving together all these different aspects of the internet that one might assume are severable and discrete. And if you had any questions about what the QAnon conspiracy was all about, or how widespread the conspiracy theorists' misinformation spreads, Rabbit Hole is a fascinating yet terrifying primer on the issue.
Click here to listen to The New York Time's Rabbit Hole Podcast Series on Apple Podcasts.
P.S. If you're curious for more information about how YouTube operates, Eugene Lee Yang from the Try Guys interviewed YouTube CEO Susan Wojcicki last December. The interview is enlightening and slightly less anxiety-producing than Rabbit Hole or The Social Dilemma.
Automatic Hand Soap Dispenser
My dad gave me two automatic hand soap dispensers for my apartment. While I thought they'd be useful, I definitely underestimated just how useful they are. I think the idea behind my dad giving them to me had to do with the pandemic. While they are certainly helpful for that, I've found that it has made the biggest difference for me in my meal prep. As someone who loves to cook, I have found that having this automatic dispenser is so handy when I'm working with oils, eggs, butter, or anything else that makes me want to wash my hands between steps.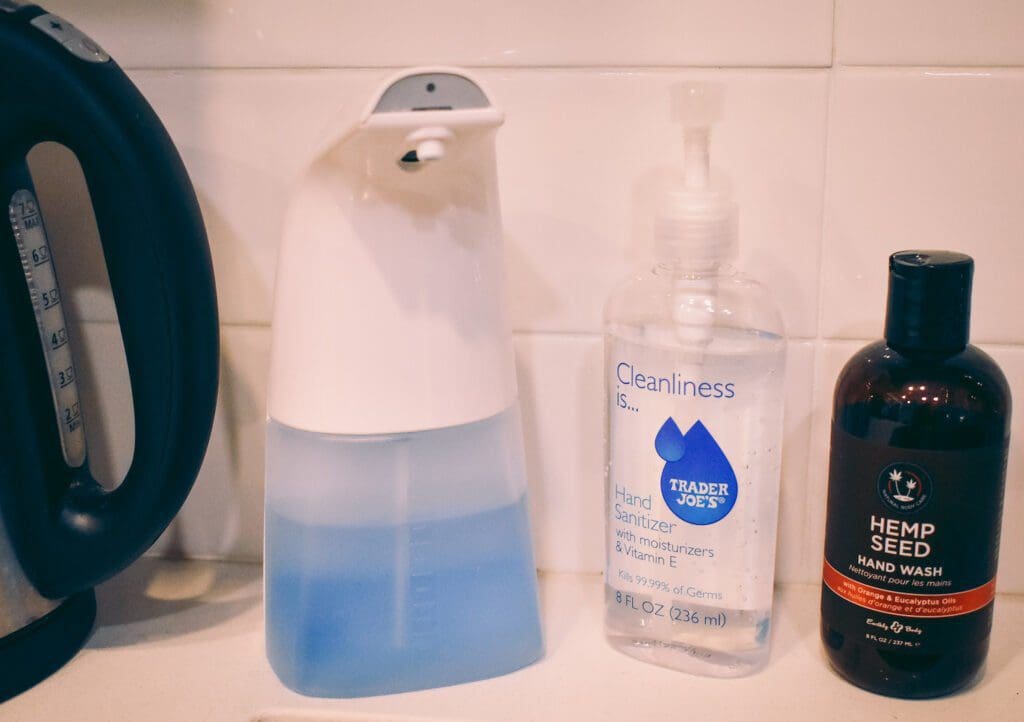 I featured the Hemp Seed Hand Wash pictured to the right of the automatic foaming soap dispenser here in a previous edition of My Current Loves. Check it out here.
I haven't been able to find the exact model that I have, but this Secura Automatic Foaming Soap Dispenser looks pretty close. I've been using this Method Foaming Hand Wash Refill in the automatic dispenser and it's lasting a long time!
---
You Might Also Like…
---