Welcome back to the Cats & Coffee My Current Loves series. Let's dive right in:
Hemp Seed Body Care's Hand Wash with Orange & Eucalyptus Oils
Hemp Seed Body Care gifted me their new Hemp Seed Hand Wash this past week. The first thing I noticed was the gorgeous scent. I love eucalyptus, and it blends so nicely with the orange, both of which have natural purifying. Besides the scent, though, the formula is super hydrating, thanks to the hemp seed, and it has pumice for natural (but gentle) exfoliation. Between the scent and gentle exfoliation, you may find it reminiscent of your favorite luxury shower gel (the scent and feel, aside from the exfoliation, kind of reminded me of my favorite Beauty Pie body wash).
It's a clean beauty, vegan, and cruelty free formula, made with body and environmental health in mind. Plus, Hemp Seed Body Care, a part of the Earthly Body family, operates out of a solar powered facility in California!
A portion of Earthly Body sales goes towards the Get Together Foundation that works in concert with the Los Angeles Homeless Service Authority to distribute hand wash kits to those in need.
Learn more about the hand wash and pick up a bottle or two for yourself here. Besides the hand soap, I'm finding myself eyeing the bath and body products! The scents sound amazing.
Online Cards Against Humanity
Ok, it's not exactly Cards Against Humanity. It's called "Remote Insensitivity." Basically, same idea. Anyway, on this platform, you can play the game with friends in real time. We set it up with two of our couple friends, so the six of us played while we also had a Zoom video call on. It was a lot of fun, and the game platform is free!
Try out Remote Insensitivity online on PlayingCards.io here!
Making Colorful Crochet Coasters
Previously, I wrote about one of my newer crochet projects – coasters. Lately, I've been making more coasters for my shop, both because I came across a stash of the yarn I like to use for them, and also because I found this cute pattern from an Instagram friend of mine to try. I'm not great at reading crochet patterns, so it was a big deal for me to really make this one work for me.
Anyway, I've made a bunch of new coaster sets in a variety of colors and patterns. Most of mine are available in sets of four, but I have a couple that are either sets of two or three.
Check out all of my coasters available on Critter Crafting here, and all of my crochet creations, including two gorgeous full sized throw blankets, here!
Schitt's Creek
I'm late to the party here, I know. After I shared my post about shows to watch while staying home, a few people – including a couple friends who have been telling me to try it out for a while now – suggested I add this show to my list. Since I suddenly had more tv time on my hands, I decided it was time. Mind you, at this point, I didn't realize the show was ending. That was not a great surprise.
Anyway, I love this show. Schitt's Creek is about a wealthy family that loses everything and has to move to a small town to start over. Bits of it reminded me of Arrested Development, but with more whimsy. It took me a few episodes to get into, because the characters are pretty out there (see, e.g., Moira). But, I came to realize that this was part of the show's greatness. Suddenly, though, I'd watched every episode available on Netflix and bought the iTunes pass for the last season. I think I watched the whole series in a matter of days.
If you're looking for something light and whimsical, but also just really well written and produced, definitely give Schitt's Creek a try. I also highly recommend the documentary they put together for the finale, which is available on iTunes. It definitely made me cry.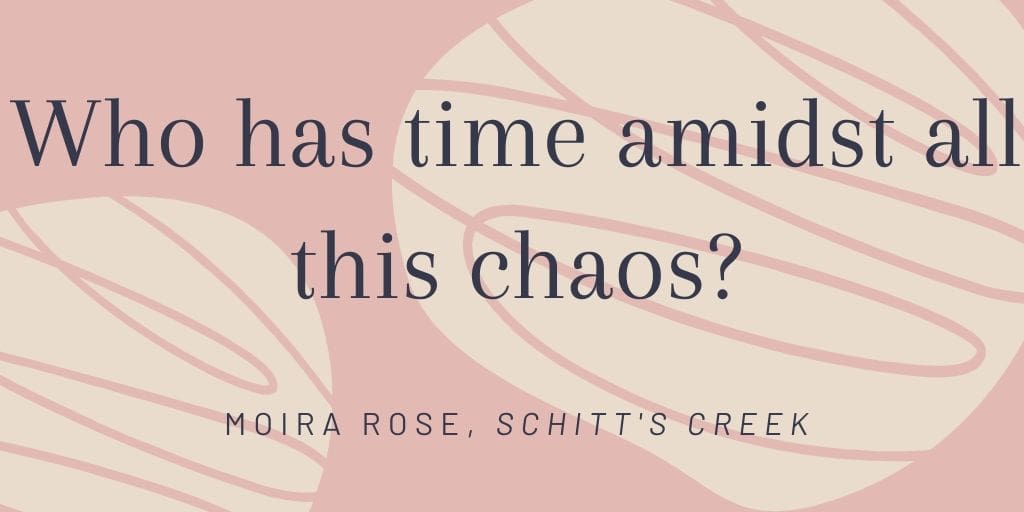 This Moira Rose quote is pretty much me when faced with the prospect of doing normal tasks during all of social distancing and staying home.
P.S. Check out my new Schitt's Creek devoted Pinterest board for more funny clips, gifs, and quotes!
---