Beauty Pie's Subscription-Based Beauty
About six months ago, I wrote about my initial reactions to Beauty Pie's subscription beauty brand. Since then, I've tried a number of other products by the brand and am definitely expanding my Beauty Pie favorites. At this point, I haven't tried too much from their makeup line besides an eyebrow product and a concealer that are no longer available. I'm really intrigued by some of their new Luxe Shine lipsticks, though, so I might order one of those next.
What I've Tried Recently
Most recently, I tried the Super Healthy Skin Daily Vitamin C Defense Serum, the Super Healthy Skin Nourishing Body Wash, and the Plantastic Nourishing Shea Butter Hand Cream. So far, I'm loving these three products, and the body wash is my favorite.
Super Healthy Skin Nourishing Body Wash
First of all, this body wash is a total steal at $7.33. I recognized that the description said it was over 15 oz, but I didn't really realize how large of a container it was. This body wash smells great, suds up nicely, and washes away cleanly. I love the scent, which has some citrus and geranium scents, along with aloe vera and other nourishing oils. It's vegan, cruelty free, and comes in a pump bottle. What more could you want?
Super Healthy Skin Daily Vitamin C Defense Serum
Designed to fight aging-effect of pollution and free-radicals, this vitamin c product is ideal for daily morning use. It works to reduce visible fine lines while also hydrating and soothing the skin.
While I haven't been using this product long enough to really review it, my initial reaction is positive. It smells nice — without seeming like it's full of perfume — and spreads nicely. I think the 1.69 fl oz bottle is going to last me a long time, so the $11.35 price isn't bad at all. Beyond this, it dries nicely, making it easy to layer under sunscreen and makeup if you so choose. I'll continue to test it out and report back later!
Plantastic Nourishing Shea Butter Hand Cream
Featuring organic shea butter, aloe vera, chamomile extract, and antioxidants, this hand cream is designed to be a non-greasy "one-stop-shop" for the "softest, smoothest hands you've ever had." Reading this description, I thought it had a lot to live up to when compared to the Beauty Pie Super Retinol Anti-Aging Hand Treatment, which I adore.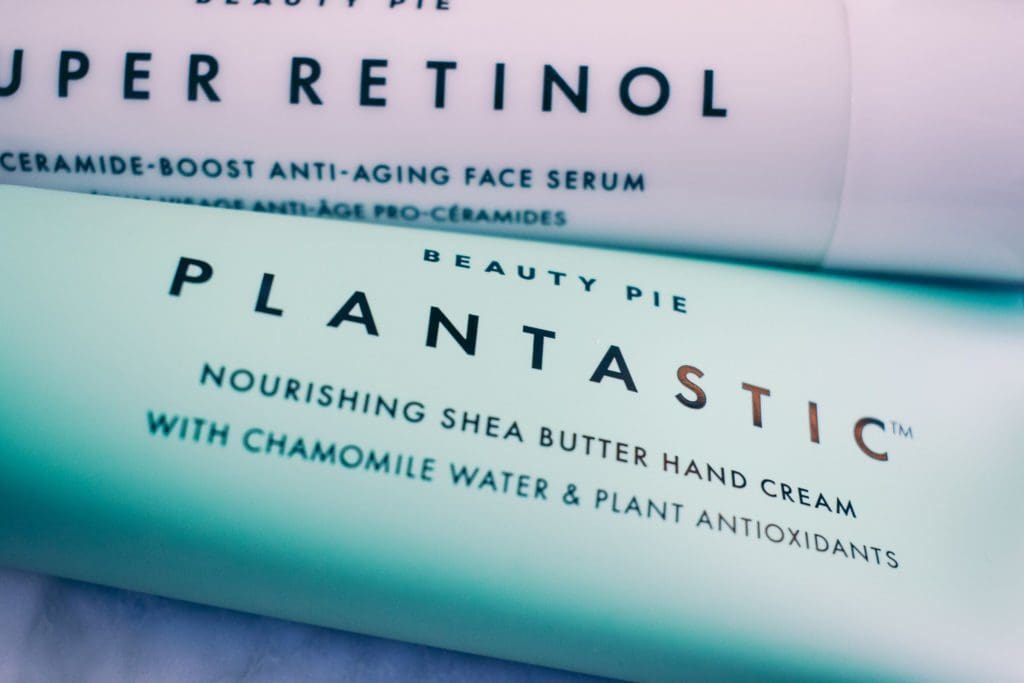 Overall, this hand cream really lives up to the non-greasy claim, and I really like the subtle, almost herbaceous chamomile scent (although, reading the reviews online, I realize I'm possibly alone in this regard). It's a great deal at $5.97 for a 2.5 fl oz tube. However, if choosing between this one and the Super Retinol, I'd probably go with the latter, since it's so unique to see retinol in hand cream. Although, for daily use — especially when you're in the sun — I can see why the Plantastic hand cream would be a better idea. No reason not to grab both, though, at these prices.
Older Favorites
Triple Hyaluronic Acid & Peptide Serum
I love a good hyaluronic acid product, and this option is no exception. According to the brand's site, with three weights of hyaluronic acid, super-smoothing ceramides, and gravity-fighting peptides, this product is designed for intensive hydration.
I've been using the Triple Hyaluronic Acid & Peptide Serum for a few months now. As far as Beauty Pie products go, this was almost pricy at $15.51 (just kidding, because that's still a great price compared to pretty much any other skincare serums).
I don't love the texture; I wish it would absorb into the skin more quickly, because I find it leaves my skin feeling a little sticky. And, as someone with a penchant to mess with and touch their skin, I find it difficult to ignore. However, I switched to using it before bed a couple times a week and this system is working better for me. I like the results I'm seeing with it — especially around my eyes. I think it is living up to the claim that it's hyper-hydrating.
Super Retinol Ceramide-Boost Anti-Aging Face Serum
This retinol serum features a "slow-release gentle encapsulated retinol complex" that helps to reduce fine lines and wrinkles while evening skin tone. The concentrated ceramide blend helps reach this goal, along with some hyaluronic acid, which helps with moisture and hydration. Plus, when are you going to find another retinol product for just $12!?
Of the serums, I think this is my favorite so far. It says its for ages 35 and up, but I'm having great results with it at 26-27. If you're looking for a retinol product that isn't too harsh — IE: if you like the Herbivore plant-based retinol alternative — I think you'd like this product, too. It's really mild on the skin, but also really effective. My skin didn't dry out or anything when I first started with this product. I've been using it for a few months now and feel like I'm seeing both immediate and long term results with it. For example, if I use it on a night when I notice I'm starting to break out along my chin — a normal trouble spot for me — I generally wake up with at least some of this spotting diminished. Really, I can't recommend this one enough.
Check out my original Beauty Pie review here, which includes some of my original favorites from the brand.
Try Beauty Pie out FREE for the first month with this link!