Finding Beauty Pie, A Subscription-Based Beauty Company
Before last August, I had not heard of Beauty Pie, but when I saw they had a retinol hand cream, I was in. I love retinols and I love hand creams so this was really a win-win.
Initially, I was a little hesitant about joining the monthly subscription service from Beauty Pie. I didn't really understand how it worked and I've been trying to get my monthly subscriptions under control.
Basically, by paying a monthly fee (I have the $10/month subscription), you get an "allowance" to spend. You can get bonuses added to the monthly allowance with promo codes and the like (which I have had for both months so far). With my $10 membership, I have $100 to spend a month. This is where it gets a little confusing. The spending limit/allowance is based on the retail prices, but what you pay is based on the membership prices. I can get up to $100 of the "typical price" items but pay the lower prices.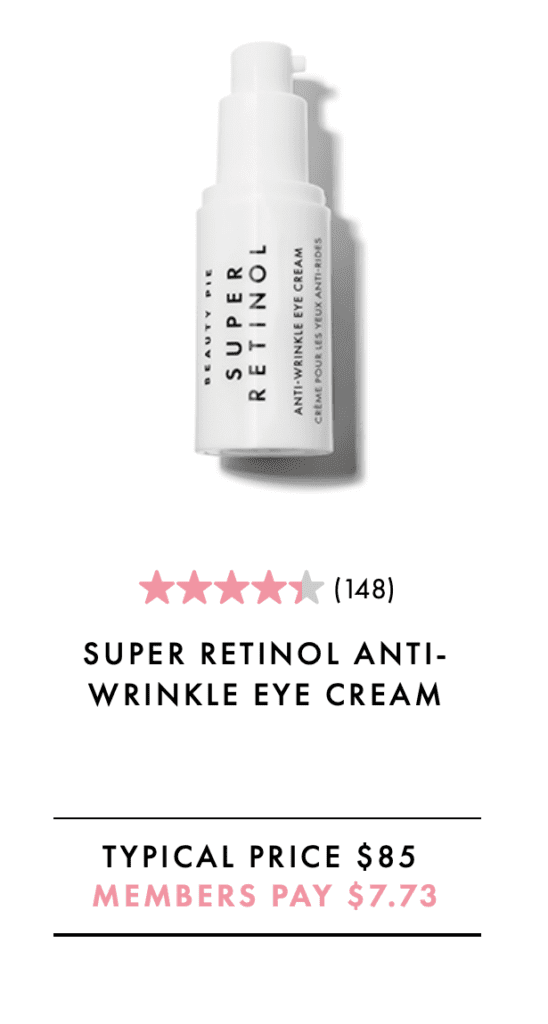 For example, with my membership, I pay $7.73 for this eye cream that retails for $85. Out of my $100 allowance, I have $15 left.
So you're limited on how much you can buy each month, but you pay the far lower prices.
I have placed two orders so far and spent $64.85 (or $84.85 if you include the monthly fee). However, the products I bought, in total, retail for $355.
Per the brand's website, "You get the same luxury quality cosmetics and high performance skincare, without paying for the middlemen, the celebrity marketing or retailer costs." The brand is pretty minimalist, lacking the bells and whistles that some beauty brands and subscription services employ.
P.S. this is the first of two Beauty Pie reviews!
Check out some of my other Beauty Pie review and favorite products here.
My Favorite Beauty Pie Skincare Products
So far, I have genuinely loved each of the Beauty Pie skincare products I have ordered.
Super Retinol Hand Cream
That being said, the Super Retinol Hand Cream is far and away my favorite product. I think this is just because it's a unique product to me. I've never seen a non-facial moisturizer with retinol before. Besides the anti-aging effects, I like the consistency and the fact that it doesn't become sticky or tacky. Plus, if you're into retinols, the brand really explains the science behind them and the slow-release formula they use.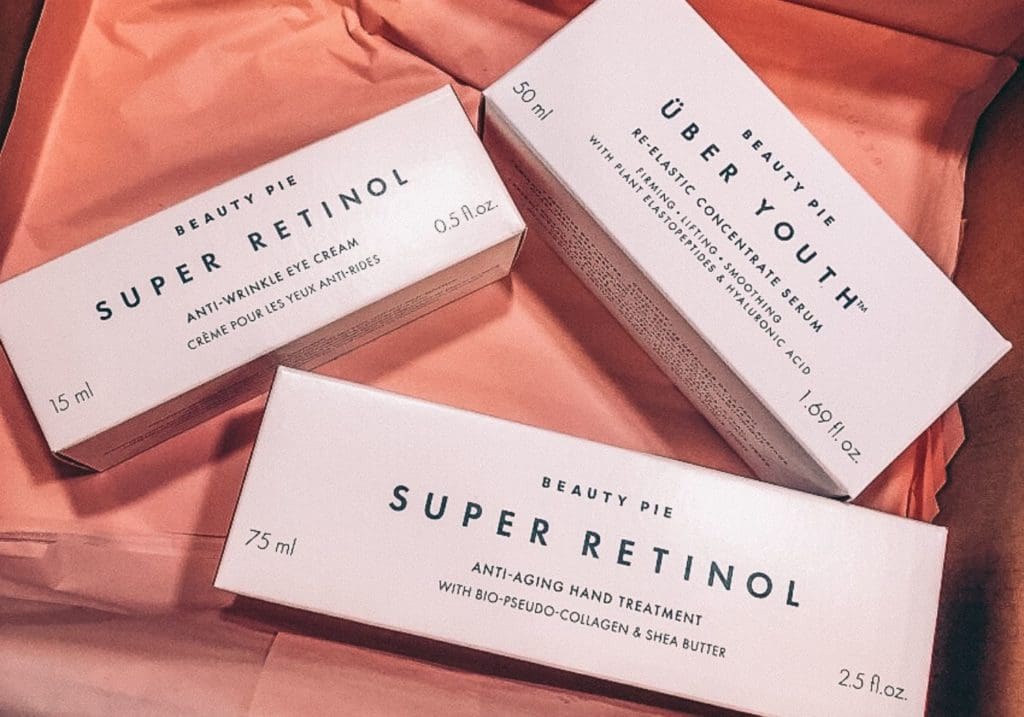 Super Retinol Anti-Wrinkle Eye Cream
Like with the retinol hand cream, I haven't seen a dedicated retinol eye cream before (at least that I can recall). The Super Retinol Anti-Wrinkle Eye Cream is really nice. It feels like a thick, water-based moisturizer (kind of like the Belif Aqua Bomb eye cream and moisturizer). I keep accidentally using too much, though, because the pump is a little intense. It's only really an issue because it gets all over my glasses.
Uber Youth Re-Elastic Concentrate Serum
The Uber Youth Re-Elastic Concentrate Serum is pretty great. It has a gentle scent to it that I like. It's pretty much everything you'd expect a serum to be: light and slightly moisturizing. It's plant based and uses one of my favorite ingredients — hyaluronic acid. Like the other products I've tried, this serum is gentle on the skin and didn't cause any adverse reactions. This is important to me since my skin can be pretty sensitive.
P.S. For an update on new products I've tried, click here!
My Beauty Pie Conclusions
In my opinion, the Beauty Pie subscription is totally worth it. Don't let the no-frills packaging and branding trick you into thinking the products are boring or bland; they're anything but that. Beauty Pie offers high quality skincare that is clean and gentle while still being effective. I definitely recommend checking their products out!
---
Try Beauty Pie out FREE for the first month with this link!
---
Pin this post to save it for later!
---
Popular Beauty Posts from Cats & Coffee
---