Treat Yourself with At Home Spa Treatments
With everything that's going on in the world and in our lives, it probably goes without saying that we could all use a little pampering. If you're looking to destress, there are a bunch of easy and affordable at home spa experiences you can recreate for yourself. Pick one of the activities listed below, or mix them all together! Whether you consider self care to be a nice bubbly bath with a cup of tea or something more constructive, I hope you find something on this list to enjoy.
P.S. Do you like the coaster under the candle here?
Check out all of the colorful crochet coasters available in my Critter Crafting shop here!
Easy and Affordable At Home Spa Experiences
Enjoy a Nice Bubble Bath
This is probably a no-brainer. Will a luxurious bath solve all of your problems? No. But it will help you relax a bit and even give you some easy meditative time. Plus, it's easy and affordable. All you need is some bubble bath, maybe a nice candle, and a glass of wine or cup of tea to suit your preference!
Dr. Teal's Lavender or Eucalyptus & Spearmint are my go-to for foaming bath soaps. Both are super relaxing scents, and they include Epsom salt and essential oils. I also like to add in Epsom salts of some kind if they're available. I have tried and liked the Dr. Teal's brand salts before. I haven't tried these myself yet, but I am intrigued by this Himalayan pink salt bath salt.
Refresh Your Hair with a Coconut Oil Mask
I don't know about you, but my hair is in desperate need of a trim all of a sudden. I think I only noticed my dry, split ends because I know I'm unable to go to a salon and get it done. In reality, I don't get trims very often; in that same vein, though, I don't really remember when my last trim was.
Anyway, I decided to try a simple coconut oil mask on my hair before I took to desperate measures and attempted to trim the ends myself. And by simple coconut oil mask, I mean simple. I took a liberal spoonful out of the coconut oil jar in my pantry, carried it to the bathroom, rubbed it between my hands to warm the oil, and then distributed it through my hair.
For those of us with fine hair prone to oil at the scalp, I would recommend avoiding putting the oil near the scalp. I really only distributed it through my hair from about the ears down. Once this is done, wrap your hair up in a clip and let it sit for twenty to thirty minutes. Or, if you forget about it and watch an episode of Outlander like I did, that's fine, too. Then, simply shower as normal. You may want to do two rounds of shampoo on your hair to make sure you get all the residual oil out, but it really depends on your hair texture and preferences.
If you're interested in splurging a bit, Moroccanoil has some nice hair masks available. I have previously used and enjoyed the Moroccanoil Intense Hydrating Mask formula. They can be pricy, though. Alternatively, I have heard good things about the Hask masks. I haven't tried them myself, but I've been a fan of their shampoos and conditioners for some time and the masks are cheaper than the Moroccanoil options.
Brighten Your Under-eyes with Affordable Yet Luxurious Eye Masks
If your sleep schedule is all screwed up like mine is, you may be noticing a bit more puffiness or dark circles around your eyes. And, even if you aren't noticing this, eye masks are fun anyway.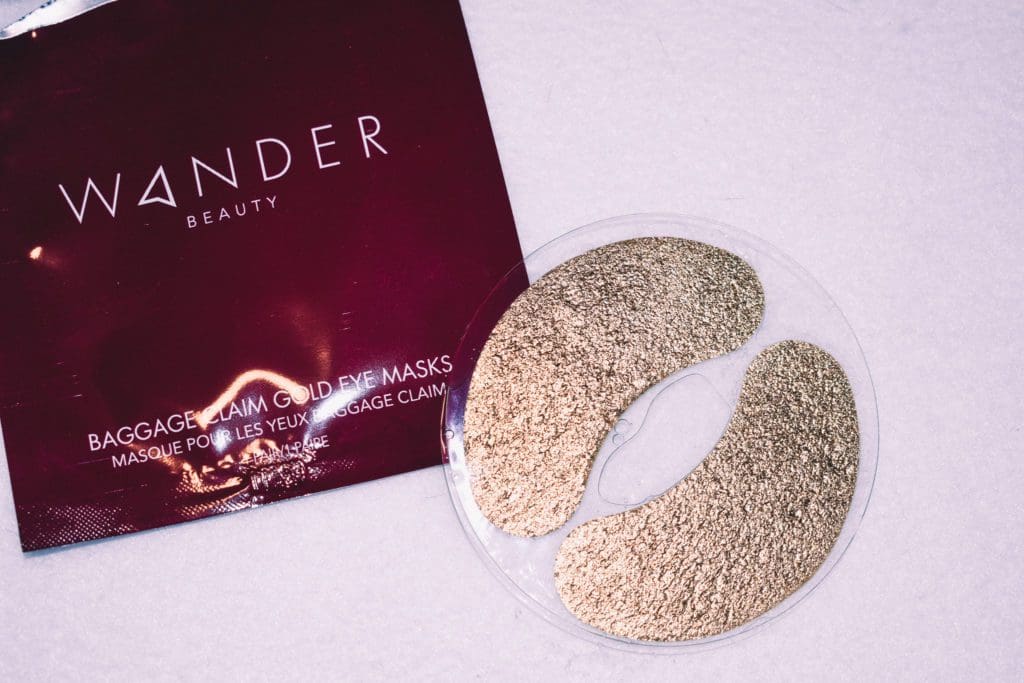 When I say affordable yet luxurious eye masks, I'm thinking of the Wander Beauty Baggage Claim Eye Masks, which come in gold and rose gold. You really can't get much more luxurious than that, right? A set of 6 individually wrapped eye mask applications in either color is only $25.
Alternatively, I have liked the Patchology Eye Gel Masks, but certain styles can be a bit pricier, it seems. However, you can get a pack of 5 "chill mode" eye gels from Patchology at Nordstrom right now for $15 (plus, Nordstrom has free shipping).
Try Out Facial Rolling with a Facial Roller
I recently picked up an Herbivore Jade Roller to try out. I've never really understood the idea of facial rolling, but decided to give it a shot. I'm not sure how much it really does, but using the roller does feel nice on the skin.
The gentle massage of a facial roller is supposed to help firm the look of the skin. Some claim that using a facial roller can reduce anxiety. This is a big claim, but I kind of understand it, because the process is pretty meditative and soothing. Further, facial rolling is thought to activate the lymphatic system and detox the body.
I'm not sure how true all this is (I got the information from a Healthline article), but, like I said, it does feel nice and luxurious. Plus, you can use facial rollers to distribute products on your skin. They work especially well with facial oils or moisturizers.
Amazon has some affordable facial rollers, like this rose quartz style for $13.98 and this jade roller for $15.99. I'd recommend checking the reviews for them, though, because I've heard from friends that ones they've bought on Amazon have broken pretty quickly. The Herbivore brand roller, which retails for $30, is currently available at Nordstrom with free shipping.
---
*This post was originally published on May 8, 2020. It was most recently updated on November 8, 2021.