The New Cats & Coffee Curated Content Series
As an avid consumer of online content and social media, I've been toying with the idea of doing a weekly curated content round up for a while. In some ways, these interests have informed My Current Loves Series, which has featured YouTube videos, Instagram accounts, and the like.
What I Envision for this Curated Content Series
With my Cats & Coffee Curated Content Series, I'm planning to share shorter-form content that I find interesting on a weekly basis. Longer form content — books, series, etc. — will generally be reserved for My Current Loves. Shorter pieces will be featured here.
My goal is to share an article, a podcast, a YouTube video, and an Instagram account that interested me each week. There might be some variation to that depending on what's going on online.
So, without further ado, here's what I've been interested in this week:
Cats & Coffee's Curated Content Series: 4th Edition
Article: 'I've knitted 52 scarves so far this year': Meet the hobbyists embracing the UK crafting revival, Katie Grant, The I Paper
This week's article is a light read about one of my favorite hobbies – yarn crafts!
If you've picked up a new hobby or pastime since the start of the pandemic, you're not alone. Many people have turned to knitting and crochet, apparently, particularly in the UK. 
This article is a quick read about a handful of UK residents who have taken up yarn crafts. As an avid crocheter, I really identify with many of the interviewees, particularly in regard to crochet and anxiety. It's a very soothing craft, so it's no surprise that it's bringing people some comfort during the pandemic! 
Click here to read The I Paper's 'I've knitted 52 scarves so far this year': Meet the hobbyists embracing the UK crafting revival.
P.S. looking to learn more about crochet and knitting? Click here to read about the health benefits of yarn crafts!
Podcast: Donate to Get Mitch, Lovett or Leave It
This episode was recorded before the news of Ruth Bader Ginsburg's death, so it doesn't cover the Supreme Court drama. But I really appreciated Jon Lovett's quick note at the beginning of the show about the news. While the whole episode is good and worth a listen, really one line stands out from this little intro that made me choose it for this week's Curated Content Series. 
"Hope is annoying, because it makes demands of you."
I'll leave it at that. Check it out and make a plan to vote. Listen to Donate to Get Mitch from Lovett or Leave It here.
YouTube Video: How to finally overcome procrastination, Matt D'Avella
If you compare this Matt D'Avella video with my YouTube video choice from last week (see below), you'll get a pretty good idea of what I'm struggling with lately: procrastination. 
I've casually watched Matt D'Avella's videos before, but this one really spoke to me. None of the advice was particularly groundbreaking for me – it's similar to advice and tactics I've employed in my own life – but was useful to hear, nonetheless. What I found particularly interesting, though, was the background of what can cause procrastination, including feeling bored or not challenged by work. 
Instagram Account: @forensicsandflowers 
A Home of Positively Peculiar Posts, the @forensicsandflowers Instagram is the perfect mix of optimism, snark, drama, and graphic design. Viki creates amazing graphics with quotes, sayings, and phrases that have really resonated with me lately. Between the bright colors on dark backgrounds, woodland designs, and enticing fonts, I'm always happy to see one of these posts pop up on my Instagram feed. 
I'm excited to see that the Forensics & Flowers shop is up and running, too, because I just might need this Curious Coffee Cult vinyl sticker! 
---
Cats & Coffee's Curated Content Series: 3rd Edition
Article: Ruth Bader Ginsburg, the Great Equalizer: How a scholar, advocate, and judge upended the entirety of American Political Thought, Jill Lepore, The New Yorker
To say that I was shocked and saddened to hear the news of Ruth Bader Ginsburg's death last Friday is an understatement. The diminutive justice always seemed larger than life to me, with a death-defying energy that kept her going through many a cancer treatment or invasive surgery. A feminist icon and role model for many a female law student, Ginsburg worked towards gender quality under law both before and behind the Supreme Court bench. 
Credit: Article: Ruth Bader Ginsburg, the Great Equalizer: How a scholar, advocate, and judge upended the entirety of American Political Thought, Jill Lepore, The New Yorker
When I think of Ginsburg's legal legacy, the term "intermediate scrutiny" always comes to mind. In Constitutional Law, there are different levels of scrutiny that are used to test the constitutionality of a statute. Before Craig v. Boren, for which Ginsburg was a plaintiff's attorney, statues relating to gender classifications received the lowest level of scrutiny. This means that, to pass the constitutionality test, a law relating to gender classifications had to pass the low hurdle of rational basis scrutiny – it must have a legitimate state interest and there must be a rational connection between the means and goals of the legislation. Most legislation put to the rational basis test passes as constitutional. 
Thanks to Ginsburg and the attorneys on Craig v. Boren, gender became a protected class (although it is not given as much protection as, say, race, national origin, and religion). Gender classifications must further an important government interest and must do so by means that are substantially related to that interest.       
Anyway, if you're interested in learning more about these legal concepts, here is a good primer on intermediate scrutiny from Cornell Law School's Legal Information institute.
Click here to read Ruth Bader Ginsburg, the Great Equalizer: How a scholar, advocate, and judge upended the entirety of American Political Thought, by Jill Lepore for The New Yorker.
P.S. Also, now is a great time to use Resistbot to contact your representatives to urge them to follow precedent invoked in 2016 and prevent this administration from naming another justice to the Supreme Court.  
Podcast: Hashtag Authentic Episode 82: How To Be Indistractable In A Chaotic World With Nir Eyal
Now more than ever, I'm finding it very easy to get distracted. Whether it's by the ever-expanding dumpster fire of current events or the ever-present pull of social media, I find my brain being pulled in a hundred different directions. While lamenting about this issue the other day, I remembered listening to a Hashtag Authentic Podcast episode on this very topic. Sara Tasker speaks with Nir Eyal, author of Indistractable, about the science behind out attention spans. Revisiting the episode has made me feel a little more normal and a little more in charge of my own attention.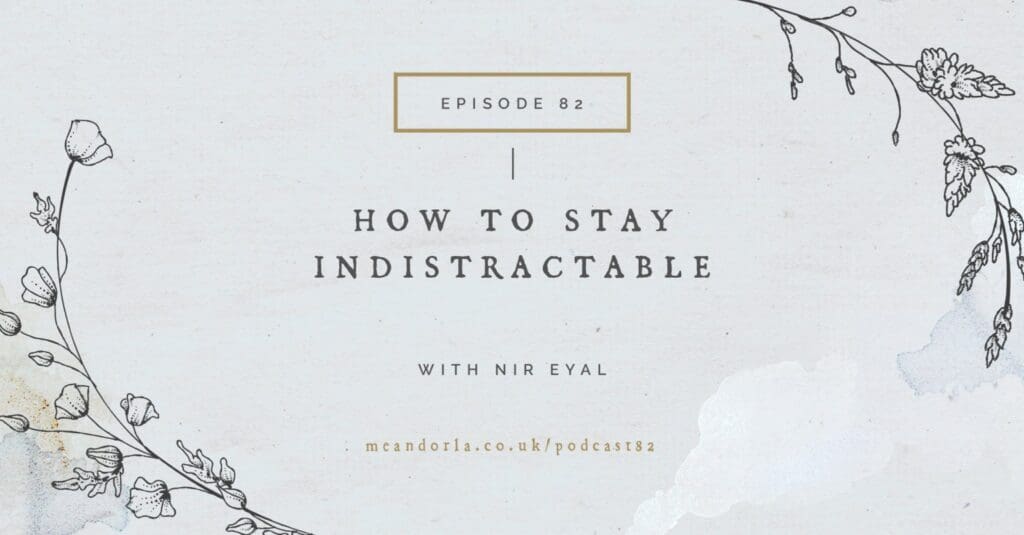 Click here to listen to Hashtag Authentic Episode 82: How To Be Indistractable In A Chaotic World With Nir Eyal
YouTube Video: Yoga for Hands, Fingers, Wrists from Yoga With Adriene
Anyone who works at a computer all day or crafts (or does both!) likely has issues with tight wrists and hands from time to time. I came across this Yoga with Adriene video and found it to be a real help. It's just 11 minutes, and you can do it from pretty much anywhere – sitting or standing on the yoga mat, in a chair, on the couch…anywhere. 
Want to save the workout for later? Here's the direct link to the Yoga for Hands, Fingers, Wrists video from Yoga With Adriene.
P.S. Yoga With Adriene is one of my go-to favorites for at-home yoga. Check out my previous articles about her YouTube videos here:
My Yoga Necessities

Instagram Account: @themelias.co
If you're looking to fill your Instagram feed with gorgeous moody photography, look no further than the Melias, a Yorkshire photographer couple with a distinct and inspiring style.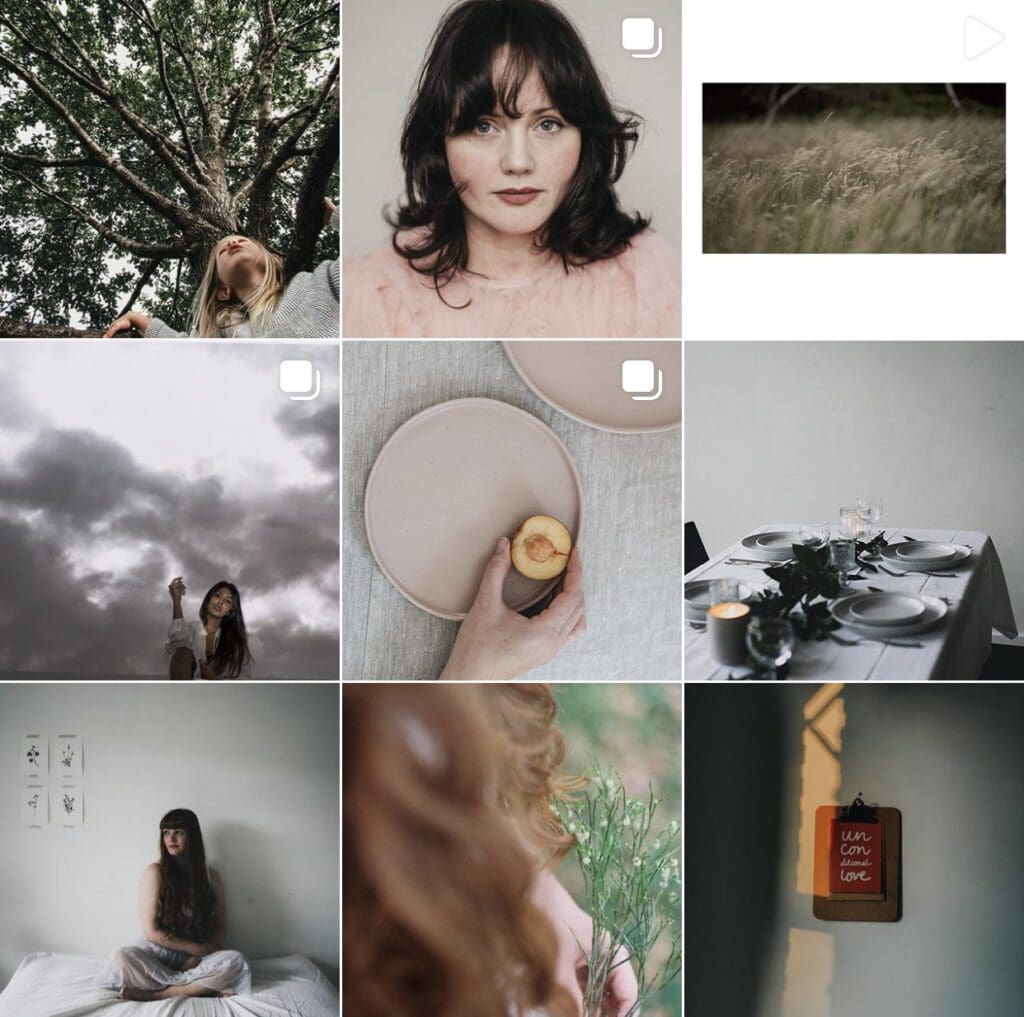 Beyond having gorgeous photos on their feed, the Melias' website has some great resources for anyone looking to learn more about photography or to find some inspiration. If you want more of an intensive learning experience, the Melias also have a Lost in the Light photography course, along with some other resources in their shop.
---
Cats & Coffee's Curated Content Series: 2nd Edition
Article: Your 'Surge Capacity' is Depleted – It's Why You Feel Awful, Tara Haelle
This article by author and journalist Tara Haelle really hit the nail on the head in terms of how I've been feeling lately. I feel like a broken record when I lament how strange the pandemic makes me feel. Here in Florida, lots of things are going back to "normal" but things really aren't "normal" at all; people are still getting sick, and I'm still afraid of contracting the virus and/or spreading it. 
Haelle discusses the manageability of the early pandemic, from tackling normal responsibilities to insisting she felt fine at psychiatrist appointments. But, then, she noted there was a shift. Haelle noted that she knew the manageability wouldn't last, calling upon her journalism background covering infectious diseases and medical research. 
"But even knowing I would eventually crash, I didn't appreciate how hard the crash would be, or how long it would last, or how hard it would be to try to get back up over and over again, or what getting up even looked like."
The article goes on to introduce the concept of "surge capacity," or a collection of mental and physical adaptive systems "that humans draw on for short-term survival in acutely stressful situations." When there isn't an opportunity to renew our surge capacity, what results is an "anxiety-tainted depression mixed with ennui that [we] can't kick."
Haelle interviewed a number of doctors and experts on this issue and offers insights into how the phenomenon interacts with the COVID-19 pandemic. She even offers action items towards the end of how to make yourself feel better. Mostly, I just appreciated the acknowledgement that this anxiety-tainted depression ennui is pretty typical.
Read Your 'Surge Capacity' is Depleted – It's Why You Feel Awful by Tara Haelle here.
Podcast: Trump's Covid Confessions, Pod Save America
I'm late to the party for Pod Save America, but this is one of my new favorite podcasts out there. Pod Save America is a "political podcast for people who aren't ready to give up or go insane."
Hosted by former Obama aids Jon Favreau, Jon Lovett, Dan Pfeiffer, and Tommy Vietor, Pod Save America offers insightful and progressive discussions on current events. If you're a West Wing or Veep fan, I have a feeling you'll like the podcast.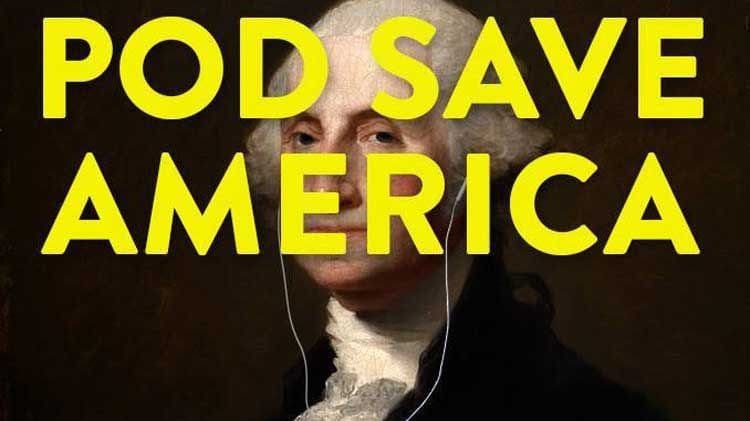 In this particular episode, they primarily discuss the revelation that Trump intentionally downplayed the severity of COVID-19 and the fires raging in California. Not the lightest topics, to be sure, but the hosts inject dry wit and sarcasm that I find particularly entertaining. The episode also covers some interesting details about how the Trump and Biden campaigns are handling advertising, which the political science major in me found interesting. Lastly, Jon Favreau talks with Carlos Odio of Equis Research about the Latino vote in Florida. All in all, an interesting civics lesson. 
Check out Trump's Covid Confessions from Pod Save America here.
P.S. Don't forget to check out the team's voter initiative, as well – Vote Save America!
YouTube Video: Jeep Wrangler 4xe | Pale Blue Dot – Carl Sagan's Pale Blue Dot
Jeep released a brief yet poignant YouTube video to advertise their new 2021 Jeep Wrangler 4xe, a plug-in hybrid design. The ad features Carl Sagan's "Pale Blue Dot" monologue, highlighting how the planet we inhabit, which feels so very large, is little more than a pale blue dot in space. It's a stark reminder to take care of our home; there's nothing out there to do it for us. 
One of the coolest parts of this video is that each completed video view raises money for the Coalition for Rainforest Nations as well as the Carl Sagan Institute at Cornell University. The Detroit Free Press has some more information about what went into the making of the video.
I invite you to learn more about the Coalition for Rainforest Nations and their various initiatives here.
Watch the video below or check it out on YouTube.
Instagram Account: @morganraleigh.c
I met Raleigh through a social media and photography course a while back and was instantly intrigued by her woodworking creations and nature-based photography. She has two Instagram accounts – one for her van life adventures and another for her beautiful handmade woodwork.
Raleigh shares about her time in both the U.S. and in Europe. If you've ever wanted to visit Austria, I think you'll find her recent post triggers your wanderlust. I have been loving Raleigh's van life stories and have appreciated the call for being environmentally friendly and living sustainably in all that you do.
If you're looking for gorgeous nature photography, are curious about how to get into woodworking yourself, or just want to learn more about van life, I highly recommend giving her accounts a follow! 
Follow Raleigh's van life Instagram account here and her woodworking shop Instagram here. Explore her handmade shop here!
---
Cats & Coffee's Curated Content Series: 1st Edition
Article: 15 Air-Purifying Plants to Cleanse Your Space of Chemicals and Toxins, Architectural Digest
Dovetailing nicely from my recent post about cute little potted plants, Kristi Kellogg's article about air-purifying plants is inspiring my green thumb. The article lays out 15 different plants that are known to have air purifying capabilities, and explains which toxins each plant can fight.
Some of the toxins found in homes that these air-purifying plants can clean include: ammonia, common in cleaning products; carbon monoxide, often found in fireplaces and stoves; and benzene, a toxin often found in varnishes, detergents, and plastics, among other things.
From the article, I have my eye on the spider plant. Not only is it a bright and fun option, aesthetically, but it is also pet friendly! According to NASA, the spider plant is able to remove 95% of chemicals from the air in just 24 hours, including carbon monoxide, formaldehyde, benzene, and others.
Credit: Architectural Digest, 15 Air-Purifying Plants to Cleanse Your Space of Chemicals and Toxins; Snake Plant & Aloe Plant – Photos from the Architectural Digest article.
Read the whole Architectural Digest article here.
Podcast: Ariel is Pregnant!, You Can Sit With Us Podcast, Episode 5
The Try Guys have long been my favorite YouTubers. They recently expanded their podcast offerings to include You Can Sit With Us, a podcast by the "Try Wives," Maggie, Becky, and Ariel. The Try Wives — the significant others of three of the four Try Guys — talk about female friendships, current events, and what's going on in their lives.
Episode 5, in particular, stands out to me lately. Maggie, Becky, and Ariel discuss all things pregnancy, including the process of getting pregnant as well as how to go about telling friends and family. What I found most interesting and refreshing about this episode, though, was the frank discussion the women had about miscarriages and struggles with getting pregnant. While these things haven't impacted me personally, it was great to hear such a normal conversation about a topic that affects so many people.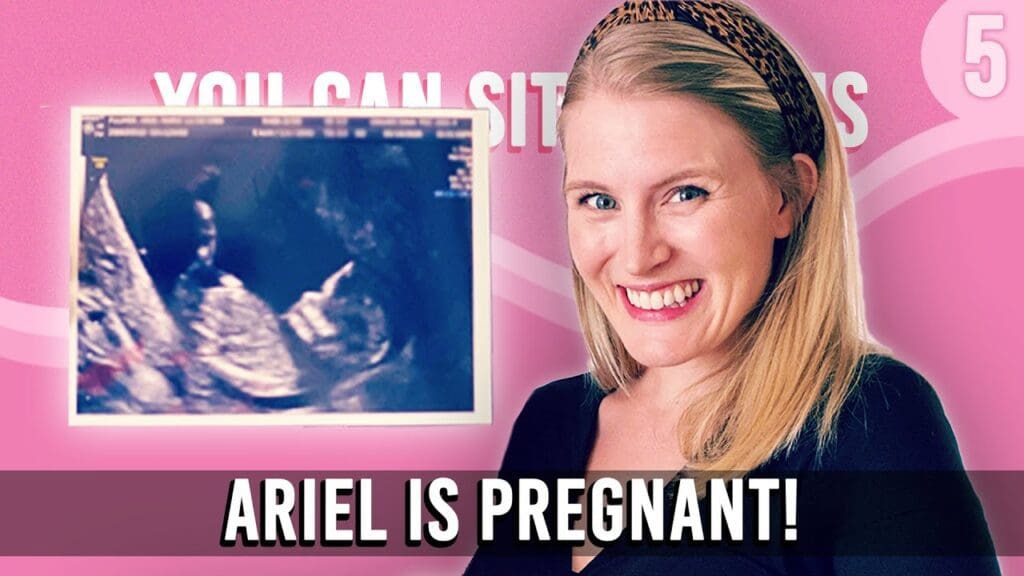 Credit: Ariel Is Pregnant! – You Can Sit With Us Ep. 5 YouTube Cover Photo
Give it a listen and let me know what you think! It's available on Apple Podcasts, along with most other streaming services, or you can watch the YouTube video edition of it here.
YouTube Video: Is This Vlogging? Where the F*ck Have I Been?!, Adelaide Kane
Last month, Adelaide Kane released a vlog all about her trek home to Australia. The Reign actress explains a bit about why she decided to head home for a while during COVID. The bulk of the video goes through the steps she had to take in order to travel during the pandemic. Spoiler alert: there were a lot of steps…and two weeks of solitary quarantining!
Overall, I found it to be an interesting explanation of the travel restrictions in place both here in the U.S. and abroad. The video is well worth the watch, especially if you're a Reign fan like myself.
Instagram Account: @ejay.design
I came across EJayDesign on Etsy a couple weeks ago. This Gaelic definition piece popped up in a search and, since I've been learning a bit of Gaelic lately, it caught my eye. The primary designs from the shop, though, feature water color maps with gold accents. The gold accents correspond with the buyer's favorite location or memory, making them a great gift idea.
If you love watercolors, bespoke art, Scotland, or any combination thereof, you're sure to love this account.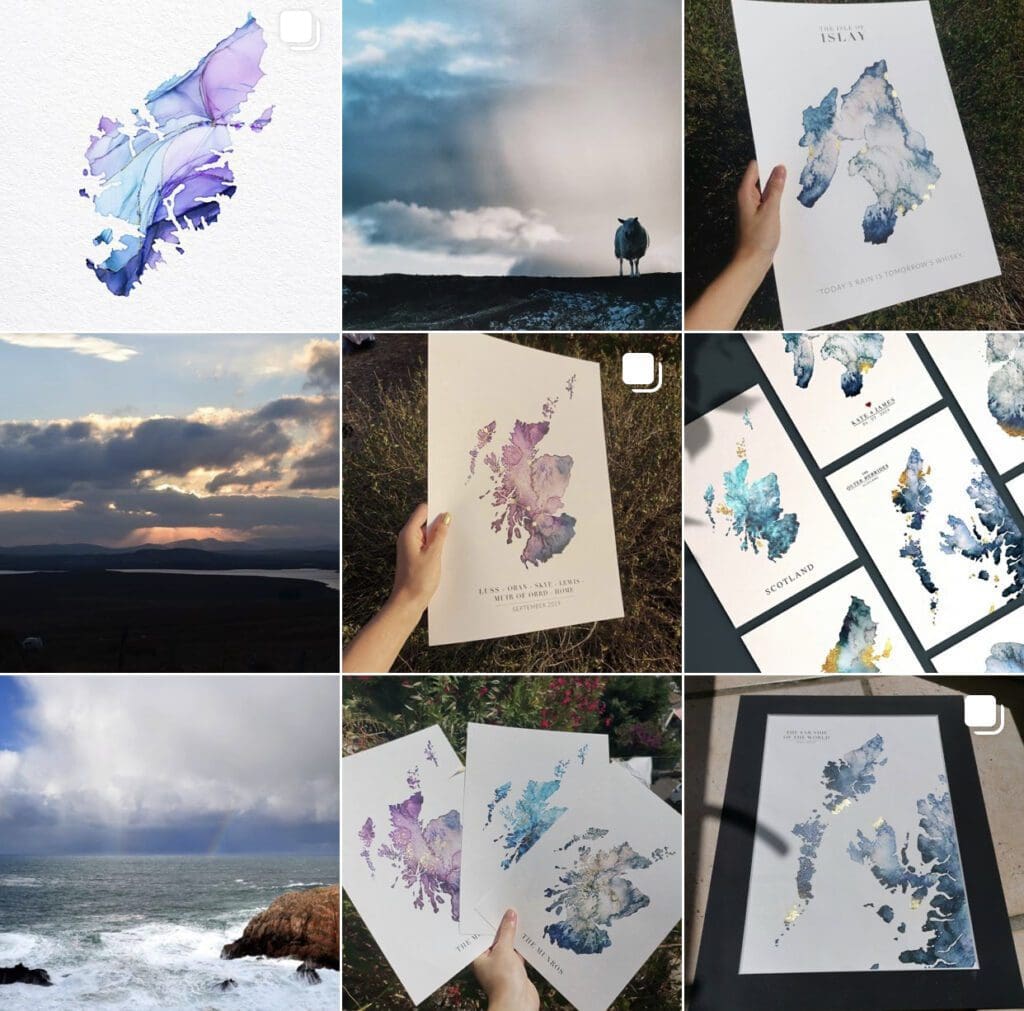 Check out @ejay.design on Instagram. While you're at it, why not pop over to her shop?

---
Explore the Latest from Cats & Coffee