Boho Chic Home Decor Inspiration
Simultaneously modern and old-world inspired, boho chic home decor emphasizes botanical motifs, natural materials, and eclectic colors or patterns. With global accents and layered inspirations, boho chic style can be readily personalized to suit individual preferences. Read on for more on what goes into this design, along with beautiful pieces to add to your home.
What is the Boho Chic Home Decor?: Common Themes in Boho Chic Home Decor
According to The Spruce, boho chic home decor "combines items that are relaxed, bold, and unusual. The look typically involves an eclectic mix of natural elements and many colors, patterns, and textures." Think a mixture of colors, patterns, and textures.
Pinterest defines boho chic style as eclectic, layered, and global. Accordingly, incorporates botanical motifs along with soft and natural materials, often with textured linens. It is also common to see mixtures of patterns and colors, as opposed to a single muted palette.
Why I'm Drawn to Boho Chic Home Styles
As someone who has collected pieces from here and there, I find I am quite drawn to this eclectic style. With elements of nature, boho chic home styles really mesh with my growing plant-lady lifestyle. I think this is probably why the look is so appealing: you can really make it whatever you want, embracing layers of different styles to make a uniquely global, uniquely personal home.
Unique Boho Chic Home Decor Finds
Colorful Accents
For this colorful section, I am loving the colorful Ruggable in the top right corner and the pink velvet chair in the bottom row. (By the way, the latter is also available in a ton of different colors and finishings.) Useful-yet-elevated accents like the woven basket and mirror wall art are great ways to add character to your home while also checking off boxes for storage and use needs.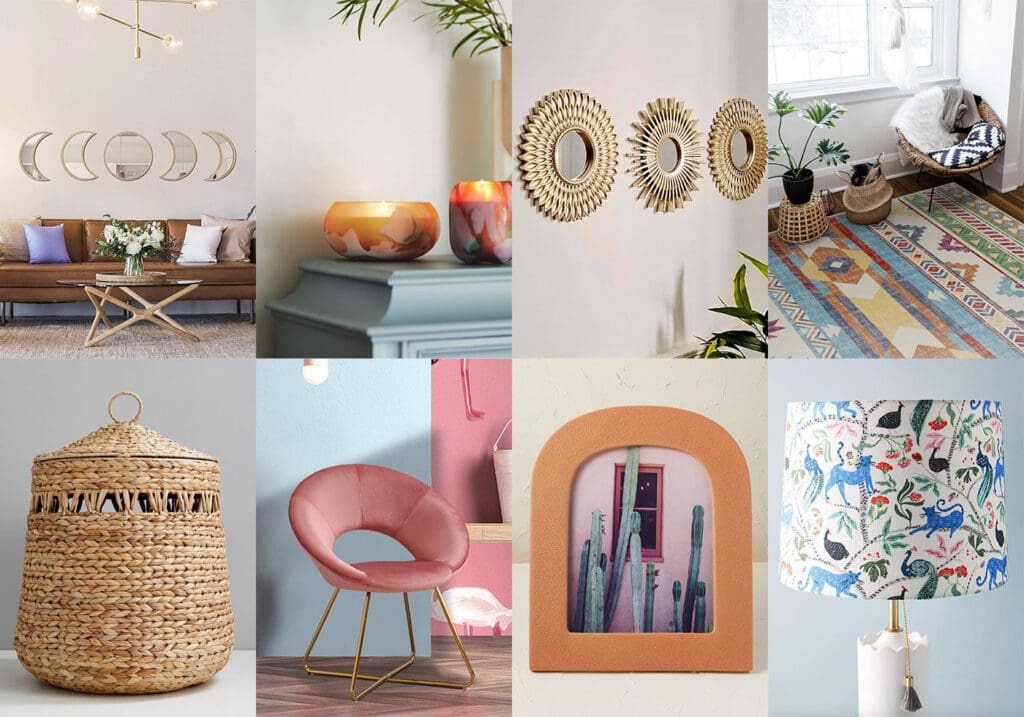 Top Row: Moon Phase Mirror Set | Abundance Glass Candle | Decor Round Gold Mirror | Kilim Batik Multicolor Rug
Bottom Row: Boho Hamper | Modern Accent Velvet Chair | Glass Photo Frame with Bubble Glaze | Emily Isabella Midnight Jasmine Lamp Shade
---
Earthy & Floral
Next, this section struck me as more earthy, with grounded tones and botanical patterns. Embroidery wall art (top left) and the muted-yet-patterned Ruggable in the bottom row offer character without being overwhelming. Similarly, the moon phase wall hanging is a great mix of boho and minimalist.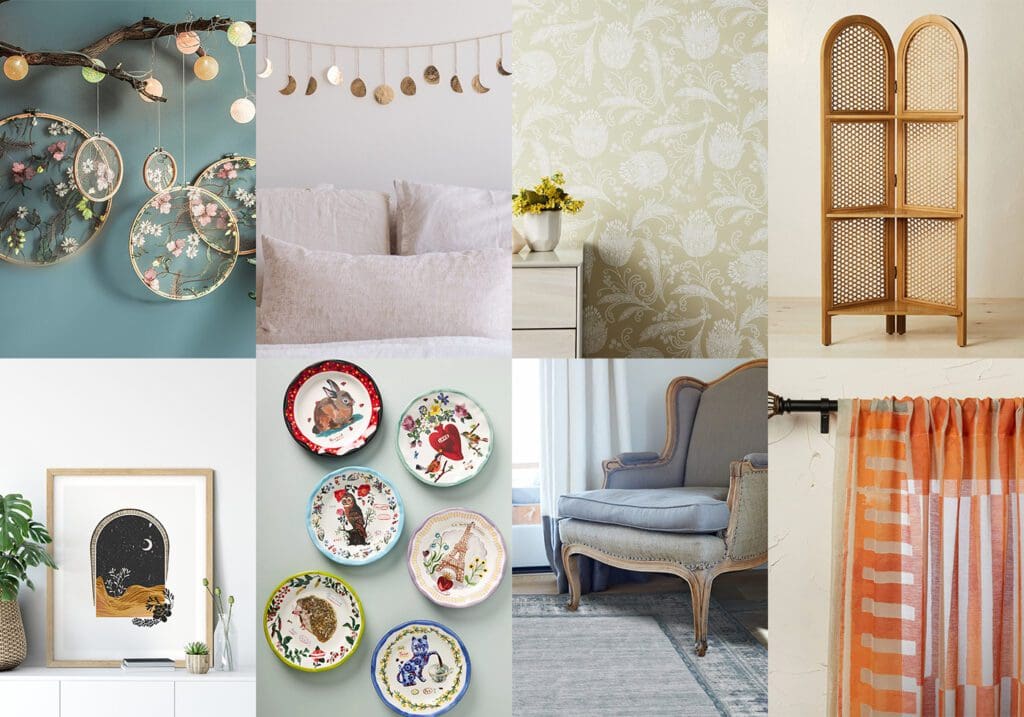 Top Row: Embroidery Wall Hangings | Moon Phase Wall Hanging | Boho Floral Removable Wallpaper | Anza Caned Corner Bookshelf Brown
Bottom Row: Moon Print | Nathalie Lete Charmante Dinner Plate | Vintage Daisy Bordered Rug | Ophelia Printed Burnout Sheer Curtain
---
Eclectic & Old-World
With bold patterns and surprising accents, this collection focuses on pops of color amongst muted or natural tones. I'm really drawn to terrazzo lately, so these clocks (particularly the blue) are calling my name. For small ways to add a bit of boho chic home decor, check out this mosaic vase from Target and this colorful pillow cover.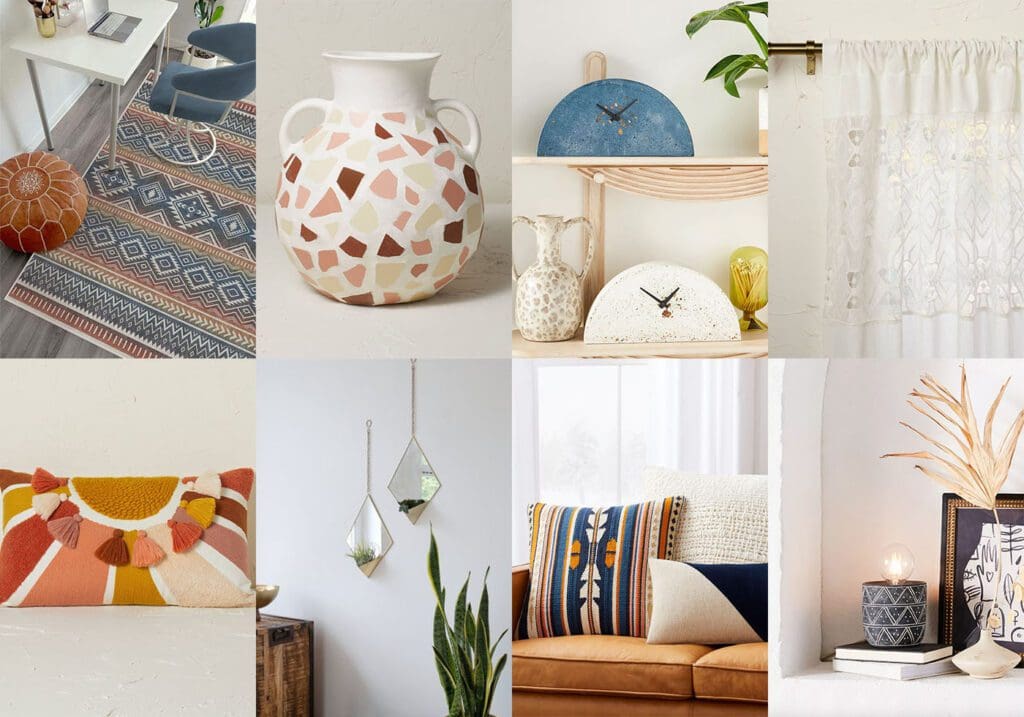 Top Row: Arizona Polychrome Rug | Round Mosaic Vase | Terrazzo Mantel Clock | Banded Geo Macrame Sheer Curtain
Bottom Row: Embroidered Sun Lumbar Throw Pillow | Geometric Wall Mirror | Woven Baja Pillow Set | Hadwin Accent Lamp
Which piece is your favorite example of boho chic home styling? I really love the Embroidery Wall Hangings from Etsy!
Do you use this style in your own home?