Slow Feeders for Cats
We've tried a few types of slow feeders for the cats, to varying levels of success. Originally, I was inspired to try slow feeders because Louis will sometimes eat too quickly and get sick. The slow feeders I originally got did help with this, but the feeders were generally pretty large and cumbersome, so we swapped them out for smaller kibble servings in a few small bowls at a time instead. Now, as opposed to slowing down Louis' eating, we're most interested in slow feeders to help with serving size control. Olivia and Emory don't always get along, and to placate Emory, we generally put out more kibble — her favorite. It's not a great system, especially since Emory has learned she has us trained — she harasses Olivia before bed and we give her more kibble. As a consequence, she — and Louis, because he rarely turns down fresh kibble — has been overeating at night. We received the Doc & Phoebe's Indoor Hunting Cat Feeder system from Royal Canin a few months ago and have been using it ever since. It's definitely helping!
Doc & Phoebe's Indoor Hunting Cat Feeder
The Doc & Phoebe's Indoor Hunting Cat Feeder system features three little "mice" feeders that you can fill with kibble or treats to help nourish your cat's hunting instincts. Ideally, the feeder system is meant to be used as a replacement for a regular kibble bowl. We've been using it as a supplement to the bowl, though, and the kitties seem to be loving them!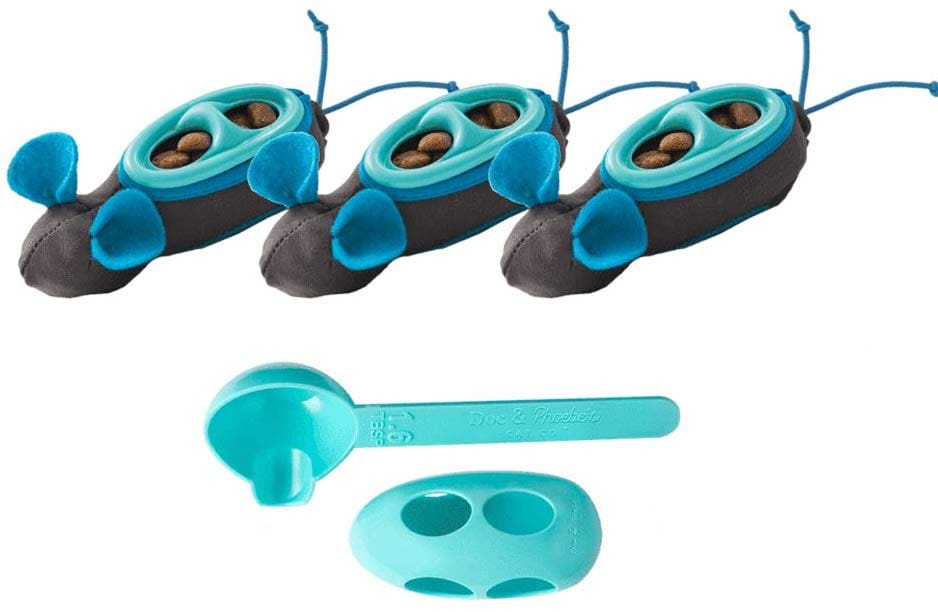 How We Use the Hunting Cat Feeders
Like I said, we haven't replaced the kibble bowls with the feeders. With the three cats — and with Louis being a bit of a food bully at times — I like being able to see the cats eat out of the bowl as confirmation that each cat has gotten some kibble. This isn't a fool proof system, but I find it easier to monitor than using the little mice feeders alone.
Instead, I have been putting out less kibble during the day and adding some kibble to the mice feeders at night before bed. Before, I would free feed with almost reckless abandon; we hadn't had an issue with weights before, really, so it wasn't a problem. However, with Emory training us to feed her in order to get her to leave Olivia alone at night, the hunter mice feeders help keep her entertained and stimulated while also allowing her a bit of a nighttime snack.
Hiding the Hunting Cat Feeders
One of my favorite places to hide the little mice feeders is on the kitties' mini Ikea chair under one of my Critter Crafting Cat Mats. This way, the cats really have to use their hunting skills to find the mice. Other times, I tuck them into one of the heated beds, so that the opening on the mice is upside down. So far, I haven't had any issue with the cats not finding the kibble or with it going bad. All three cats enjoy the hunt — so much so that now, if I'm out for the day or the cats seem bored, I put them out for the cats to find while I'm gone.
Closing Thoughts on Doc & Phoebe's Indoor Hunting Cat Feeder
While I hesitate to use this system as the primary feeder system in place of a regular bowl, the feeder mice have been working out really well as both a weight management tool and a source of kitty entertainment and stimulation. If you are looking for a way to stave off boredom in your cats, I highly recommend this feeder system. It's pretty affordable — under $20 — and you can easily personalize the system to your cats. The system comes with a great little 1.6 tbsp scooper, too, which I've been using to dose out the cats' kibble into the regular kibble bowls, as well, which helps with weight management and portion control. Overall, the Indoor Hunting Cat Feeder system is an easy way to promote cat health. Why not give it a shot?
Pick the Doc & Phoebe's Indoor Hunting Cat Feeder system up for yourself from Amazon!
Read more Cat Mom Life posts here!
Pin this to save it for later!