Favorite Catnip Toys
My cats are connoisseurs of catnip. All three are fans of catnip toys, and they have been pretty much since they were kittens. We've tried all kinds of catnip — loose nip, sprays, kicker toys, etc. Typically, the cats prefer the kicker toys and plush toys, but we've had some luck with certain catnip sprays, as well. So, I wanted to share some of the favorites in my house, and highlight a couple awesome small businesses that make great catnip toys.
Olivia likes to blissfully lounge in the toy bin amongst all her favorite catnip toys while Emory enjoys some catnip time with her favorite Yeowww! catnip fish.
The Best Catnip Toys
Yeowww! Catnip
My cats love the Yeowww! banana and mackerel toys. I can't tell you how many of these we've gone through. If you're looking for some personal entertainment, watching the cats go nuts over these when they first arrive is a blast. The nip in these toys stays pretty potent for a while. The reason we've had to replace them is generally because the cats tear holes in them too large to mend, or they become so saturated from the cats licking them that I decide it's time to start anew. Here is our kitty cousin Dory with an example of a well-loved catnip banana and Emory with one of the little Stinkies linked below: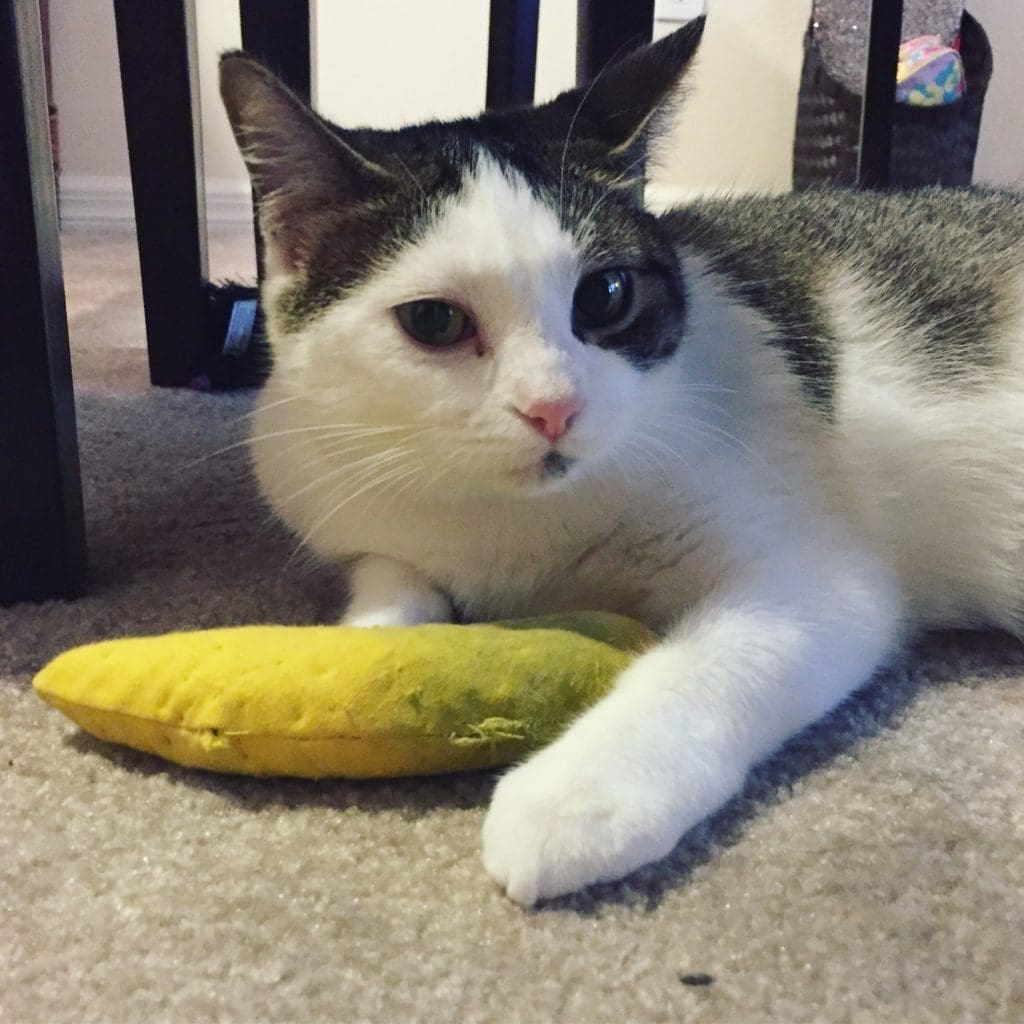 Yeowww! has a number of styles of catnip toy available, but the two I mentioned are the favorites. Personally, I like the rainbow toy, because it's so cute, but it hasn't been a favorite of my cats (although I know other cats that have loved it). I like to keep the little "Stinkies" around as a distraction if the cats need to be distracted, but they definitely prefer the larger toys that they can bunny kick.
For a demonstration of how my cats play with these toys,
check out the following two videos of Louis & Emory with their well-loved catnip toys:
Amazon has a large selection of this brand catnip toy, as does Chewy. Check out the Yeowww! website for more info.
---
From the Field Catnip
If your cat likes loose catnip or catnip sprays, I highly recommend From the Field Catnip. This is the spray I use on my Critter Crafting Cat Mats before I send them out to their new homes (the kitties always like to help with that part of the shipping process).
I don't love getting loose catnip because it gets all over the place — especially since the three cats will lose their minds over it. The spray is much neater. However, if you're looking for loose nip, they have a bunch of different styles, including a silver vine catnip mix, catnip buds, and catnip leaf and flower tubs. Besides loose nip, they do have a number of popular toys and sets.
The silver vine catnip mix tub is probably the best deal (currently around $8 for 2 oz on Amazon). I've bought this for the cats before and literally steeped it as if it were tea to dilute into water out of desperation when Olivia and Emory first started living together and they really didn't get along (and before I found Feliway). I'm not sure how much that helped, but Louis seemed to enjoy it.
Amazon has a large selection of this brand of catnip, as does Chewy. Check out the From the Field website for more info.
---
Ciao Gatto Cat Market
I picked up a pack of felt catnip tortellini and a catnip kicker for the kitties while we were in Aspen, Colorado. Little did I know, I had found some of the best toys the kitties had ever had! The felt tortellini are the initial biggest hit, but Louis quickly turned his attention to the kicker toy and now all three are fully obsessed, as you can see in this video:
Ciao Gatto also has some really cute home decor pieces and other pet accessories available in their Etsy shop. Check Ciao Gatto out on Etsy here!
---
LuxeMeow Catnip Toys
Previously SF_Meow, LuxeMeow is an Etsy shop that creates some amazing catnip toys (among other products). An Instagram buddy of Louis' sent us one of the larger fish kickers and it was an instant hit. Both Louis and Olivia went crazy for it.
I have since bought more of these toys both for my cats, and for others as gifts. They are well worth $18, let me tell you. They're hand-knitted with 100% wool and feature over 1/2 ounce of super potent catnip. The wool is extremely durable and has withstood many bunny kicks without even pilling. The kitties most recommend the larger catnip fish, although they do have a couple whales and little fish that they enjoy, too.
If you are looking for serious entertainment, spray these toys with the From the Field catnip spray!
Check out LuxeMeow on Etsy and on Instagram.
---
For Mew Catnip Toys
Like LuxeMeow, For Mew is a small business specializing in cat toys and products. I came across them on Instagram a while back and ordered a kicker toy and a green bean toy.
The kicker toys come in a large variety of adorably whimsical patterns, including space cats and sushi patterns. They're between $12 and $14 and feature a fun crinkly inside. They're filled with cat nip and recycled paper, making them a fun mix of sensory stimulation for cats. The green bean toys are essentially mini versions of the kicker toys at about 3 inches by 3 inches.
For Mew also donates a portion of their sales to cats in need at their local humane society in Nevada! How great is that? Check out For Mew's shop and Instagram.
---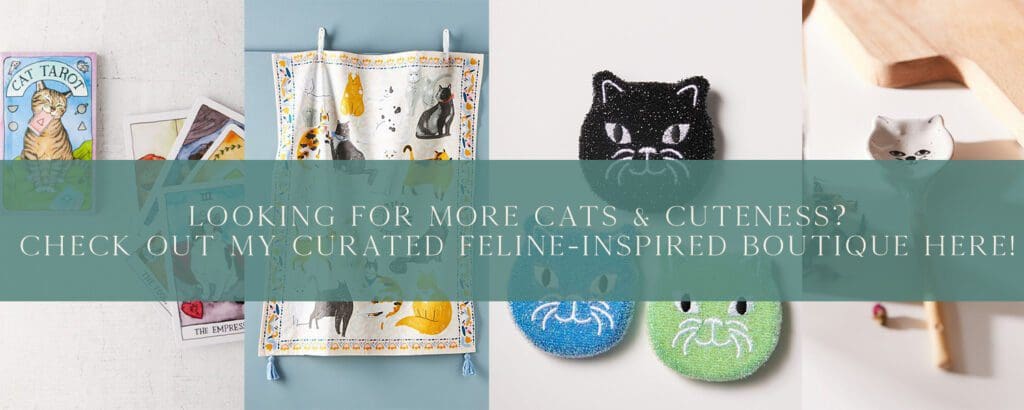 *This post was originally published in March 2020. It was most recently updated on April 5, 2022.