All About the Celestial Jewelry Trend
Lately, I have found myself drawn more and more to cosmic and celestial inspired jewelry. Perhaps this is the case because of my magpie tendencies — sparkly things are just so fun! — or my casual interest in astrology and tarot. Regardless, my searches and suggested listings are featuring the stars and plants more and more lately. Curious to learn more about the celestial jewelry trend, I did some research.
A revived trend that has been around for years and years, celestial jewelry have been popping up more and more. These pieces are generally inspired by the sun, moon, and stars, sometimes including tarot and astrological signs. Perhaps an outcropping of attachment to zodiac signs, celestial jewelry tends to satisfy that interest in a more general way.
"We believe people take comfort in the idea of something so much bigger than themselves, especially during dark times like 2020," Kim Carosella, co-founder of cosmic-inspired jewelry brand Sorellina, explained in an interview with The Zoe Report in December of last year. And this idea makes a lot of sense. Celestial jewelry tends to spark something in us, an interest in the other-worldly. Perhaps is why the trend returns time and time again.
Unique Celestial Inspired Jewelry Finds
My Inspiration for this Article
I was inspired to write this article after purchasing a pair of dainty celestial earrings from Etsy. I was struck by the many different elements featured when I first came across the listing. As I returned to the page a few times, I found they were rather mesmerizing. And I guess that's kind of the point of pieces like these — to engage our imagination,the way the stars and plants do.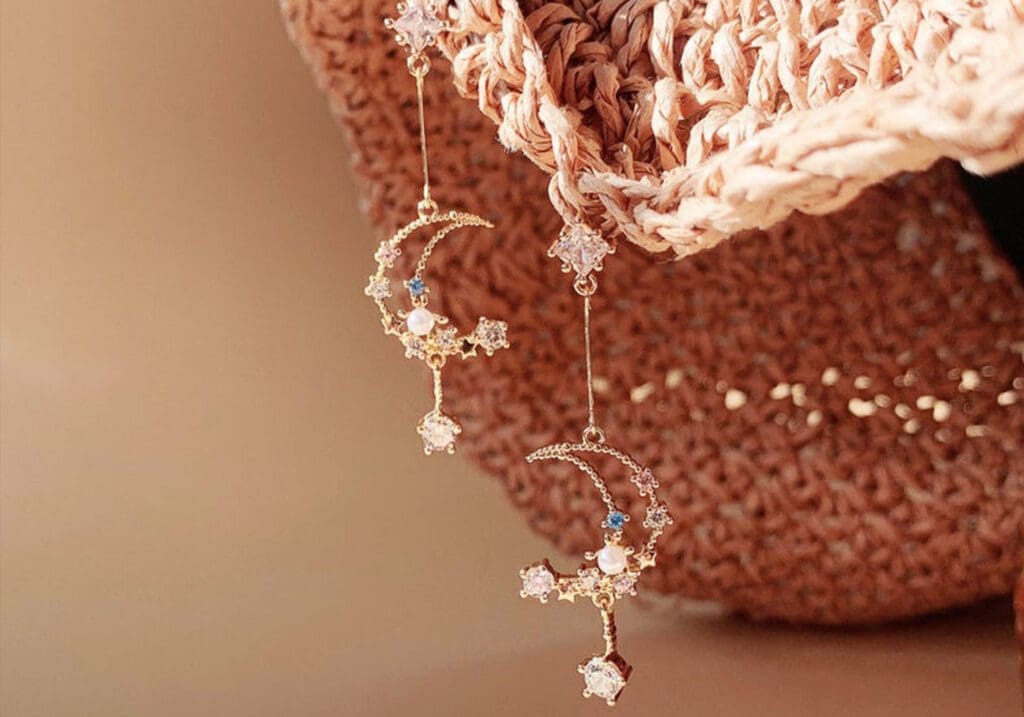 Moon & Star Celestial Pearl Earrings from Wimsico on Etsy.
Where to Find Such Pieces
If you're looking to add some jewelry inspired by such heavenly bodies to your collection, here are a number of great options. From earrings to necklaces, rings to bracelets, there are so many quality (and affordable) celestial pieces from places like Etsy, Amazon Handmade, Shopbop, BaubleBar, and more.
Whether you're interested in tarot or astrology, or are simply drawn to sparkly things, celestial thematic jewelry has something for everyone:

---
Need more jewelry recommendations?
Explore more favorite finds — including jewelry, style, beauty, & more — in my shop page!