Moving with Cats & Coffee, Part 3
Moving is not the most intuitive process in the world. It seems easy enough: pack up your things from point A and transport them to point B. But, whether you're moving across the city or across the country, there are a number of pitfalls and inefficiencies that can occur along the way. Having recently moved myself, I designed this series to offer advice on things that went right and — perhaps more importantly — what didn't go right. You can expect four posts in the Moving with Cats & Coffee Series, published every other week, on topics such as moving with pets, things to do ahead of a move, and more.
This post covers two categories of tips: what worked, and what didn't, from my recent move.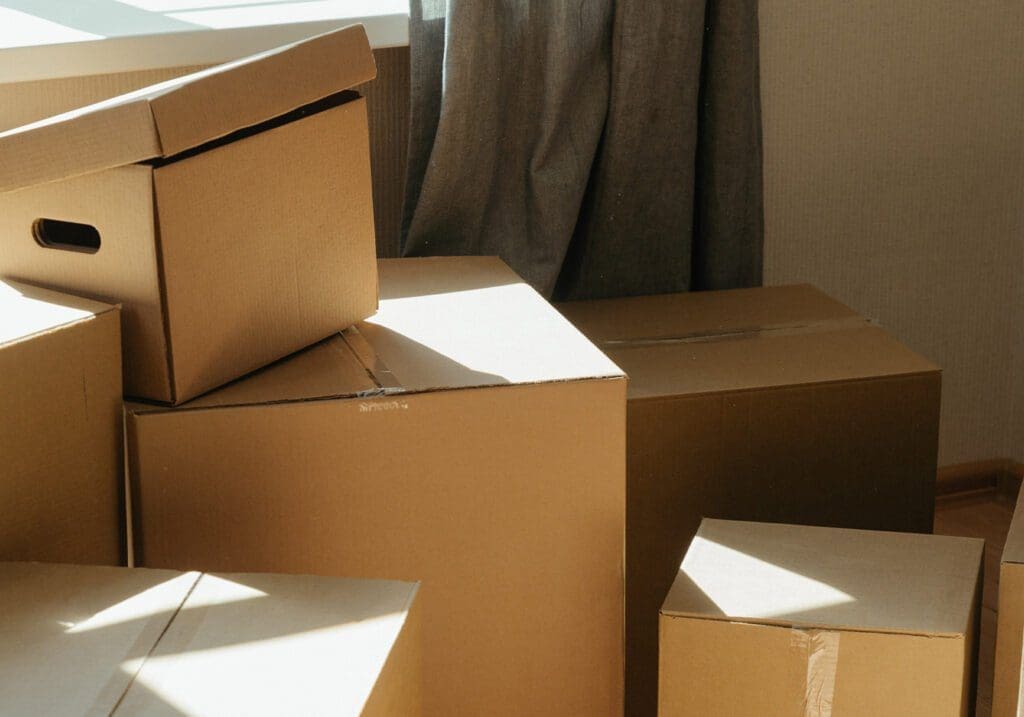 What Worked & What Didn't Work for My Recent Move
I think that, with any move, there is a lot of trial and error. And for most people, moving homes isn't a common occurrence, so we don't really refine the skills involved. Since I've recently moved, I decided to share what stands out as having worked for us — and, perhaps just as importantly, what didn't. 
Packing Tips for Moving: What Did Work
Save up tissue paper and packaging material ahead of a move. This alleviated the cost of moving supplies, and is also a simple way to make your move more sustainable.
Use towels as packing material. You have to move your towels, anyway, so put them to use.

Dish towels and cloth napkins work great with plates and bowls.
We used bath towels as buffers between bigger picture frames and wall art.
Wash clothes and hand towels are great for breakable beauty products, like perfumes, oils, etc.
Similarly, for any of my yarn craft friends out there, use skeins of yarn as padding in boxes!

Label every box in detail.

It may look a little ridiculous and feel tedious to list out just what is in a box, but you'll be grateful you did when you're looking for some random housewares down the road.
For suitcases and baskets you use for packing, I recommend getting some kind of tag to label the contents with.

I didn't do this and it was really annoying. Next time, I'd get simple gift bag tags to quickly label what I'd filled them with.

Check sell-by dates of any food you move.

I didn't do this because we were in a rush. When we got to our new place, I found I had moved a number of cans that were super expired, along with old baking supplies that were well beyond their best.

Pick up wine boxes from your local liquor store to pack fragile pieces in. Most stores will give them to you freely, and most boxes come with built-in dividers. These are great for wine and liquor bottles, obviously, but also for glasses, mugs, or even fragile figurines.

I do recommend reinforcing the tape on the bottom of these boxes, though, just in case.

Check with your movers about keeping belongings in drawers.

Sometimes, for smaller furniture pieces, movers will simply wrap them up with drawer contents remaining inside. While this likely won't work for, say, a dresser, it can be helpful for things like night stands and filing cabinets.
If you ask ahead of time, then you won't spend extra time packing up things you don't need to.

Leave out a set of cleaning supplies in case of last minute messes.

Ideally, this would include all-purpose cleaner, rags or Clorox wipes, and paper towels. But I also recommend keeping hand soap and dish soap handy.
With all the commotion of movers and boxes in our old apartment, a liquor bottle was broken, which would have been no big deal had we known where any of our supplies were.

Without cleaners, towels, and the like, the clean-up process was far more perilous. Which leads me to my next point…

Wear closed-toe shoes for your move. Not exactly a packing tip, and it may seem like an obvious point, but as someone who lives in Birkenstocks, I feel it should be made.

While I wasn't doing the heavy lifting on the day of the move, it was a mistake to wear my Birks; I got a small piece of broken glass in my toe from the broken bottle mentioned above. Luckily it didn't really do much damage, but it was a hassle I could have done without that day.

Make note of where you keep first aid materials and medicines. You never know when you'll need bandaids or Advil.

Packing Tips for Moving: What Didn't Work
Don't take hanging clothes off the hangers. If you take them all off and fold them in boxes, you have to deal with two annoyances: packing the hangers, themselves, and then re-hanging each of the pieces in your new place.

Instead, simply use large or extra large moving boxes to move hanging clothes. Take 10-15 hangers of clothes at a time and gently fold them over onto themselves within the box. Stack another similarly sized set on top of that, and so on. This way, at the other end, you can simply pull them out by layer and set them up in your new closet.

Don't pack up all your kitchen supplies.

It's tempting to pull out your entire utensil holder and pop it into a box, or to keep sets of plates and bowls together.
However, be sure to keep a dining set or two — utensils, microwavable bowls and plates, and maybe a storage container — readily available for the night after you move, before you unpack.
Alternatively, you can pick up a travel utensil set like this one if that sounds more helpful.

Don't mindlessly pack out-of-season clothing or bedding. Get space saver bags to minimize the space these things take up. Gone are my days of packing box after box with decorative throw blankets, old sweatshirts, and guest room pillows!

Vacuum sealed bags, once deflated, tend to stack well, so you may not even need to put them in a box. We just stacked ours for the most part.
Similarly, space saving vacation packing bags are helpful in this endeavor. Brett had a handful of these deflatable travel bags that worked great for clothes we knew we'd need in the days after the move.

Don't forget to tell your movers about any gym or weight equipment.

Often there are surcharges for heavy items like these, and they can be easy to overlook when you are taking inventory of your belongings (I know I did. Oops.).

Don't rely on Venmo for tipping movers. Get cash ahead of time. You don't want to be trying to find an ATM at 11 PM.
---
Read More of the Moving from Cats & Coffee
---