Cat Home Decor Ideas Under $100
It tends to happen that pet parents accumulate animal-related trinkets and home goods, whether as gifts, souvenirs, or impulse buys. That is, after all, how I acquired many of my own feline-related home accents. However, for cat moms and dads looking for a more cohesive home aesthetic, there are some great options for cat home decor under $100. There are some great options from places like Etsy, Target, Amazon, and others. In this post, you'll find a mix of feline inspired wall art, kitchen accents, living room and bedroom decor, and adorable figurines to add a bit of Cat Mom Life love to your home: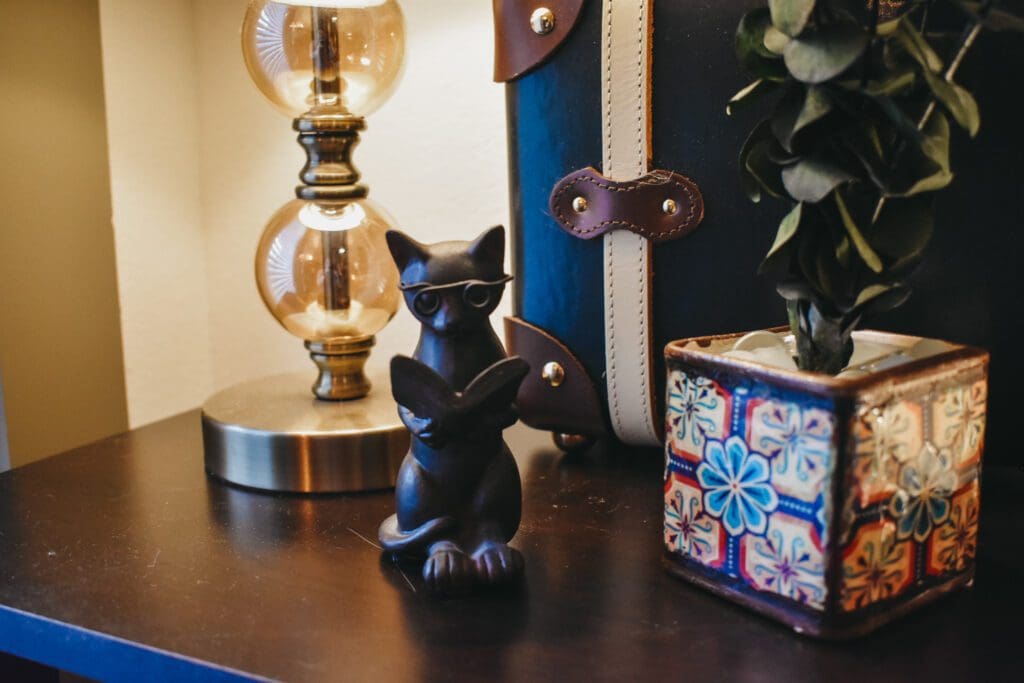 Cute Cat Decor
Feline Inspired Wall Art
Even though we are running out of wall space, I find that I gravitate towards wall art when decorating. There are so many adorable cat prints available online. Some great prints include the Rifle Paper Co. option in the top left below, or the cat amongst the plants just below it available on Etsy. If you're willing to pay a bit more, you can even get a custom piece done of your very own furbaby! Click here for more on custom pet portraits.
Of course, traditional prints and paintings aren't the only way to feature your furbaby in wall art. There are some fun temporary wallpapers you can get, like this one from Urban Outfitters, for spaces big or small, rented or owned. I find I am continuously drawn to this wire wall sign on Etsy; I love how simple it is but how iconic the cat silhouettes are. Similarly, the half-moon light-up silhouette is a fun option, particularly for patios. For something practical and petite, try this key ring holder from Etsy!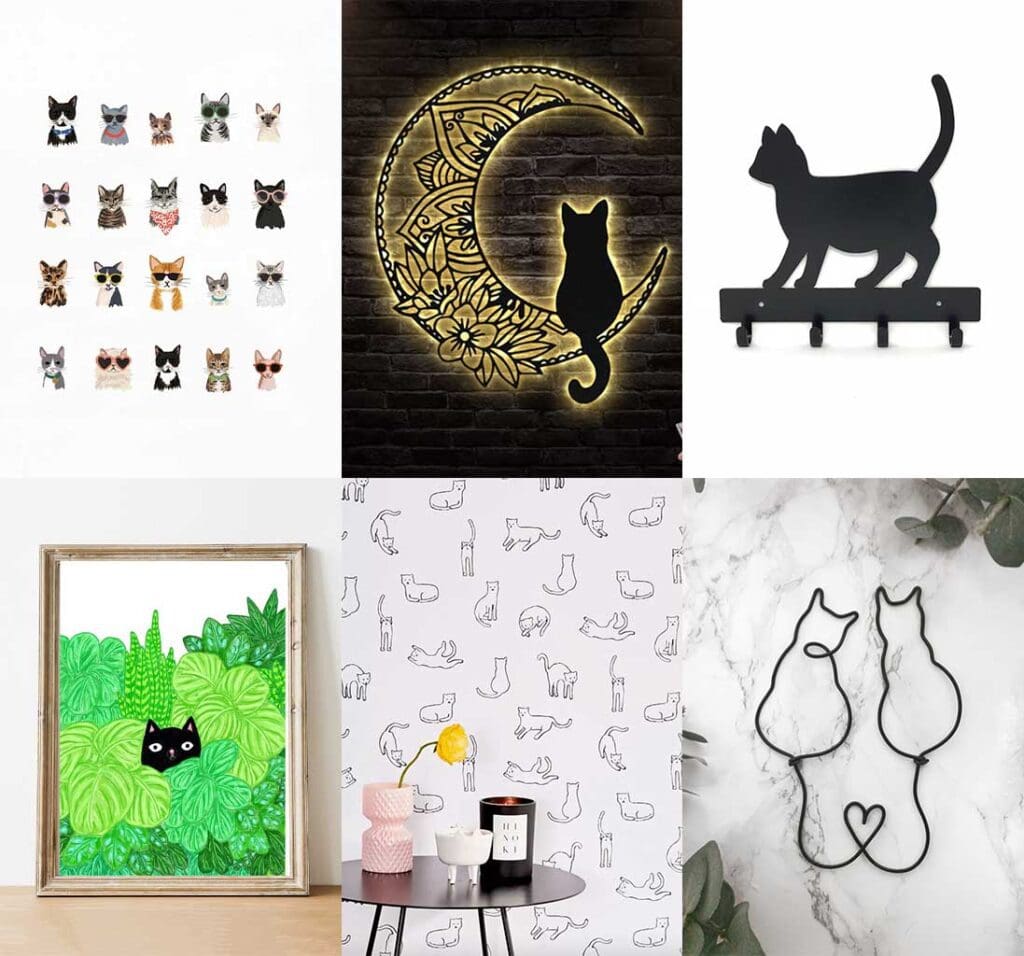 Top Row: Cool Cats Art Print | Black Cat On The Moon Metal Wall Art | Cat Key Holder (similar style here)
Bottom Row: Cat and Houseplants Print | Cats Removable Wallpaper | Wire Cat Heart Wall Sign
Cute Cat Living Room & Bedroom
There are so many cute cat inspired living room and bedroom pieces out there. If you want to go simple and subtle, try this black cat serving tray. Or, go with the cat ear pillow cases in the bottom. For a bolder look, try either of the cat face mats — either for indoors or for the front door. As for me, I am particularly drawn to the woven cat-face storage basket; it's available in a few colors, but I really like this soft white option.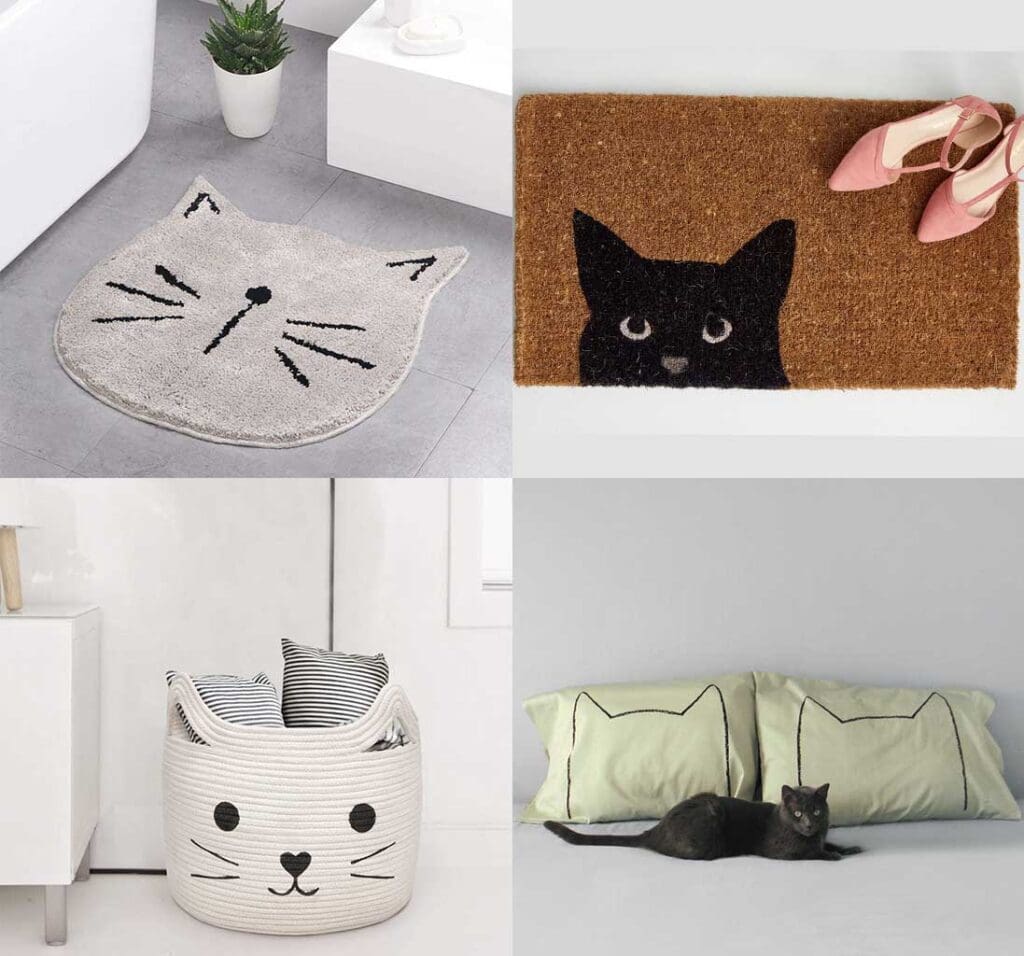 Top Row: Cat Shape Floor Rug | Cat Doormat | Cats Are Cooler Than People Candle | Black Cats Serving Tray
Bottom Row: Large Woven Rope Storage Basket | CatNap Pillow Case Set | In My Spot Cat Lumbar Pillow Cover | Cat Statue Bookends
Cats in the Kitchen
You really can't go wrong with a cute cat mug (and I found a few). That being said, there are lots of other feline-inspired kitchen pieces to choose from if you know where to look! Modcloth, Urban Outfitters, and Anthropologie are some of the best options in my experience. They have such great finds as the stacking measuring cups in the top left, the nose-and-whiskers cheese board (sold out; similar style on Etsy here), and the black and white tea towel in the bottom right.
Top Row: Meow for Measuring Cups | Cat Cheese Board (similar style) | Nathalie Lete Titania Mug
Bottom Row: Double Walled Glass Cat Cup | Books, Cats, & Coffee Mug (sold out, similar option here) | Animal Person Dish Towel (sold out, similar option here)
Feline Figurines & Planters
For my fellow plant-loving cat moms, this section is for you. I grouped planters and figurines together. I figured they serve similar purposes: adding a small bit of Cat Mom Life to your home. The only piece below that is specifically for outdoors is the floral cat and butterfly silhouette in the center of the top row, but it could also be used in an indoor planter.
These little spherical cat planters from Etsy are too cute and come in a variety of colors. They'd be perfect for little succulents, as pictured. Or, use them for fake plants (if your furbaby is a little too keen on their greens like mine tend to be). For a bit more whimsey, try the Anthropologie versions with blue and gold accents. Both would make a great housewarming gift, as well, for cat parent friends.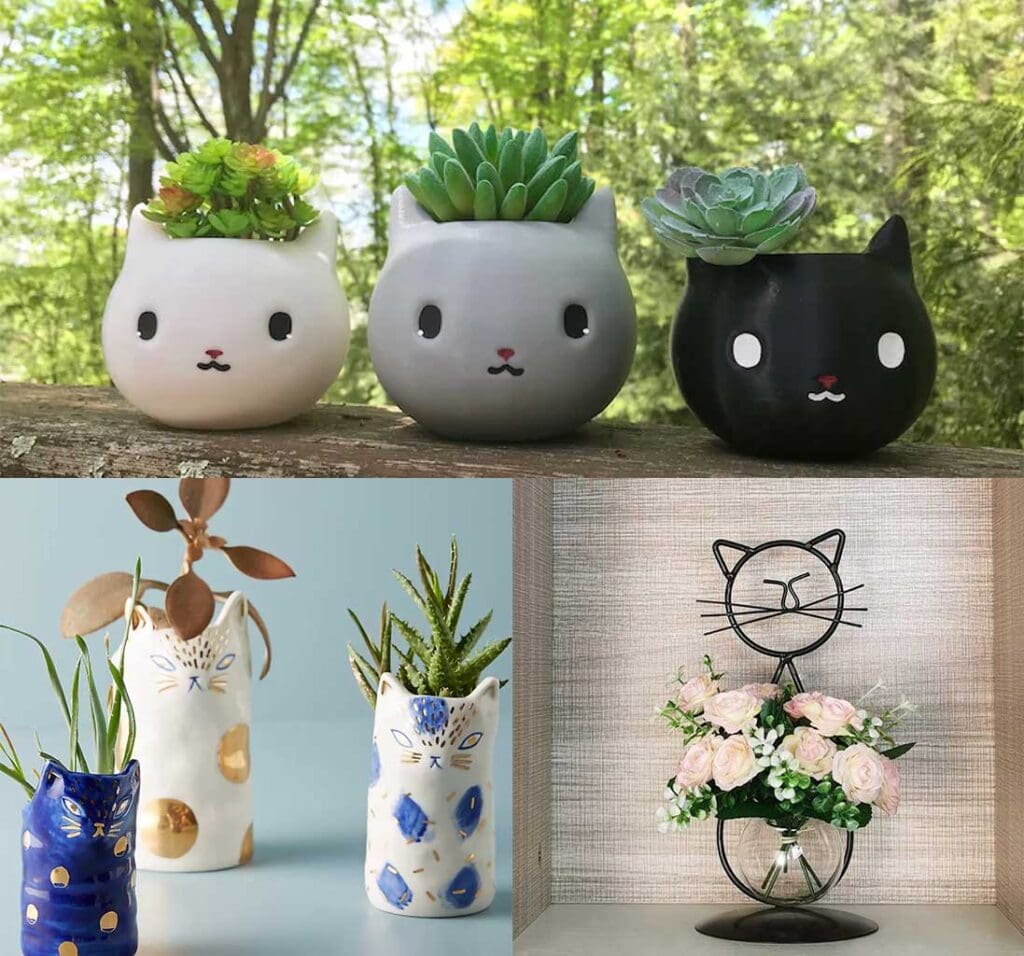 Top Row: Cat Planters | Cat Silhouette Stake for Yards, Gardens | Fran Cat Trinket Box (sold out, similar option here)
Bottom Row: Kitten Planters (sold out, similar options here and here) | Marbrasse Cat Glass Planter | Resting Cat Home Decor Door Frame (similar style here) | Cat Reading Figurine | Zen Creature Incense Holder
Which of the feline-inspired home decor accents listed here is your favorite?
Mine are the the woven cat-face storage basket and reading cat figurine!
 *This Cat Home Decor post was originally published on August 16, 2021. It was most recently updated on March 7, 2022.