The ShopLTK App (previously LIKEtoKNOWit)
LIKEtoKNOWit is an online shopping destination like no other. When you're looking for something specific — a certain style outfit, for example, or decorations for a specific part of your home, the LTK App takes away the tedium of filtering through menus on multiple store websites. By centralizing all your favorite stores in one easy-to-use app, LIKEtoKNOWit allows to you curate your feed to feature your favorite bloggers and influencers, people whose style regularly resonates with you.
Here, I'm sharing the basics of LIKEtoKNOWit and all the FAQ you'll need to start shopping on the app yourself, including the basics like: what is LIKEtoKNOWit? I'll share some details that go on behind the scenes, and offer tips on how to get the most out of the LTK App.
My Experience with the LTK App
I've been using LIKEtoKNOWit and RewardStyle for about a year now. Lately, I have been really getting into shopping via the LTK App. I wanted to share a bit about how the LIKEtoKNOWit platform works, as I think you'll enjoy the app as well. Long story short, the LTK app is another way that I share content, secondary to this website. My LTK content focuses more on shopping than writing. Besides in my capacity as a blogger and content creator, I also use it as a shopper to follow other bloggers and influencers I enjoy. It is a great place to find inspiration in my own personal life!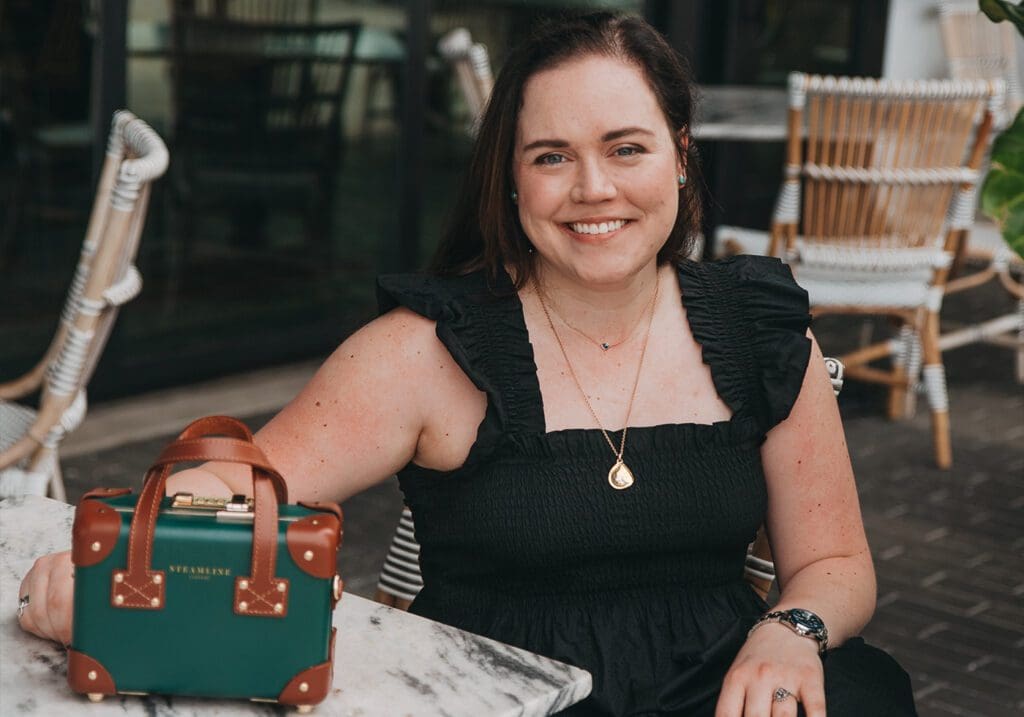 I shared my outfit details from this photo here on my LTK page!
What is the LIKEtoKNOWit (LTK) App, Exactly?
The LTK app is a huge shopping app, with curated looks and round-ups from your favorite bloggers and influencers. You can use it to browse shoppable images from people you follow, or search based on brand, style, etc. Photos and collages feature linked products that you can click through and shop directly from your phone. 
It's kind of like looking at the Amazon app on your phone. However, it connects you to a variety of different shops, instead of just one single website (Amazon). 
Why do Bloggers Use LTK? Do Bloggers Get Paid for LIKEtoKNOWit (LTK)? 
LTK is a great platform for monetizing blogs. I know it's not a fun topic, but the honest truth is that earning commissions helps bloggers like myself invest more into our sites and businesses.
So, if you shop through my links and ultimately purchase something, then I may (not always) earn a small commission based on the purchase price. It does NOT cost you anything to use such affiliate links, either on my site, directly on LTK, or generally through any other blogger's sites. 
In that same vein, I want to be transparent: I only recommend products I currently own, am looking to buy, or am genuinely interested in. I promise not to lead you astray and I hope you like all my round ups. Trust me, they're really fun to make! Oh, and I do a happy dance any time I see one of you guys bought something with my link. It makes me so happy to find out you enjoyed something I found!
Is it LIKEtoKNOWit or LTK? Is RewardStyle the same as LTK?
LIKEtoKNOWit has rebranded to LTK, but they're essentially the same thing. Instead of having the @LIKEtoKNOWit handle, they now have the more succinct @shop.ltk.
Further, RewardStyle and LTK are effectively the same thing. RewardStyle is the overarching company under which LTK operates. Part of the rebranding mentioned above is that they are moving away from using the name RewardStyle to simply being known as LTK or ShopLTK. 
Is the LIKEtoKNOWit (LTK) App free?
Yes, the LTK app is free. Click here to download the LTK app.
How does LIKEtoKNOWit (LTK) work?
LTK as a shopping destination is only available on the app. Click here to download the free app.
You can shop via LTK in two ways: either by going directly to the free app, or by taking a screenshot of a LTK enabled image on Instagram.
You can tell an image is enabled for LTK if it has the logo in the bottom right corner (example below), or if the caption directs you to screenshot it for details:
Besides the screenshot method, you can shop directly on the app itself. The LTK app creates a home feed of people you follow like any other social media platform.
Step By Step Basics: How to Use the LTK App
Download the LTK app from the app store.
Search my name (@catsandcoffeebycc) and click "follow" so you never miss my posts (here's the link to my page on desktop, which should prompt the app to open if clicked on mobile!).
Search for specific items, styles, or brands under the "search" button.
Save items to your "Wish List" or create a collections folder to save items for later, or to share with friends. 
I have a widget of my LTK posts on my site here, which leads you to the app on your phone or to a single webpage with the post details on desktop.
The LTK App Home Page
Once you've signed up on the app and followed some of your favorite influencers, you'll see four tabs on the "home" screen: (1) Following, (2) For You, (3) Trending, and (4) Recently Joined.
The "Following" tab is where the people you specifically follow will appear.
As you follow more people and use the app, the "For You" tab will populate with items and influencers that match your style.
"Trending" offers a broader explore-type page with posts that are popular at the moment.
Lastly, "Recently Joined" highlights new influencers and bloggers on the platform, along with the latest content, to help you discover new favorite styles.
Searching on the LTK App
To search on the app, simply click on the search bar at the top of any page. The app will offer "popular searches" that you can explore, along with "recent influencers" based on previous searches you've made. You can search by brand, style, or influencer.
For example, this is what appears when I searched for "Madewell." On the left, you'll see the related searches and suggested influencers. Once you hit "search," the gallery on the right pops up.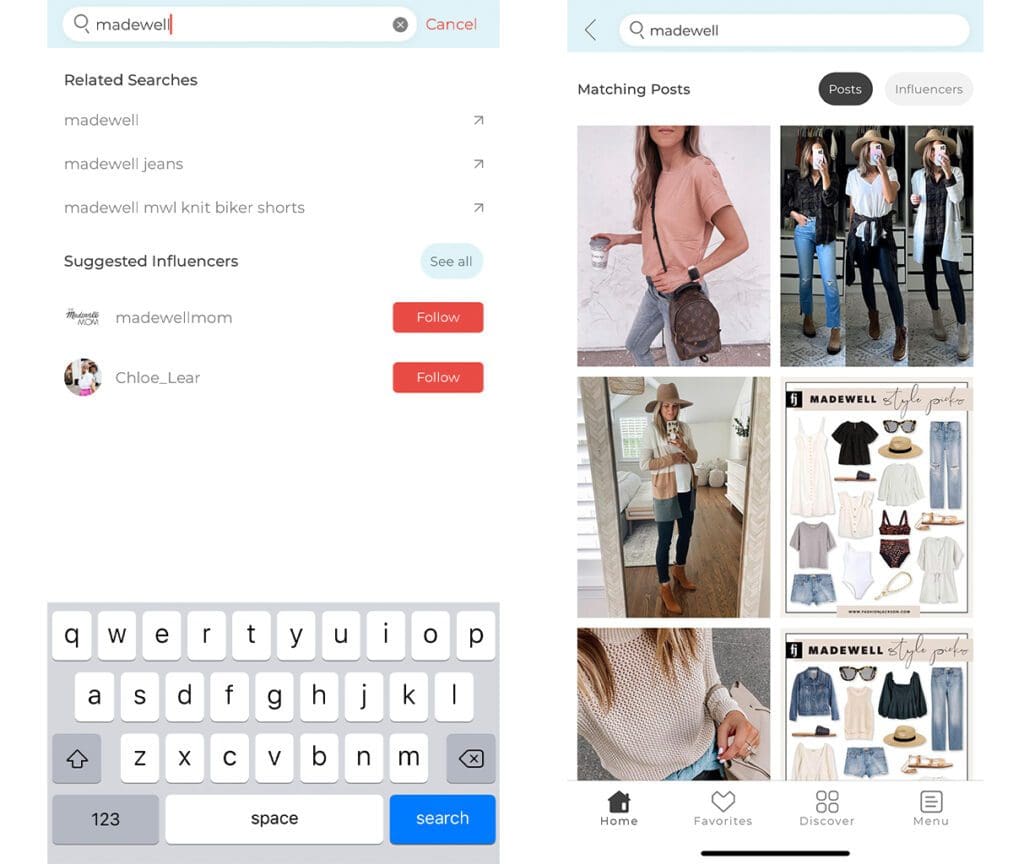 Favoriting, Saving, & Shopping Items on the LTK App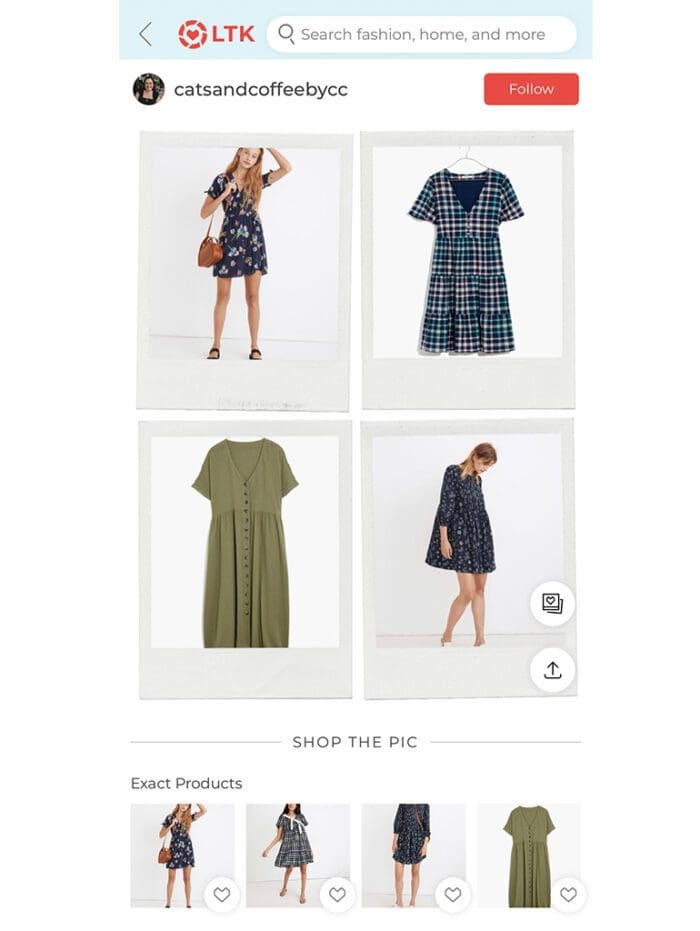 Once you've clicked on a post, you'll be able to see all the tagged items. These items will appear under the "Shop the Pic" heading below the image.
As seen in this screen-shotted post, the top four products are "exact" matches (I tagged related products that were not pictured in the post's image, which can be found below the "exact products").
The exact versus related distinction doesn't appear if you visit a LTK post on your computer or through Safari. The distinction only appears when you are on the LTK App.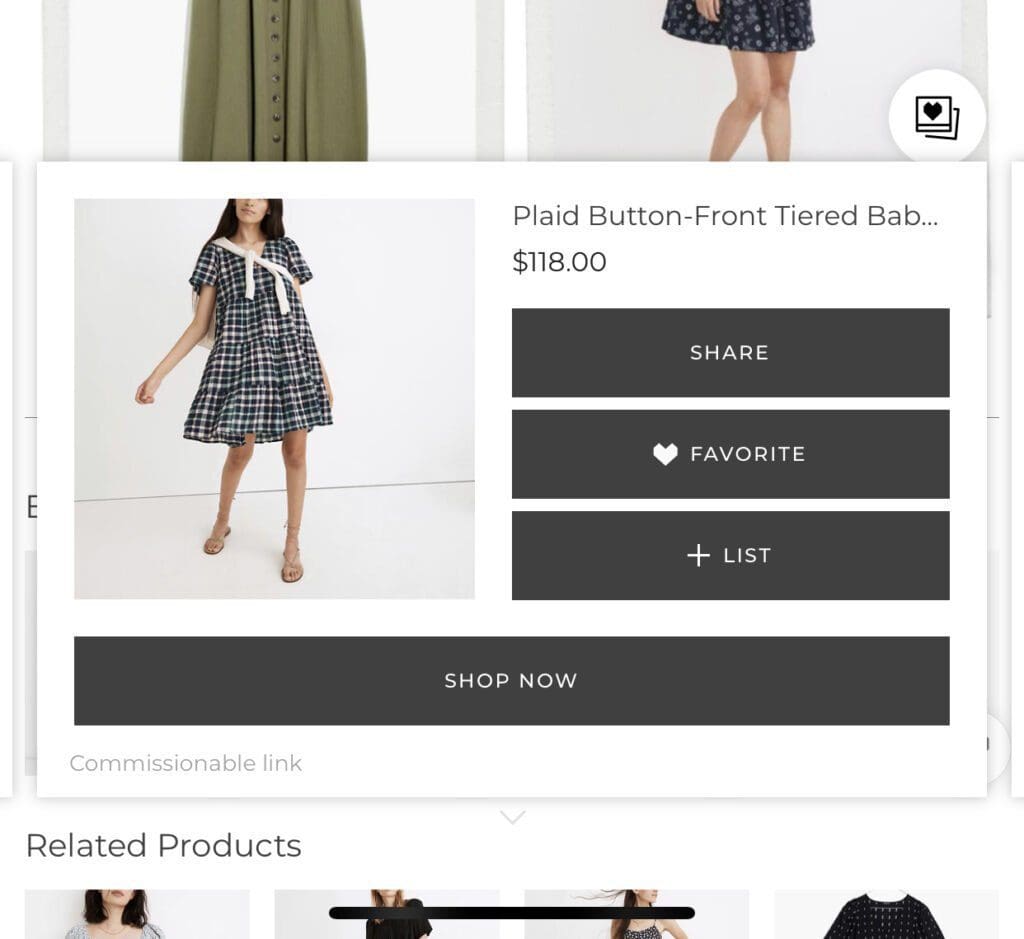 To shop a product or to get more information on the product, simply click the little share image of the piece under the "Shop the Pic" section.
To "like" a product, simply click the little heart in the bottom right hand corner of the product image or click "favorite" when the info tab is expanded (see left). Doing so will save the item to your "favorites" tab so you can easily go back to the product later. You can also create a list of items to keep your favorites organized.
How I Use LTK for Cats & Coffee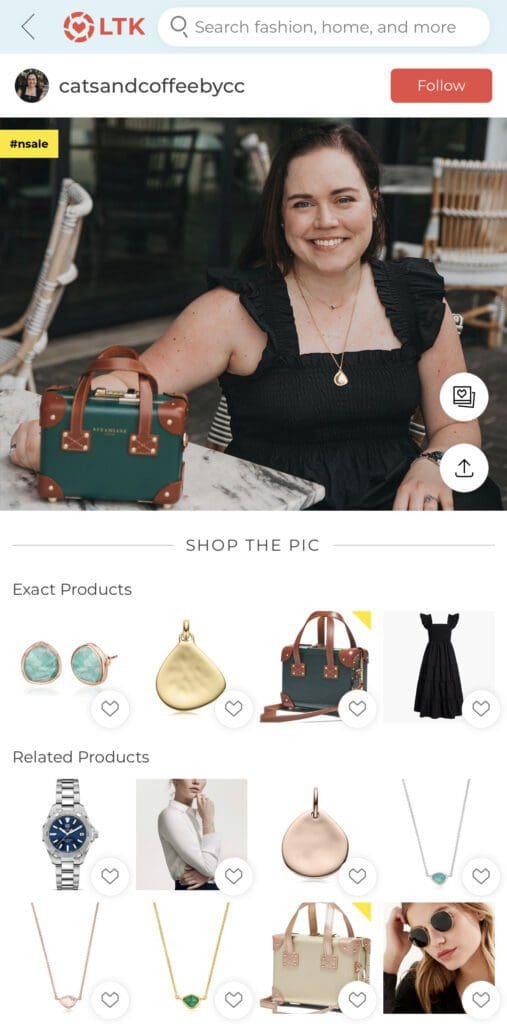 For Cats & Coffee, I generally share round ups from relevant recent blog posts and products I've been searching for myself. For example, this LTK post is an example of how I share blog article content on the platform, while this is an example of something I'd share from my own shopping searches.
Exact Versus Similar Matches
Where I can, I share the exact items I am wearing or featuring, and I mark the exact matches where I can. As you can see in the screenshot here, the exact products are distinguished from "related" products.
Where I know of similar styles, I will share those as well. This is especially the case if the pieces I am sharing are older, like with the tartan button down in the Instagram post shared above.
For example, in this LTK post, I share the exact Hill House dress and SteamLine purse, along with others that are similar in style, but link to three different colors of the shorter necklace I'm wearing, since the color combination I own is no longer available.
Categories of Content I Share
Most of what I share on LTK can be categorized as style or home, with a few exceptions for pet related things (like this great cat tree) and random finds that I want to share. Generally, the random finds I link to are the types of things I share in Instagram stories, so be sure to follow me on LTK to get those details!
Shop My Latest LTK Posts
What brands and styles do you want to see on my LTK page?
Let me know here and I can tailor content more to your interests!
*This post was published on August 10, 2021. It was most recently updated on November 19, 2021.