Simple Fall Decor
Whether you're decorating for the holidays or just to add some seasonality to your home, you can't go wrong with simple fall decor. As a Floridian, I've found myself wondering lately, "how do I make my home cozy for fall?" It may be 95+ degrees outside still, but I love the idea of sprinkling the apartment with autumn decor. The best part is that its actually pretty easy to find cheap fall decor, even from handmade shops. This is especially so if you're in a tighter space and on the hunt for smaller pieces.
I came across so many great options for simple fall decor, from some of my favorite sites like Etsy, West Elm, Target, and more. These are all great pieces that are fun, seasonal, and affordable. How perfect is that?!
Autumn Decor Finds for the Home
Where to Buy Simple & Affordable Fall Accents
I know that I personally am doing my best to shop small for the holidays this year. That being said, I do still rely on Amazon and Target for certain things, and I wanted to give you all options from both types of sellers.
This year, I found that West Elm and Pottery Barn had a great selection of autumnal pieces, as well as specifically Halloween inspired decor.
Simple Fall Wall Art Decor Finds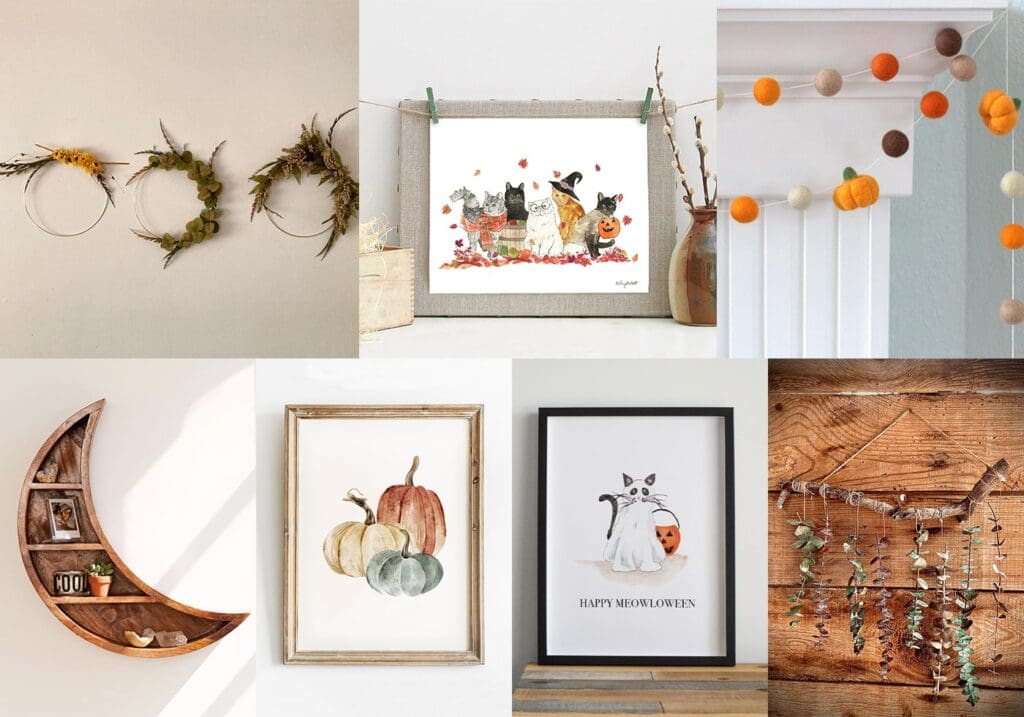 Top Row: Fall Hoop Wreath (sold out, similar option here) | Halloween Cat Print |  Felt Pumpkin Garland
Bottom Row: Crescent Moon Wall Shelf | Pumpkin Printable Wall Art | Cat Ghost Print (Dog Version) | Home Decor Eucalyptus Wall Hanging (sold out, similar option here)
Rugs & Door Mats for the Autumn
Door mats are an easy way to decorate seasonally, and I am really loving the Peanuts inspired pieces from Pottery Barn. Besides the Snoopy and Charlie Brown door mat featured below, I also was drawn to the minimalist "Boo" mat — I love the two tiny ghosts!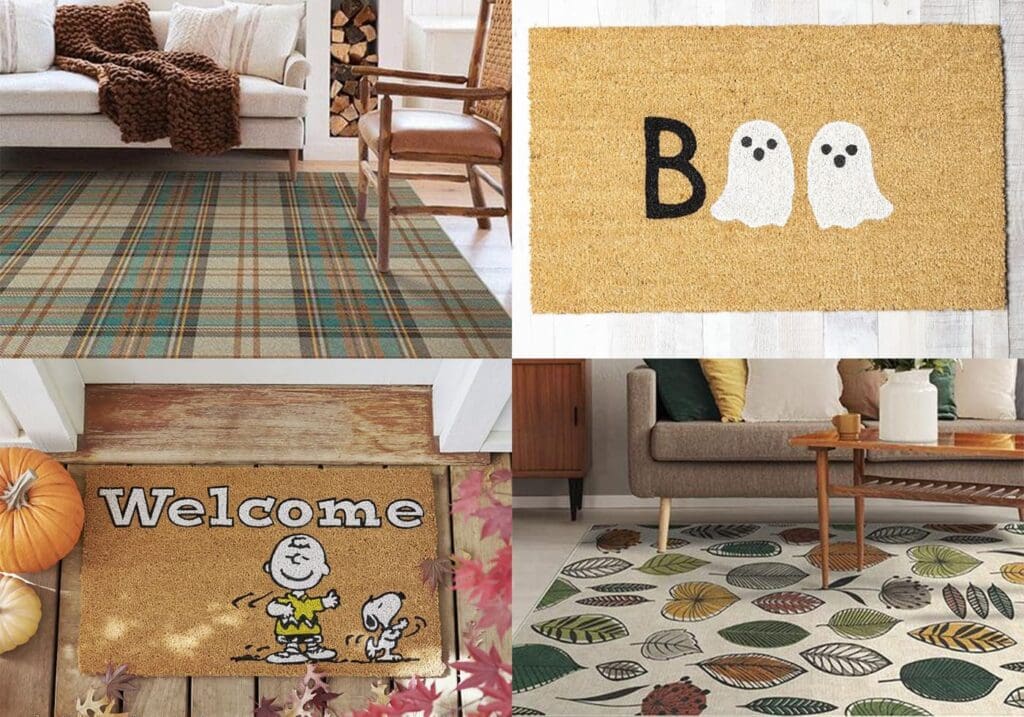 Top Row: Dress Stewart Tartan Khaki Rug | Boo Door Mat
Bottom Row: Peanuts' Door Mat | Folium Multicolor Rug
Besides door mats, though, I included two Ruggable options that are calling my name. We recently got two Ruggables for our apartment — both from the Star Wars collection, which I linked here — and I love how easy they are to maintain. Whether you have kids, pets, or are just prone to spilling, I cannot recommend these rugs enough! I am loving the tartan option pictured above; I might need to order one to go with our kitchen mat base for the holiday.
Fall Living Room Accents
The living room accents pictured in this post are pretty evenly split between West Elm, Pottery Barn, and Etsy. There are so many great options on Etsy that I found it almost overwhelming. From velvet pumpkins to glass mushrooms, there's a great mix of cottagecore (more on that here) and seasonal decor.
If you are particularly drawn to earthy displays, like the planters below, you could also create your own seasonal display with these pretty terrariums from Terrain.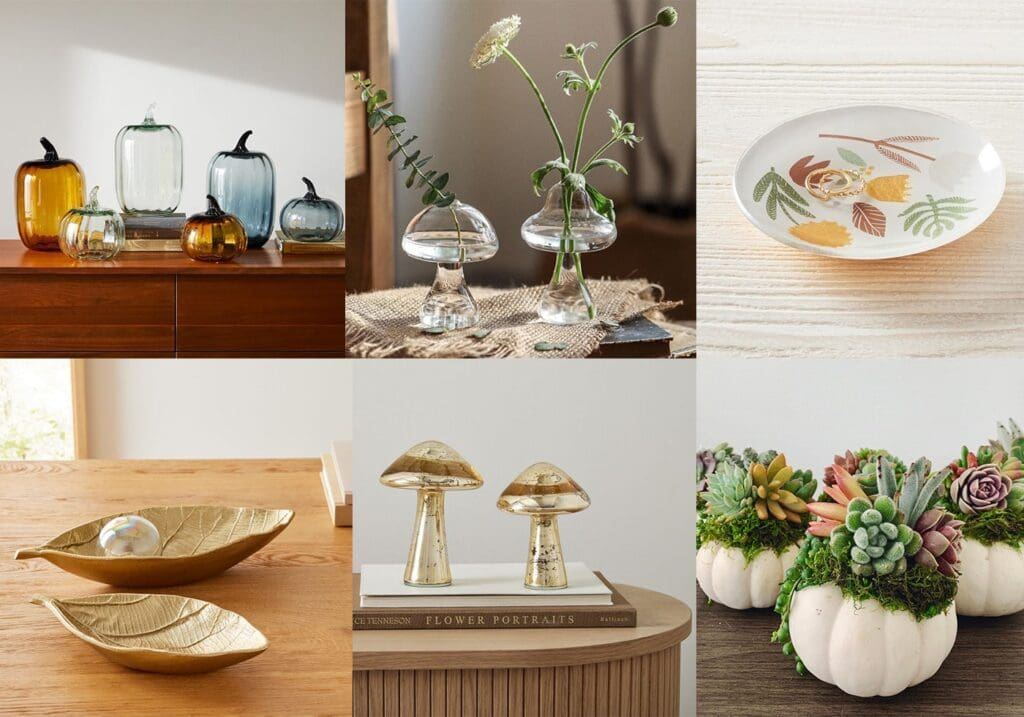 Top Row: Glass Pumpkins | Mushroom Shaped Vase | Scandi Bird Decoupage Dishes (sold out, similar option here)
Bottom Row: Antique Brass Metal Leaf Tray (sold out, similar options here and here) | Glass Toadstool (sold out, similar style here) | Faux Succulent Pumpkin Centerpiece (sold out, similar options here and here)
From West Elm and Pottery Barn, I am loving the minimalist pumpkins and natural shapes they have this year, particularly the gold leaf plates (sold out, similar option here). I like how simple the pieces are, while still being unique and eye-catching.
Cozy Pillows for Fall
My pillow finds this year are from a mix of places, including Etsy, Urban Outfitters, West Elm, and Target. My favorite of the ones below is — obviously — the cat with the leaves.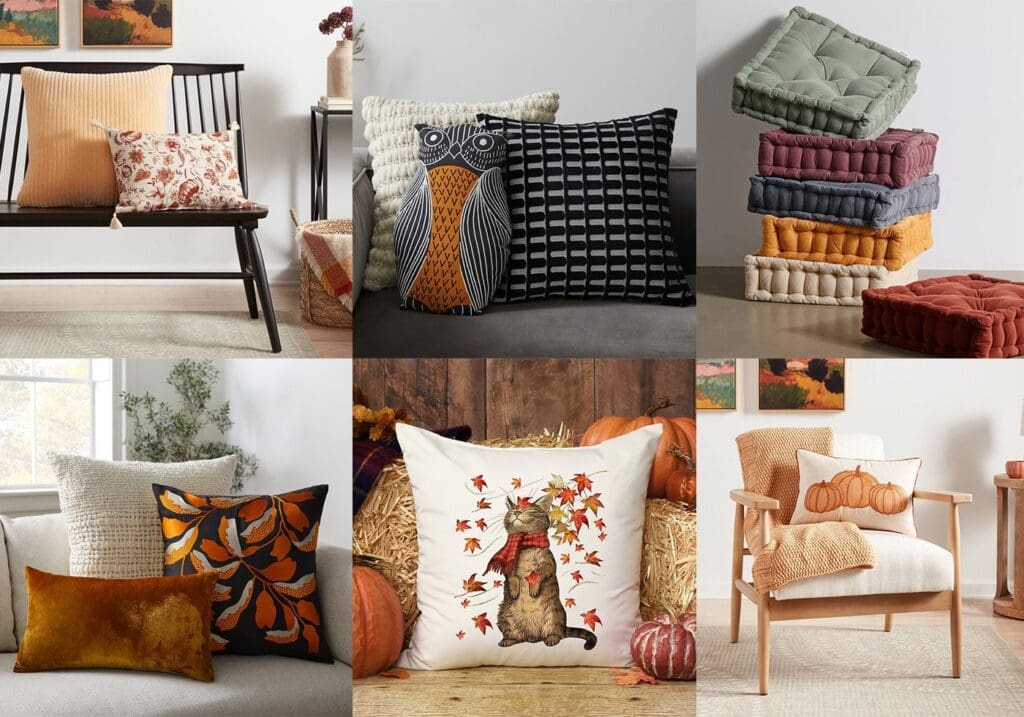 Top Row: Reversible Pumpkin Throw Pillow | Halloween Owl | Corduroy Floor Pillow (Velvet Versions)
Bottom Row: Happy Harvest Pillow Cover Set (sold out, similar style here) | Fall Cat with Leaves Pillow | Pumpkin Lumbar Throw Pillow (sold out, similar style here)
Target's holiday section is robust, with a great mix of textiles and bedding. The two pumpkin pillows here (the far left on the top row and the far right on the bottom row) are both affordable at just $15 each and ideal for the season.
Candles & Votives for the Season
There's nothing like a beautiful candle or votive to embrace the season. While the Library Card candles aren't specifically seasonal, the scents certainly complement the autumn. Similarly, there is a beautiful spiced cider version of the the renowned Capri Blue jar candle which is a delightful addition to the home.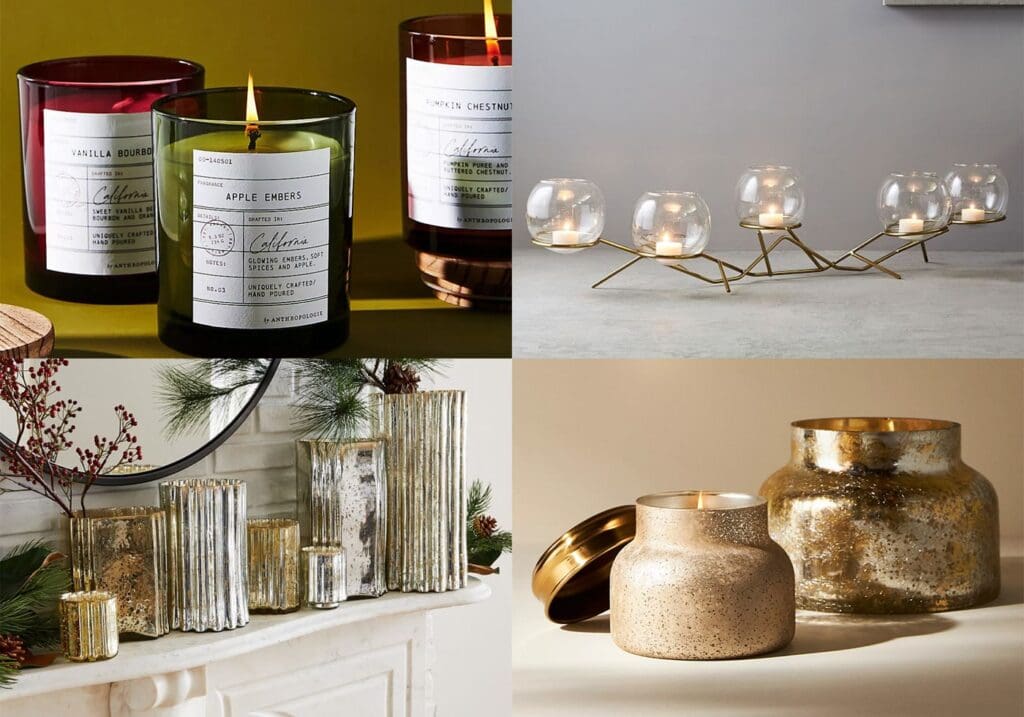 Top Row: Library Card Glass Candle (sold out, similar options here and here) | Brass & Glass Globe Centerpiece
Bottom Row: Decorator Mercury Hurricanes | Capri Blue Jar Candle
Kitchen & Dining Simple Fall Decor
Whether you're hosting for the holidays or not, it's always fun to spruce up your home cooking. I love the Dapper Animals line from West Elm; they do this series seasonally, it seems, with different outfits on the animals.
For a more autumnal theme without the Halloween vibes, try accentuating your table with lovely linen napkins or a coordinated table runner.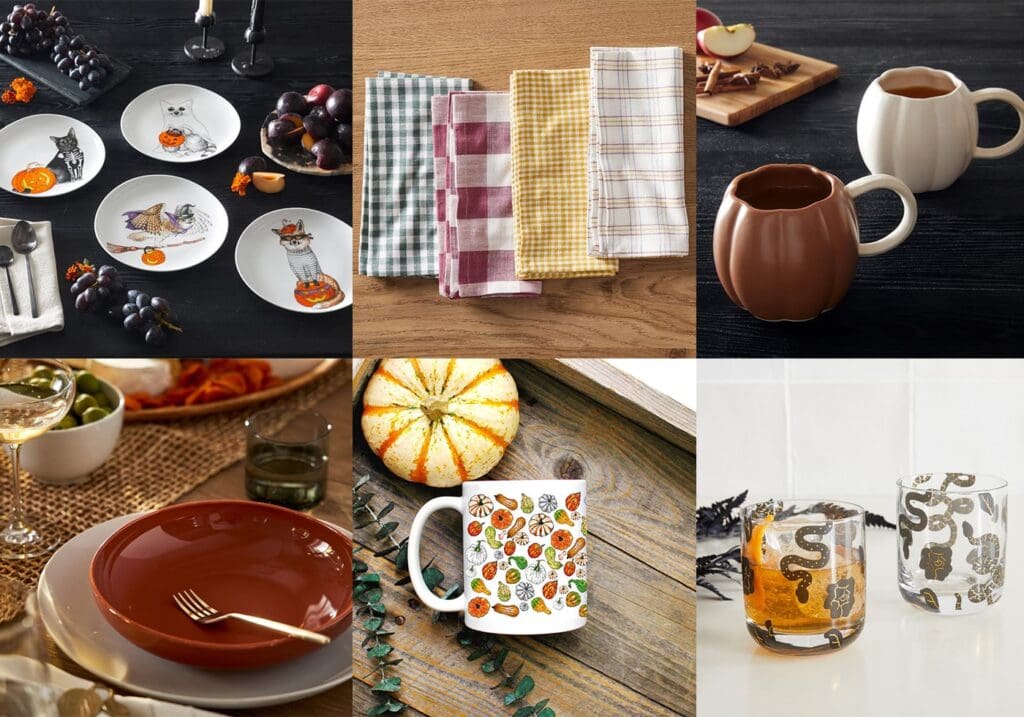 Top Row: Dapper Animal Halloween Salad Plates (see more) | Plaid Napkins (sold out, similar style here) | Pumpkin Mugs (sold out, similar options here)
Bottom Row: Organic Shaped Low Bowls (sold out, similar set here) | Pumpkins and Gourds Mug | Spooky Double Old Fashioned Glasses (sold out, similar set here)
How do you like to decorate for the fall?
Do you focus on Halloween or search for more neutral pieces?
---

*This post was originally published on November 5, 2020. It was most recently updated on June 9, 2022.