Why I Love Audiobooks
As a kid, I read so many books that when I look back, I wonder how I managed it. But I had so much down-time in middle and high school, so few other things to worry about, and wasn't managing my own home. Now, even if and when I have such downtime, my mind is often elsewhere. It's on the laundry that needs to be done (seriously, why is laundry never ending?) and dishes to wash. Or I just get distracted by social media. Either way, it can be hard to make time for reading. And while I love physical books, audiobooks really fill the gap for me. I love listening to them while I'm cleaning up or while I crochet (I listen to podcasts in a similar manner). I've listened to a handful of great Audible audiobooks lately and thought I'd share them with you here!
Why I Use Audible
Secondarily, I wanted to introduce Audible. I've not explored other audiobook resources, really, and went with Audible because of how integrated it is with Amazon. I didn't have to do much to set up my account. I really like how flexible the platform is. Even if you cancel your membership or put it on hold, you retain access to all of the audiobooks in your library!
How Much is Audible a Month?: The Basics of Amazon Audible
Audible is a monthly membership program. An Audible membership has a monthly fee of $14.95. With that, you get one credit to buy an audiobook and other stories online with. Once you buy the audiobook, it stays in your library regardless of whether you continue with the membership or not. The audiobooks are easy to access via the Audible app. I've found the app works well with my car's media system, as well.
With this membership, you also have access to a huge selection of free audiobooks from the Audible Plus Catalog. You can read more about the free Audible Plus Catalog, along with some of my favorites from that section, here!
Besides the once-monthly credit allowance, you can purchase audiobooks like any other book on Amazon. They tend to be kind of pricy, though, so I rarely went with this option. Sometimes, it can be worth it for short audiobooks, which are cheaper than the average volume. You can also buy more credits, which might be more cost effective if you're looking to get more content in a month.
How I Use my Amazon Audible Account
I have been an Audible member for about three years or so. During this time, I have used my credits pretty much monthly. I generally go for longer books or the Great Courses Series. The great thing about Audible is that you keep the audiobooks you buy, even if you cancel the membership. So, there's not a lot of pressure if you want to put it on hold for a bit.
Click here to try Audible for yourself! New memberships get the first month free along with 2 audiobooks and 2 Audible Originals. After the first month, you'll get 1 audiobook and 2 Audible Originals each month, along with some other perks!
Great Audible Audiobooks From My Library
Three Sisters, Three Queens by Philippa Gregory (Narrated by Bianca Amato)
This was my first Audible purchase and I think I'm going to go back and re-listen to it. I remember really liking it at the time. As a big historical fiction fan, Philippa Gregory books are kind of a guilty pleasure for me. While her books aren't necessarily accurate, they certainly are entertaining. Plus, her books were the basis for Starz's The White Queen, The White Princess, and The Spanish Princess, all about the House of Tudor, which I loved. The narrator was pleasant to listen to, as well.
This particular book deals with three important women in the Tudor dynasty and is set in the years following the Wars of the Roses. The book follows Katherine of Aragon, Mary Tudor, and Margaret Tudor. The former was the first wife of Henry VIII and the latter two were his sisters.
An interesting note on the spelling of Queen Catherine of Aragon's name. Gregory spells the name with a K, while many other resources spell it with a C. Born Catalina de Aragon, it is probably easy to anglicize the name to Catherine of England. Variations in spelling — even of names — were common in the medieval era, so there's no definitive right or wrong answer. Her tomb, though, memorializes the queen as Katharine Queen of England.
Publisher's Summary
From the number-one New York Times best-selling author behind the upcoming Starz original series The White Princess, a gripping new Tudor story featuring King Henry VIII's sisters Mary and Margaret, along with Katherine of Aragon, vividly revealing the pivotal roles the three queens played in Henry VIII's kingdom. 

As sisters they share an everlasting bond; As queens they can break each other's hearts. 

When Katherine of Aragon is brought to the Tudor court as a young bride, the oldest princess, Margaret, takes her measure. With one look, each knows the other for a rival, an ally, a pawn, destined – with Margaret's younger sister Mary – to a sisterhood unique in all the world. The three sisters will become the queens of England, Scotland, and France.
Read more about Three Sisters, Three Queens here.
The Handmaid's Tale by Margaret Atwood (Narrated by Claire Danes)
If you're a fan of the Hulu adaptation of Margaret Atwood's dystopian book starring Elizabeth Moss, you should definitely check the audiobook out. If you've not seen the show, you may find yourself asking: What is The Handmaid's Tale about? The Handmaid's Tale is largely about women's rights and the subjugation of women to the role of handmaiden, a social class whose sole purpose is to produce children for society's elite.
I listened to this audiobook just before the show came out and was totally hooked from the start. Claire Danes is an amazing narrator. She really brings Atwood's words to life, making it one of the great Audible audiobooks, in my opinion. Danes is joined by a number of other narrator performers, including Atwood herself, giving voice to the citizens of Gilead.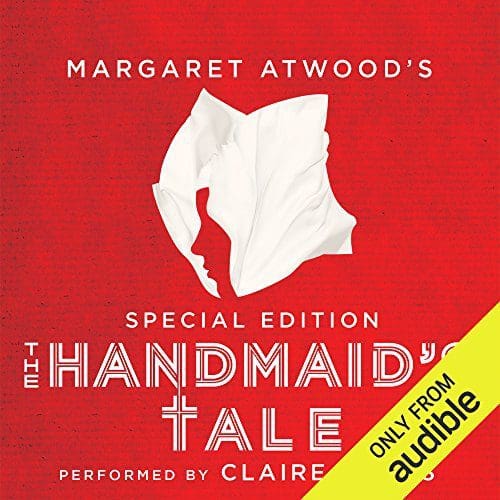 Publisher's Summary
"Are there any questions?" The final line in Margaret Atwood's modern classic, The Handmaid's Tale, has teased and perplexed fans since the book's original release more than 30 years ago. Now, in this Audible Original production, listeners get some of the answers they've waited so long to hear. 

Featuring an all-new interview with Professor Piexoto, written by Atwood and performed by a full cast, The Handmaid's Tale: Special Edition is a must-listen for both fans and newcomers alike. Emmy Award winner Claire Danes (Homeland, Temple Grandin) gives a stirring performance of this classic in speculative fiction, where the message (and the warning) is now more timely than ever. In addition to rich sound design that honors the audio origins of Atwood's classic, the special edition also includes a brand-new afterword from the author and an essay written by author Valerie Martin (Mary Reilly, Property). 

After a violent coup in the United States overthrows the Constitution and ushers in a new government regime, the Republic of Gilead imposes subservient roles on all women. Offred, now a Handmaid tasked with the singular role of procreation in the childless household of the enigmatic Commander and his bitter wife, can remember a time when she lived with her husband and daughter and had a job, before she lost everything, even her own name. Despite the danger, Offred learns to navigate the intimate secrets of those who control her every move, risking her life for mere glimpses of her former freedom, and records her story for future listeners. 

Whether you're a fan of the original novel or someone who has recently discovered it, The Handmaid's Tale: Special Edition will shock, impress, and satisfy all those who listen. 
Read more about The Handmaid's Tale here.
Drink: The Intimate Relationship Between Women and Alcohol by Ann Dowsett Johnston (Narrated by Carrington MacDuffie)
If you're looking for a great Audible audiobook that will educate you and make you see the world a little differently, this one is for you. Ann Dowsett Johnston's created a fascinating and nuanced deep-dive into the relationship women have with alcohol. From the ways in which alcohol is marketed to women, to the social pressures on women — particularly college-aged women — to drink while still losing weight, this book is incredibly illuminating. Not unlike alcohol, this book can be a bit of a depressant, but its worth it, I promise. It left me feeling more informed and in-tuned with my feminist roots.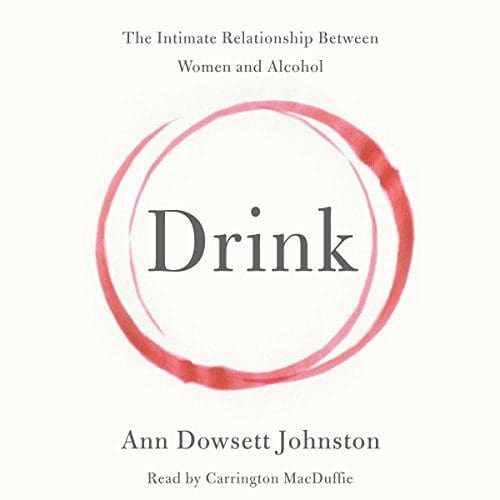 Publisher's Summary
In Drink: The Intimate Relationship Between Women and Alcohol, award-winning journalist Anne Dowsett Johnston combines in-depth research with her own personal story of recovery, and delivers a groundbreaking examination of a shocking yet little recognized epidemic threatening society today: the precipitous rise in risky drinking among women and girls. 

With the feminist revolution, women have closed the gender gap in their professional and educational lives. They have also achieved equality with men in more troubling areas as well. In the U.S. alone, the rates of alcohol abuse among women have skyrocketed in the past decade. DUIs, 'drunkorexia' (choosing to limit eating to consume greater quantities of alcohol), and health problems connected to drinking are all rising – a problem exacerbated by the alcohol industry itself. 

Battling for women's dollars and leisure time, corporations have developed marketing strategies and products targeted exclusively to women. Equally alarming is a recent CDC report showing a sharp rise in binge drinking, putting women and girls at further risk. 

As she brilliantly weaves in-depth research, interviews with leading researchers, and the moving story of her own struggle with alcohol abuse, Johnston illuminates this startling epidemic, dissecting the psychological, social, and industry factors that have contributed to its rise, and exploring its long-lasting impact on our society and individual lives.
Read more about Drink: the Intimate Relationship Between Women and Alcohol here.
Seven Stones to Stand or Fall: A Collection of Outlander Fiction by Diana Gabaldon (Narrated by Robert Ian MacKenzie, Allan Scott-Douglas, Davina Porter, Jeff Woodman, and Diana Gabaldon)
For any Outlander fans, I highly recommend checking out Diana Gabaldon's Outlander-inspired novellas. These shorter stories track the books but prominently feature side-characters, like Lord John Grey and Jamie's future brother-in-law, Ian Murray. This particular volume features seven short stories, so it's a pretty good deal.
Publisher's Summary
The author presents a collection of seven short stories set in the Outlander universe, never before published together, including two original stories and featuring beloved character Jamie Fraser. 

"Beseiged": Protagonist is Lord John Grey, a secondary character in the Outlander novels and a main protagonist of the Lord John novels, Diana's related series (never before published). 

"A Fugitive Green": Protagonist is Hal Grey, John's brother (never before published). 

"Virgins": Protagonists are Jamie Fraser at age 19 and his friend and future brother-in-law, Ian Murray. (Originally published in the Tor Books anthology Dangerous Women in 2013. Dell published as an individual e-novella in 4/2016.) 

"The Space Between": Protagonist is Michael Murray, who is the son of Ian and Jenny Murray (Jenny is Jamie's sister and a main character in her own right in both the books and TV show). (Originally published in the Tor anthology The Mad Scientist's Guide to World Domination in 2012 and as an individual e-novella by Dell in 4/2014.) 

"A Leaf on the Wind of All Hallows": Tells the story of the parents of Roger Wakefield (a major character in the books, just introduced at the end of the second season of the show and will continue to grow in importance); features Claire's husband, Frank Randall. (Originally published in the Gallery anthology Songs of Love and Death in 2010 and as an individual e-novella by Dell in 12/2012.) 

"The Custom of the Army": Protagonist is Lord John Grey. (Originally published in the Tor anthology Warriors (1) in 2010. Dell published as an e-novella in May 2012.) 

"Lord John and the Plague of Zombies": Protagonist is Lord John Grey. (Originally published in Ace anthology Down These Strange Streets in 2012. Dell published as an e-novella in 2013).
Read more about Seven Stones to Stand or Fall: A Collection of Outlander Fiction here.
Curious for more answers to common Outlander questions, like how many books are in the Outlander series? Click here!
Born a Crime: Stories from a South African Childhood by Trevor Noah (Narrated by Trevor Noah)
If you haven't read Trevor Noah's book yet, I can't recommend it enough. All at once, this memoir is entertaining, thought provoking, and illuminating. The intense struggles that Trevor Noah's mom went through, and the impacts they had on the author's life, are incredible. The fact that it is narrated by the author just makes it that much more poignant. For me, this is what makes it one the great Audible audiobooks out there. Noah's trademark wit and intelligence shines through and he'll have you laughing and crying throughout. If you're anything like me, you'll finish the audiobook and immediately start looking for when the Born a Crime movie will be made!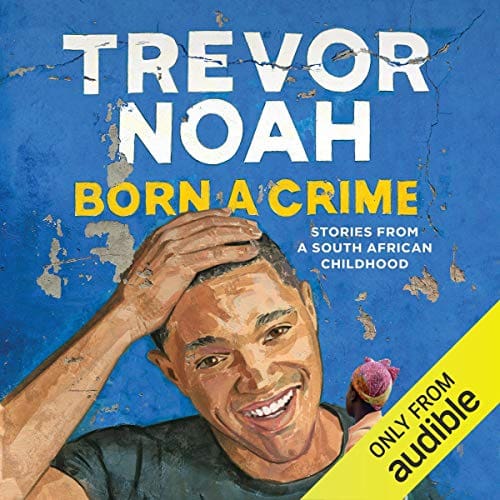 Publisher's Summary
In this award-winning Audible Studios production, Trevor Noah tells his wild coming-of-age tale during the twilight of apartheid in South Africa. It's a story that begins with his mother throwing him from a moving van to save him from a potentially fatal dispute with gangsters, then follows the budding comedian's path to self-discovery through episodes both poignant and comical. Noah's virtuoso embodiment of all the characters from his childhood, and his ability to perform accents and dialects effortlessly in English, Xhosa, and Zulu, garnered the Audie Award for Best Male Narrator in 2018. Nevertheless, Noah's devoted and uncompromising mother—as voiced by her son—steals the show.

Read more about Born a Crime: Stories from a South African Childhood here.
Wolf Hall Trilogy by Hilary Mantel
I shared about the Wolf Hall Trilogy in my historical fiction reading guide, and I cannot recommend the audiobook versions enough. These novels are tomes, the first book clocking in at over 24 hours of recorded audio. So, if you're like me and have a hard time sitting still to read, the audiobook versions are fantastic options.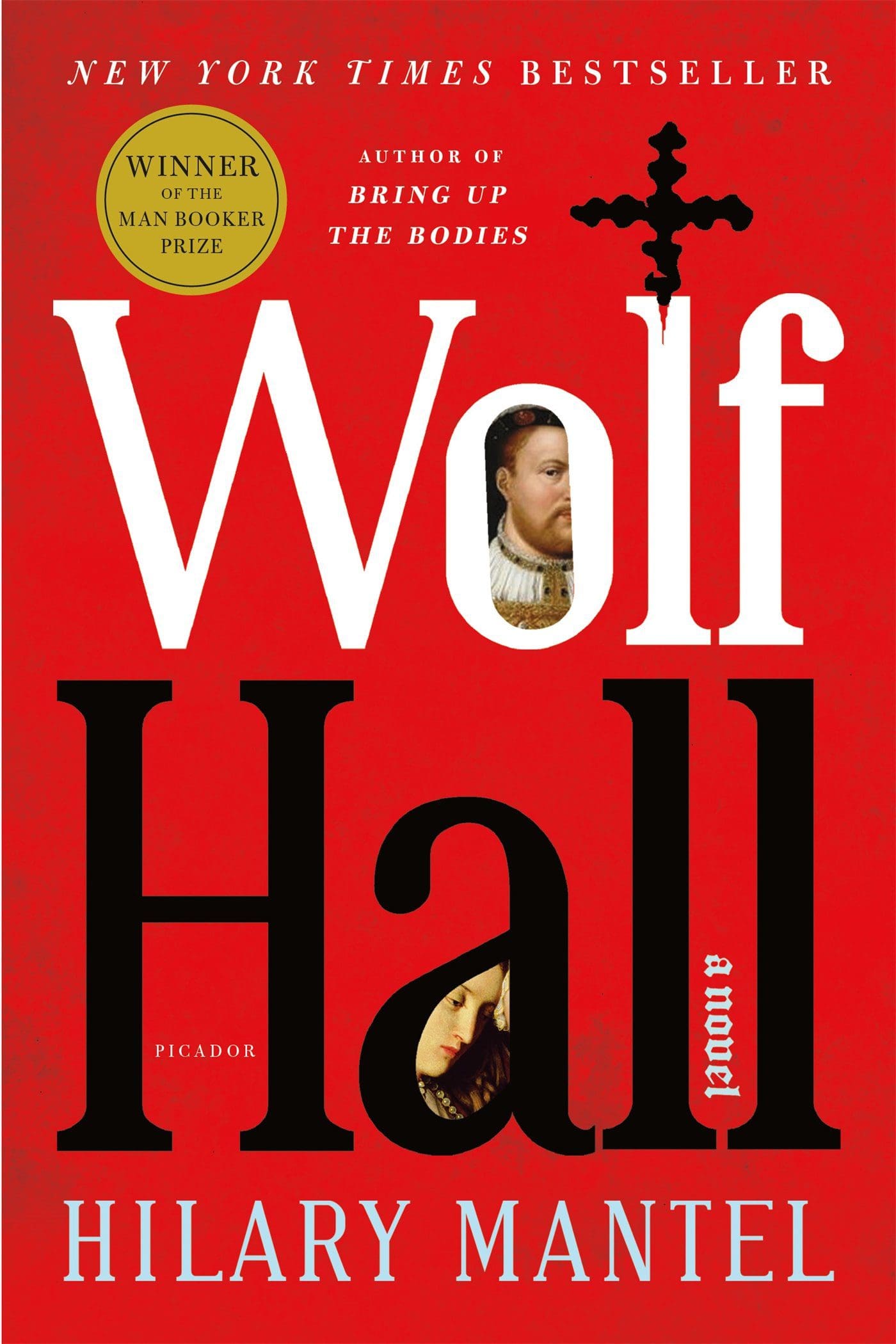 Publisher's Summary for Book 1, Wolf Hall (Narrated by Simon Slater)
In the ruthless arena of King Henry VIII's court, only one man dares to gamble his life to win the king's favor and ascend to the heights of political powerEngland in the 1520s is a heartbeat from disaster. If the king dies without a male heir, the country could be destroyed by civil war. Henry VIII wants to annul his marriage of twenty years, and marry Anne Boleyn. The pope and most of Europe opposes him. The quest for the king's freedom destroys his adviser, the brilliant Cardinal Wolsey, and leaves a power vacuum. Into this impasse steps Thomas Cromwell. Cromwell is a wholly original man, a charmer and a bully, both idealist and opportunist, astute in reading people and a demon of energy: he is also a consummate politician, hardened by his personal losses, implacable in his ambition. But Henry is volatile: one day tender, one day murderous. Cromwell helps him break the opposition, but what will be the price of his triumph? In inimitable style, Hilary Mantel presents a picture of a half-made society on the cusp of change, where individuals fight or embrace their fate with passion and courage. 
Read more about the Wolf Hall Trilogy here.
---
Looking for more suggestions?
Check out all of my available book reviews here!
*This post was originally published on March 30, 2020. It was most recently updated on November 1, 2021.