Simple & Special Gift Ideas for Men
I sometimes have a hard time shopping for the men on my list. Particularly for Brett and me, there are a lot of gift-giving holidays between the end of November and February. Becoming overwhelmed with gift giving isn't too difficult. However, as with my other gift guides, and in particular in light of the year we've all had, I am prioritizing simple and special gifts this year — and the same goes for gift ideas for men!
Great Gift Ideas for Him
Men's Style Gifts
Sure, clothing may not be the most exciting gift you can give the men on your list. However, it is often a great option nonetheless. Whether the recipient enjoys shopping or not, a nice workout outfit, cozy pullover, or well-fitting tee can fill a wardrobe gap.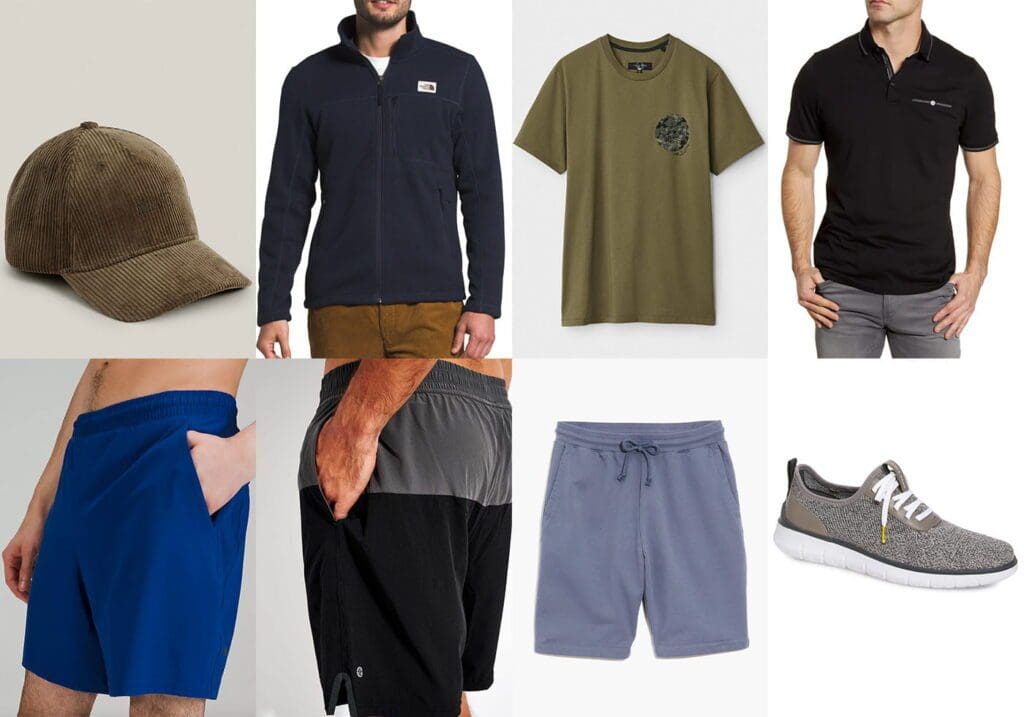 Top Row: AllSaints Ethan Baseball Cap | The North Face Zip Fleece Jacket | Rag & Bone Floral Camo Tee | Ted Baker Pocket Polo
Bottom Row: Lululemon Pace Breaker Lined Short | Manduka Lunge Short | Madewell Retrolight Terry Sweatshorts | Cole Hahn Generation Sneaker
Nice t-shirts are a handy go-to gift idea for men, particularly once you know what styles they like. I highly recommend anything Madewell, J.Crew, James Perse, or Rag & Bone, as far as t-shirts go. The first two brands are more affordable than the latter two, but all are great options depending on your budget. For the best variety of color options, this J.Crew crewneck pocket tee is your best bet.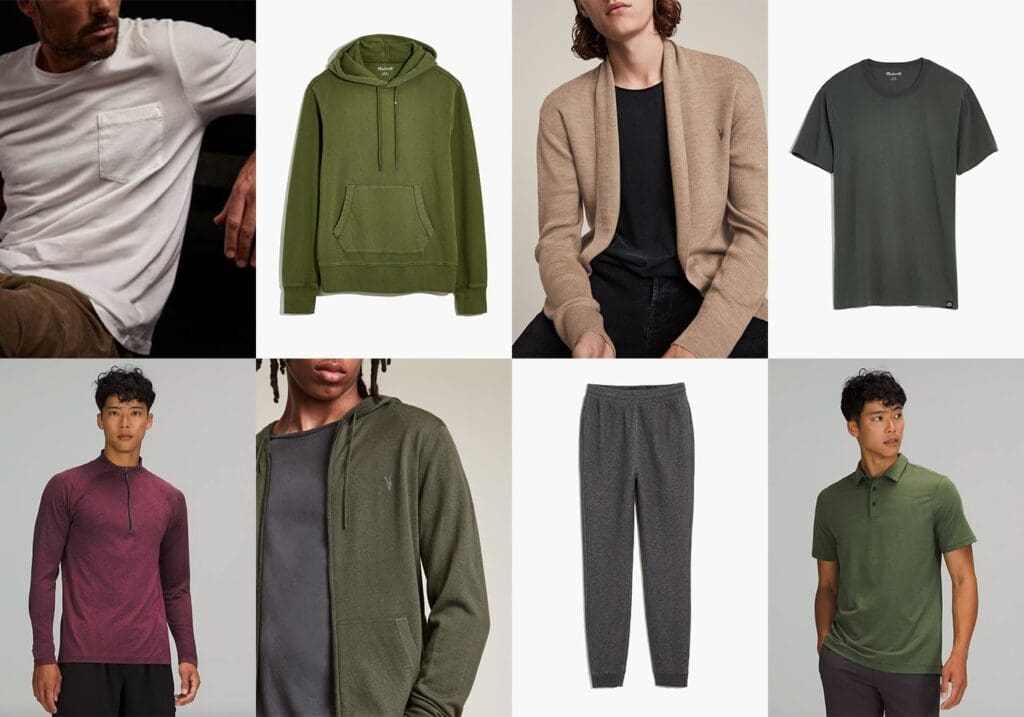 Top Row: James Perse Elevated Lotus Jersey Pocket Tee | Madewell Pullover Hoodie | AllSaints Merino Open Cardigan | Madewell Garment-Dyed Allday Crewneck Tee
Bottom Row: Lululemon Metal Vent Tech 1/2 Zip | AllSaints Mode Merino Zip Hoodie | Madewell MWL Betterfleece Sweatpants | Lululemon Evolution Short Sleeve Polo Shirt
Beauty & Grooming Gifts for Him
Whether he maintains a strong skincare routine or not, there are lots of great beauty gifts ideal for men. First and foremost, Kihel's Groom On-the-Go set is a steal at just $40. The Kihel's gift set features three great products he'll love. The products can be used for travel or as an introduction to a new skincare routine. I got the set for Brett last year and he is still loving the energizing face wash formula! Honestly, I think it is the best of my gift ideas for men here.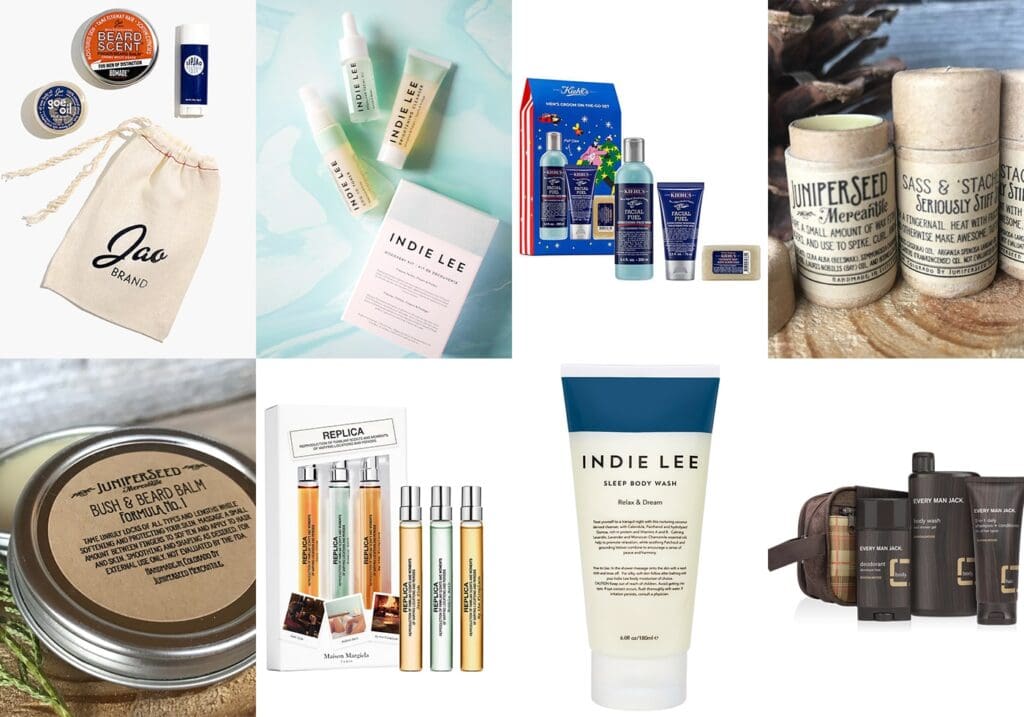 Top Row: Jao® Suave Salve Pack | Indie Lee Discovery Kit | Kiehl's Groom On-The-Go Set | Juniper Seed Mercantile Sass and 'Stache Wax
Bottom Row: Juniper Seed Mercantile Bush and Beard Balm | Replica Travel Spray Set | Indie Lee Sleep Body Wash | Every Man Jack Body Kit
Accessory, Custom, & Tech Gifts for Him
For miscellaneous finds or small gift options, this section of accessories, tech gifts, and customizable finds is a one-stop shop. Toiletry bags, like the canvas bag pictured below or this leather option, are super handy for anyone on your list. Give one by itself or pick up some goodies from the beauty section above to make a mini self care spa bag.
Wallets are often personal purchases. However, if you know what style he's looking for, there are a bunch of beautiful custom options available on Etsy. Beyond Etsy, though, I've been really impressed by the Frye wallets this season. Speaking of Frye, they have some gorgeous Chelsea Boots, as well, in case that ticks some gifting boxes.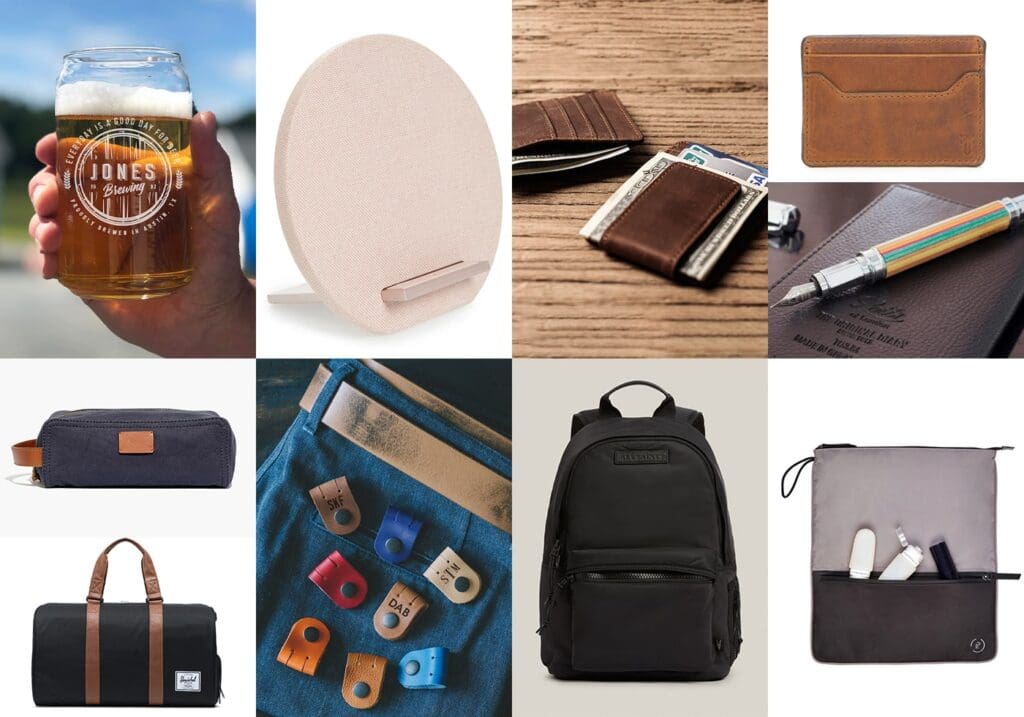 Top Row: Customized Beer Glass Can | Native Union Dock Wireless Charger | Personalized Money Clip | (top) Frye Logan Leather Money Clip | (bottom) Handmade Fountain Pen
Bottom Row: (top) Madewell Canvas Travel Kit | (bottom) Herschel Duffle Bag | Earbud Cable Organizer | AllSaints Arena Backpack | La Pochette Sweat Bag
December update: now that I've given this gorgeous wood watch stand and valet tray to Brett for our anniversary, I can share it on here! It's a beautiful piece from Etsy that shipped quickly and is quite affordable for the quality and amount of customizing you can do. I got Brett a single watch stand in mahogany and skipped the extra personalization. It arrived within 10 days!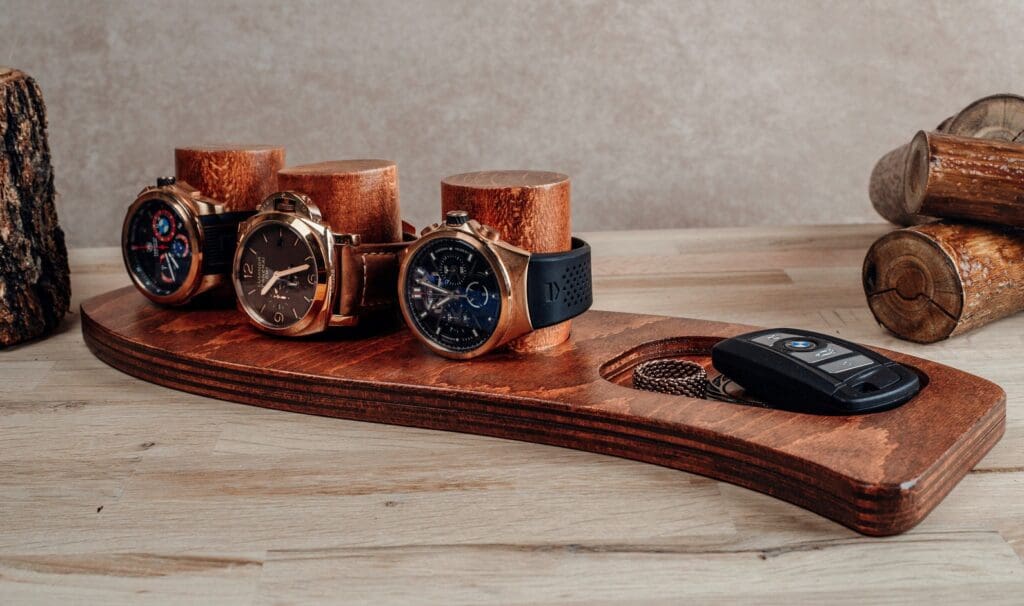 What is your go-to gift suggestion for the men in your life?
Let me know in the comments below!
---
Explore More Gift Guides:
*This post was originally published on November 26, 2021. It was most recently updated on December 7, 2021.