Easy Cash Back App: How Ibotta Works
I'm not sure how I came across Ibotta in the first place, but I've been using this easy cash back app for a couple years now. I've tried a few cash back apps — particularly those around groceries — to varying levels of success.
Ibotta has been the easiest to use and definitely the most consistent. The app works with a bunch of stores, both brick and mortar options and online retailers, and gives cash back for a ton of daily purchases.
Cash Back for Groceries
Publix is my favorite Ibotta cash back store. Now, though, they have a pretty good variety of grocery stores, including Whole Foods and Trader Joe's. None of the returns are super impressive — most rebates are between $0.25 and $1.00 — but it's free to use and easy to use. It's also pretty handy that my favorite protein bars usually have a rebate at Publix or Target (previously, I was buying them on Amazon).
The app also offers bonuses, so if you redeem X number of offers, Ibotta awards you with a higher rebate. It's a nice surprise if you don't bother to see what bonuses are being offered.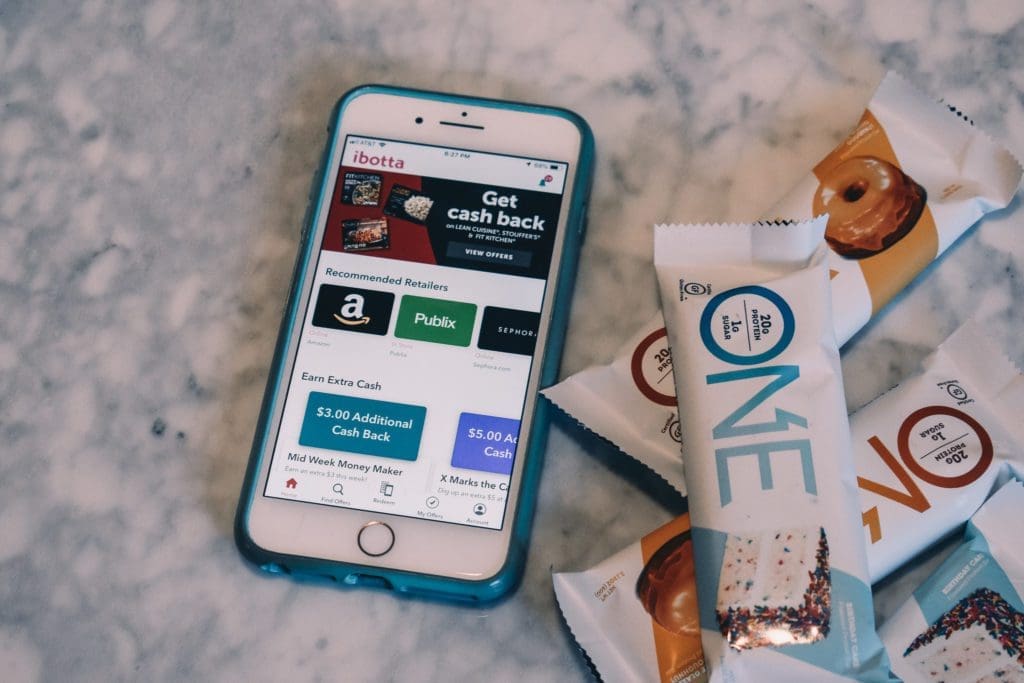 What Does Ibotta Do?: What Else I Use Ibotta For
Beyond groceries, I use Ibotta with a bunch of online stores.
The biggest two online stores on the app for me are Amazon and Sephora. Between Amazon Prime and stocking up on makeup staples from Sephora, I shop these stores a lot.
All you have to do is click through the app to Amazon or Sephora's websites and the app tracks your purchase. I try not to get hung up on being overtly tracked online; it happens anyway, but here I'm at least rewarded for it.
So, when you purchase something through the online stores with Ibotta, the app rewards you with some percentage of the order price — typically between 1% and 4%.
Cash Back at Brick and Mortar Stores
Like I said, the returns on Ibotta are generally pretty low — but it is low effort. Where Ibotta pays off all at once is with bigger purchases, which is easy to do at stores like Best Buy.
Over the past six months, we purchased a new TV and I got a new laptop; when purchasing the items, I had the cashier scan my Ibotta QR code and that was it. A few percents of those purchase prices were relatively substantial. It's great for covering my coffee habit!
The New Ibotta Browser Extension: Getting Cash Back for Online Shopping
Originally, Ibotta for desktop was pretty limited. However, since I originally published this article, Ibotta has added an online browser extension to help you earn cash back on online purchases, similar to how Rakuten works. I haven't tried out this browser yet, but it seems to work seamlessly with your account once you sign in online. It would be particularly helpful for travel planning, and online grocery pick up or delivery ordering.
You can download the Chrome browser extension for Ibotta here.
Is Ibotta Worth It?: Why I Like Ibotta as a Cash Back App
Ibotta, on an individual redemption level, is low effort, low reward.
When I say low effort, I mean low effort; simply upload a picture of your receipt (or have the store scan the QR code if that's how Ibotta works with that score), pick which items you bought, scan barcodes if the app prompts you, and hit submit.
The app is free and puts pocket money back in your pocket. Like I said, it generally covers my coffee purchases. Plus, it is easy to pull money out of the app once you hit the $20 withdrawal threshold. I simply get my withdraws from Ibotta to PayPal and transfer the money from there.
Plus, a few bucks here and there add up, too; since I started with the app, I've gotten $824.12 back! So, why not give it a shot?
P.S. if you're looking for other apps similar to Ibotta, click here check out my post on my other favorite cash back apps, including Rakuten and Swagbucks.
Ibotta Referral Code
Click here to Sign up for free today and get $10 with my referral link!
*This post was originally published on June 14, 2019. It was most recently updated on January 3, 2022.