Welcome back to the Cats & Coffee My Current Loves series. This edition features four things that stand out in the last month for me: Prickly Thistle little tartan pouch, Lulu Organics Hair Powder, Country Bathhouse Bath Bombs, and Obama's latest memoir, A Promised Land.
Check out my last edition of this series here, featuring Parabo Press Photo Printing, Milk Makeup's Kush Lip Balm, A Discovery of Witches, and Rabbit & Wolves Everything Bagel Pasta Recipe.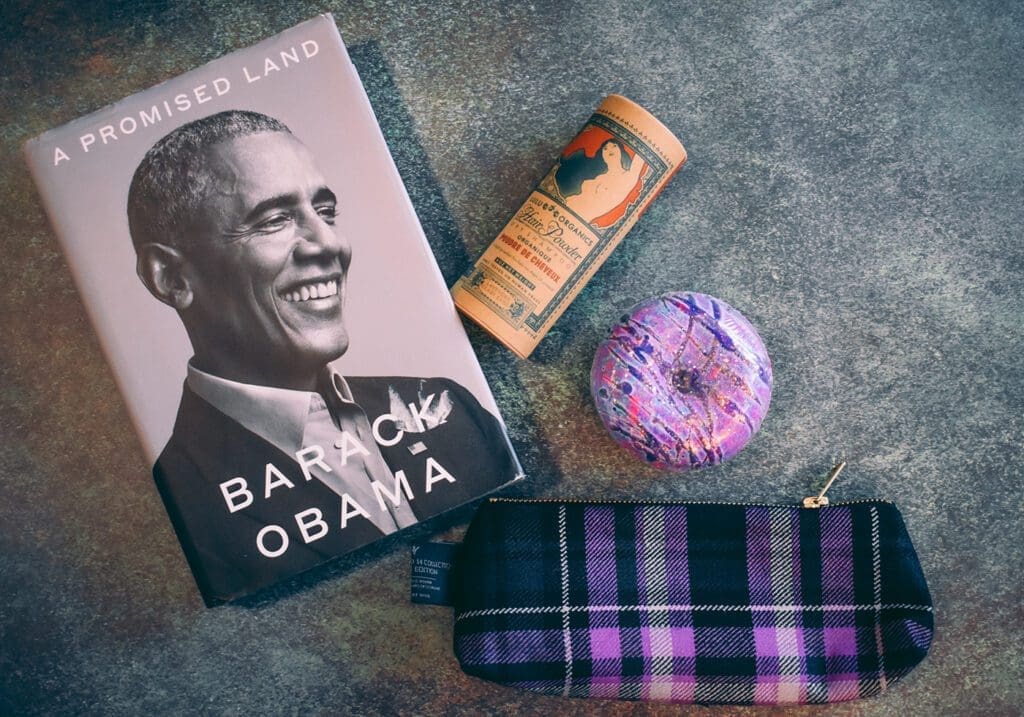 Let's dive right in:
The Prickly Thistle Wee Tartan Bag
I'm a longtime fan of Prickly Thistle, a Scottish mill focusing on sustainability and authentic Scottish tartan creation. I ordered one of their purple and black tartan Wee Bags, planning to use it as a crochet hook bag. Made with sustainably sourced cotton linings, the Wee Bag is a really useful size at about 8 centimeters tall and 20 centimeters long. It'd be a great little makeup bag or pouch for in a purse or backpack, beyond holding crafting supplies.
Prickly Thistle's Wee Tartan Bag is £25.00 and ships super quickly. There are a few other sizes of bag available, as well, if you're looking for something a big larger.
Lulu Organics Hair Powder in Lavender Clary Sage
I have been on the hunt for a good dry shampoo for dark, fine hair. The ends of my hair are prone to drying out, so I avoid washing it too frequently. However, I've found most dry shampoos are a bit heavy (or white) for my hair. With most other options, I found that I was always disappointed, my hair left either tinged gray or feeling lifeless. But then I found this game changer: my friend introduced me to the Lulu Organics Hair Powder and I found it worked really well!
The scent is quite lovely — light and botanical. It won't challenge perfume. A little of the powder goes a long way, though. Use a light hand when you get started with it! The four ounce canister is sure to last a long time, this way, making its $28 price point more manageable.
Woman-owned and plant-powered, Lulu Organics creates a variety of clean beauty products, from dry shampoo powder to beard oil, lip balms to cream deodorants. The products are available on Amazon and through the brand's website.
Country Bathhouse Bath Bombs
This month, Country Bathhouse gifted me some of their colorful bath bombs to try out. I was interested in their products because they're made without harsh or unnecessary chemicals. Run by a husband and wife team, this small Minnesota-based company specializes in colorful bath soaks and bath bombs, along with a number of other soaps and wellness products. They even have an "All Essential Doggie" line for pets!
So far, I have tried the Sinus Bath Bomb. This product features a subtle scent of peppermint and eucalyptus. It bubbled a bit, but features more of a fizzing sensation rather than bubbles. It broke apart pretty quickly and evenly, distributed throughout the bath quite easily. The bath felt very hydrating and soothing, all without leaving a slick or stain on the tub after I drained the bath. I am looking forward to trying out the other blends!
Shop the Country Bathhouse Bath Bombs here.
This product was gifted me to try, and not contingent on my reviewing the product. I only share gifted products I personally would buy or will buy again.
Barack Obama's Memoir, A Promised Land
Obama's thoughtfulness is obvious to anyone who has observed his political career, but in this book he lays himself open to self-questioning. And what savage self-questioning. He considers whether his first wanting to run for office was not so much about serving as about his ego or his self-indulgence or his envy of those more successful. 

Chimamanda Ngozi Adichie, reviewing A Promised Land, for The New York Times
Barack Obama is a master orator, and his way with words certainly translates to A Promised Land. This new memoir covers the personal and political, breaking down Obama's path to the White House and his time therein. Obama describes his rational for decisions, reflects on mistakes he and his team made, and shares openly about what all this meant for his family. It's a uniquely personal reflection that still steps away to provide a full picture of what led to the Obama administration.
Lengthy and verbose, the book certainly requires a bit of patience and perseverance. However, anyone with an interest in contemporary politics or political science will find it's a treasure trove of insights and contemporary history in the making.
A Promised Land is available on Bookshop via independent booksellers and Amazon.