My Favorite Recent Purchases
Over the last few weeks, I've picked up a few great tops to add to my wardrobe rotation. I found two great tanks and two unique t-shirts from some of my favorite brands — including Free People, Rag & Bone — that I've already gotten a lot of use out of. Each of my new favorite casual tops work with jeans or shorts, which is perfect for fall in Florida.
New Tank Top Favorites, Featuring Free People and Rag & Bone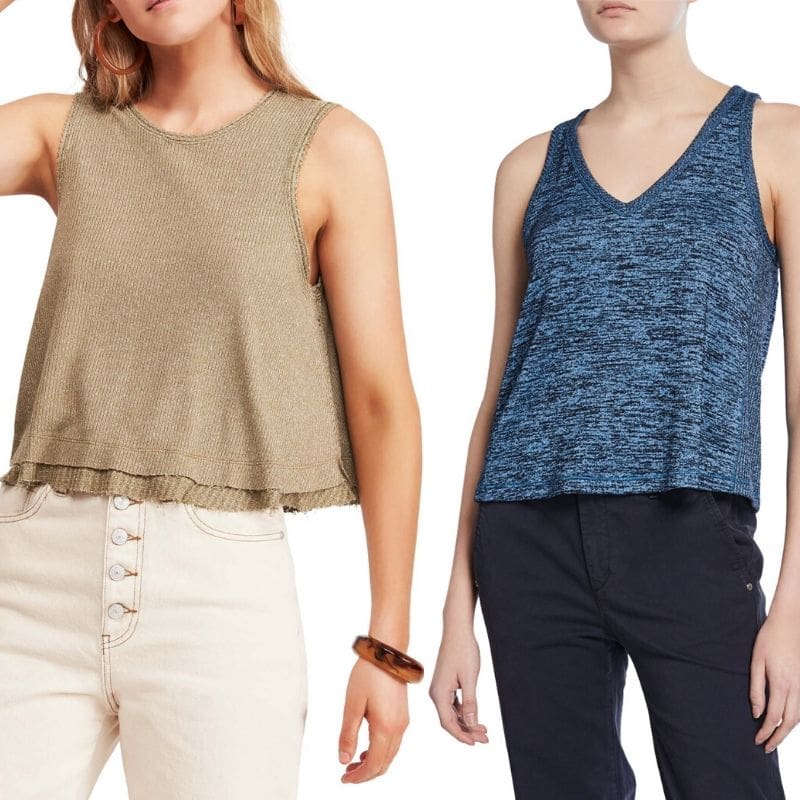 Free People New Love Tank Top // Rag & Bone Ramona V-Neck Tank Top
Free People and Rag & Bone are two go-to favorites of mine. This Free People New Love Tank Top is such an easy top to style, whether you want to wear it with leggings, jeans, shorts, or a more structured bottom. It comes in a couple colors, but I got the "moss" color (pictured here and available at Bloomingdale's), which is more of a green than the product photos make it seem. The New Love Tank runs large, so I would recommend sizing down.
Free People is more affordable than Rag & Bone, but I love the simple style Rag & Bone exemplifies, as well as the quality. I've been so happy with a similar tank to this one that I bought a while back that I figured this would be a good item to grab. I'm glad I did because it's now one of my new favorite casual tops. Overall, I try to buy my Rag & Bone pieces on sale. Neiman Marcus has the Ramona V-Neck Tank Top for $80, down from $115. Not bad for something that I'll get a ton of wear out of. It's a great stretchy texture that clings in the right places but isn't too tight. I would recommend hanging it to dry, though, for the piece's longevity's sake!
New T-Shirt Favorites, Featuring Splendid and ALEXANDERWANG.T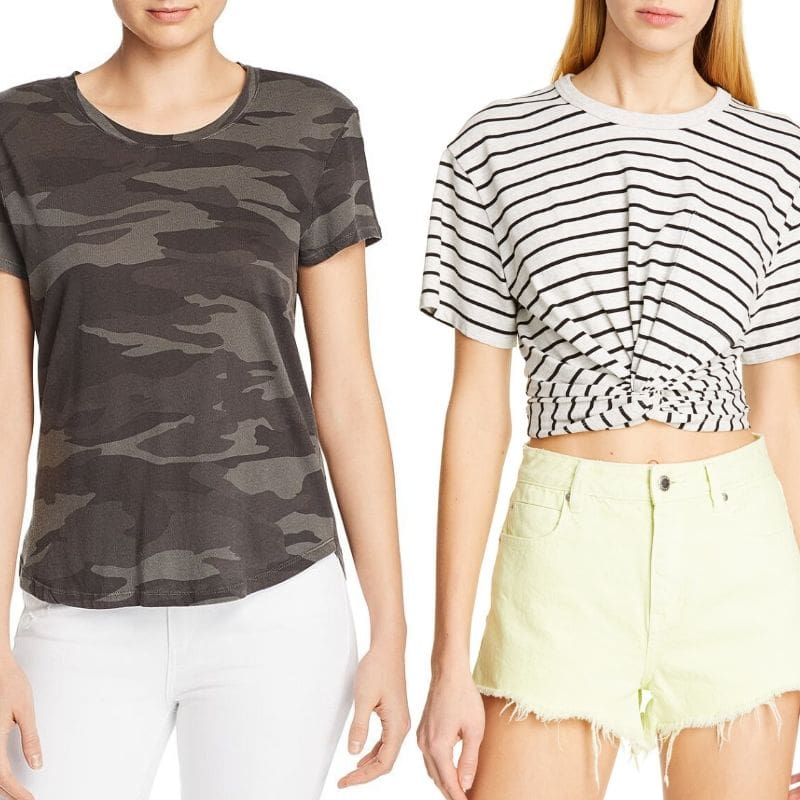 Splendid Camo Abbie Crew Neck // ALEXANDERWANG.T High Twist Stripe Tee
I've never been a huge camo fan, but the print has really been popular lately and it's winning me over. This Splendid t-shirt caught my eye at Bloomingdale's because it was so simple without being plain. The fabric is really nice and delicate, almost like the J.Crew and Madewell whisper cotton. This tee (as well as the Alexander Wang option) runs small, so I sized up. I've washed it a few times since I bought it and have hung it to dry each time, and it's holding up well. Well worth the $58, I think.
This ALEXANDERWANG.T striped t-shirt is a bit of a splurge — ok, way more than a bit at $175 — but I just loved the style so much. It runs super small, so definitely size up. I bought the large, thinking it looked like it would be super baggy on me (I had originally hoped for a looser silhouette) and it wound up fitting like a comfortable medium. The silhouette is tighter, like the product photo above, but it doesn't feel confining. Since I sized up, it's also not as cropped as the photo makes it seem. Overall, it has lots of style in an otherwise basic item, which I love and which makes it one of my new favorite casual tops. It'll be great in the winter down here with a nice sweater, or throughout the summer with shorts.