Why I Have Come to Love T-Shirts
I'm a big fan of a good t-shirt, the softer the better. They're easy to care for, easily styled, and perfect for Florida's proverbial summers.
I had uniforms all through elementary and high school — somewhat stifling polos and either Gordon or gray tartan skirts (which, as my appreciation for Scotland has developed, have not bothered me as much, but that's a whole other story). When I got to college, I experienced the typical dilemma that kids who had uniforms experience: what to wear to class.
Now, this might not seem like a big issue, but as someone who spent twelve-plus years wearing approximately four different versions of the same outfit, it was a little overwhelming. Throw in Florida's mercurial weather, too, and it was just daunting.
What Pushed Me Towards Tees
I've always been a fan of silky tops. If not for the Florida heat and the ironing required for such tops, I'd gladly live my life in Joie's Rancher Silk Top (of which I do own four or five).
However, as a college student and — now — an adult who hates ironing, I learned to save these types of items for special, air conditioned occasions.
Throughout college, I walked to class. It was great exercise and a nice break to listen to music and generally tune out. In all, I probably walked about two miles from my apartment to classes a day.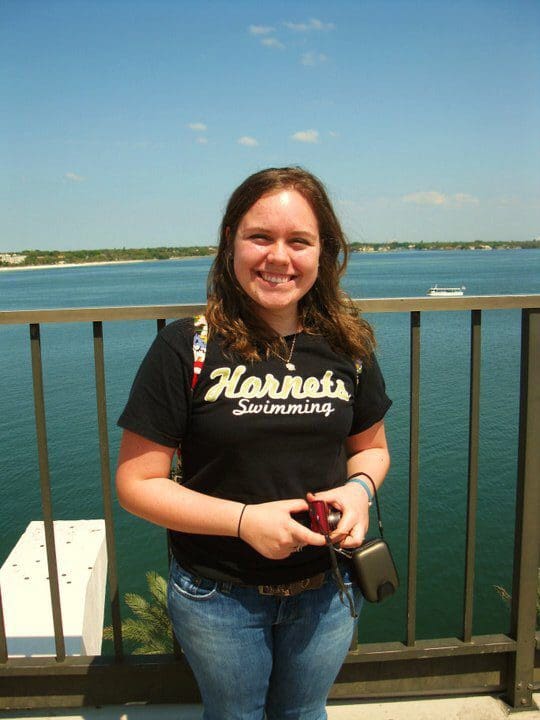 I quickly learned to prioritize comfort (read: breathability) over chiffon. Making this shift, though, made me realize that t-shirts didn't have to be the scratchy Gildan cottons. We had a bunch of these throughout high school for various sports events and fundraisers, and I did collect quite a few from college, too. I always felt they were too tight around my neck and hips in a small/medium and too shapeless in a large.
This is when my adoration for J.Crew really began to blossom.
J.Crew
I had been a big J.Crew fan throughout high school, but it really became my daily wear in college. I still have a handful of tees that went to college with me. Most have really withstood the test of time, like this patterned top, which — fun fact — I consider my cat-adopting shirt, because I wore it to pick up Louis from PetSmart and Olivia from her foster home (IE: last photo in this insta post).
Besides my cat-adopting shirt, the Vintage Cotton V-Neck T-Shirt is another favorite of mine. They're lightweight, easy to wear, and you don't have to do anything special with them in the wash.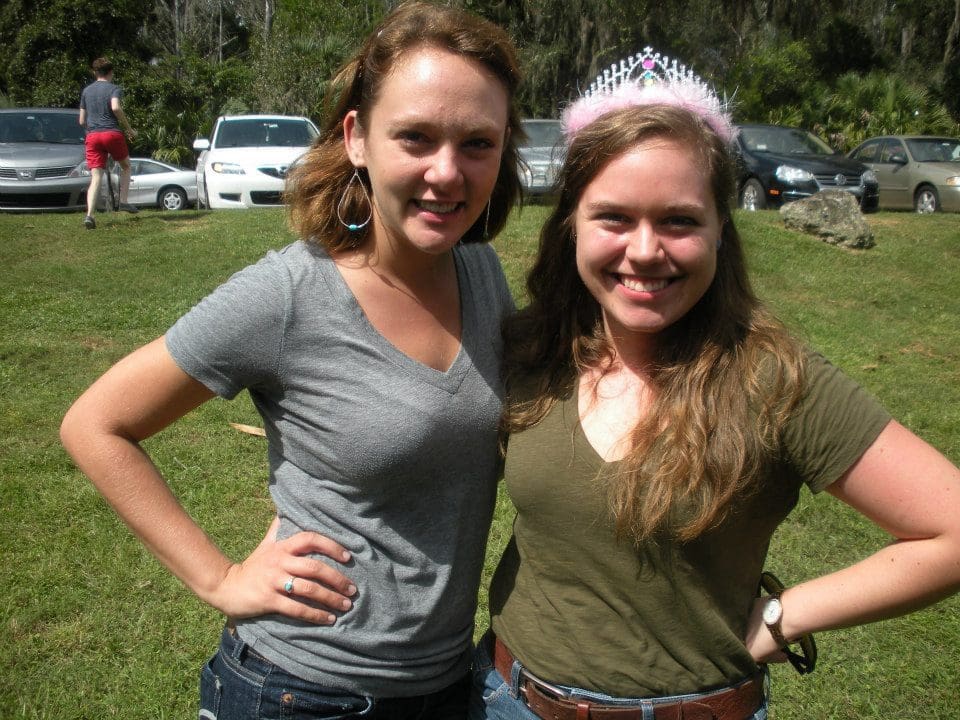 That being said, I have worn out a few of this style (whether the v-neck or regular crew neck line) and had to touch up small holes around the seams with clear nail polish to stop the fraying.
Madewell
Madewell has quickly replaced J.Crew as my favorite go-to clothing brand. I haven't been as big of a fan of the post-Jenna Lyons J.Crew styles as a whole. Besides the staples (IE: Tippi sweater), I've found the clothes don't fit petites particularly well or seem overpriced.
In the past few years, Madewell has really filled the J.Crew void for me. This isn't very surprising, since Madewell is a J.Crew affiliate and focuses on a more casual twenty-something look.
Anything made with Madewell's "whisper cotton" — like this tee — is a win in my book. This fabric is basically the same as J.Crew's vintage cotton. The styles at Madewell are looser, I find, and less form fitting, which I prefer.
Madewell also does some cool collaborations with groups like Girls Inc. and Surfrider Foundation. This Girls Inc. t-shirt (and the earrings from the collaboration) is one of my absolute favorites. It's a great plain-white-tee with a subtle (feminist) detail, which I am ALL FOR.
James Perse
If you're looking for something to perfect that absolutely-effortless-t-shirt-and-jeans combo, look no further than James Perse. Their fabrics are lightweight and sheer without being see-through and the colors are
The ONLY reason I did not list James Perse as my top favorite t-shirt is because of the price. The price point is a bit high — most of their t-shirts run around $85-95. They don't often go on sale, either, even in department stores like Bloomingdales.
That being said, their shirts are flattering, effortless, and absolute wardrobe staples. They're a bit more delicate than J.Crew or Madewell tops, but if you take care of them (IE: hang dry), they last for forever.
James Perse typically sticks to a neutral color pallet of white, creams, grays, blues, and black. They add pops of color, like this rich maroon, from time to time. But, really, the variety of blacks and grays that they offer is pretty amazing.
Frame
My experience with Frame as a brand is pretty limited, but since I've bought two versions of the same shirt of theirs and restrained myself from buying a third, I figured they should make an appearance here.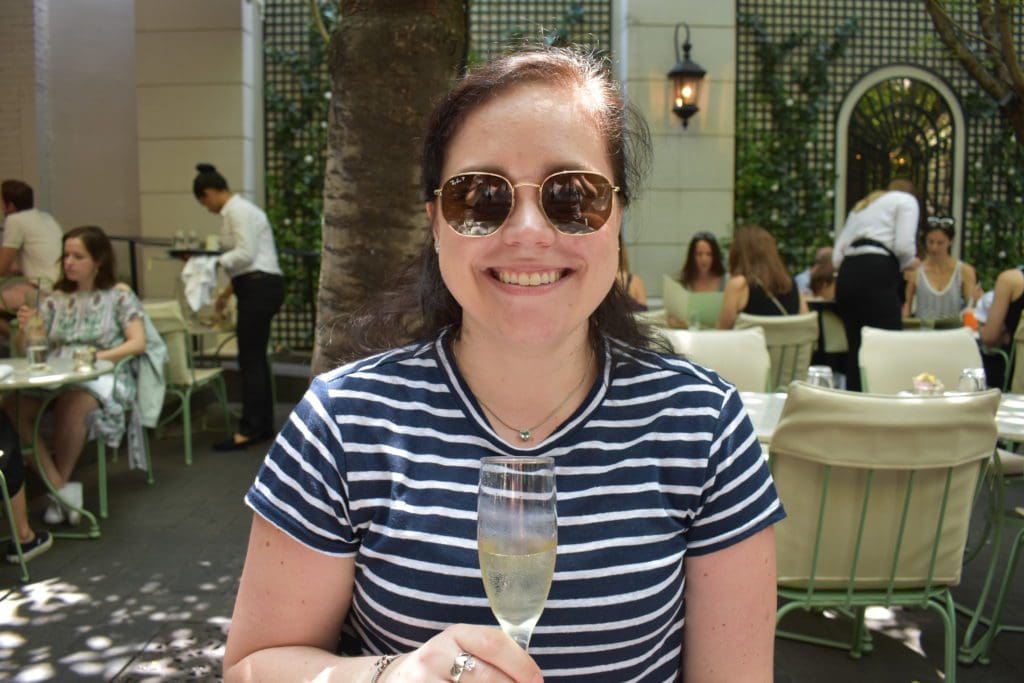 This style t-shirt seems to be one of Frame's staple silhouettes, and for good reason. It's flattering, easy to wear, and suitable for a variety of heights. The brand describes the shape as "not-too-loose, not-too-fitted," which is pretty spot on. The seam down the back is a fun detail as well.
I have this top in the navy and white pictured above, and the Army Green Multi color. Green is my favorite color and I couldn't pass it up. I almost went for the Lavender Multi as well, but, like with James Perse, the price point for these tops is a bit high. So far, though, I have gotten a lot of use out of both the navy/white and green/navy.
The Laundry Room
If you're looking for a fun, casual graphic tee, the Laundry Room is the way to go. Not only do they make super comfy "glovely" long-sleeve, like this one, but their Rolling Tee and Classic Tee are both solid choices.
My favorite thing about the Laundry Room is the fact that they change up their "collections" relatively often. The best way to shop their website is via collection, as opposed to style.
The Laundry Room has a couple seemingly-evergreen collections — Airplane Mode and Love All — and a number of either reoccurring or single-season collections.
I would be remiss if I did not mention their Queen Off Duty collection, designed/inspired by Adelaide Kane (who is dating one of The Laundry Room's owners and played Queen Mary Stuart on one of my absolute favorite shows ever, Reign). I think I have four tops from this collection at this point. No regrets.
The price point for these tops is definitely more reasonable than James Perse or Frame. Most t-shirts run around $40, give or take, and the long-sleeved tops or sweat shirts are fairly reasonable, as well.
That being said, the quality is not quite the best ever. The white tees I have from here are showing signs of wear more quickly than I would like. I've made the swap from drying them in the dryer to hang drying them, which I'm hoping will help the longevity.
Either way, these tops fulfill my fun-t-shirt desire. They're great graphic tees for daily wear, whether it's running errands or a casual dinner with friends (or a beer fest!).
Do you have a favorite t-shirt brand or style? How has your daily style changed over the years?
Everyone's invited to Bloomingdale's! Sign up in seconds (it's free!), and you'll be on your way to earning rewards and enjoying some pretty amazing perks—no matter how you pay!