Roasted Potatoes Recipe with Sweet & Regular Potatoes
There are many recipes for roasted potatoes out there, but I always go back to my personal roasted potatoes recipe. Featuring both sweet potatoes and russet, I like how simple and easy this recipe is, while also being super satisfying. Ripe for personalization, this side dish is perfect as a seasonal side, a potluck contribution, or simple meal prep for yourself.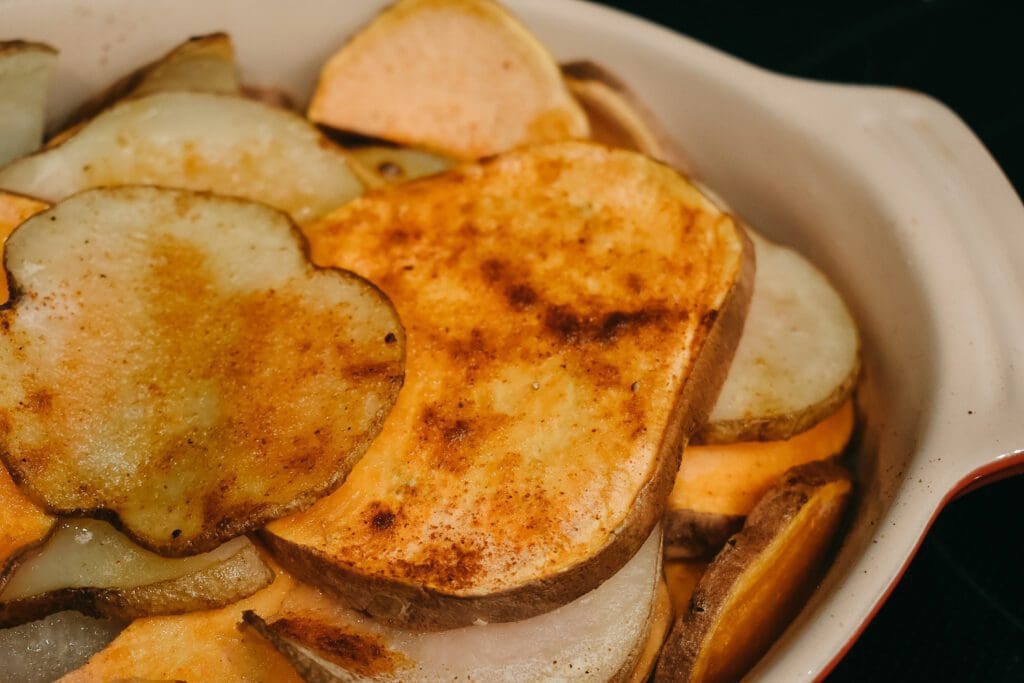 The finished product is not only colorful, but it is a satisfying and healthy plant based option. While you could certainly add cheese if you'd like, following the recipe below assures a vegan dish.
My Roasted Potatoes Recipe
If you have a preference for one type of potato over the other, feel free to swap the varieties used — or stick with just one. I've made this many times before with just sweet potatoes, as well as with a two-toned mix, seen here before I put it in the oven.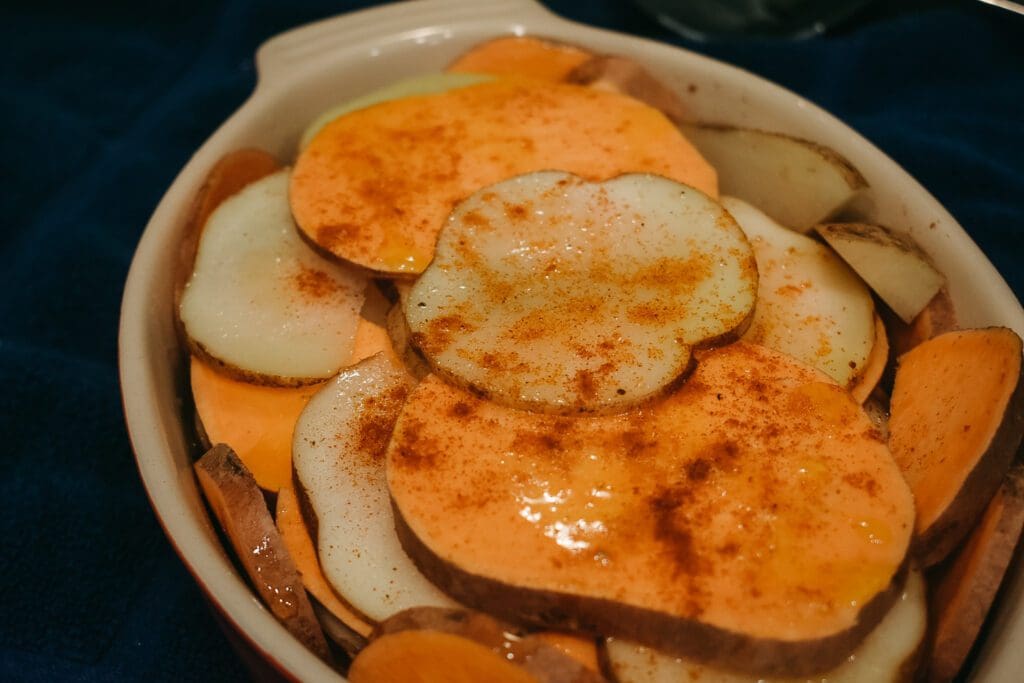 A Note on Spices to Use
I love to incorporate paprika and nutritional yeast in my cooking, and have done so here. Both pack a lot of power even in small amounts, I think.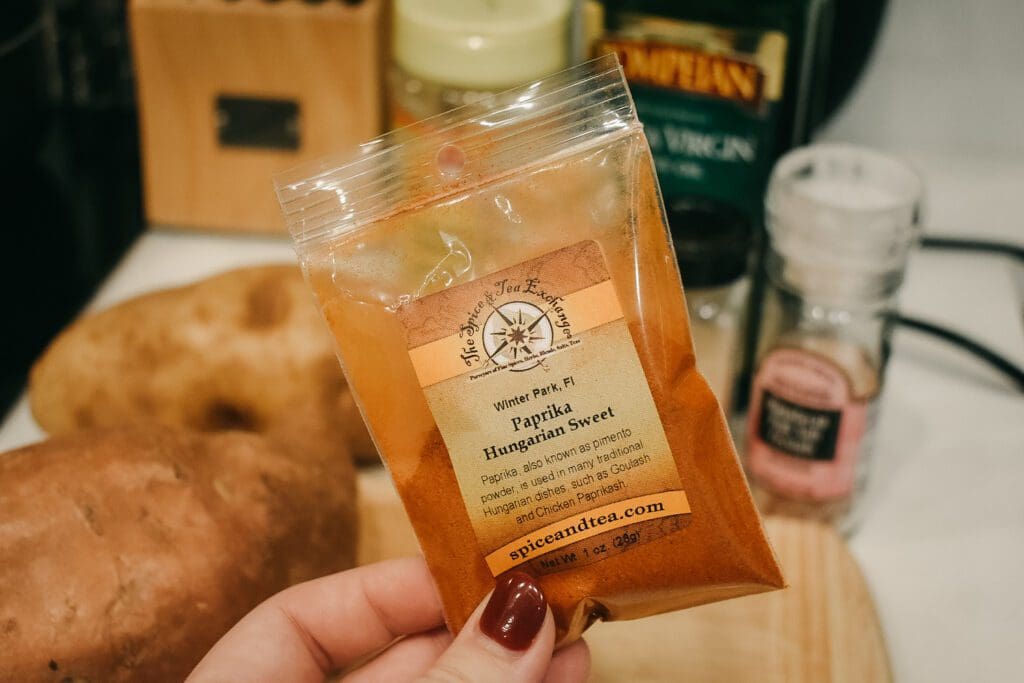 This was the first time I used nutritional yeast in this dish, and I would be less light-handed with it next time. I wasn't sure if the flakes would absorb enough oil and not burn in the oven, so I didn't use as much as I otherwise would. This was not a problem, it turned out, so I would definitely add more next time.
If you have a favorite herb — maybe rosemary, perhaps — you could certainly incorporate that, as well.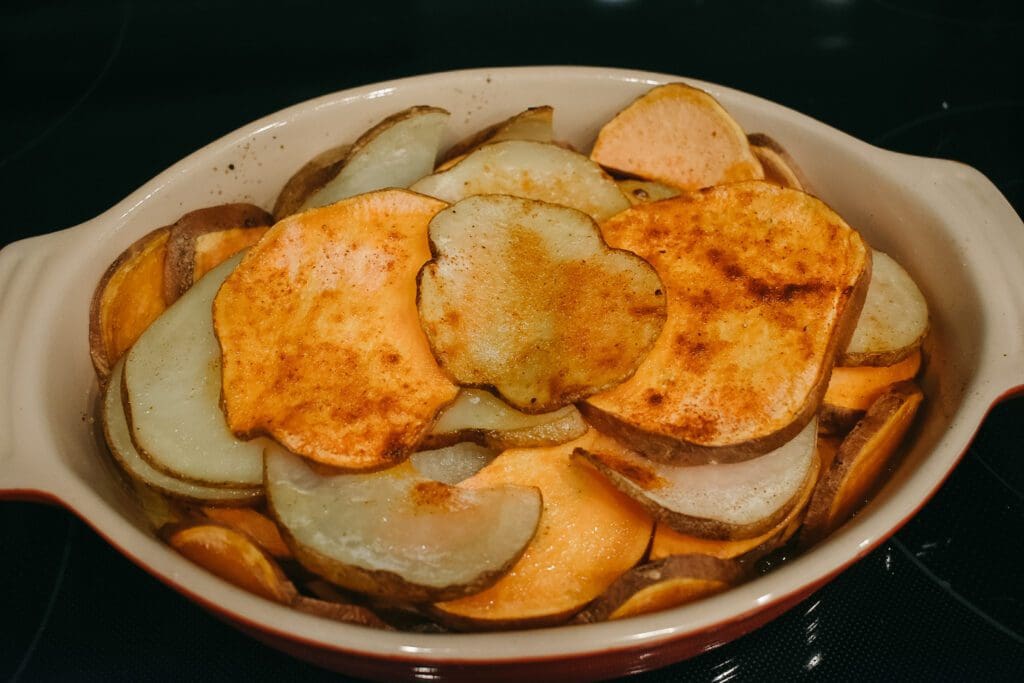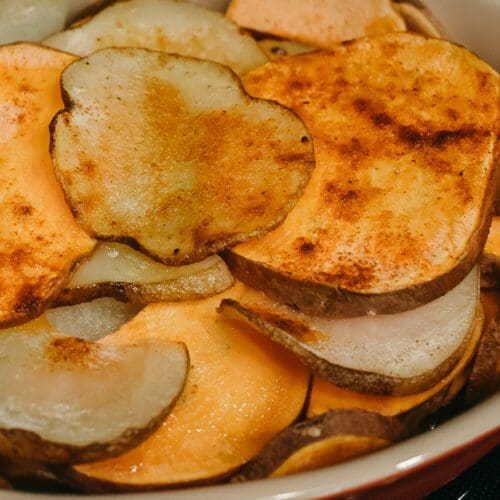 My Simple Sweet & Russet Roasted Potatoes Recipe
Ingredients  
1

large

Sweet Potato

1

large

Russet Potato

4-6

tbsp

Olive Oil

1-2

tbsp

Nutritional Yeast

1

tsp

Garlic Powder or Diced Garlic Cloves

1

tsp

Paprika

Salt and Pepper to taste
Instructions 
Preheat the oven to 400 degrees F.

Slice the potatoes into rounds of generally the same thickness. Some variety is fine, but they'll cook more evenly if they're approximately the same width. (Note: if some split or don't come out perfectly, no problem; line them around the side of the pan like the picture shows).

Lightly oil the base of an oven-safe pan with olive oil.

Begin to layer the potato rounds so they cover the base of the pan. Drizzle a bit of olive oil and top with some spices. Add some nutritional yeast, saving enough to add to top of the bake.

Repeat this, adding layers of the potato rounds, and stagger the oil and spices to approximately every third layer (this avoids oversaturating the potatoes with the oil).

Feel free to alternate types of potato — IE: one layer sweet, one layer russet — or blend them together.

Fill in gaps on the sides of the dish with slices of remaining potato rounds, if applicable.

Top with a drizzle of olive oil, salt, pepper, nutritional yeast, and paprika.

Bake for 30-40 minutes, depending on desired texture. If you like more of a snap in roasted vegetables, check the potatoes around minute 30 to see if they are to your liking. If you prefer softer potatoes, check the consistency at around minute 40 and consider adding 5 more minutes.
*This post was originally published on December 8, 2020. It was most recently updated on April 22, 2022.