Simple Stocking Stuffers & Last Minute Holiday Present Ideas
I always have the best of intentions when it comes to buying holiday gifts, but I generally wind up in a bit of a scramble to pick up last minute gifts. The best laid plans and all that. In my own searches, I came across a number of great stocking stuffer ideas and last minute gifts from stores with great shipping guarantees (or in-store pick up options). I hope this gift guide helps make your last minute shopping a bit more of a breeze!
Beauty & Mini Spa Day Stocking Stuffers
Inspired by my Beauty Lovers Gift Guide, my first stop for last minute gifts and stocking stuffers is often Sephora. Milk Makeup has a number of fun mini gift set options, featuring both makeup and skin care options.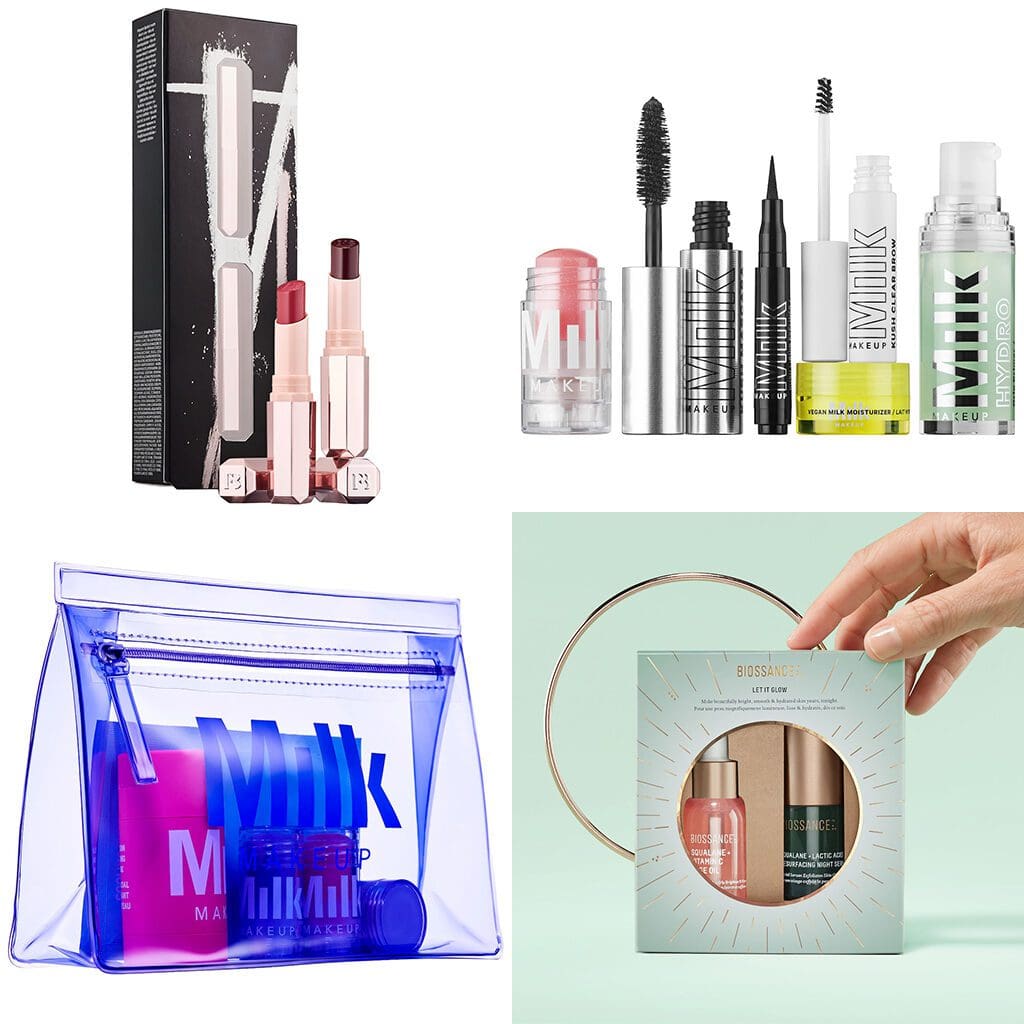 Top Row: Fenty Two Lil Mattemoiselles Lip Color Duo | Milk Makeup Here for the Party Mini Face Set
Bottom Row: Milk Makeup Day + Night Serum and Mask Face Set | Biossance Let It Glow Kit
For friends and loved ones who enjoy fun makeup, the Fenty Beauty lip set pictured above is a great option. For the skin care obsessed, Biossance is the way to go.
Top Row: Replica 5-Piece Mini Memory Gift Set | Capri Blue Scent Diffuser Oil | Mario Badescu Fresh Face Favorites | Milk Lip Party Pack Kush Balm Trio
Bottom Row: Voluspa Candle Duo | Any Fun Nail Polish (like this Creme Polish from Deborah Lippmann) | Kiehl's Scented Lip Balm Trio | Mini Facial Rollers Set
As you can tell from my Beauty Gift Guide and At Home Spa Experiences post, I am really loving facial rollers right now. The pictured mini facial roller trio is such a lux gift idea, and for only $25. Alternatively, Herbivore's rollers are always a great option, too (though a bit pricier).
Besides skin care and makeup, give the gift of the spa atmosphere with a sweet candle gift or the Capri Blue Scent Diffuser Oil. I didn't know such diffuser oil existed, but I definitely need some in my life.
Wearables Stocking Stuffer Ideas: Jewelry & Hair Accessories
As far as stocking stuffer gift ideas go, you really can't go wrong with fun little jewelry pieces. J.Crew, in particular, has a few great (and affordable) options, like the cluster earrings below and the blue stacking bracelets (both sets available in different motifs). Anthropologie also has some great jewelry options (see, e.g., the Alexis Rose monogram necklace), as does Bloomingdale's.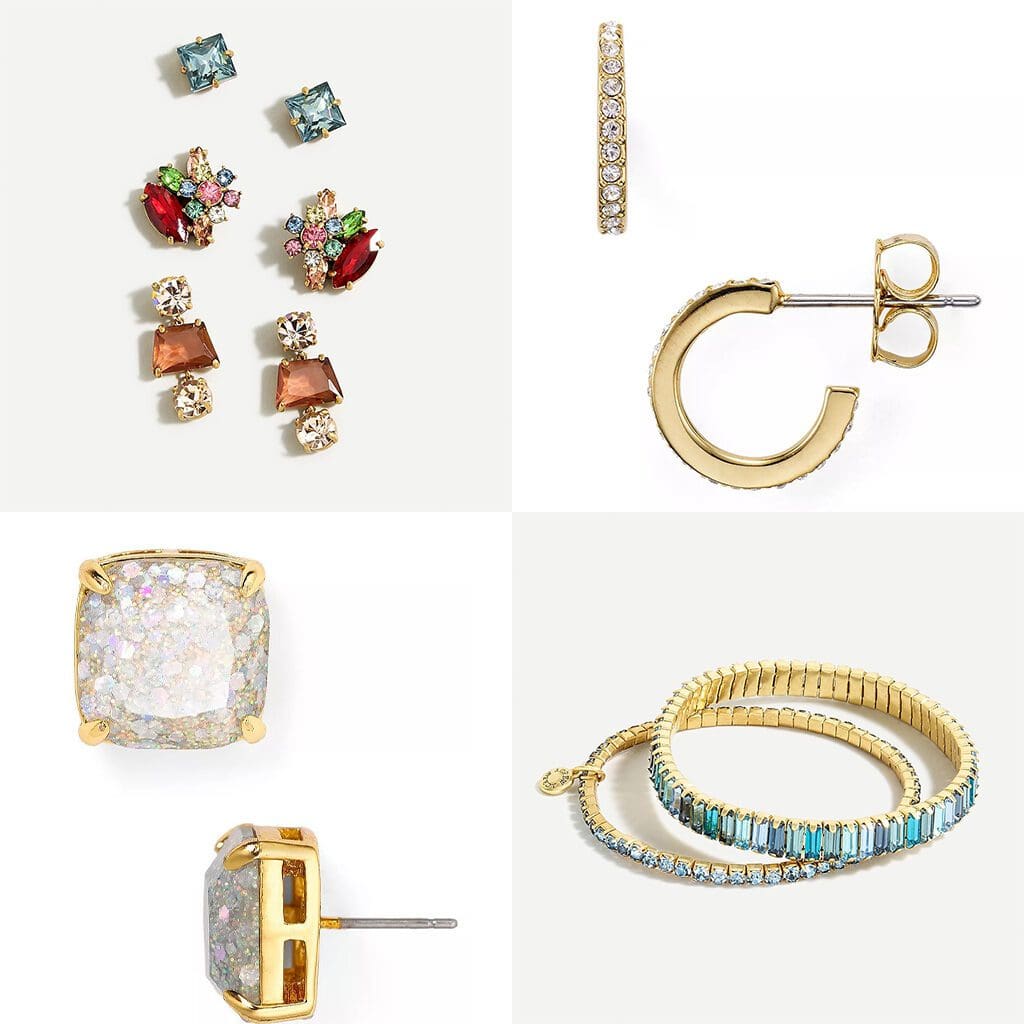 Top Row: J.Crew Crystal Cluster Earring Set | Sparkly Pave Hoop Earrings
Bottom Row: Kate Spade Small Square Glitter Stud Earrings | J.Crew Stackable Baguette Stretch Bracelet Set
I'm sure I'm not the only one into scrunchies right now, so I pulled five great sets (ok, four, plus some sparkly Lululemon hair ties).
First and foremost, I am obsessed with the little J.Crew bow scrunchies — particularly the tartan varieties. This festive little poinsettia option is Christmasy without being over the top, and could definitely be worn outside of the holidays. Relatedly, the J.Crew velvet hair bows just scream New Year's Eve to me (even if this year is quieter than most).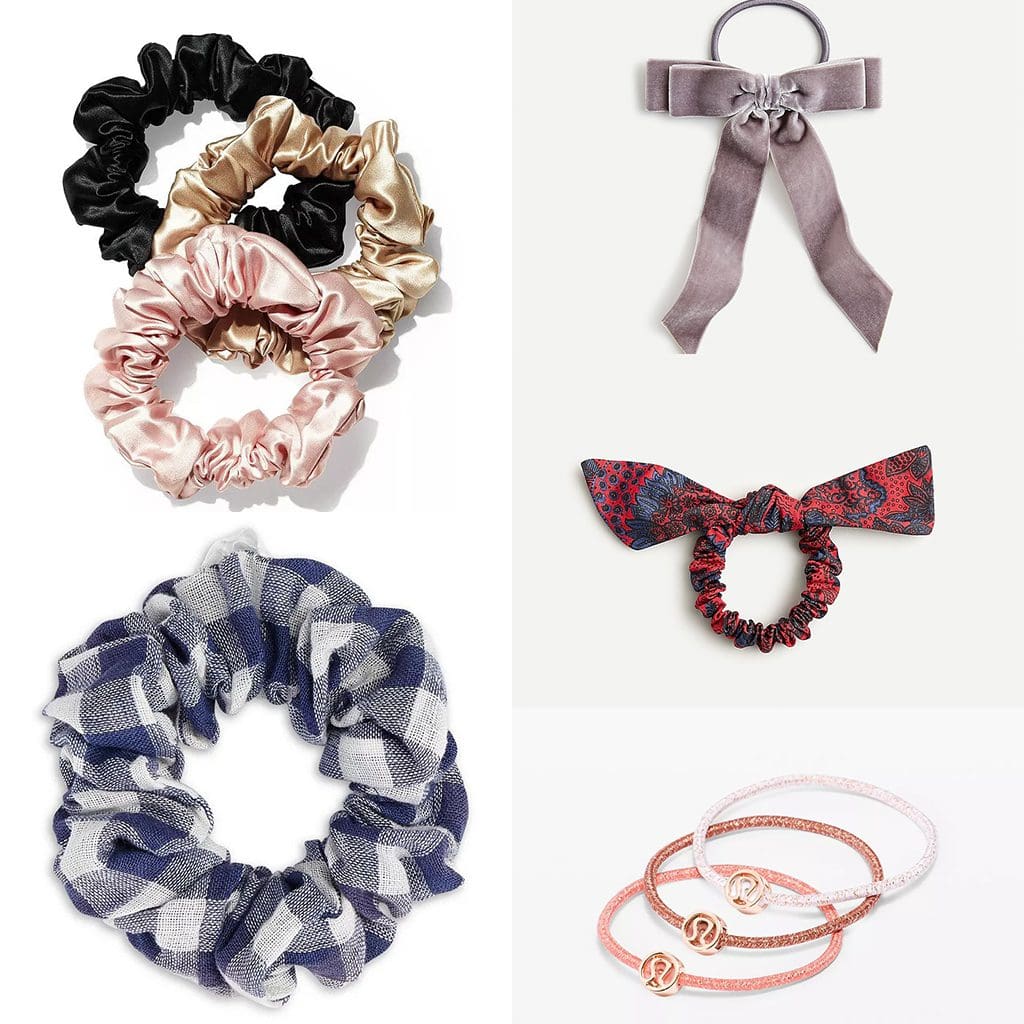 Top Row: Silk Large Scrunchie Set | J.Crew Velvet Hair Bow
Middle Row: J.Crew Poinsettia Paisley Scrunchie
Bottom Row: Blue Gingham Scrunchie (also available in pink) | Sparkly Lululemon Hair Ties
I'm really intrigued by the large Pure Silk scrunchie sets; I have a few of the skinny style ones and they work really well with my hair (they don't snag, are easy to use, and generally stay put — see also: these invisibobble options). The trio is such a fun stocking stuffer for anyone who is always looking for a hair tie.
P.S. besides hair ties and scrunchies, J.Crew also has some awesome headbands right now, if you want to channel your inner Blaire Waldorf (and who doesn't?).
Daily Carry Gift Ideas
Last but not least, I found some handy daily carry stocking stuffer ideas. Rifle Paper Co. accessories are always a favorite of mine (if you're ever in Winter Park, I highly recommend stopping by their shop!).
While the tartan socks are just for fun, finds like the Micra Leatherman multitool are seriously useful. At just $29, this multitool comes in a few colors (I have it in green, as pictured) including tiny scissors — great for if you bring crochet work to World of Beer trivia nights (in the B.C. times).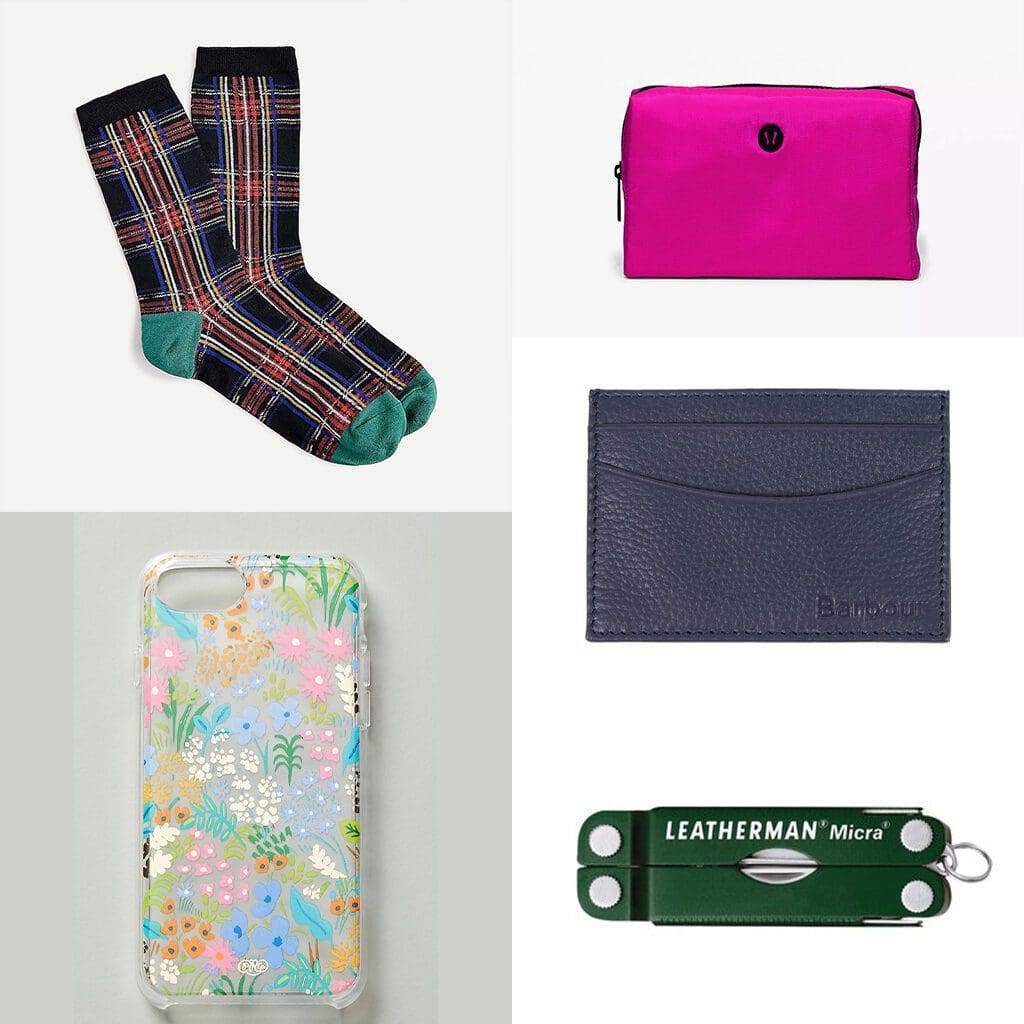 Top Row: J.Crew Tartan Socks | Lululemon All Your Small Things Pouch
Middle Row: Barbour Amble RFID Leather Card Case
Bottom row: Rifle Paper Co. Phone Case (see also: AirPods case) | Leatherman Micra Mini Multitool