Beauty and Skincare Deals for Summer
Summer means sunshine and, oftentimes, humidity. Between the change in water content and tans (or, unfortunately, sun burns), our skincare needs tend to change with the season. Luckily, there are a lot of summer beauty and skincare deals going on right now! Here are some that are the most intriguing to me:
Tata Harper Deluxe Minis
Tata Harper, a powerhouse in the clean beauty scene, has a great promotion going on where, if you buy three of the deluxe minis (priced between $12 and $31), you get a little travel bag as a gift with purchase. Minis are great for traveling, whether you check your bag or not; keep up with your skincare routine while out and about without sacrificing luggage space! Alternatively, if you've wanted to try a Tata Harper product but been uneasy to shell out the full size cost, try out a mini as an extended trial size!
Stock up on the newest & limited minis from Tata Harper! Buy 3 or more and you'll get Tata Harper's favorite eco-travel bag with code MINIMOMENT
---
Milk Makeup
Milk is also running a great samples deal. If you spend over $50 (honestly, pretty easy to do…), they'll send you some free deluxe samples throughout the month of June! You can check out the gift details here.
Plus, feel good about your purchase for two reasons. First, because Milk has been officially Leaping Bunny Certified! That means no animal testing from start to finish. Second, Milk has a great Pride Month initiative where 100% of proceeds from the Wear Your Pride Set will go directly to The Center, a NYC LGBTQIA+ community program that provides valuable resources, from housing assistance to employment development.
Spend $50+, $75+, & $100+ to Get Free Deluxe Samples! Offer Valid 6/1-6/30.
---
Target Gift Card with Essie Purchase
I love a good Essie nail polish. Even though I stick with dip manicures for my nails (it's the only way I don't bite my nails), Essie is my go-to polish for pedicures. They have such great colors, ranging from neutral to opulent.
Right now, you can get a $5 Target gift card when you buy 2 or more Essie polishes! Pictured are two of my favorites: Reign Check and Tiers of Joy.
---
Nordstrom & Bloomingdale's — Mario Badescu Gift With Purchase
I'm a big Mario Badescu fan, especially when it comes to the Drying Lotion and the facial sprays. I have been blowing through my Mario Badescu rosewater and lavender facial sprays — they're some of my absolute favorite skincare products right now because they're so refreshing! Pro tip: they're also great for sunburns.
Now, at Nordstrom, receive a cosmetics bag and deluxe samples of Facial Spray with Aloe, Herbs & Rosewater and Summer Shine Body Lotion (2 oz. each) with your $35 Mario Badescu purchase.
Alternatively, Bloomingdale's has a similar gift with purchase deal going on if you spend $30 on Mario Badescu products. Bloomingdale's gift features the Facial Spray with Aloe, Herbs & Rosewater as well as an Enzyme Cleansing Gel sample and a Hyaluronic Eye Cream sample (pictured below).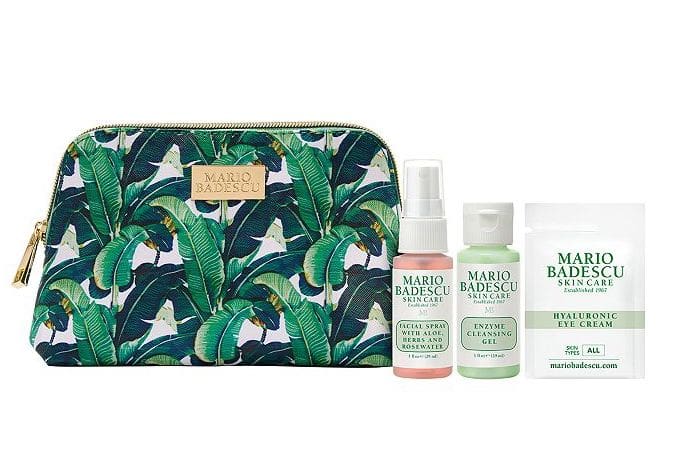 P.S. the Drying Lotion is currently on sale, too, at Nordstrom! Time to stock up.
This post contains affiliate links, but the opinions and interest in the products are honestly my own.