Keeping it Cozy
Coziness doesn't belong solely to the holidays. Now that it's January, I've been considering how to bolster my daily routine and general well-being at home. Towards the end of 2020, I was really feeling like I was stuck in a rut both in regards to my productivity, as well as my creativity. It may seem silly, but how I dress and get ready for working from home does make a difference. Between taking some time off and refreshing my cozy work from home style, I'm feeling a bit more motivated to take on 2021.
Loungewear & Cozy Work From Home Ideas
The styles I've pulled here were curated with my personal work-from-home mindset, but they serve an even greater purpose as simply great loungewear. So, whether you work from home or not, these pieces will help you feel cozy-yet-put-together while at home or running errands.
Tees, Tanks, Long-Sleeves, & Accessories
Left to Right: Dani Tank | Long Sleeve | Pom Knit Slippers (top) | Hair Clip Set (bottom) | Midi Dress
First and foremost, you really can't go wrong with a basic tank from Free People. I have this one in a few colors, including this pretty cranberry, and find it's great for layering. Opt for this and a pullover sweater like the ones below if you tend to run cold.
There are other great tank top options, including a closer-fitting square-neck tank top and a cropped option from Aerie (only online). If you prefer t-shirt styles, I cannot recommend this oversized boyfriend tee enough; I have it in three colors.
Left to Right: Coral Crop Tank (top) | Olive Oversized Tee (bottom) | Cami & Shorts Set | Square Neck Tank | Cropped Graphic Tee
Comfy Pullovers & Sweaters
For the proverbially chilly, pullovers and sweaters are a great way to go. I tend to layer for a cozy work from home outfit, because I get hot and cold throughout the day. Lighter sweaters are a great option if you feel similarly, and there are some really cute options out there. The v-neck sweater pictured below is a great price and available in a few colors, as is the polo sweatshirt beside it.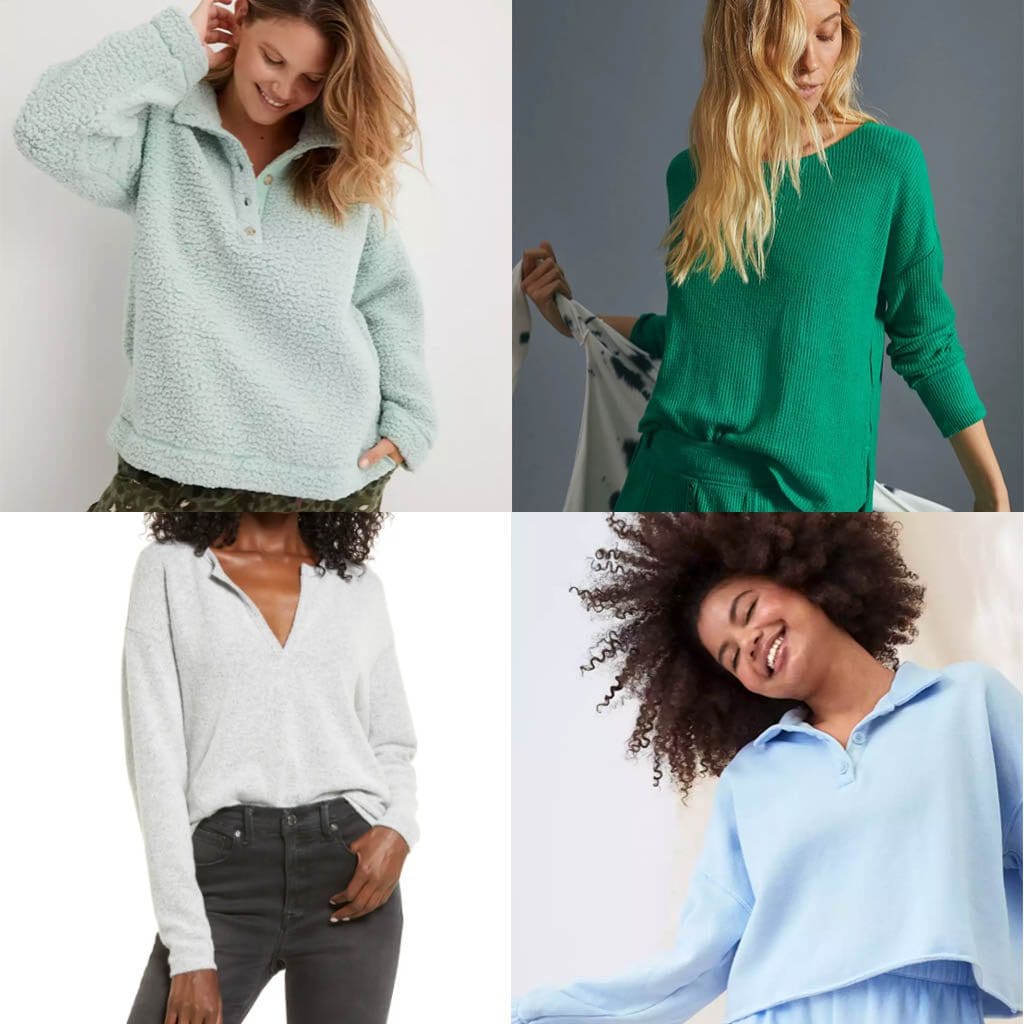 Top Row: Oversized Sherpa Pullover | Thermal Top (Matching Shorts)
Bottom Row: V-Neck Sweater | Fleece Polo Sweatshirt
Shorts, Pants, & Joggers
Target's loungewear section is perfect for cozy work from home outfits that will carry you into the evening. The speckled shorts pictured in the top right of the collage below are super comfy and even have pockets. They're also available as wide-legged pants. Go with a darker color, though; the cream color is pretty translucent.
Other great options include these knit shorts from Nordstrom, which come in a variety of colors, and these simple drawstring shorts (also with pockets!).
Left to Right: Waffle Shorts (top) | Knit Shorts (bottom) | Wide Leg Pants | Joggers | Speckled Lounge Shorts (top) | Drawstring Shorts (bottom)
---
Need some background music or ambiance?
Explore my work from home playlist and my favorite ambiance resource here.