Why and How to Eat a Plant Based Diet on a Budget
Whether you consider yourself to be a vegetarian, a pescatarian, a vegan, or none of the above, it's always a great idea to incorporate more plants into one's diet. Plus, it's totally possible to eat plant based in an affordable way. Here, I'll share my personal insights in how to eat a plant based diet on a budget.
The Pros of a Plant Based Diet
Eating a diet rich in plants can be helpful not only for one's health, but also the environment, as it helps reduce the reliance on farm-raised beef and meats. A plant based diet is believed to promote better weight management, lower the risk of cardiovascular diseases, and even help prevent diabetes. So, by eating Whole Foods and plants — that is, fruits, vegetables, whole grains, legumes, nuts, and seeds — you can bolster your health and potentially prevent the onset of certain diseases.
The Cons of a Plant Based Diet
All this being said, is a plant based diet affordable? Oftentimes, it seems as if plant based diets can be a bit on the pricy side.
It seems counterintuitive that whole foods tend to cost more than their machine processed alternatives — to say nothing of organic versus traditionally grown fruits, vegetables, and grains — but this is the reality.
Don't let the price tags of some of the staples of a plant based diet scare you off, though. There are a number of ways to get around the sticker shock and pursue a plant based diet without breaking the bank! I highly recommend checking out Plant Based on a Budget's Instagram, if my post has piqued your interest and you want more ideas.
What is the Difference Between a Plant Based Diet and a Vegetarian Diet?
I find the comparison of a plant based diet vs vegetarian diets interesting and worth noting here. It's easy to assume that plant based diets are all vegan or vegetarian, but that's not necessarily the case. Most articles seem to agree that a plant based diet can easily incorporate modest or moderate amounts of fish and lean meats. You can still get many of the benefits of eating primarily plant-based while maintaining some fish and meat in your lifestyle.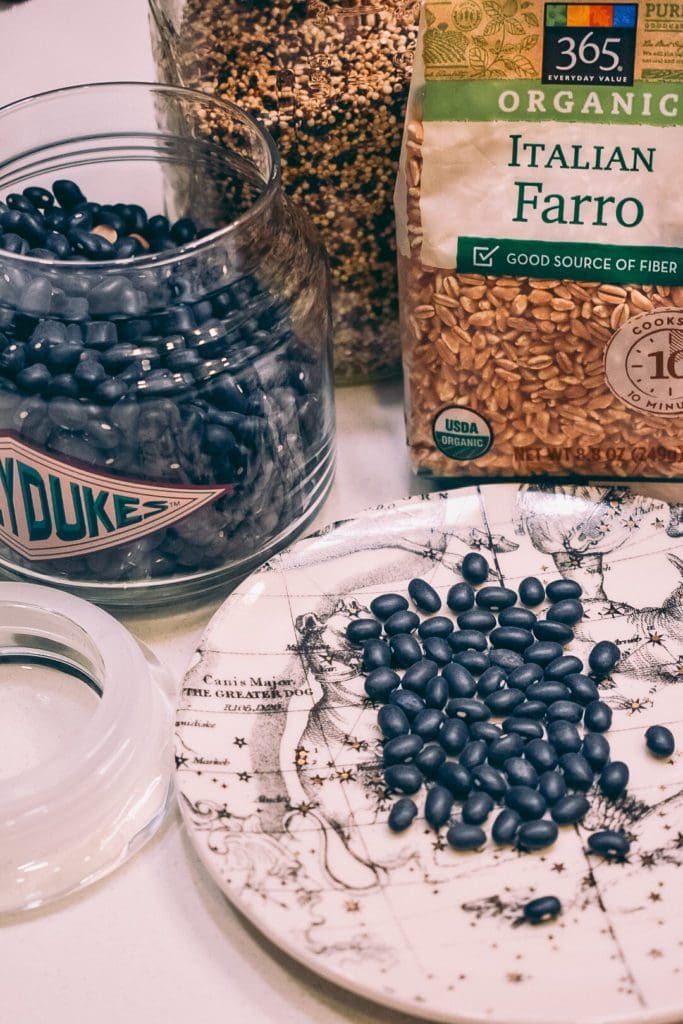 How to Eat a Plant Based Diet on a Budget
Make a Shopping List
This tip has less to do with eating a plant based diet, specifically, and more to do with grocery shopping generally. It's really easy to lose track of what you've gone to the store to buy; when this happens, you may find yourself adding things to your cart that you don't need or don't even really want. This is only amplified if you go shopping while you're hungry.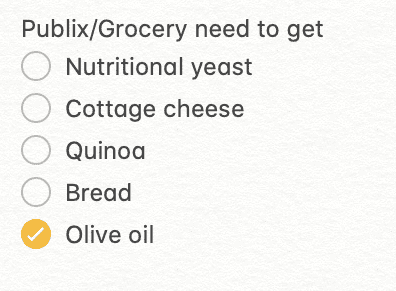 So, make a list and stick to it. I like to make a checklist for my grocery list on my iPhone notes. As much as I like a paper list that I can cross out with a pen, the iPhone notes option allows me to add to my list as I think of things throughout the week.
Use Coupons.com or Grocery Store Specific Coupon Sites
Again, this is less of a plant based diet tip and more of a general grocery budgeting idea. And this particular option isn't going to save you a ton of money on a plant based diet (or a true vegetarian or vegan diet), since the idea is to eat non-processed, whole foods. Most of the coupons on Coupons.com tend to be for processed foods and snacks, but I like to keep an eye out for coupons for my favorite veggie burgers — Morningstar Farms veggie burgers — and Larabars, a go to snack or breakfast for me when I'm on the go.
Keep Your Pantry Stocked with Good Grains and Bases
High quality grains and bases are key to any budget-friendly plant based meal plan. If you have the space, you may be able to save money by buying bulk of the grains and bases you use out, like rice or quinoa, but this isn't a great option for us apartment dwellers. Instead, I try to keep at least one large three cup mason jar full of each rice, quinoa, and some other grain base.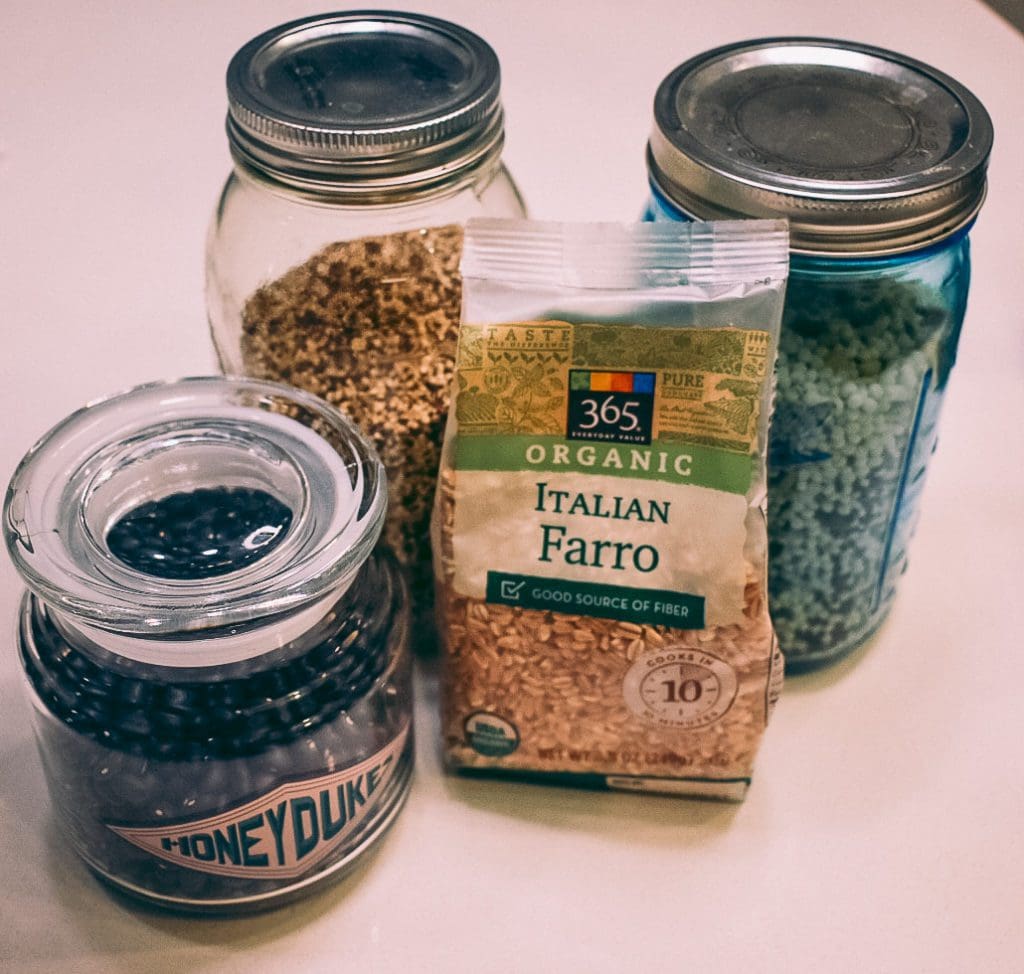 When shopping for quinoa, I highly recommend checking out the store-brand bags, and comparing the price per ounce of the bags. At Publix, for example, you can find a few brands of quinoa, but some are nearly $10 for a relatively modestly sized bag. The Publix in-house organic brand, Greenwise, has a 12 oz bag of quinoa for under $5 — not so bad!
Lately, I've been really into farro (the Whole Foods 365 farro is available on Amazon for $3.29 for an 8.8 oz bag) and the Whole Foods 365 Super Grains ($2.91 per 16 oz bag on Amazon). Farro tends to be a pricier grain, but the grains expand so much that I've found, when meal prepping with it, that it makes way more food at a time than I would expect. Besides these two options, Trader Joe's has a ton of great low-cost, high quality grains and pastas.
Buy Dried Beans in Place of Canned
Canned beans aren't exactly expensive — a lot of Goya cans are under $1, even — and they're handy to keep around, but dried beans are a healthier option and more of a whole food than those processed into cans. Typically, I like to keep a couple cans around, but prefer to use dried.
As for a true price comparison, Target sells Goya Black Beans in 15.5 oz cans for $1.29. You can get 16 oz of Goya's dried black beans for the same price. One pound (16 ounces) of dried black beans, when cooked, gives you about 7 cups of beans, whereas one can of black beans give you about 2 cups of beans. If that back-of-the-napkin math doesn't do it for you, this article explains more about substituting dried beans for canned.
Use Better than Bullion
I'm a huge fan of Better than Bullion — especially the vegetable base — as opposed to traditional dried, cubed bullion. In part, this is because I haven't had great luck finding a good vegetable-base option outside of Better than Bullion, but Better than Bullion also makes it's a lot easier to control the serving size. Each container has 38 servings (1 tsp = serving), but a jar can easily last for closer to 50 such servings, I believe. Prices tend to vary for this product, but a single jar from the grocery store or Target is typically under $5 in my experience. Having that kind of control over the dosage is great not only for your plant based diet goals, but also on your wallet.
Freeze Excess Fruits and Vegetables
This is a big part of my personal strategy for how to eat a plant based diet on a budget. Both Publix and Whole Foods have pretty great apps for deals and digital coupons, which often includes whole fruits and vegetables. While I use Ibotta for most of the branded food and household grocery products, the Publix app is my go-to for whole food deals.
Anyway, my point is this: keep an eye on deals for whole fruits and vegetables, like buy-one-get-one deals. Whether or not you plan to use both bundles of broccoli or both bags of shredded carrots, you can easily meal prep with one of each and freeze the second for later. I recommend prepping the vegetables before you freeze them — that is, cutting them up to whatever size you typically prefer to cook with — that way, when you go to use them, you can simply dump the whole container into a pot and go!
Not only does this cut down on the cost of whole fruits and vegetables, freezing the excess of these perishable goods reduces food waste! Win-win all around.
P.S. cut down on food waste even more by making your own stock! Learn how to make your own vegetable stock with veggie scraps here.
Invest in Some Rubbermaid FreshWorks Produce Saver Containers
I didn't really expect too much out of the Rubbermaid FreshWords Produce Saver Food Storage Containers, because I didn't see how they could be effective. I was wrong; these things are great. Not sure how these things work, but whatever magic they perform really does make produce last longer. The larger FreshWorks containers have been especially helpful for spinach, lettuces, and kale. With these containers, I'm definitely able to get a few extra days out of produce before they spoil, so that's saving on food waste and money waste!
Useful Kitchen Tools & Gadgets

---
Further Reading on Plant Based Eating
---

*This post was originally published in March 2021. It was most recently updated on March 22, 2022.