Valentine's Day Gift Ideas
Now that the first month of the year is all but behind us, you're probably seeing lots of Valentine's Day advertisements popping up online and around town. As far as gift giving goes, I find Valentine's Day gifts to be a bit difficult; I overthink them. There is such a broad range of ideas online, from classic to more comically inclined finds (and certainly some crass options, too), that it can be quite overwhelming. To help out this year, I'm sharing three sets of Valentine's Day gifts suitable for whoever you're shopping for:
Valentine's Day Gifts for Her
For all categories of Valentine's Day gifts, I feel that simple is best. For my suggested Valentine's Day gift ideas for her, I have chosen a handful of pieces each at or under $100, from adorable little stud earrings to luxurious loungewear. These are simple, useful finds that are a special without being over-the-top. Plus, I've been looking for an excuse to feature the adorable J.Crew tote purse below!
If you're looking for jewelry, both of the pieces pictured below are fantastic options, with the birthstone necklace coming in different colors and metals. For a hoop earring option, I really like these from Kendra Scott as well.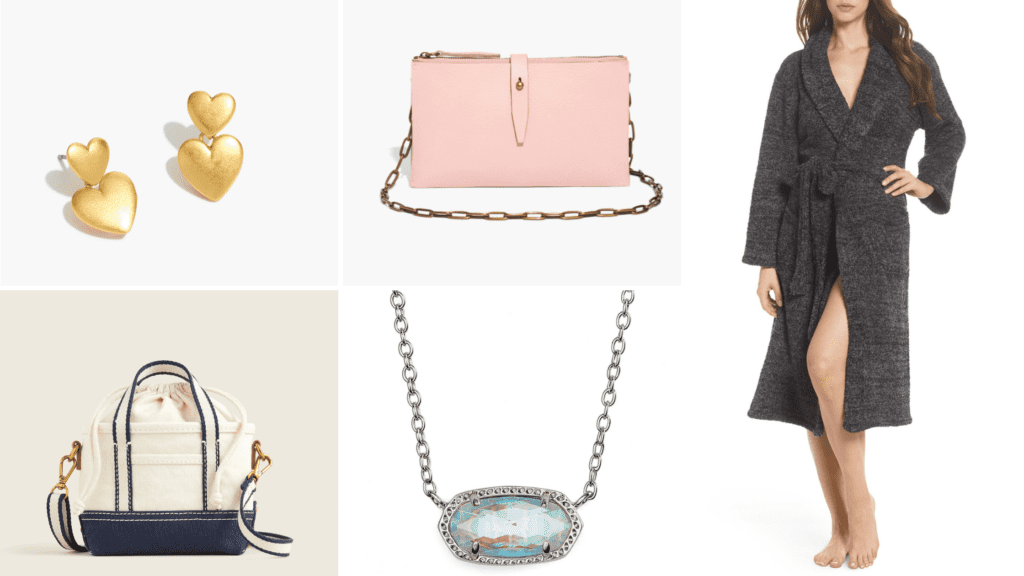 Top Row: Double Heart Stud Earrings | Pink Transport Accordion Crossbody Purse
Far Right: CozyChic® Robe (I would pair this with these cozy pajamas!)
Bottom Row: Mini Montauk Tote | Elisa Birthstone Pendant Necklace (smaller option available here)
Men's Valentine's Day Gifts
As far as Valentine's Day gifts for him go, I like to opt for something with elevated comfort or utility. I suggest going with something that is both useful and luxurious. For example, a beautiful silk tie (I love this classic navy stripe), if he works in a job requiring formal attire, or soft cozy loungewear to help him relax during time off. Bonus points for pairing such finds with fun socks or a nice skincare find.
Alternatively, you can't go wrong with a beautiful valet tray, and I cannot recommend the wooden watch stand here enough. I ordered one for Brett for our anniversary and it was affordable, shipped quickly, and turned out beautifully.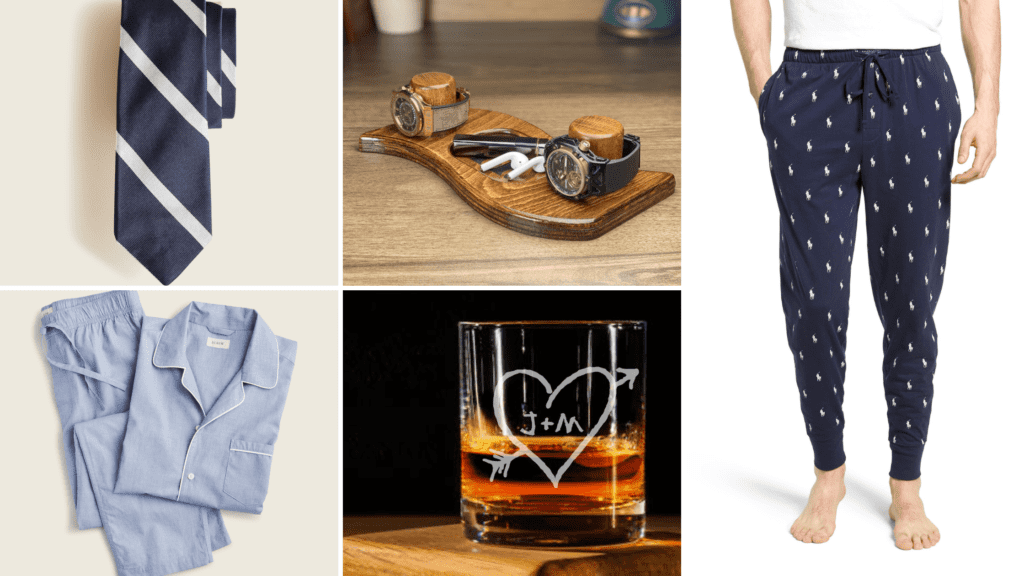 Top Row: English Silk Tie in Diagonal Stripe | Wooden Watch Stand
Far Right: Pony Print Pajama Pants
Bottom Row: Pajama Set In Cotton Poplin | Initials Personalized Glass (sold out, similar style here)
Valentine's Day Gift Ideas for Anyone
Regardless of who you're shopping for, I found a few pieces that are general crowd pleasers. Obviously, I gravitated towards the Baby Yoda card here, and I have previously ordered a similar "Swiped Right" candle for Brett, which was a fun gift.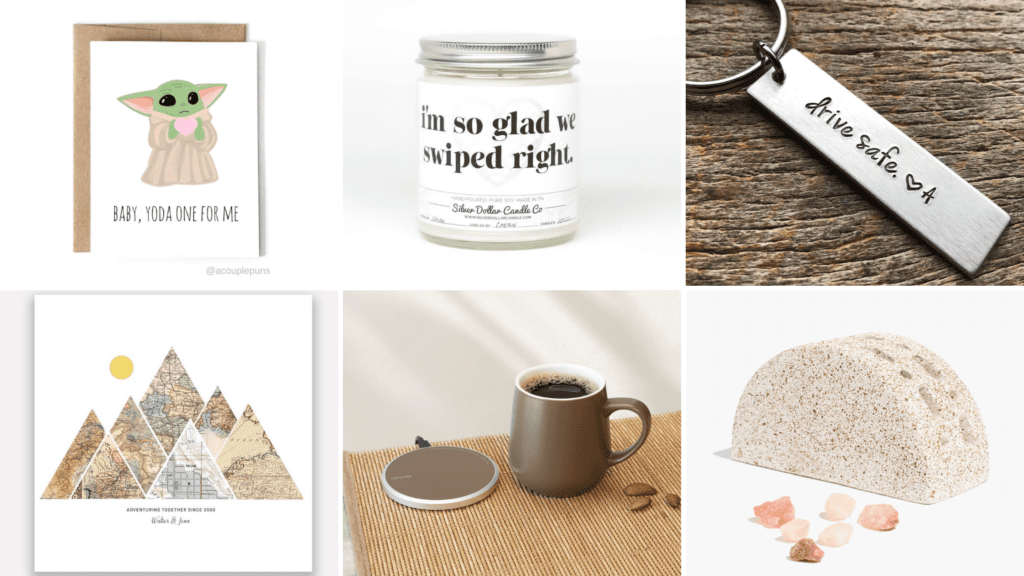 Top Row: Baby Yoda Card | Swiped Right Candle | Drive Safe Keychain
Bottom Row: Custom Map Wall Art | Mug & Warmer Set | Ceramic Aromatherapy Diffuser
Further, there is no dearth of customizable gifts available on Etsy (including the etched glasses featured above). However, a word of warning: definitely be sure to check shipping deadline dates! Most Etsy shops can accommodate a quick turn-around, but that's not always the case.
Curious about the origin of Valentine's Day?
Read up on Valentine's Day's history and explore quotes about the holiday here!
*This post was originally published on January 27, 2022. It was most recently updated on February 7, 2022.