The Library in St. Petersburg, Florida
Designed by the same team as Oxford Exchange, another Tampa favorite of mine, The Library Restaurant is a beautiful cafe in St. Pete, connected with the Johns Hopkins All Children's Hospital. It is inspired by the George Peabody Library in Baltimore, which opened its doors in 1957. Johns Hopkins was close friends with George Peabody, who inspired him to use his wealth for public good. "The collaboration between these men and the institutions they created is the inspiration for [the Library] restaurant, located within Johns Hopkins All Children's Hospital in St. Petersburg," the website notes.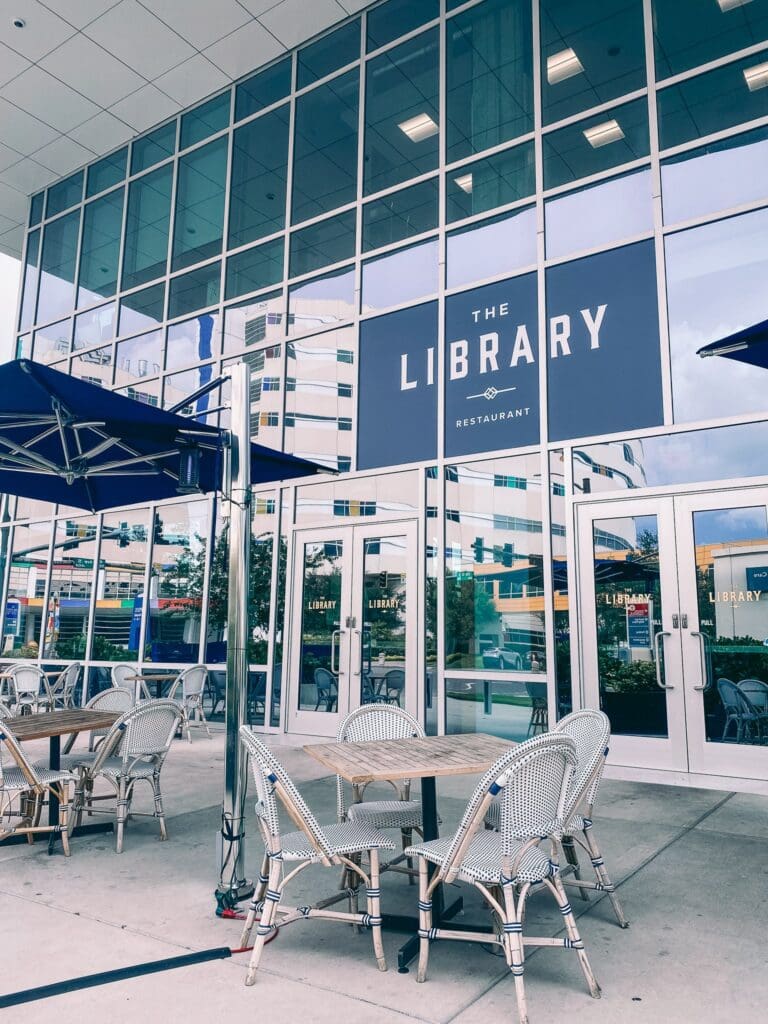 This post is an expanded review of The Library restaurant, originally featured in
my guide to the best restaurants In Tampa, Florida, and the surrounding areas.

Check out the full guide to all the hidden gems in Tampa here!
Robust Menus from The Library Restaurant
The Library has a whole host of menus, for lunch, dinner, catering, and so on. For my first visit to The Library restaurant, I joined my friend Lauren for lunch. We enjoyed the warm burrata small plate (middle image above) and a custom salad with charred broccolini and truffle vinaigrette. 
Before or after you dine, I recommend stopping by the coffee bar for a beautifully crafted coffee drink or tea, featuring Buddy Brew coffee and Te Bella teas.
Visiting The Library Restaurant in St. Pete for Valentine's Day
Brett and I had a great early Valentine's Day dinner this year at The Library restaurant! It was busy, so I'm glad we made reservations. We got a great table in a little nook with comfortably arm chairs that felt almost like a cocktail bar seat but was certainly suited to dinner.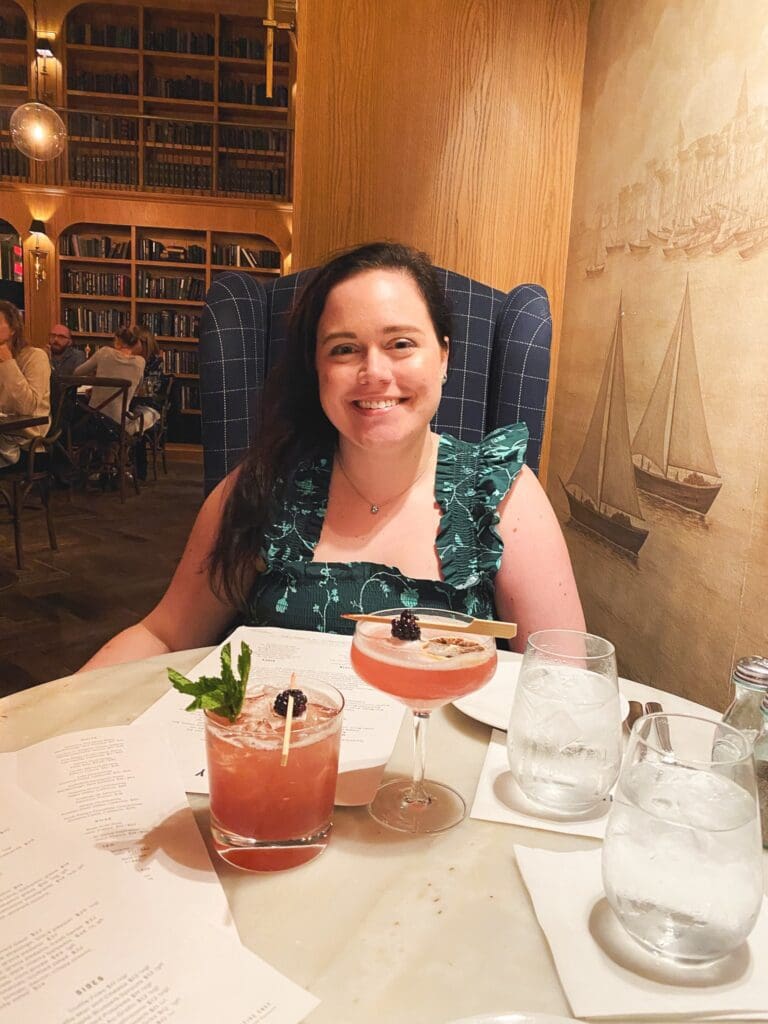 It's always fun to dress up a bit for a date night out!
I shared the details of my outfit and makeup on ShopLTK here.
Appetizers & Entrees
We started out dinner by sharing the Bread & Butter Board, which offered a trio of artisanal butters with honeycomb and herbs. This was absolutely delicious, but almost could have used more bread! There was an herbed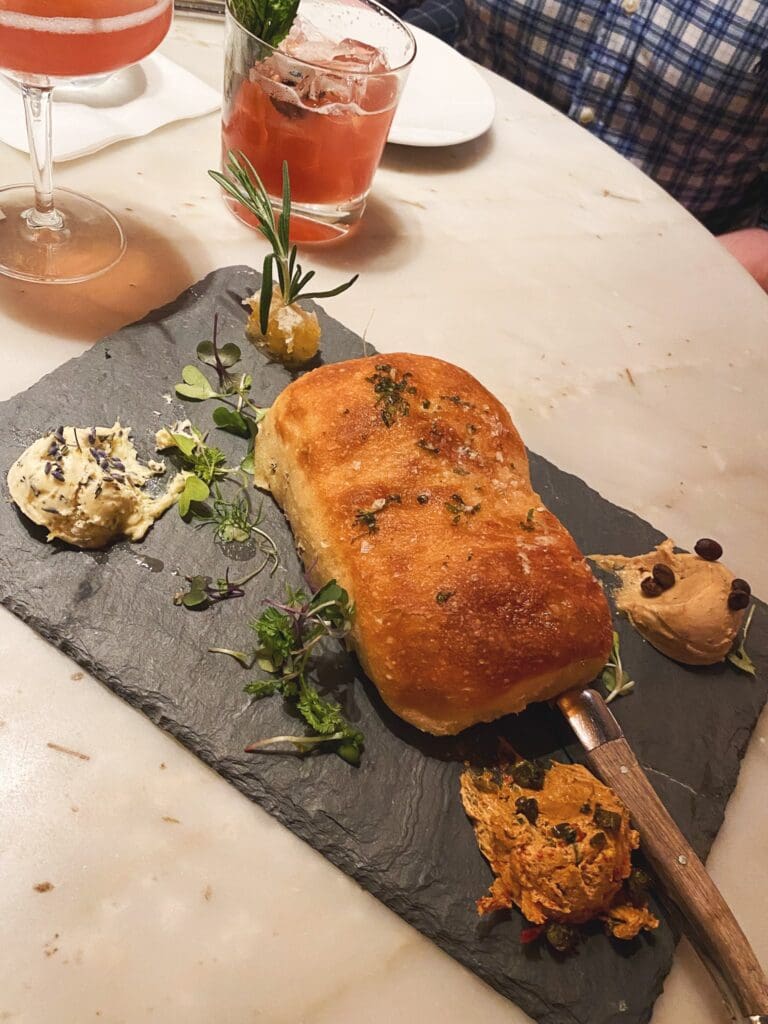 For dinner, I had the Butternut Squash rice dish, served with seared scallops and a dark cherry balsamic reduction. Brett opted for the Prime New York Strip which was perfectly seared. We split the Truffle Mac and Cheese as a side, which was absolutely amazing.
Specialty Cocktail Drinks
I don't often go for cocktails, simply because I get overwhelmed with the options. However, we decided that there were too many delicious sounding cocktails at The Library to miss out. We tried the Philanthropist, the Blackberry Business, and the Bookmark.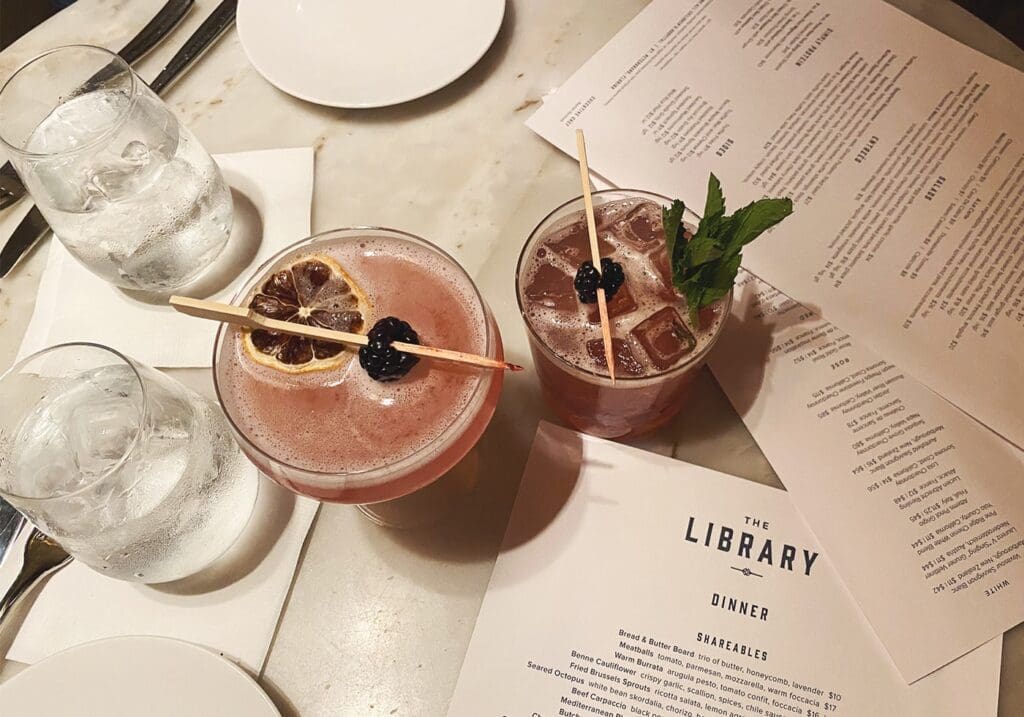 The Philanthropist was a mix of blackberry, lemon, vodka, and sparkling wine. Brett's favorite was the Blackberry Business, which featured Old Grand Dad, blackberry, lemon, and the freshest mint ever. The Bookmark — my favorite — was a vodka drink with strawberry rose tea, lemon juice, and rose water simple syrup.
Dessert & Coffee
For dessert, I had the Seasonal Creme Brûlée, while Brett enjoyed the Warm Cookies and Milk. Both were delicious; sweet but not too sweet. I really enjoyed my after-dinner cappuccino with Buddy Brew espresso, as well!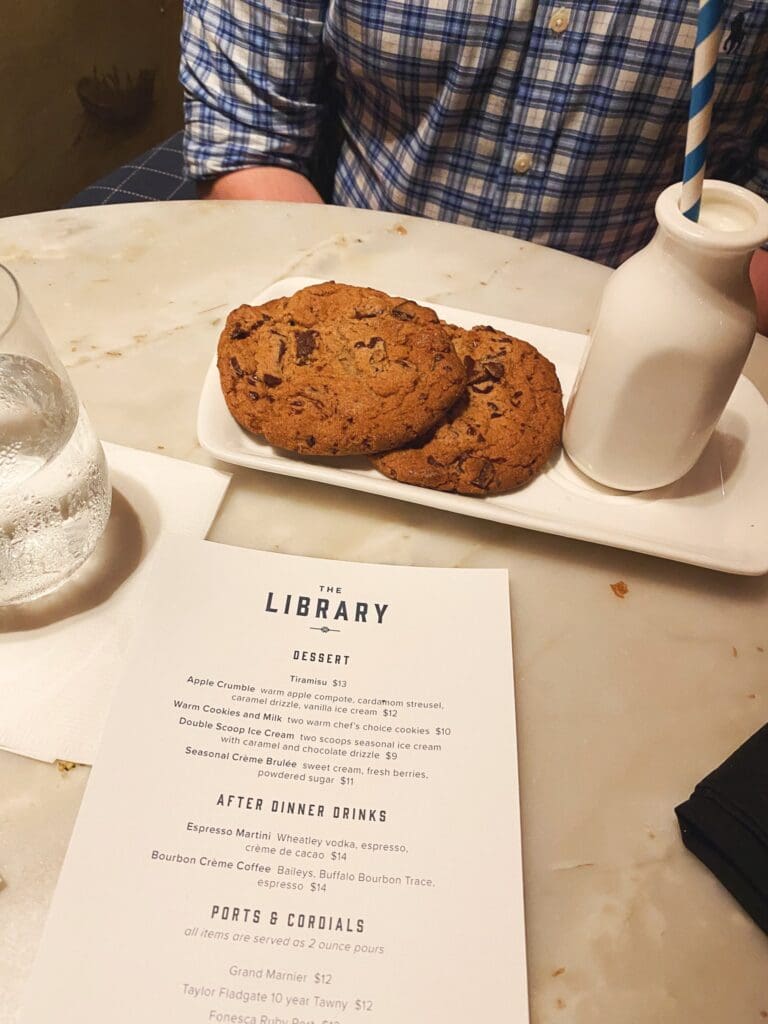 Visiting The Library Restaurant in St. Pete
Address: 600 5th Street South St. Petersburg, Florida 33701 
Useful Links: Website | Menu | Instagram
Looking for more hidden gems in Tampa?
Click here for my Tampa City Guide full of all of the best
restaurants, breweries, coffee shops, & more!
*This post was originally published on February 6, 2022. It was most recently updated on February 23, 2022.