Pantry Organization and Storage
Home organization is not something that comes natural to me. I don't think I'm alone in that. Luckily, there are many great products designed to streamline the organization process, particularly in the kitchen. While it is tempting to simply shove pots, pans, cooking utensils, and pantry goods into whatever spot works, this is hardly an efficient strategy.
Here, I'm sharing a handful of simple and useful pantry organization bins and containers that can be used throughout the kitchen. Build your own pantry organization system with what speaks to you and enjoy a kitchen less cluttered than before:
Pantry Organization Baskets and Containers
I, for one, am a big fan of baskets and containers when it comes to kitchen storage. Specifically, ones you can see through. If you can see what you have, you're more likely to use it, in my experience. This is particularly the case when it comes to darker spaces, like pantries, which are rarely well lit.
One simple option for pantry organization is to use Mason Jars or similar canisters for dry groceries, like pasta, beans, and oatmeal. I tend to use the larger Mason Jars (32 ounces) because I already have ten or so in my cupboard (I use them to make iced tea, as well). However, you could opt for smaller jars, depending on what you're looking to store.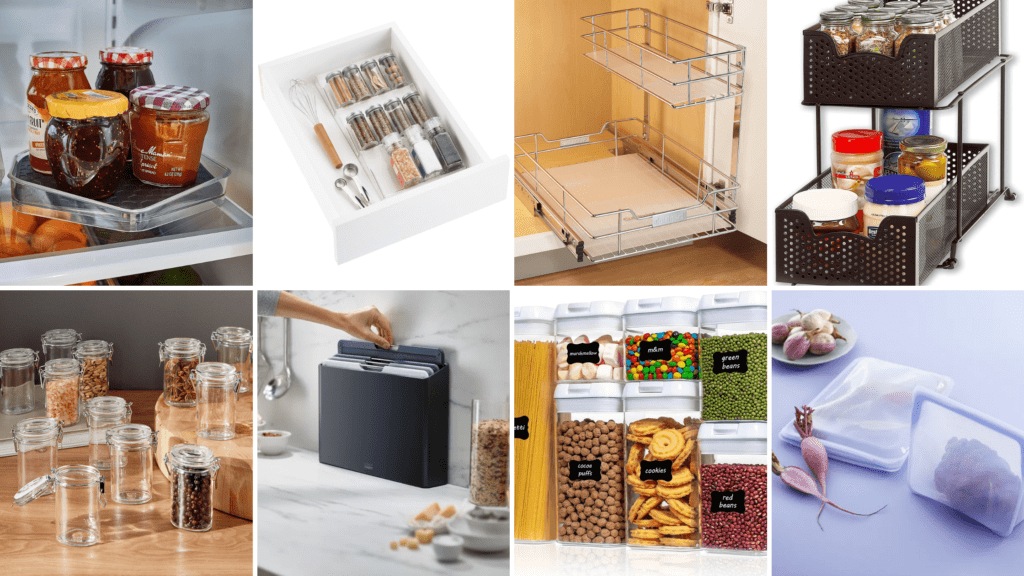 Top Row: Hexa Refrigerator Lazy Susan | In-Drawer Spice Rack | Two-Tier Sliding Cabinet Organizer | 2-Tier Sliding Cabinet Basket Organizer Drawer
Bottom Row: Mini Oval Spice-Herb Jars | Folio 4 Piece Regular Chopping Board Set (my favorite of this whole round up!) (similar style here) | Airtight Food Storage Containers | Stand Up Bag Stasher Bags
Cabinet Organization Ideas
For hard-to-reach areas — particularly cabinets under kitchen counters, which I find very difficult to keep organized — look into sliding cabinet organizers. I would like to get this two-tier sliding cabinet organizer from Cuisinart once we own a house. It requires hardware to attach it to the cabinet, so not ideal for renting. Until then, though, I've had great luck with movable organizers like this two-tier shelf I got from Amazon.
Similarly, you can also use shelf dividers to break up oversized shelves that defy organization. This set from Amazon looks promising, or you can try a pot and pan organizer like this expandable style. We have one that does not expand which works great for baking sheets, smaller pans, and cutting boards.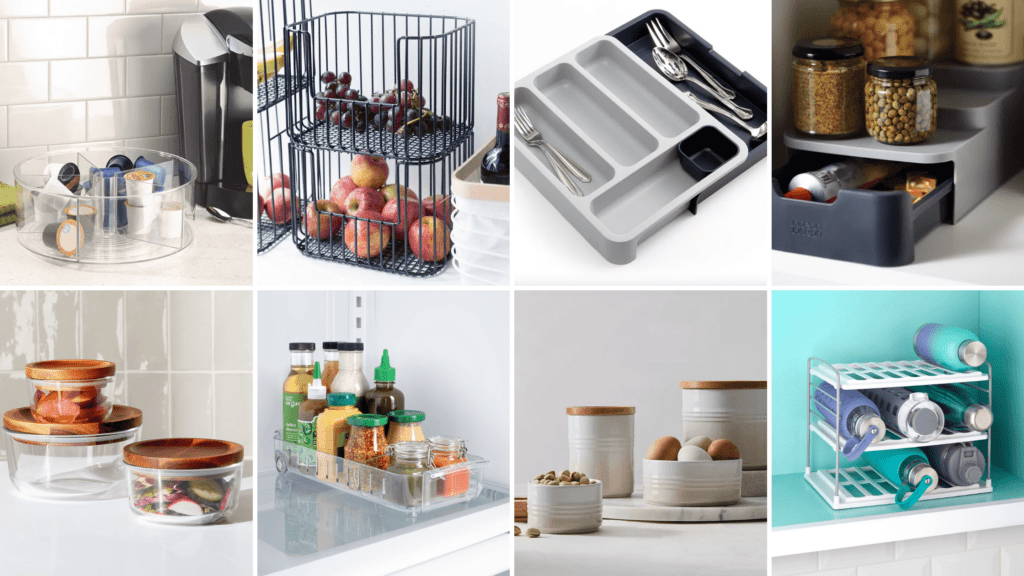 Top Row: Linus Divided Turntable | Vertica Wire Stacking Bins | Joseph Joseph Drawer Store | Compact Tiered Organizer
Bottom Row: Pyrex Wood Lid Storage Set | YouCopia Roll Out Fridge Caddy | Le Creuset Canisters | YouCopia UpSpace Bottle Organizer
Optimizing Kitchen Shelves for the Best Organization
Many shelves are simply taller than one needs, even if the levels are adjustable. To prevent wasted vertical space, look into some cabinet shelves, under-shelf baskets, and specialty organizers to break up the height. We have this water bottle shelf organizer, for example, which works great for our rather large collection of Yetis and HydroFlasks.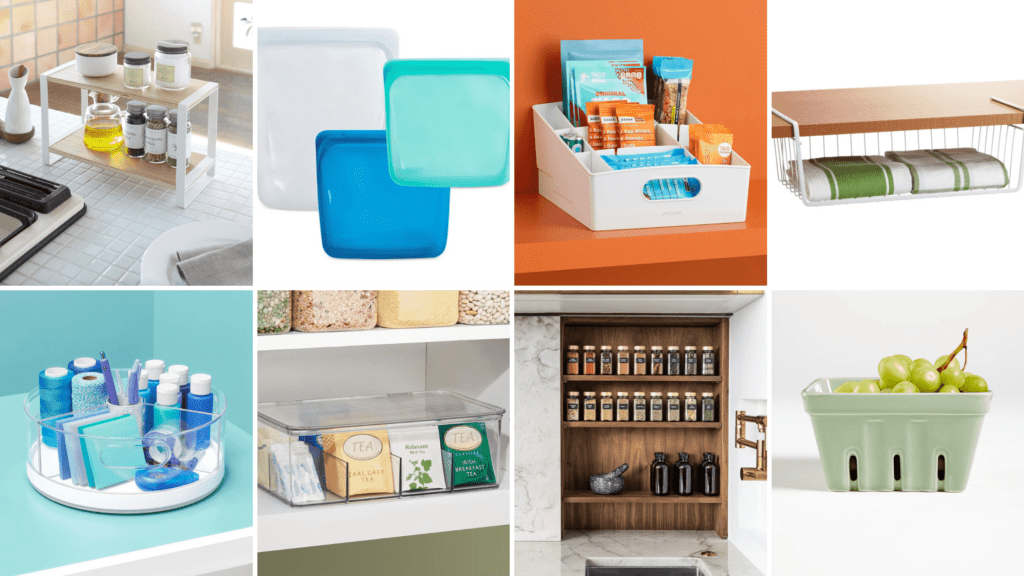 Top Row: Tosca Countertop Spice Rack (similar expandable style here) | Stasher Reusable Storage Bag Bundle | YouCopia ShelfBin | Undershelf Baskets
Bottom Row: YouCopia Crazy Susan | Linus Tea Storage Box | Spice Jars Set | Berry Box Colander
Specialized Organizers for Food and Drink
Similar to the water bottle shelf organizer I mentioned above, there are some handy organizers specific for cans or foods. We have a couple of these rolling refrigerator caddies, which have adjustable dividers and make it easier to see what is in the back of the fridge. It's a simple solution, and it would likely work in a pantry as well! Relatedly, can organizers, whether for in-pantry canned goods or for sodas in the refrigerator, are well worth the money. This option from Target is quite sizable, but smaller options that fit into fridges more easily (we have these) are also available.
Do you have any tried and true tips for keeping your pantry organized?
Share them in the comments below!
*This post was originally published on January 10, 2022. It was most recently updated on June 24, 2022.