Adorned by Chi for Magical Girls
Jacque Aye, the founder of Adorned by Chi, created the lifestyle brand because she wanted to see herself reflected in the anime-comic genre. As a young Nigerian-American woman based in Dallas, Jacque has created a colorful, creative world that all but pops off the page. Since starting Adorned by Chi in 2015, Jacque has been often applauded as a young, Black, female entrepreneur and her brand is a regular on geeky gift round ups.
The Adorned by Chi lifestyle brand features characters that "[capture] the spirit of every kind of magical girl (and guy)". Basically, it's an "original comic series with cute merchandise for nerdy girls," according to Jacque. From comics to home goods, sweatshirts to plushies, this magical lifestyle brand creates gorgeous pink anime aesthetic-inspired art that is as enticing as it is inclusive.
World Building with Jacque Aye
The Adorned by Chi brand is more than just a, well, brand. It is a whole universe. With regular characters, Jacque Aye and her team of magical creatives have developed a graphic novel world about West African Magical Girls (and a guy!). The story tells the tale of Adaeze, a painfully shy Nigerian college kid who becomes a reluctant Goddess hero, alongside a team of equally magical classmates.
In September 2019, Jacque Aye entered into a development deal with MWM Universe to bring the story of Adaeze to life through comic books, film, animation, and more.
Adorned by Chi founder, Jacque Aye // Photo Source: Animation Magazine
Adorned By Chi is for Everyone
Whether you're into anime and Japanese Magical Girl genre productions or not, one can't help but love the nuance, designs, and emotions of Adorned by Chi. It's a delightfully colorful tapestry of female empowerment with something for everyone.
To be honest, when I came across the brand via Instagram, I just liked the designs and styles. The graphic tee designs and pink anime aesthetic felt like the more-developed version of alternative-Hot Topic styles I liked as a teenager.
I did some more digging because I wanted to learn more about the creative behind the brand. That's when I became aware of Jacque Aye's wide magical world. The breadth of the Adorned by Chi universe is amazing, and you can even shop the product lines based on each character.
For example, Kaira, one of the magical classmates mentioned above, is a Philosophy major and on a constant mission to improve herself through yoga, veganism, and meditation. Kaira's picks feature gems such as the "Respect My Feminine Energy" tee and the "Cosmic Cutie" makeup pouch.
Why I Love the Sad Adaeze Sweatshirt
I love a comfy cozy sweatshirt. Since I work from home, it's easy to justify picking up one or two. And when I say two, I mean that this is my second sweatshirt purchase this summer (the first was a Try Guys zip-up hoodie – totally different style since it's a zip-up, right? ha).
Anyway, I felt like the Sad Adaeze graphic really mirrored how I feel at about 3 PM when my coffee buzz wears off and my afternoon slump settles in. I went with a size large because I prefer pullovers to be oversized. If you want a closer fit, definitely follow the brand's guidance and size down.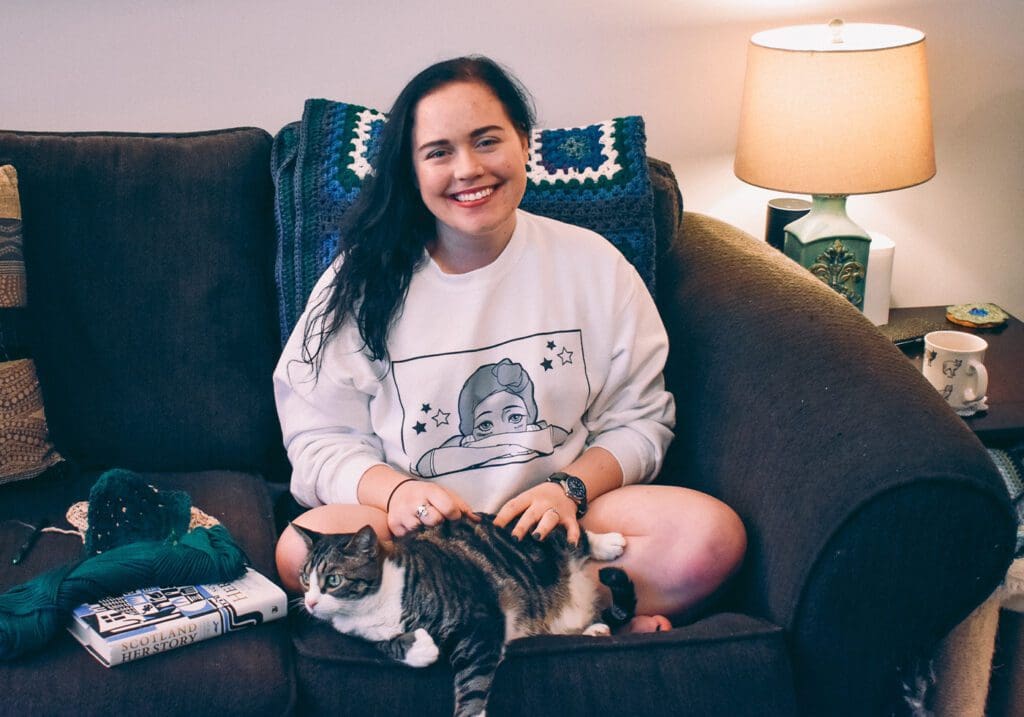 Overall Thoughts on the Order Process, and Quality
Adorned by Chi's pricing and shipping costs are very fair, and they're very size-inclusive. The sweatshirt shipped relatively quickly, considering how everything has slowed down with COVID-19.
The sweatshirt is a classic fit and doesn't shrink in the dryer. I washed it inside out with other light colored clothing and dried it normally and it turned out fine. I also got makeup on it almost instantly, but found it was really easy to spot clean. Definitely a plus for any white tops!
I think my next Adorned by Chi purchase will probably be a more Florida/summer-friendly style, since it's been so hot lately. Regardless, this cozy sweatshirt is definitely making working from home more comfortable!
Check out the Adorned by Chi "Sad Adaeze" Unisex Sweatshirt here!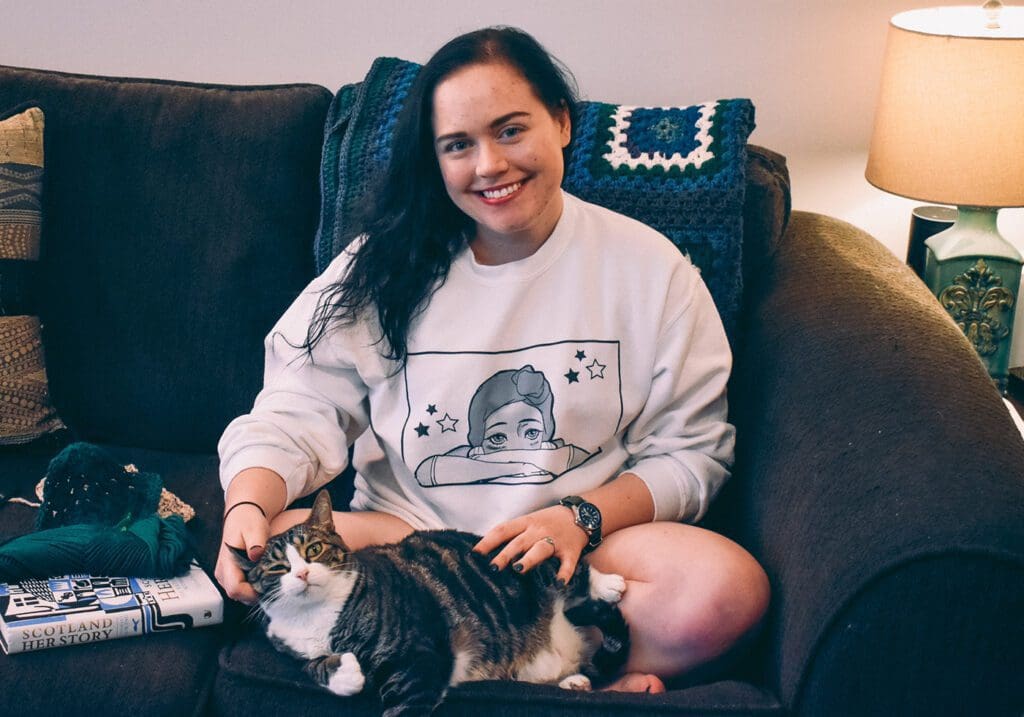 Favorite Finds from Adorned by Chi
Explore the entire Adorned by Chi shop and find your new favorite nerdy girl merch!
---
Pin this post to save it for later!