Critter Crafting
As you may or may not know, I run an online craft shop called Critter Crafting. I started my Etsy shop in 2014, in part to support the local animal rescue where I got Louis from. The shop was also — and still is — a great crafting and creativity outlet for me. I have always loved to crochet, and my attention span prefers smaller projects — IE: Cat Mats and coasters — to full sized blankets. So, I found that Cat Mats were the perfect combination of all these factors.
What Are Cat Mats?
Simply put, Critter Crafting Cat Mats are comfy cozy little crochet pet blankets. Think of them like little throw blankets but cat sized.
Most Cat Mats are around 15 inches by 15 inches when I make them. They'll stretch out with use, wash, and wear.
I crochet them with pet safe, machine washable yarn, so you can just throw them in the washer and dryer when they're dirty. While they obviously start out soft and cozy, they become even softer with washing.
Why I Started to Make Cat Mats
New Cat Mom Life Struggles
I started to make Cat Mats when I adopted Louis. I was inspired to make the first Cat Mat the day I brought him home. Louis was my first cat and first solo-pet. When I adopted him and the rescue said I could take him home right then and there, I must have looked like a deer in headlights. Of course, what other solution was there but to take him home from the adoption event!? But, in my excitement to get to the event to pick him up in the first place, I had failed to gather all the necessary new-cat belongings — namely, a carrier.
So, I grabbed a carrier and some other initial supplies from PetSmart, paid for them, packed up Louis, and headed home to my first day of cat mom life. Things were going well…until I turned onto the main road. Poor little Louis was sliding around in the carrier (and he's always been dramatic) and I felt so bad because I didn't realize they sold little mats to put in the bottom of the carriers to prevent this very issue.
Anyway, not long after — and before Louis had to go in the carrier again — I whipped up the first Cat Mat. We still have it, too. It's on the cat tree to my right as I type this. It lived in the carrier for a while, but Louis pulled it out into the apartment and decided it needed to be in the living room.
So, I started making more little Cat Mats as carrier liners. When I swapped the hard-shell carrier to the Sherpa medium sized soft-sided carrier we have now (and highly recommend!), I lined the carrier with one or two Cat Mats, sprayed down with some potent cat nip spray. It helped put Louis at ease in the car, and also became a cozy little hang out for him, even when we were at home (as long as the top was open!). When I saw how much of a hit this was, I started making them for friends and family. People requested them for carriers, for pet beds, and cat trees. I was happy enough to oblige.
Cats Like to Lay On Things
After starting to make Cat Mats as carrier liners, I started to realize cats like to hang out on things. Have you ever noticed this? If there's a bag on the floor, a book on a desk, or a keyboard by a computer, chances are, your cat will try to make these items into a bed. So, the secondary part of the Cat Mat origin story was in the hope that Louis would enjoy laying on his own comfy cozy Cat Mat as opposed to my laptop. (Spoiler alert: he did enjoy it, but it didn't fully dissuade him from trying to hang out on my laptop.)
How Much Do Cat Mats Cost?
Most of my Cat Mats run between $20 and $30 dollars plus shipping (usually between $3 and $5 for shipping within the U.S.). This covers the cost of yarn, labor, and helps me donate to rescues that I love (more on this below).
Cat Mats Come Pre-Nipped & Support a Good Cause
Convinced your fur baby needs their own Critter Crafting Cat Mat? Allow me to sweeten the deal even more. Each of my Cat Mats comes pre-nipped with Louis, Olivia, and Emory's favorite cat nip spray, so they're sure to be an instant hit. Beyond this, a portion of the proceeds go towards helping rescue pets in my community. For more information about the groups I like to support, check out my post all about my favorite local animal rescues and shelters.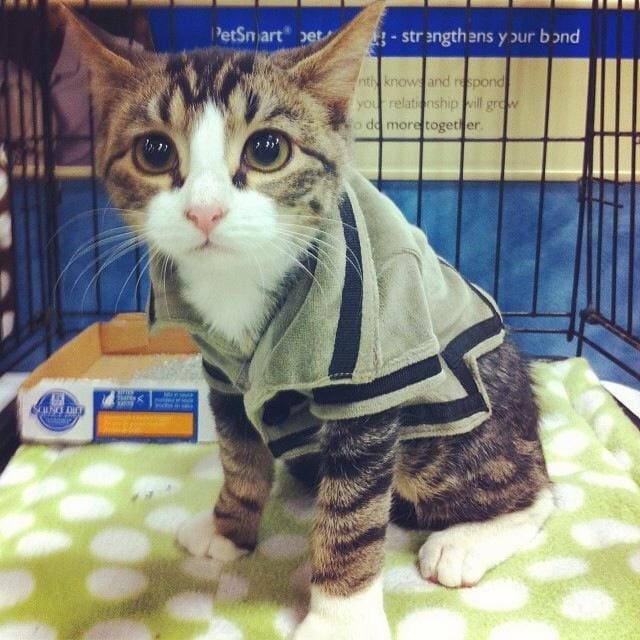 Custom Cat Mat Options
I generally try to keep a wide variety of colors available in my shop, but if you're looking for a particular color Cat Mat or a unique size, I'm more than happy to create a custom Cat Mat for you!
Simply email me or message me on Instagram and we can get that process started. Commissions usually take about two weeks, depending on whether I have the right color yarn or have to procure some.
Check out all of the available
Critter Crafting Cat Mats here!