The Try Guys' Book: The Hidden Power of F*cking Up
The Try Guys, four YouTubers who got their start at Buzzfeed before breaking off into their own production company, are not strangers to failing. They've literally wrote the book about failing: The Hidden Power of F*cking Up. They've failed in a variety of ways in their lives, as they make clear in their 2019 book. However, one thing they have surely succeeded at is reframing this failure into a guide to becoming their best selves.
The Try Guys left Buzzfeed in 2018 to start their own production company, and The Hidden Power of F*cking Up was one of their first major projects in the new company. The Hidden Power of F*cking Up is a funny, quick read that struck me as surprisingly poignant at times. A book that could easily have been merely a marketing ploy for a new YouTube channel, The Hidden Power of F*cking Up will leave you striving to be your best self.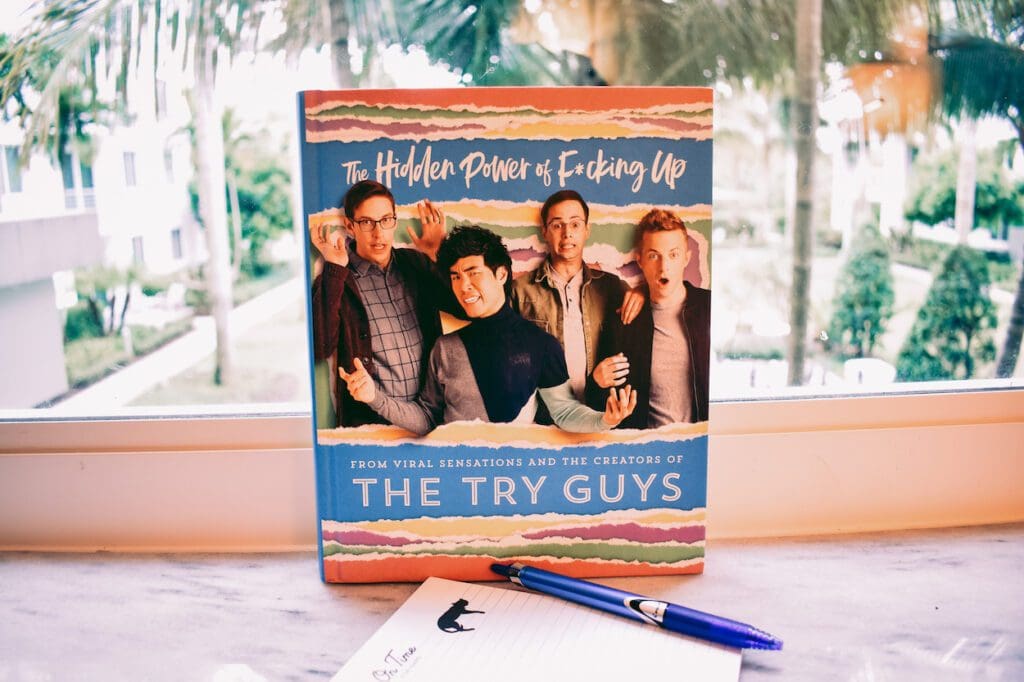 The Format of the Try Guys' Book
The book follows four primary "fails" and "trys" that the Try Guys attempt, centering around health, style, work, love, and family.
Keith Habersberger's Health Journey
In the health chapter, Keith Habersberger, renowned for his love of fried chicken (he literally has his own chicken sauce now) and "Eat the Menu" YouTube videos, tries going vegan. Besides just eschewing all animal products, he also starts CrossFit. What I appreciated most about Keith's vegan journey was how open he was about failing — for example, thinking you're eating something vegan only to find out that it was made with butter. Through his try at veganism, Keith found parts of the lifestyle that worked for him and parts that were less important to him. After the course of his "try" for the book, Keith went on to maintain certain parts of the lifestyle, like cooking vegan meals at home, which makes it more manageable to eat meat and fried chicken when he's out or on special occasions.
In all, this chapter really spoke to me because of my own vegetarianism. I sometimes have a hard time sticking fully to it. Keith's "try" helped reinforce that you don't have to be perfect all the time, and that small, incremental changes can lead to bigger things down the road.
Styling Ned Fulmer
Yale alum and new dad Ned Fulmer's "try" revolved around style. He wanted to get out of his polo-shirt-and-jeans rut, but was afraid to try something new — and, ostensibly, to fail. So, what did Ned do? He spent five days wearing outfits he never would have chosen for himself in order to force himself to try something fashionably new.
You can watch the video version of Ned's "try" here, but there is definitely more content — and heart — in the Try Guys' book. For a topic that might seem, well, topical, Ned's struggle with finding his personal style is something that I think most of us have dealt with in some way or another.
Plus, he wears this plaid Zara skirt and if anyone knows where I can get it, let me know.
The Try Guys' Try Working Like CEOs
As a team, the Try Guys tackle work-life balance in the third chapter of the book. As newly-minted business owners — they started their production company and independent YouTube channel in spring 2018 — they've run into difficulties while stepping into a managerial role. The honest discussion of the issues they faced, including how they try to deal with procrastination, is refreshing. For anyone struggling with dealing with work-life balance — particularly as someone in their mid-twenties with a creative drive — this chapter is a must-read.
The highlight of this chapter is when the Try Guys' try to work like CEOs, sticking with a rigorous schedule that starts at 5 AM and ends with a 10:45 bedtime. Honestly, just read the schedule kind of wore me out — the prospect of (1) keeping track of the time so neatly and restrictively, and (2) just getting all of that done each day felt overwhelming (and I think that was partially the point here).
The guys go through the schedule point-by-point and recount their day with a refreshing sense of honesty and reality; they talk about what works and what didn't, and how they handled curveballs throughout the day.
Zach Kornfeld Finds Love
In December 2018, Zach put out a TryGuys video about his secret girlfriend, where he describes a bit about why he kept this detail of his personal life under wraps. In the book, he delves deeper into his lackluster history of dating and relationships prior to meeting his long-term girlfriend, Maggie. With a mix of self-deprecating humor and heart, Zach illustrates a dating history that is all-too-recognizable to anyone who has spent time on dating apps. He talks about how learning to be a boyfriend and partner took time, and how moving in with his significant other had its ups and downs.
One of my favorite parts of this chapter — besides the details of all of the Try Guys' relationships and how they met their significant others — was when Zach tried a romantic gesture for Maggie. He decides to meal prep for her, and his struggles through the process are pretty comical and endearing — "I was doing things I absolutely hated, but I was doing them for someone I loved."
Eugene Lee Yang Tries Hugging His Family
Eugene, a child of divorce who grew up in a Texas town where he and his Korean family stood out, has "literal papers to prove" his "domestic problems." Throughout the Try Guys videos, contrasting the other guys' familial relationships, Eugene discusses his unusual family situations — for example, how they don't really get together for Christmas but, instead, just Venmo each other money for presents.
So, Eugene's "try" centered around getting close to his family. The other Try Guys gave him tasks — (1) compliment each member of the family, (2) get each member of the family to tell him a secret, and (3) hug each member of the family. Eugene's reactions to each of these tasks are great — he is open and honest about how uncomfortable these "trys" make him, but he is ultimately willing to give it a shot. So, during a family visit for his grandmother's birthday, Eugene does just that — tries to get close to his family. I won't spoil anything for you, but Eugene's "try" is ultimately awkward, endearing, and thought provoking. A must read.
Bonus Content: A Brief History of Trying
Besides the primary content of the book — the various "tries" — there are also little anecdotes about other "trys" and fails in the margins, along with a whole slew of inspirational quotes. Here is one of my favorites: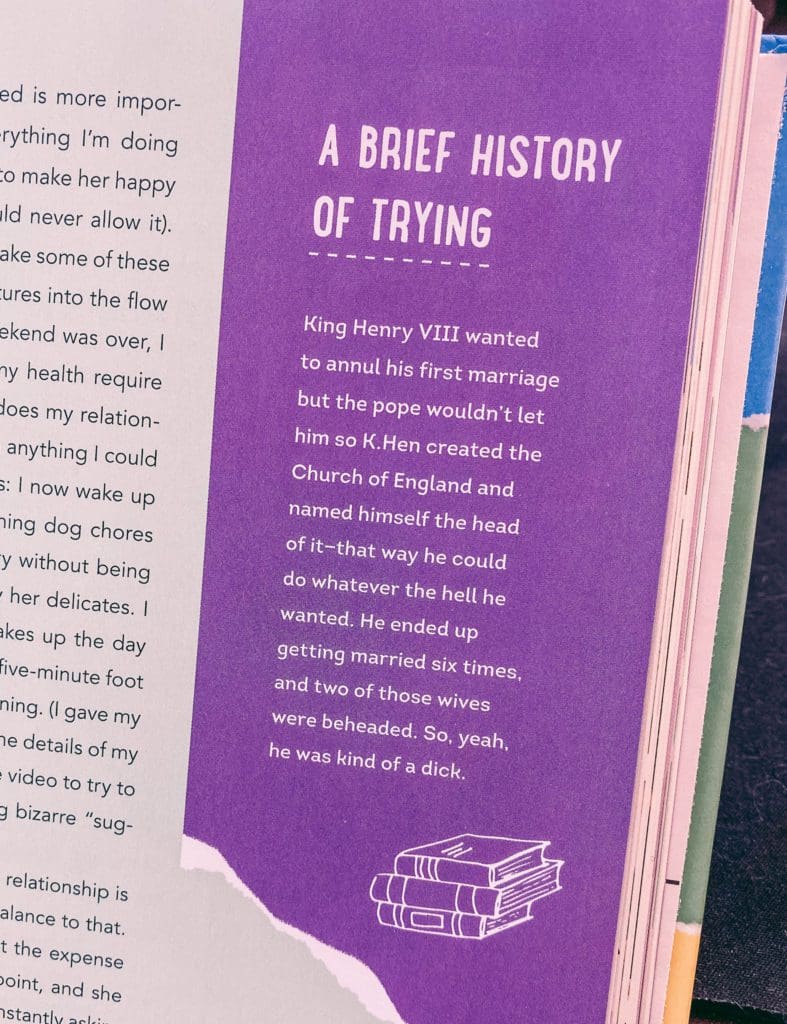 ---
Check out the Try Guys YouTube channel here. Click here for the separate Try Guys Try Pod Podcast channel. If you're interested in more content, check out the Try Guys Patreon account here.
---
Pick up The Hidden Power of F*cking Up on Amazon!
---
Click here for more Try Guys content from Cats & Coffee and
here for all of my book reviews!