Quinoa and Plant Based Eating
One of the world's most popular health foods, quinoa has become a staple in many people's pantries. Besides the proven quinoa health benefits, the grain is a super versatile plant-based food. Like nutritional yeast, quinoa is a major player in vegan, vegetarian, and plant-based eating. It has a relatively neutral, nutty flavor naturally, making it a great base for highly-flavored vegetables, sauces, or proteins. So, if you're looking to incorporate more plants into your diet, this is a great place to start.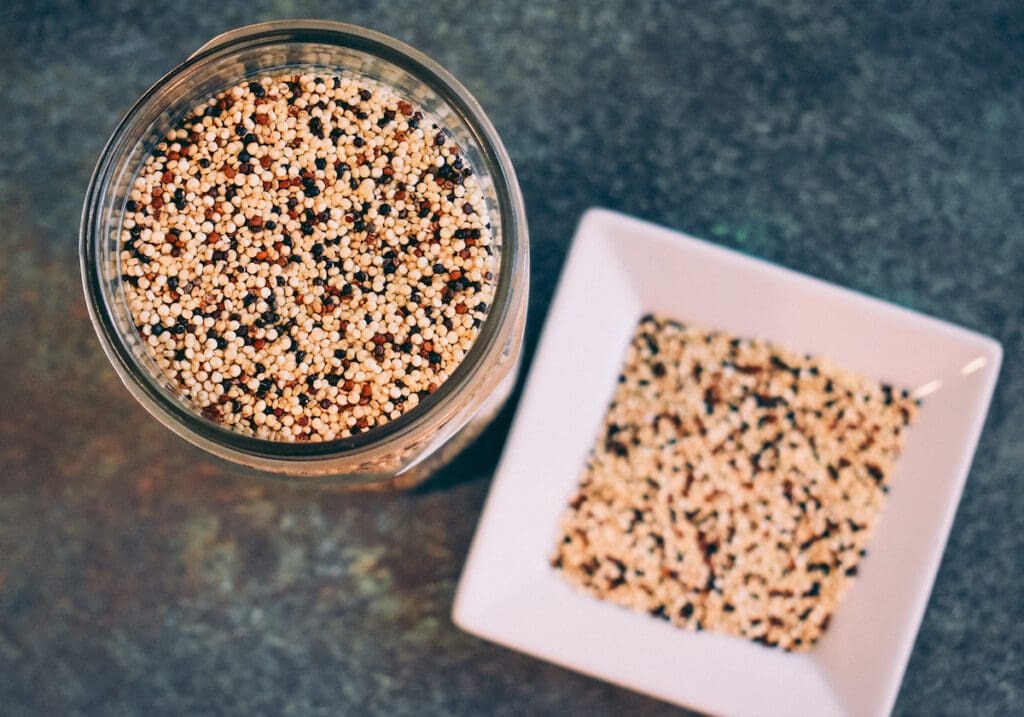 Quinoa Health Benefits
Besides being super easy to cook and super versatile, this edible seed has robust and proven health benefits.
It is a Complete Protein
Notably, quinoa is a complete protein, meaning it has all nine essential amino acids. This is pretty uncommon for plant foods, which helps explain why it's so popular in the plant based diet world.
Besides being a complete protein, quinoa contains high levels of nutrients like manganese, magnesium, iron, and potassium, among others. It contains more fiber than most grains.
Quinoa Contain Healthy Plant Antioxidants
The quinoa health benefits don't stop with the usual nutrients. In fact, these edible seeds contain flavonoids. Flavonoids, also found in green tea, are plant antioxidants shown to provide a variety of benefits.
Flavonoids are known to have anti-inflammatory and anti-viral properties, along with anti-depressant effects. For more information, I recommend checking out this Healthline article all about the superfood.
It is Suitable for Gluten-Free Diets and Low FODMAP Eating
Quinoa is gluten-free, making it suitable for anyone with gluten sensitivities or for those who avoid gluten entirely. Besides this, it is also one of the preferred grains on any list of low FODMAP foods, since it is easily digestible.
For more information on low FODMAP eating, I recommend checking out this informational sheet from the University of Virginia's Nutrition department.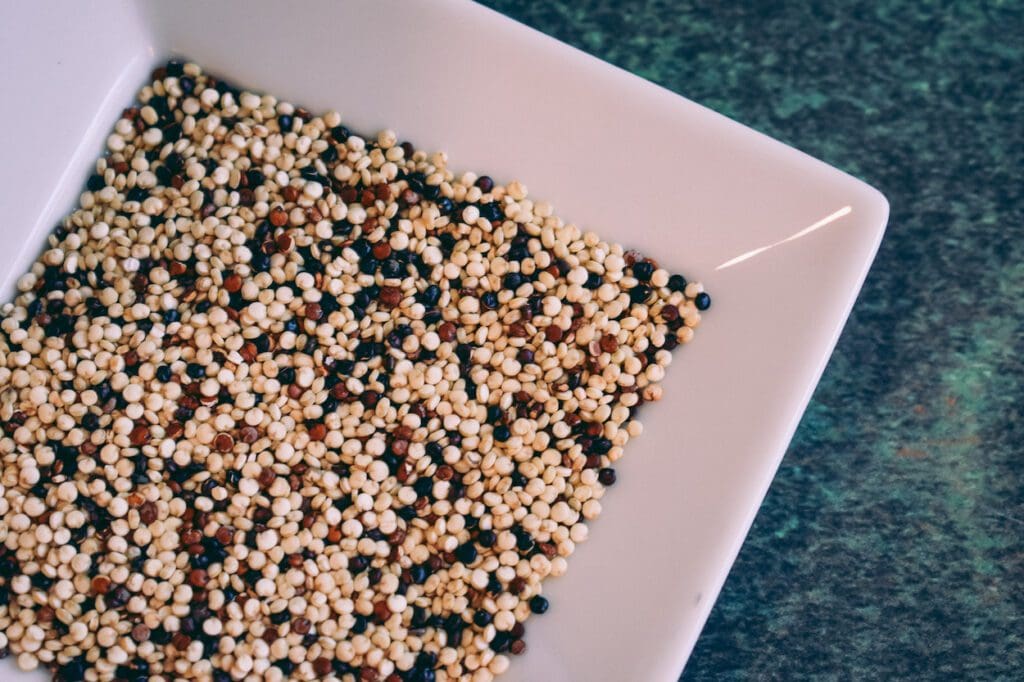 Common Questions about Quinoa
What Does Quinoa Taste Like?
Quinoa has a light, nutty flavor. Some might consider it a bit on the bitter side.
The fact that quinoa has such a light flavor makes it really easy to customize. To flavor quinoa, try cooking it in vegetable broth and with some of your favorite spices to change the base line flavor.
Where is Quinoa From? Where is it Grown?
Quinoa is a seed that can basically be eaten as we would a grain. It has been grown and consumed in its native Andean region of South America for thousands of years.
Today, Peru, Bolivia, Ecuador, Colombia, and Argentina are some of the major quinoa producers. According to the Whole Grains Council, these countries grow about a 117 million pounds of the edible seed a year. In the United States and Canada, quinoa is grown at higher elevations in the Rocky Mountains.
How Do You Cook Quinoa?
Quinoa is as simple and forgiving to cook as it is versatile.
Stick with a 2-to-1 ratio for quinoa: two cups of water for each cup of quinoa. If you're cooking the quinoa with vegetables (especially those with a higher water content), drop the amount of water you initially add a bit.
To cook quinoa, rinse the quinoa and then add it to a pot with the required amount of water. Bring the water to a simmer or low boil. The quinoa should cook in about 15-20 minutes.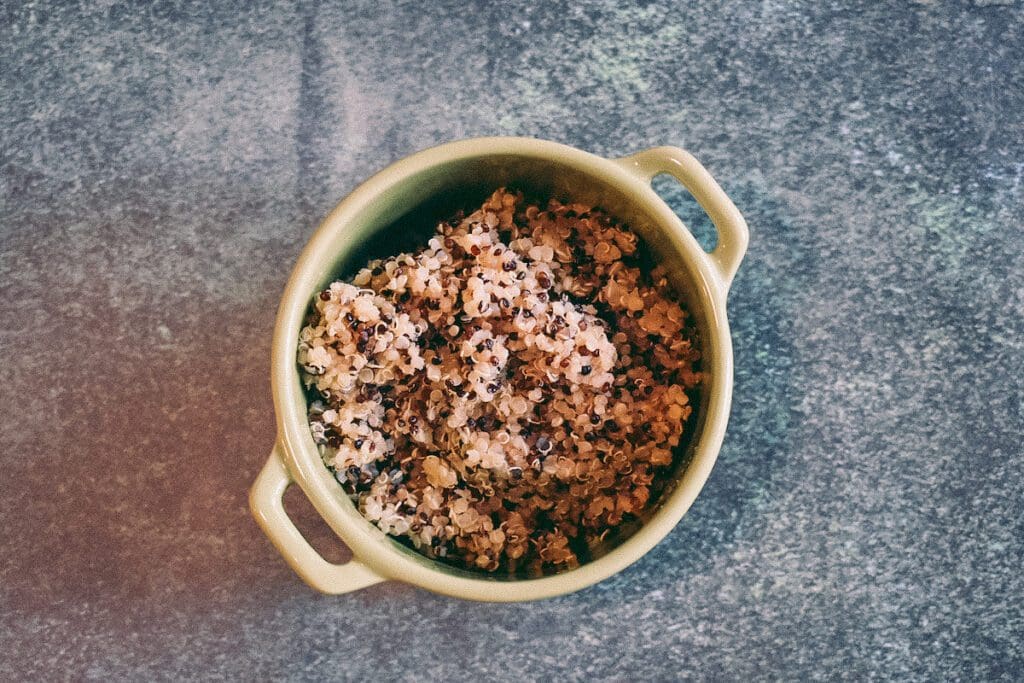 Can You Cook Quinoa in a Rice Cooker?
I should not that I haven't personally tried this. However, according to the Kitchn, you can cook quinoa in a rice cooker!
Simply use the same liquid-to-quinoa ratio and follow the rice cooker's instructions to cook quinoa in a rice cooker.
Which Quinoa is Best?
There are three common types or colors of quinoa: red, black, and white. That is, they have fairly similar baseline tastes, textures, cooking times, and nutrient profiles. Therefore, personal preference plays a big role in saying which quinoa is the best.
Personally, I like the "rainbow" quinoa mix, which is typically a mix of white, black, and red quinoa.
As for which quinoa is healthiest, Healthline notes that black quinoa has the lowest fat content and the highest levels of omega-3 fatty acid. Further, red and black quinoa have approximately two times the amount of vitamin E than white quinoa. Relatedly, Healthline notes that studies have shown that the darker the color of the quinoa, the higher the antioxidant capacity.
Can Quinoa be Frozen?
After you've cooked quinoa, you definitely can freeze it. This makes it great for meal prepping. Be sure to let the quinoa cool completely before you stick it in the freezer. This short article from The Kitchn has some more information on freezing quinoa (and links to freezing other grains).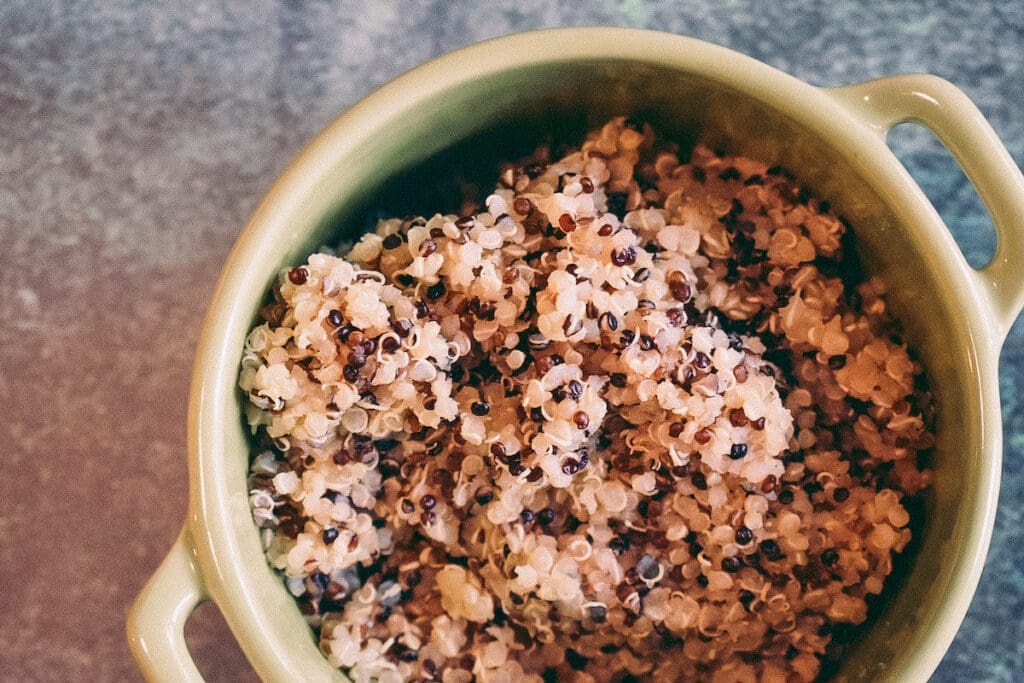 ---
Further Reading on Quinoa Health Benefits
Quinoa Recipe Ideas
---
Pin this post to save it for later!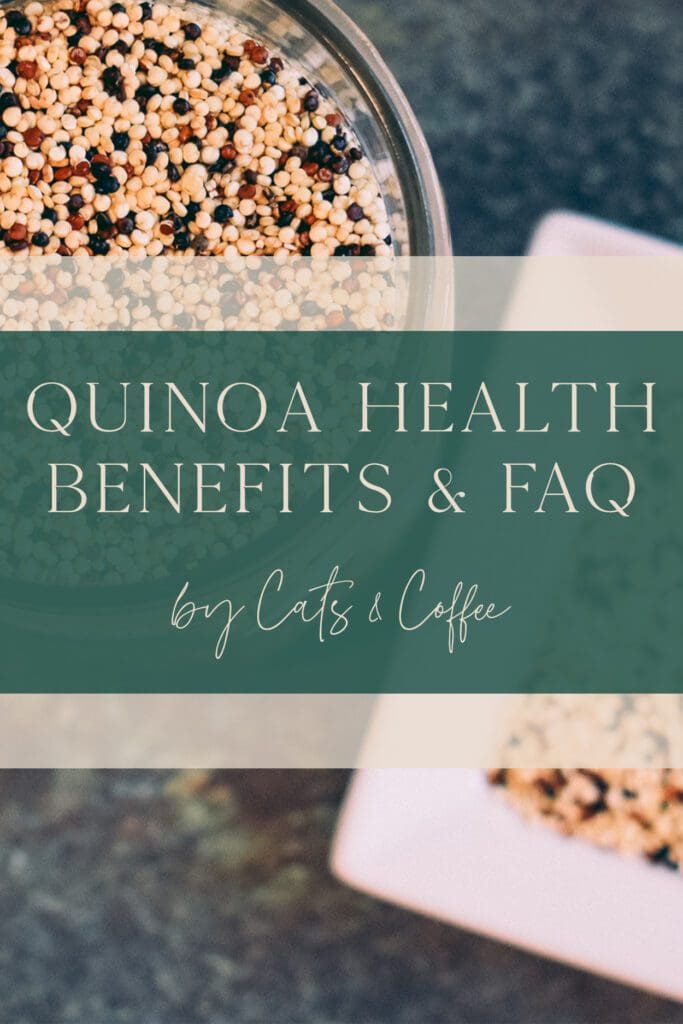 ---