One Pot Quinoa Recipes: 30 Minute Dinners
A lot of the time, I make a mess when I cook. I end up using multiple pots and pans, a bunch of utensils, a couple plates, and so on. With variations based on what vegetables I have on hand, I really like to make this one-pot quinoa recipe. Cooking quinoa and vegetables in one pot is easy and forgiving, since you don't have to time it as much as rice or other grains. The addition of chickpeas adds easy protein and texture. The clean up for these recipes is easier, too. Besides, I find that the flavors all mix together more when they're cooked entirely together.
Almost-Could-Be Vegan
As I've mentioned before, I stick with a vegetarian/pescatarian diet. This dish is absolutely vegetarian. I'm thinking it is vegan as well, but the only issue there would be the pasta. Most dry pasta is vegan, from what I understand, but I may be wrong. If you want to be certain that it is vegan, skip the pasta.
One Pot Quinoa Recipe Ingredients
Olive Oil
1/4 Medium Sized White Onion
2 Cloves of Smashed Garlic
Fresh English Peas
Orange Bell Pepper
1 Bag of Broccoli
6 Medium Sized Tomatoes
1 Cup of Dry Quinoa
Better than Bullion (Roasted Vegetable)
1 Can of Chickpeas
1/2 Cup Pasta
1 Bag of Spinach
How to Make this Easy Meal
First, I added diced onion and olive oil to the pan and put it on low heat. While the onions started to sauté, I smashed and chopped up two big cloves of garlic and added them to the pan.
Then, I began to add the veggie ingredients. I used a whole bag of fresh English Peas and added these first, since they felt like they needed more time to cook since they were fairly firm. After I incorporated the peas, I chopped up the orange bell pepper and added that to the pot, followed by the bag of broccoli florets.
I roughly chopped up approximately 6 tomatoes and added them to the pot, intending them to make a sort of Pomodoro sauce, a favorite of mine. This didn't work out so well — I think it would require more tomatoes to do so — but they still tasted good.
I added some more olive oil, too, at this point, because the broccoli absorbed a lot of it.
After all the vegetables were mixed and lightly simmering, I added 1 cup of dried rainbow quinoa to the pot. I mixed the quinoa in a bit and then added two cups of water and a spoonful of Better than Bullion. I turned the heat up to high to get the water boiling.
Side note regarding Better than Bullion: A friend of mine told me about this stuff a few years ago and it's so great. It's so easy to incorporate into recipes and you can control how much you use, unlike with the salty bullion cubes. Highly recommend. I found mine at Publix, but most grocery stores have it I think, and it's available on Amazon.
After added the water, I covered the pot and let it simmer for some time. When I checked it a few minutes later, the quinoa was starting to cook, but there was still a lot of water, so I added 1/2 cup of dried pasta to help soak up the water. I also added a can of chickpeas at this point, to add some protein to the recipe.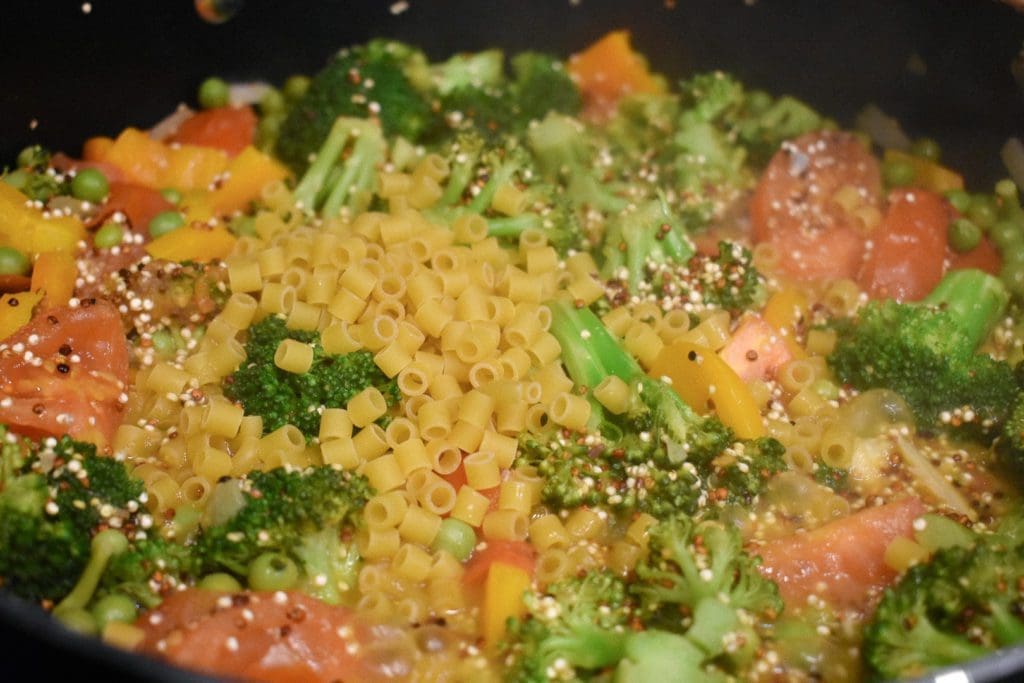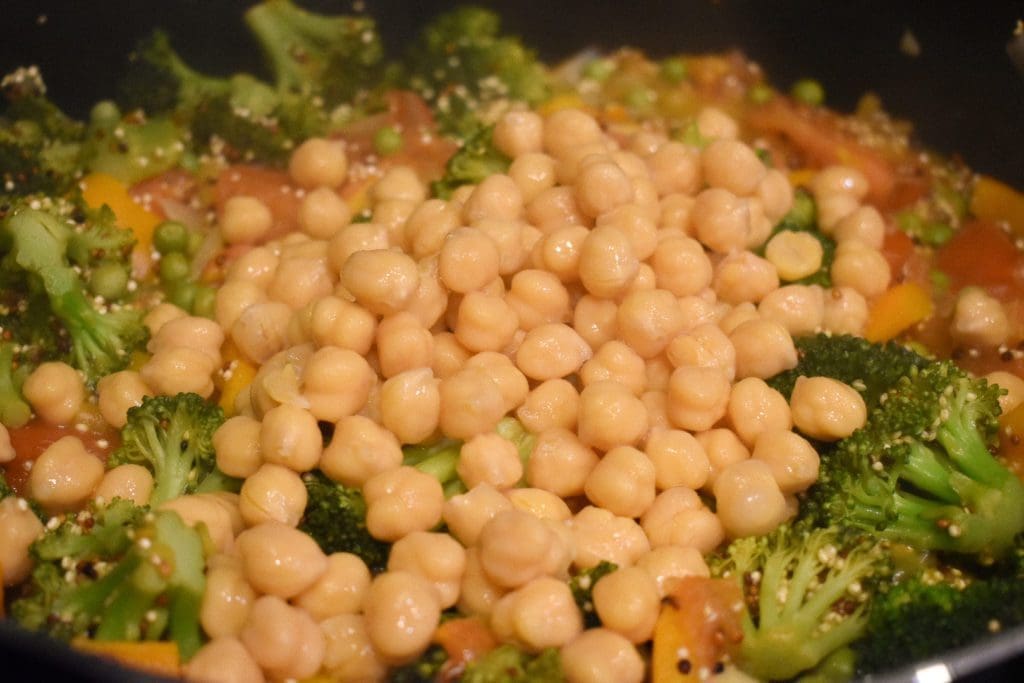 Once the grains and pasta were pretty much cooked, I topped the pan off with a bag of spinach, incorporated it a bit, and then covered it again to let it steam. The spinach steamed down in a minute or two and was then really easy to mix in.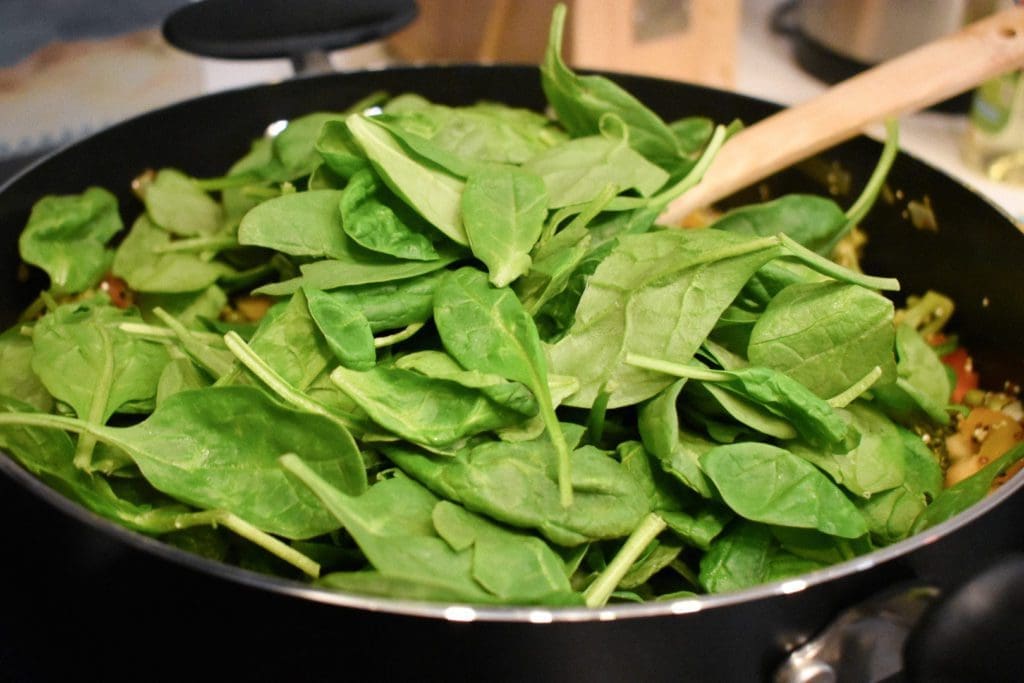 The Finished Product
This one-pot dish turned out so well! There was so much flavor that it really didn't need salt added to it (although I did add a little for good measure). When I plated my serving for dinner last night, I topped it off with some salt, cracked pepper, and paprika.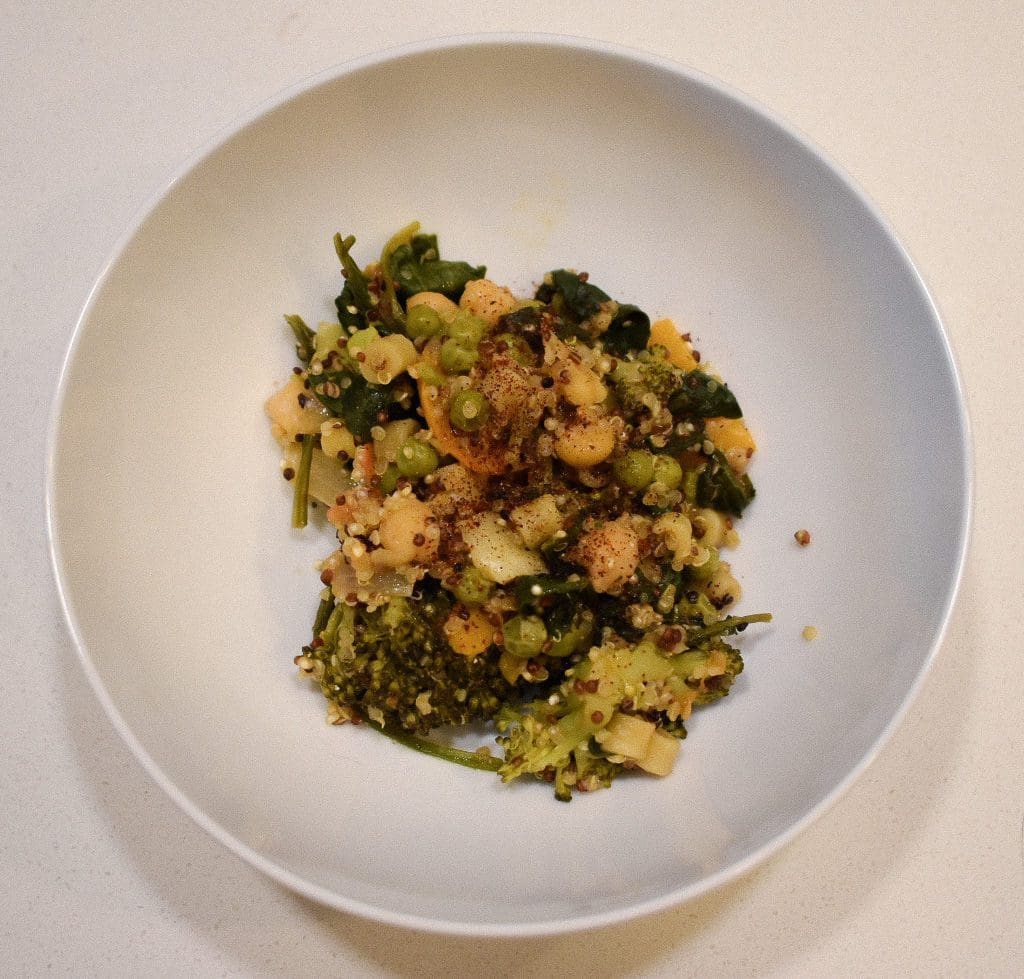 One Pot Quinoa Recipe: Easy Vegetable Quinoa with Chickpeas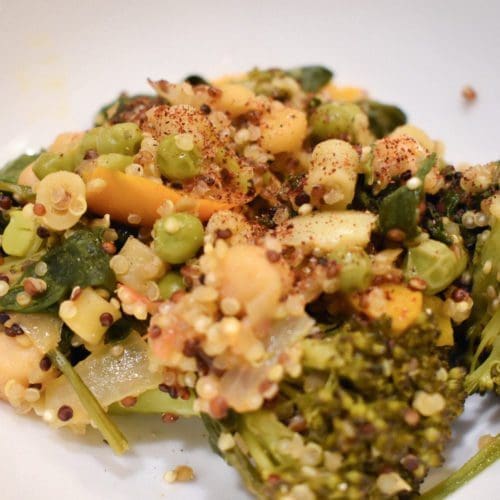 Vegetable Quinoa with Chickpeas
A lot of the time, I make a mess when I cook. I end up using multiple pots and pans, a bunch of utensils, a couple plates, and so on. When I can get away with it, I really like to make one-pot recipes. Check out this easy, healthy, vegetarian one pot dinner recipe that you're sure to love!
Ingredients  
1-2

tbsp

Olive Oil

1/4

Medium Sized White Onion

2

cloves

Smashed Garlic

2

cups

Fresh English Peas

1

Orange Bell Pepper

2

cups

Broccoli

(I used 1 steamer bag of fresh broccoli)

6

Medium Tomatoes

1

cup

Dry Rainbow Quinoa

2

tsp

Roasted Vegetable Better than Bullion

1

can

Chickpeas

1/2

cup

Dry Pasta

1

bag

Spinach
Instructions 
Dice the onion and smash the garlic cloves.

Add the diced onion and olive oil to a pan. Put the heat on medium. Add garlic as the onion starts to saute.

Add the English Peas, chopped bell pepper, and broccoli to the pan.

Incorporate the vegetables with the olive oil.

Roughly chop and add the six tomatoes to the pot.

Add 1 cup of dried quinoa and incorporate the quinoa into the vegetables. Turn the heat up to high.

Add 2 cups of water and mix in teaspoon of Better than Bullion. Cover the pot and let it simmer for approximately 5 minutes.

Add 1/2 cup dry pasta of your choice to soak up additional water.

After 7 or so minutes, test the pasta and add spinach.
---
---

---
Pin this recipe to save it for later!