Making Homemade Vegetable Stock
Vegetable stock is an easy and useful thing to keep in the kitchen. Whether you use bullion cubes, Better than Bullion, tetra packs of premade broth, or you make your own, broth adds extra flavor to pretty much any dish. For example, I like to use it just about any time I make rice or quinoa. Using broth – or, at least, part broth – instead of just plain water boosts flavor in any grain.
In order to reduce food waste, and because I wanted a challenge, I've started to make my own vegetable stock out of the discarded ends of vegetables I've stored. It's an easy process, so why not give it a shot? So far, it's not going to fully replace the Better than Bullion I keep in the refrigerator. Even still, it's a good skill to have around the kitchen.
What You Need to Make Your Own Vegetable Stock
You don't need any fancy kitchen gadgets to make your own vegetable stock from vegetable trimmings. The only thing I bought for the endeavor was a half-gallon Stasher bag from Amazon. I do recommend getting one of these reusable plastic bags, because their seal is secure but easy to open, they're super easy to clean, and they're durable. You could use whatever container you'd like, though, to store the trimmings. Simply add the trimmings to the container as you cook through the week and keep them in the freezer.
Besides a container of some kind for the trimmings in the freezer, you'll want a canister of some kind to store your stock, whether you do so in the refrigerator or freezer. I'm a fan of smaller mason jars for this – like the Stasher bag, they're reusable and easy to clean.
How to Make Your Own Vegetable Stock
Collect Your Vegetables
As mentioned, collect roughly chopped vegetable trimmings in the freezer container while you cook through the week or two ahead of making stock. I, for example, had asparagus bases, bits of onion, discarded tomato tops with the stems, sweet potato, and some Swiss chard stems. I removed the skin for most of the onion at first, but some of the pieces I used had the skin on them and it worked out fine.
If you're looking to make a more balanced flavor base, you'll want to have equal parts of the vegetables you use. Really, though, it doesn't seem like you can go too wrong with whatever you use.
Some articles I saw cautioned against using starchy vegetables, like sweet potatoes, because they can make the broth cloudy. This is true, but it worked out fine for me anyway.
Boil the Vegetables
In a medium sized pot, cover the vegetables with water and put them on high heat. I didn't thaw the vegetables when I made my stock; it just took a bit longer for the pot to come to a boil.
While the water was heating up, I added salt, pepper, and paprika. Paprika is a favorite spice of mine, and I add it to most things I cook. Feel free to add your favorite spices – or even fresh spices! – at this point.
Simmer for Forty-Five Minutes to an Hour
This is a pretty loose process, but most resources said to let the pot of vegetable trimmings simmer for about an hour. After the water came to a boil, I reduced it to medium heat and let it simmer for forty-five minutes. At that point, I used about half of the pot of water to make a rice and grain dish. The remaining water simmered for another twenty minutes or so.
Refrigerating and Freezing Your Stock
Once you finish your stock, you can either use it right away, refrigerate it, or freeze it. If you choose to refrigerate it, it should be used within a week. If you freeze it, it should be used within three months.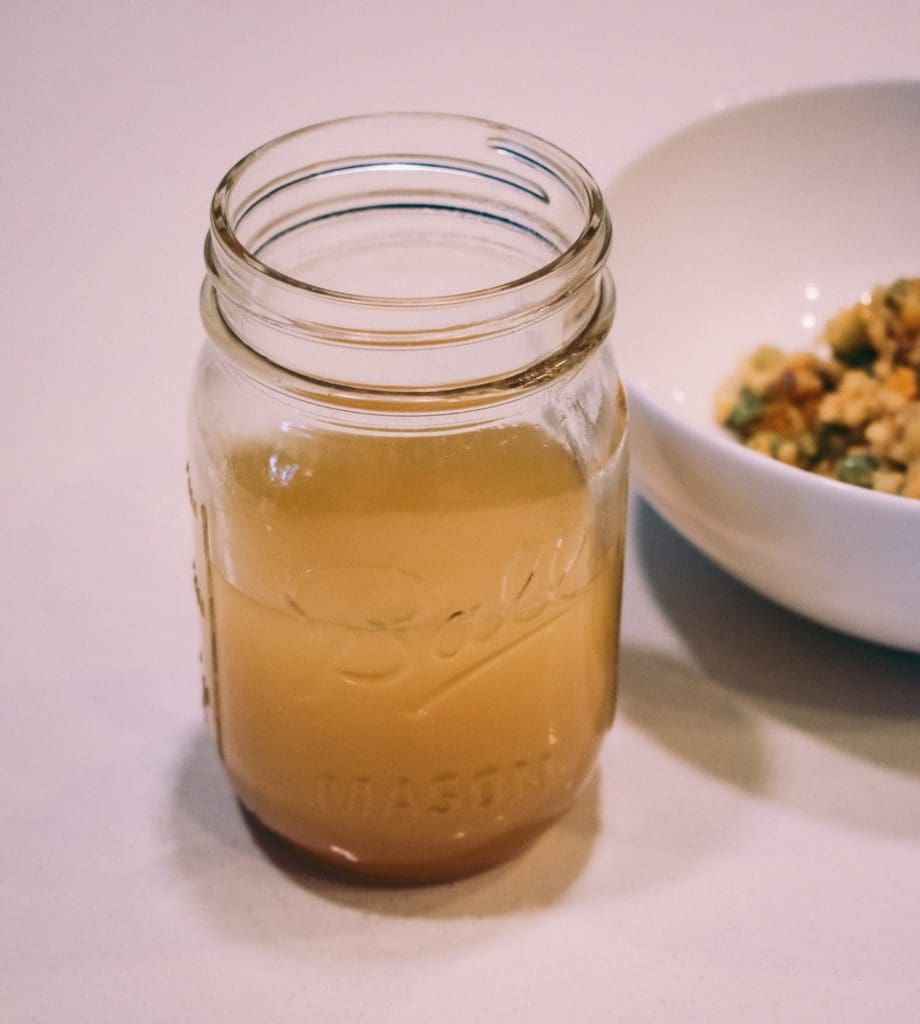 ---
Pin this post to save it for later!
---
---