Why Wear Makeup at Home?
It can sometimes feel pretty pointless to get dressed up and made up to sit at home. Even before social distancing, this was a question on my mind as I worked from home. There's something to be said for keeping a bit of a routine and getting ready for the day so you feel good about yourself. For me, makeup is sometimes in that equation; before quarantine, I would do a bit of makeup if I knew I was going out for some reason, or I'd skip it if I figured I'd get a morning workout in.
Now, though, since I'm not going out, I've rarely done makeup in the mornings. I say rarely because I've done a bit of concealer when my skin was breaking out because it made me less likely to mess with it throughout the day. Without Friday night dinner dates with Brett or weekend days out, I have missed doing fun makeup, though.
I've found that, whether I'm inspired from boredom or want to perk myself up (or if I have a FaceTime date with friends or family, let's be real), doing a bit of makeup can really help. It may seem silly, but I've found that doing makeup can boost my mood. Plus, it's a good reminder that we should wear makeup because it makes us feel good, not because of what others think.
My Favorite Makeup to Boost Your Mood
My at-home makeup routine is pretty simple and revolves around feel-good beauty. I invite you to consider what your skin is craving at the moment and let that inform what you choose for makeup to boost your mood!
A Nice, Luscious Lip Color
I recently picked up the Kosas Wet Lip Oil Gloss in Jellyfish and it's quickly becoming my new favorite lip color. Like the Milk Makeup lip balms, this lip gloss is pretty sheer, but adds a bit of color. I find it to be pretty hydrating, and it has hyaluronic acid in it, which makes it great for daily use. It's a clean beauty formula, as well, made without sulfates, parabens, or phthalates.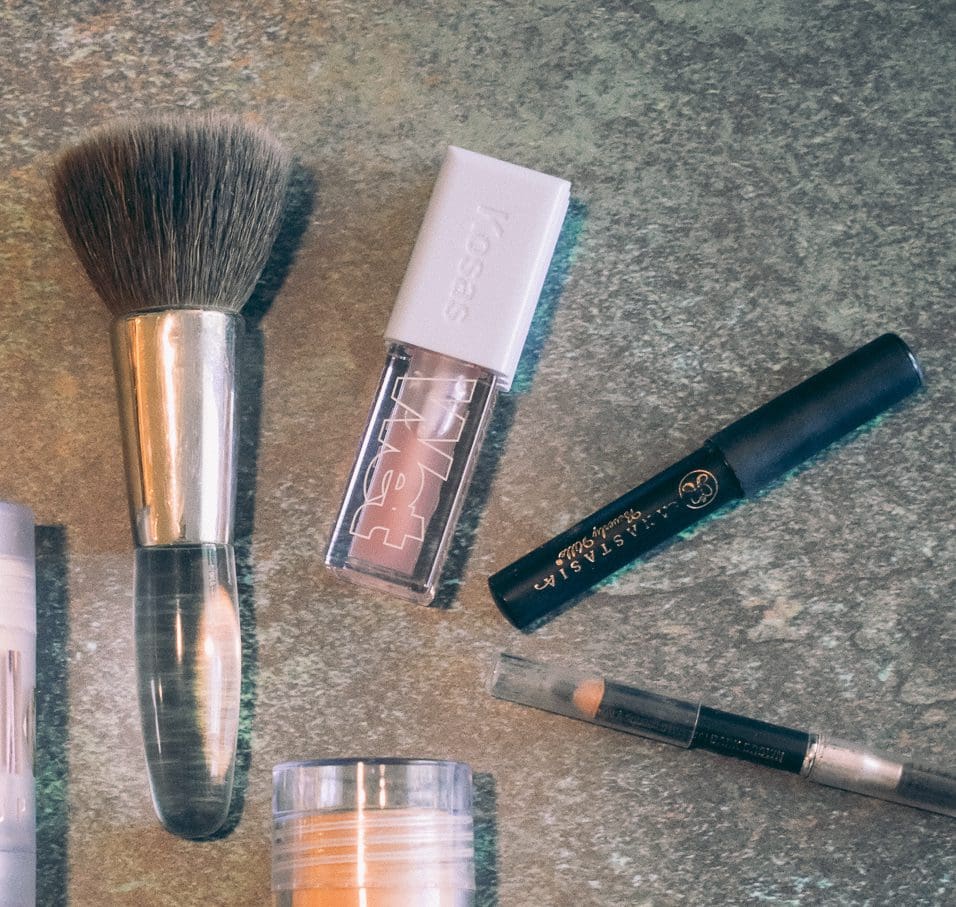 A Simple Moisturizing Base
Lately, my skin has been craving moisture, so along with running the humidifier pretty much 24/7, I've been prioritizing my morning serums and moisturizers.
I've been a fan of the Laura Mercier Tinted Moisturizer for a while now. Its a bit on the pricier side, but I've been impressed with how long the tube is lasting me. This is a great base layer for simple at-home makeup, especially if I'm skipping concealer. I have found this tinted moisturizer to be lightweight, sufficiently tinted without being chalky, and non-irritating to my skin. Plus, it has SPF in it, which is great for when I pop out to the porch for a minute or take a little walk.
If you prefer more of a primer, I highly recommend the BareMinerals Prime Time primer. It spreads so nicely, whether you use your finger, a brush, or a sponge. I've found that it works well on its own if you want a more natural look, but I generally mix it with a bit of a tinted moisturizer or liquid foundation.
Add a Pop of Highlighter
Milk Makeup's highlighter sticks are my go-to here. I've been using the Holographic Stick in Mars a lot lately, both because it's about as simple as a piece of makeup could be, and because it provides some mood-boosting, laid-back glow. I've definitely felt better of video calls having a bit of highlighter on.
Fill in the Eyebrows
If I skipped everything else in this makeup to boost your mood series, I would stick with filling in my eyebrows. As someone with naturally dark-blonde hair, I definitely feel like my eyebrows give that away.
If I've recently had my hair dyed, it's less of an issue to me. But I feel like, when my roots start to grow out, having light eyebrows really makes that more noticeable. I don't know how accurate this is, or if it's just my perception. Either way, simply filling in my eyebrows with my favorite brow pencil immediately boosts my mood and makes me feel more put together.
Top it All Off with Some Powder
My skin has the tendency to get a bit greasy during the day, so I love using powder foundations. I've found these to be especially useful for video calls, since the cameras and lighting for those aren't always very forgiving.
In an effort to introduce more clean beauty into my makeup routine, I've been trying out the Antonym Baked Foundation. This product is light, but effective, providing uniformity and helping to blend other products (like the Milk Makeup highlighter I mentioned before).
I have the Antonym Baked Foundation in Fair. It comes in six shades. As this foundation is the baked version of a cream foundation and is designed to adapt to different skin tones.
---
Pin this post to save it for later!
---