Finding High Quality Dry Cat Food for my Furbabies
I'm a total cat person, as you know. A fundamental of Cat Mom Life, in my experience, is finding the best quality foods for my furbabies, so they can live long, happy, and healthy lives. When it comes to kibble, my cats have a few favorites. I've been feeding them these high quality dry cat food recipes for most — if not all — of their lives at this point, and I think it's paying off.
I hope you like my round up of my cats' favorite kibbles. Please note, I'm not a vet – rather, I am a helicopter cat mom. I picked these based on a lot of my own research, tips from other cat parent friends, and discussions with the kitties' vets. Always talk to your pets' vet about their foods!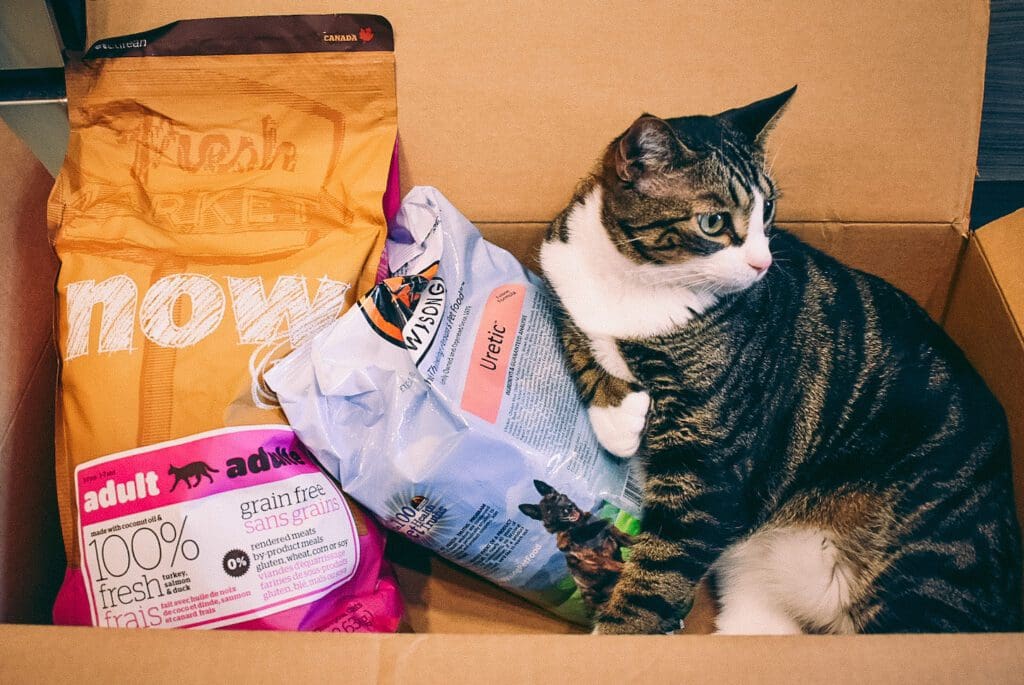 My Cats Eat a Mix of Wet and Dry Cat Food
My cats eat a mix of wet and dry food, and there are pros and cons to both, as you'll find if you look around online. As for kibble, all three of my cats love it. Emory does this cute (read: annoying) thing at night where, if the kibble bowl is empty, she'll let her displeasure be known — usually by harassing Olivia or knocking stuff off the counter. She has us trained. It's fine.
Why Feeding my Cats High Quality Dry Food is Important to Me
I've been careful about what I feed the kitties their whole lives. My family has always had dogs, and our dogs have always been a bit on the overweight side. With the kitties, I've tried to be more cognizant of how much they eat and what exactly they are eating. I think this vigilance has really paid off, based on the kitties' shiny coats and general health.
High Quality Dry Cat Food Favorites
I've been feeding my cats the same primary kibble since I adopted Olivia — Petcurean Now Fresh. After I adopted Olivia, and after she had some issues with her urinary health (fairly common in cats), I added a second kibble — Wysong Uretic Kibble. Emory had a different type of kibble before Brett and I moved in together, but she took to the Petcurean and Wysong kibbles without any hesitation. So far, I haven't had an issue with the cats getting tired of these kibbles, either, which is great.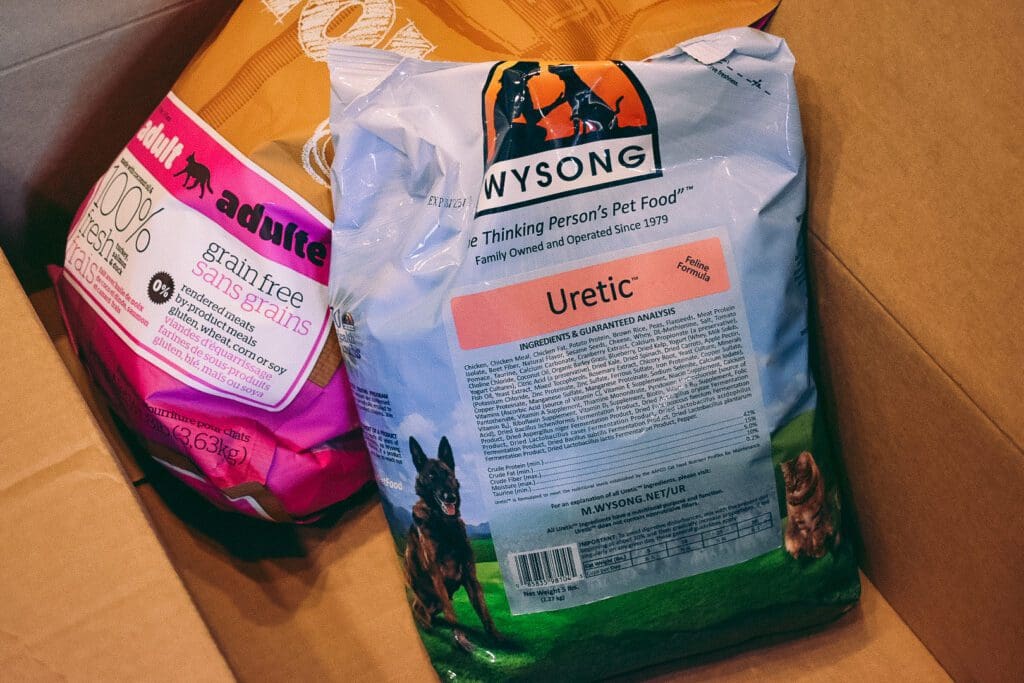 Petcurean Now Fresh – My Cats' Primary Dry Kibble
I'm a big fan of Petcurean, a Canadian family-owned brand that's been creating quality pet food for two decades. They use great, high quality ingredients and focus on a number of feline health intricacies. For example, Petcurean includes pre and probiotics to support digestion and taurine, which is important for kitty vision and heart health.
Petcurean has a couple lines of kibble, but I have always stuck with the Now Fresh line. This line is grain free and doesn't use rendered meats or by-products. The kitties have tried a number of flavors, but we usually get the adult turkey, salmon, duck, and omega oils variety. They've also enjoyed the fish variety.
Pick up Petcurean Now Fresh from Chewy here. Certain varieties are sometimes available via Amazon Prime as well.
Wysong Uretic Feline Formula Dry Cat Food – My Cats' Secondary Kibble
I started adding the Wysong Uretic formula to the Petcurean kibble when Olivia came down with her first urinary infection. Unfortunately, urinary issues are pretty common in cats, and, from what I understand, can often be stress induced. Luckily, Olivia's have largely been able to be controlled with food (plus some calming pheromones).
The Wysong Uretic kibble is great because it's health oriented and affordable. It's often at the top of the list for best cat foods for urinary tract health. Created by a vet, Wysong's recipes have grown in popularity "mostly through word of mouth and through the veterinarian community."
This particular kibble is designed to treat urinary tract issues, but it also protects kitty eye and heart health with taurine and fights allergies with rosemary extract. Recently, the recipe was reformulated to include higher levels of micronutrients, probiotics, and lots of other good stuff.
Pick up Wysong Uretic from Amazon or Chewy.
Honorable Mentions: Other King Lou & Co. Approved High Quality Dry Cat Foods
While the Petcurean and Wysong are the staple kibbles in my house, I do sometimes order a third bag with my Chewy autoship. Mostly, I don't want the cats to get tired of their staple kibbles, or think they might want some variety. Either way, King Lou & Co. have high standards and I have found a few recipes that they enjoy.
Sometimes, I'll use these kibbles as treats (more on that here). Other times, I'll mix them in with the Petcurean and Wysong in a large container for easy feeding.
"I and love and you" Lovingly Simple Dry Cat Food – Grain Free Limited Ingredient Kibble, Salmon + Sweet Potato
"I and love and you" cat food is a great deal for high quality dry cat food. This brand first came on my radar when I originally tried some of their wet foods for the kitties through the Chewy Influencer program a year or so ago. Since then, have been buying it on my own for them. The kitties love the limited ingredient kibble with salmon and sweet potato, and I love giving it to them because it has great digestive benefits and no fillers. The 3.4 lb bag is only $10.99 on both Amazon and Chewy (plus, you can get an extra 20% off from Amazon and an extra 5% off from Chewy if you do a subscription or auto ship).
Pick up this "I and love and you" kibble from Amazon or Chewy.
Orijen Cat & Kitten High-Protein, Grain-Free, Premium Quality Meat, Dry Cat Food
Sometimes I give Orijen kibbles to the kitties along with their primary kibbles, but a lot of times I use these and other higher protein blends as treats. This is a high quality dry food that has a ton of flavor, so I like to save it as a special snack for the cats. Either way, I wanted to include this kibble here because it has been a consistent hit with my cats. They particularly love the Six Fish blend and, let me tell you, it smells like fish, so you can be pretty confident that it has fresher ingredients in it. This particular blend features fresh, whole fish ingredients from Atlantic mackerel, herring, monkfish, Acadian redfish, flounder, and silver hake. All this makes for happy kitties. Orijen does a great job designing foods based on cats' biological and evolutionary needs, which I love. Chances are, so will your mighty hunters and huntresses.
Pick up Orijen kibbles from Amazon in a variety of flavors and sizes.
Where to Buy High Quality Dry Cat Food
Big box pet supply stores, like Petco and Petsmart, have started carrying some great pet food brands, but I've yet to find a chain store that carries either Petcurean or Wysong. Gainesville spoiled me, since there were three great, locally owned pet supply stores (like Earth Pets!). Since I moved to South Florida, though, I've had a hard time finding local shops that carry these brands.
First, I turned to Amazon. I typically have been able to find both of these kibbles on Amazon, but the sizes and flavors haven't been super consistent. For example, right now, they don't seem to have the turkey variety that we typically get.
Then, I turned to Chewy after seeing some rave reviews for the site on Instagram. Chewy is a great one-stop-shopping option. Besides carrying pretty much any pet food brand you can think of, they also has a ton of great treats, toys, and general pet accessories. Their customer service department is great — very understanding and accommodating — and the autoship program is super handy. You can schedule the auto ship for pretty much however often you want, and change the interval whenever you need to. That way, you never run out of the kitties' favorites!
Plus, Chewy boxes are super fun!
---
Pet supplies can be pricy. Check out my tips on how to save money on cat supplies!
---
Check out these popular Cat Mom Life posts!
---
---