What Is Classic Casual Style?
To me, classic casual style is style that stays relevant, relatively unswayed by trends. When I think of the term, I tend to picture a certain amount of J.Crew, which I think has less to do with J.Crew's styling and more to do with their brand's ability to tap into timelessness. Classic casual style is cool, easy, and comfortable. As described by Who What Wear, "wearing pieces and outfit combination that never go out of style . . . ensures you'll never look like you're trying too hard. Effortlessness is key for timeless style."
Having a closet full of classic casual style pieces can take the guesswork out of picking outfits. These pieces typically would go well together, or allow you to play with a fun statement piece rather simply. Whether you have a go-to outfit formula, or just plan to have a bunch of great pieces that all pretty much go together, classic style pieces are well worth the investment.
Tips for Collecting Classic Casual Pieces
Think Intentionally
First and foremost, I invite you to be super intentional in your choice of classic pieces. Whether you're looking to save money or take the time to find long lasting (but slightly more expensive) pieces, do so with authenticity.
Consider the Colors You Currently Wear
Think about the colors you like to wear. Are you pretty monochrome in your choices, preferring pops of color here and there, or do you have a rainbow for a closet? If you skew one way or the other, bear that in mind when picking out pieces. While it is fun to challenge ourselves to try new styles and colors, I recommend going with a more tried-and-true palette for your classic style collection.
Prioritize Pieces That Are Comfortable, Functional, and Flattering
Classic pieces should be comfortable, functional, and flattering. If a piece you find is two of the three things, I'd recommend thinking twice about picking it up. I have plenty of great pieces that are functional and flattering, but really very comfortable. Consequently, I don't often reach for them outside a special occasion. This is fine for some pieces, but when building a casual classic style wardrobe, try to stick with pieces you can see yourself truly, honestly wearing in your day-to-day life.
Where to Find Great Classic Casual Style Pieces
At the risk of over-complicating the issue, many — if not most — great brands tend to have at least a few classic style pieces. Look at Alice + Olivia, for example. While you can find a super fun rainbow butterfly dress from the brand, Alice + Olivia also features classic pieces that you'll use for years, like this simple white dress.
While Alice + Olivia is a bit of a dressier example, there are so many great casual options out there. Some of my go-to casual classic style brands are Frank & Eileen, J.Crew, and Madewell. I like to pepper in some pieces from Joie and Rebecca Taylor, among others, as I find these brands breach the gap between casual and professional.
Examples of Great Classic and Casual Pieces
If you're looking for some inspiration, I've gathered a number of great classic and casual pieces here. I've divided them into three separate looks, but the pieces would really all go together, like its own little capsule wardrobe. Links below the pictures are tagged clockwise from the top left of the photos.
P.S. if the Madewell Northside Vintage Tee looks familiar, its because I also featured it in my recent post about Nordstrom's great Madewell selection!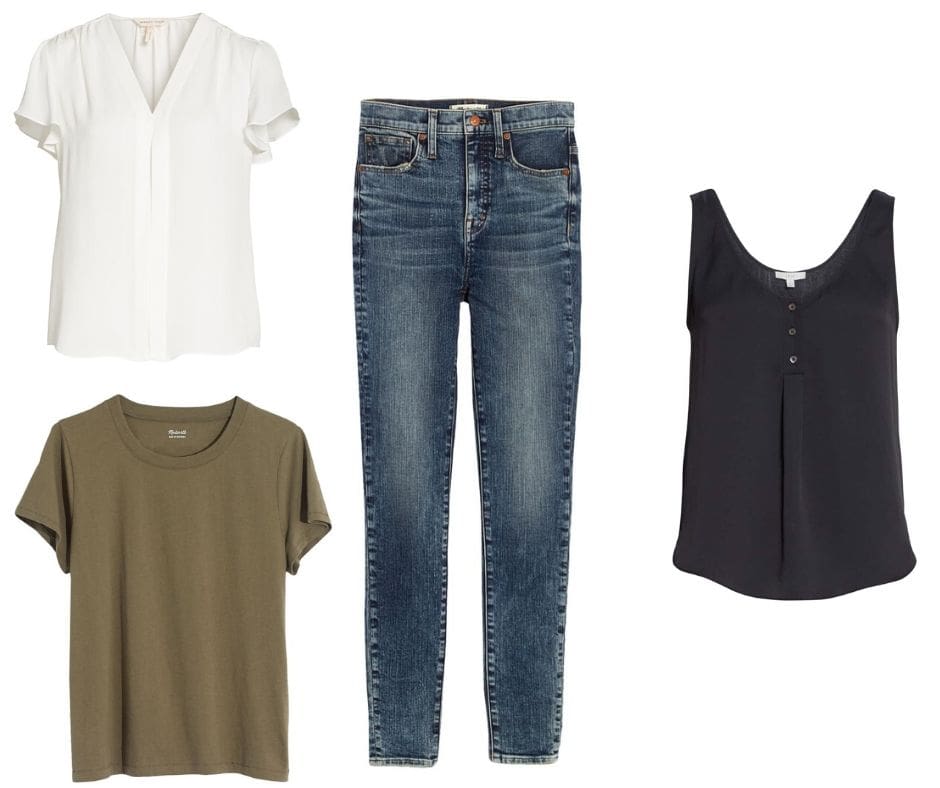 Rebecca Taylor Celina Silk Top // Madewell 11-inch High Waist Skinny Jeans // Joie Caelen Tank // Madewell Northside Vintage Tee
---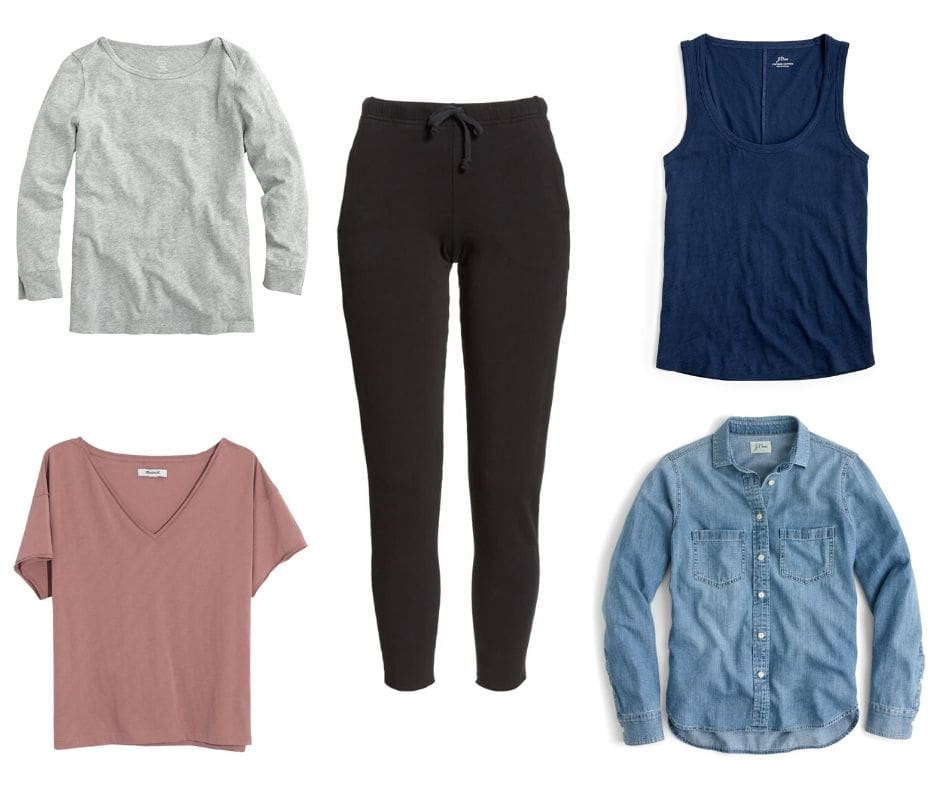 J.Crew Boatneck Painter Tee  // Frank & Eileen Slim Jogger Pant // J.Crew Vintage Cotton Tank // J.Crew Everyday Chambray Shirt // Madewell Drapey V-Neck Crop T-Shirt
---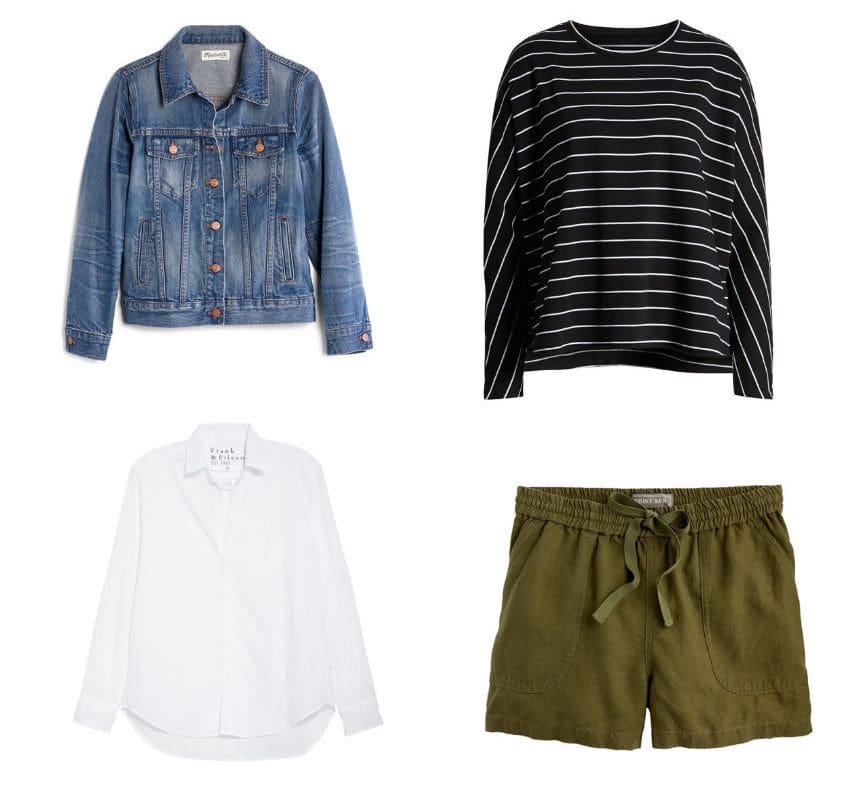 Madewell Denim Jacket // Frank & Eileen Tee Lab Oversize Stripe Sweatshirt // Frank & Eileen Featherweight Cotton Shirt // J.Crew Point Sur Seaside Shorts
---
Pin this post to save it for later!