Choosing the Right Housewarming Gift
Whether it's a friend or family member, it is always nice to help celebrate a new home. Housewarming gift ideas can be overwhelming, though. Sometimes, it's easy enough to think of the perfect gift. You may know of a trinket or kitchen tool that someone is looking for. I don't think it's necessarily a reflection on how well you know someone, however, if you have a hard time thinking of something.
"Home is where one starts from."

T.S. Eliot
---
Great Housewarming Gift Ideas
Whether you're looking to spend a lot, or a little, I have found a number of great options.
Ring Video Doorbell with HD Video and Motion Activated Alerts
I think the Ring Video Doorbell is probably the easiest and most one-size-fits-all housewarming gift ideas there is. This easy-to-install security camera works with your cell phone to let you see who is at the door. It's motion activated, which means you can keep track of your property while you're away without much trouble at all.
The original Ring is available at Amazon for $99. The newer generation Ring 2 is available on Amazon for $199 and at Target for $199.
Rachael Ray 10-Piece Steel Bakeware Set
I think it's pretty typical to have a miss-matched set of bakeware; I know I certainly do. For someone with a lovely new home, why not treat them to a lovely and matching bake wear set! These Rachael Ray sets are between $80 and $90 (varies based on colors; Target has the red for a bit more money) and have pretty much every style baking sheet a new home may need. The bakeware has oven-safe silicone grips to help provide a safe, comfortable grip even through potholders.
Pick up this 10-piece set from Amazon here or Target. The price varies depending on the retailer.
Decorative Wine Racks
Wine racks are a great one-size-fits-all gift. I think these would work for even non-wine drinkers, because they're almost as decorative as they are functional. Amazon has a few great options, with three of the four pictured here under $40.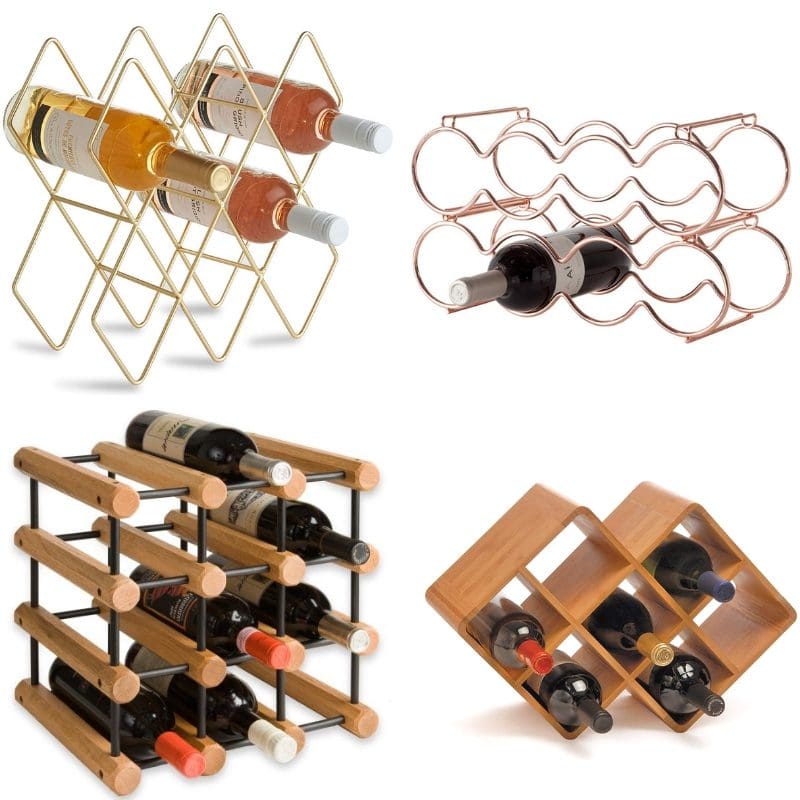 Clockwise from top left:
VonShef 8-10 Bottle Wine Rack ($22.95)
DINY Home & Style Rose Gold Stackable Table Top Wine Rack ($12.99)
Oenophilia Bamboo 8 Bottle Wine Rack ($31.99)
J.K. Adams Ash Wood 12-Bottle Wine Rack ($60.00)
Cute Little Potted Plants
Whether they have a green thumb or not, a low-maintenance plant can be a great gift. I would recommend going with a succulent or similarly easy-to-maintain plant, since they're pretty hearty. Most hardware and gardening stores have pre-potted options, but don't forget to check Amazon out, too. I found this colorful set of three for under $20!
Decorative Doormats
There are so many fun doormat options out there, why not consider these as a housewarming gift? You could go with something funny or cute, like the "you're about to get hugged" option, or something pet-related for the animal lovers in your life. If you're not quite sure which way to go, there are so many simple yet decorative doormats that are sure to please.
Clockwise from top left:
HomeTrax Wipe Your Paws Doormat ($34.99)
KAROLA Ask Not For Whom The Dog Barks Doormat ($18.99)
Room Essentials You're About to Get Hugged ($12.99)
Calloway Mills Cactus Doormat ($22.59)
Park Pineapple Coir Doormat ($31.99)
Electric Tea Kettels
Electric tea kettles are super handy to have around, whether you drink tea or not. I have had mine for a couple years now and use it probably three to four times a week at a minimum. Obviously, they're great for tea, but they're also helpful if you need to quickly get some water boiling, or if you just want to make a little broth at a time.
Pick up the glass Hamilton Beach kettle here and the stainless steel option pictured above here. Both options are under $35 at Target!
---
Lookin for more ideas?
Check out my Easy and Useful Housewarming Gift Amazon Ideas List here and my 10 Useful Kitchen Gadgets Under $25 post here!