How to Use Gold Color in the Home
Though I don't have the strongest opinions on whether I like gold or silver more, I am really drawn to green and gold home decor. Green is my favorite color, and there are so many beautiful gold decorative accents out there that pair nicely with it. There are plenty of ways to incorporate gold decor in your home, from larger mirrors to cabinet hardware and everywhere in between. In my own searches, I've found some great pieces to share with you here in my guide to gold accent decorating ideas!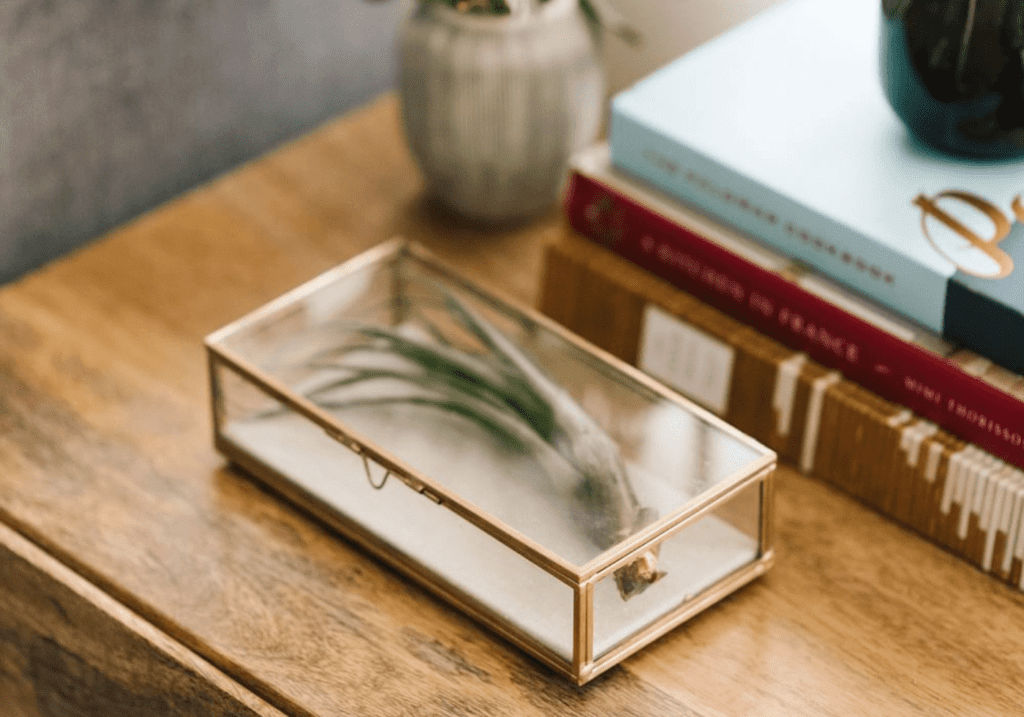 Terrace Golden Glass Shadow Boxes
Gold Home Decor Accessories
Whether you're looking for utilitarian options, like shelves or baskets, or prefer purely decorative trinkets, there are plenty of ways to incorporate gold decor in your home. This round up highlights decor accessories, rather than gold wall accents. I've found that, personally, I tend to gravitate towards decorative trinkets. However, I did find some great wire shelves from Etsy and a few beautiful gold mirrors that would suit this motif!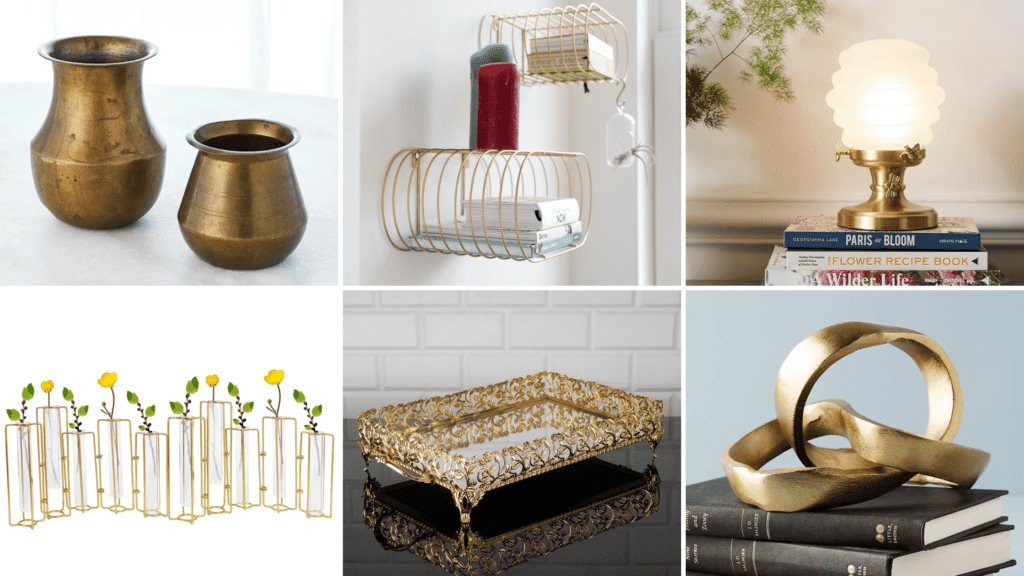 Top Row: Brass Lota Pots | Gold Floating Shelves | Bumblebee Accent Lamp
Bottom Row: Hinged Gold Bud Vases | Handmade Gold Mirror Tray | Knotted Decorative Object
Geometric Gold Accents
In line with the purely decorative, I found a handful of geometric gold accent pieces. These would certainly suit an organic modern home style, as well as something more classic. For example, I like the Knotted Decorative Object above and the Jack Decorative Object below, both from Anthropologie. For something a bit more useful, this little Roman Antique Platinum Heart Bowl from Bloomingdale's has both charm and utility.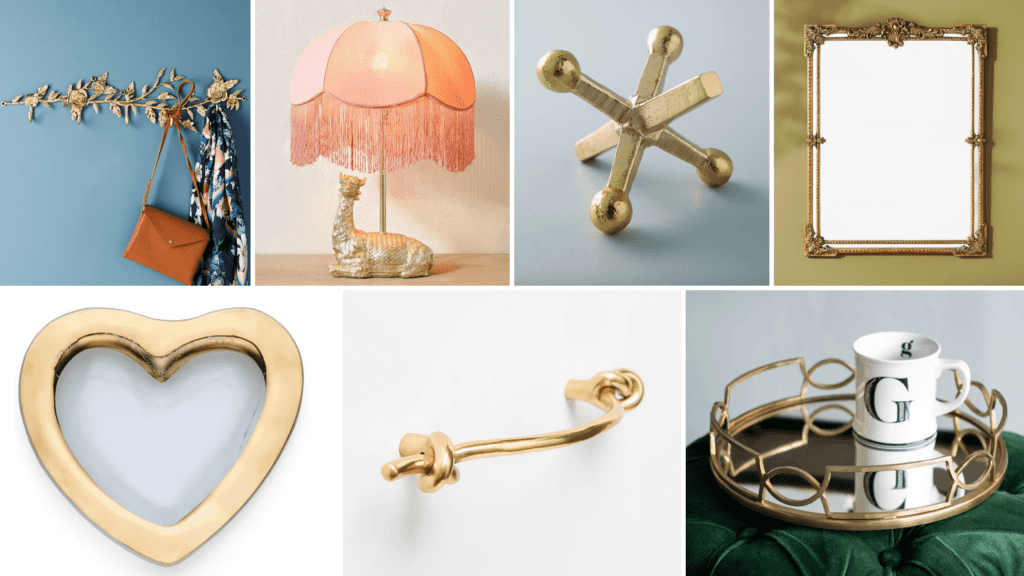 Top Row: Madison Hook Rack | Lars the Llama Table Lamp | Jack Decorative Object | Mireille Mirror
Bottom Row: Roman Antique Platinum Heart Bowl | Adeline Knotted Kitchen Handle | Belroy Tray
Gold Lamps
When I set out to write this, I didn't expect to find as many lovely gold lamps as I did. Lamps rarely draw my eye unless they're either very unique or an unusual color. In most cases in this post, they are unique — see, for example, the Raccoon Table Lamp. At the same time, though, I was also drawn to this simple and classic Clover Sconce.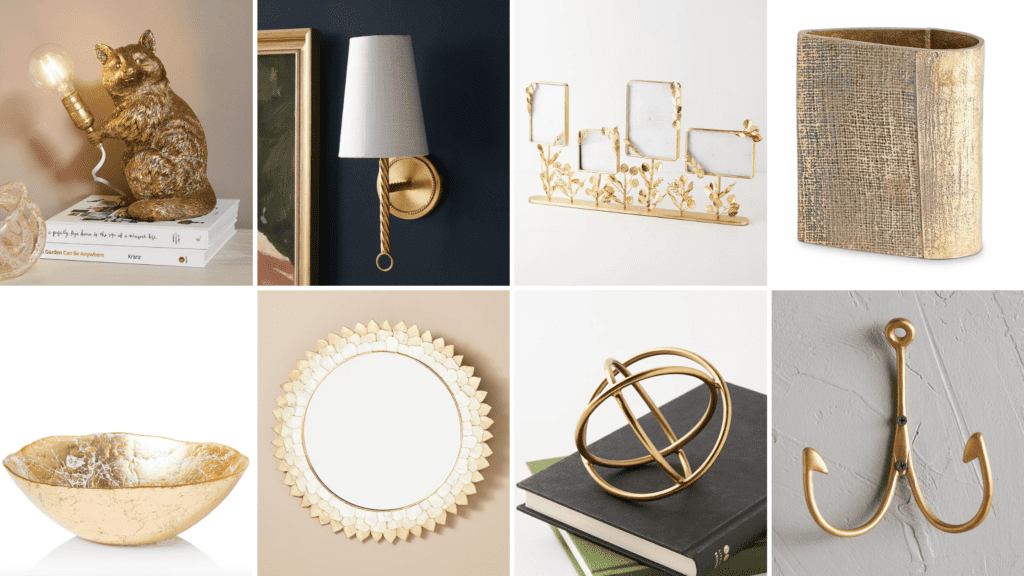 Top Row: Raccoon Table Lamp | Clover Sconce | Celine Four-Picture Frame | Small Linen Print Vase
Bottom Row: Small Moon Glass Bowl | Penny Ombre Capiz Mirror | Spherical Decorative Object | Fishing Hook Hanger
Gold Picture Frames & Keepsake Boxes
Picture frames and shadow boxes are ideal ways to use gold decor in your current space. Whether you're trying to protect and display delicate objects, or you're looking to display photo prints, I find West Elm and Anthropologie are two of the best stores for these pieces. These are great additions to bookshelves, end tables, or even coffee tables!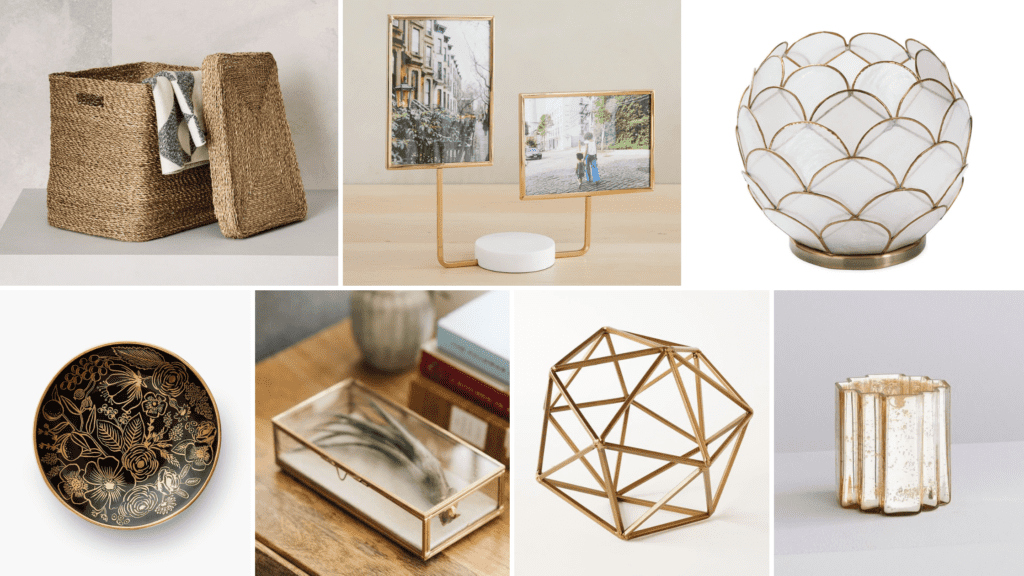 Top Row: Metallic Woven Oversized Lidded Hamper | Aaron Probyn Marble Tabletop Frames | Scalloped Capiz Hurricane
Bottom Row: Colette Ring Dish | Terrace Golden Glass Shadow Boxes | Symmetrical Brass Objects | Decorator Mercury Hurricanes
Favorite Gold Decor Finds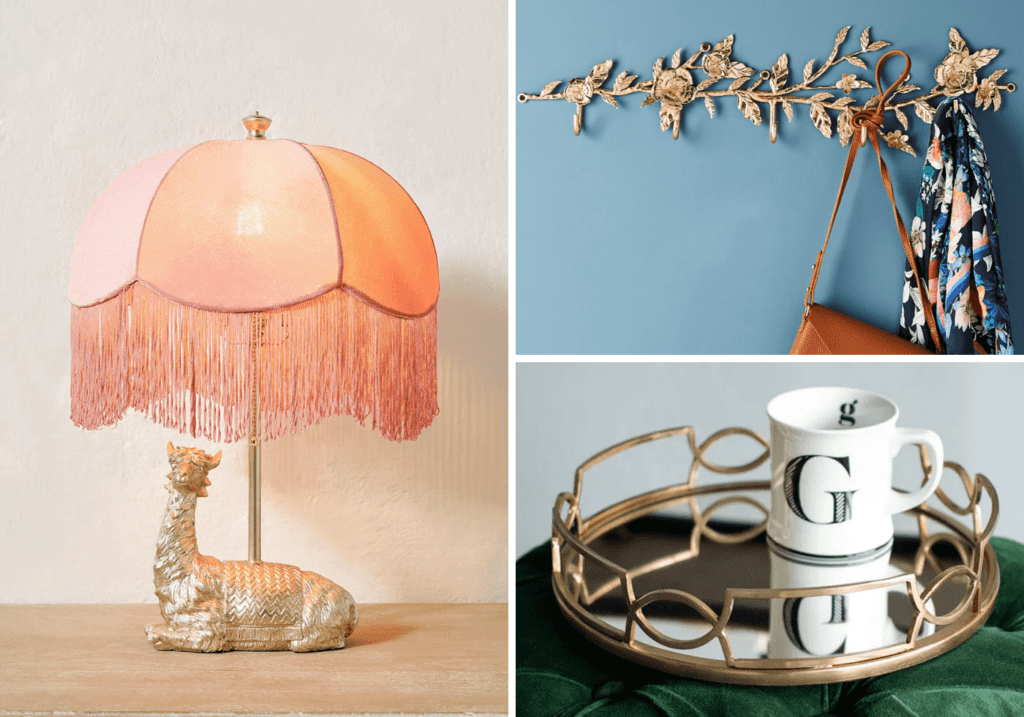 If you like these gold home accent finds, I think you're going
to love my Organic Modern Style Home Decor Guide!