A Cozy Valentine's Day
Like with most holidays lately, Valentine's is likely to be a quiet affair. While I do enjoy going out for for dinner on holidays like this, it is also nice to have a quiet and cozy night in. For Valentine's Day this year, I'm looking forward to making some good food (I'm thinking of trying this vegan parmesan gnocchi recipe), sipping on some nice wine or beer, and generally having a cozy night in with Brett and the kitties. I'm thinking of treating the kitties for Valentine's Day, as well, with some of their favorite nip!
How to Have a Cozy Night In
While you can find some cute gift sets and a variety of tips out there for cozy nights in, I think that no cozy night in is complete without a lovely tea. I have this cute green Pinky Up kettle (it made an appearance here before). It makes the perfect amount of tea (20 ounces) and is easy to clean. Pair your tea (this is one of my go-to favorites) with some nice bath and an audiobook or podcast (I had to get the Baby Yoda speaker in here somehow!). Then, you'll be the epitome of cozy.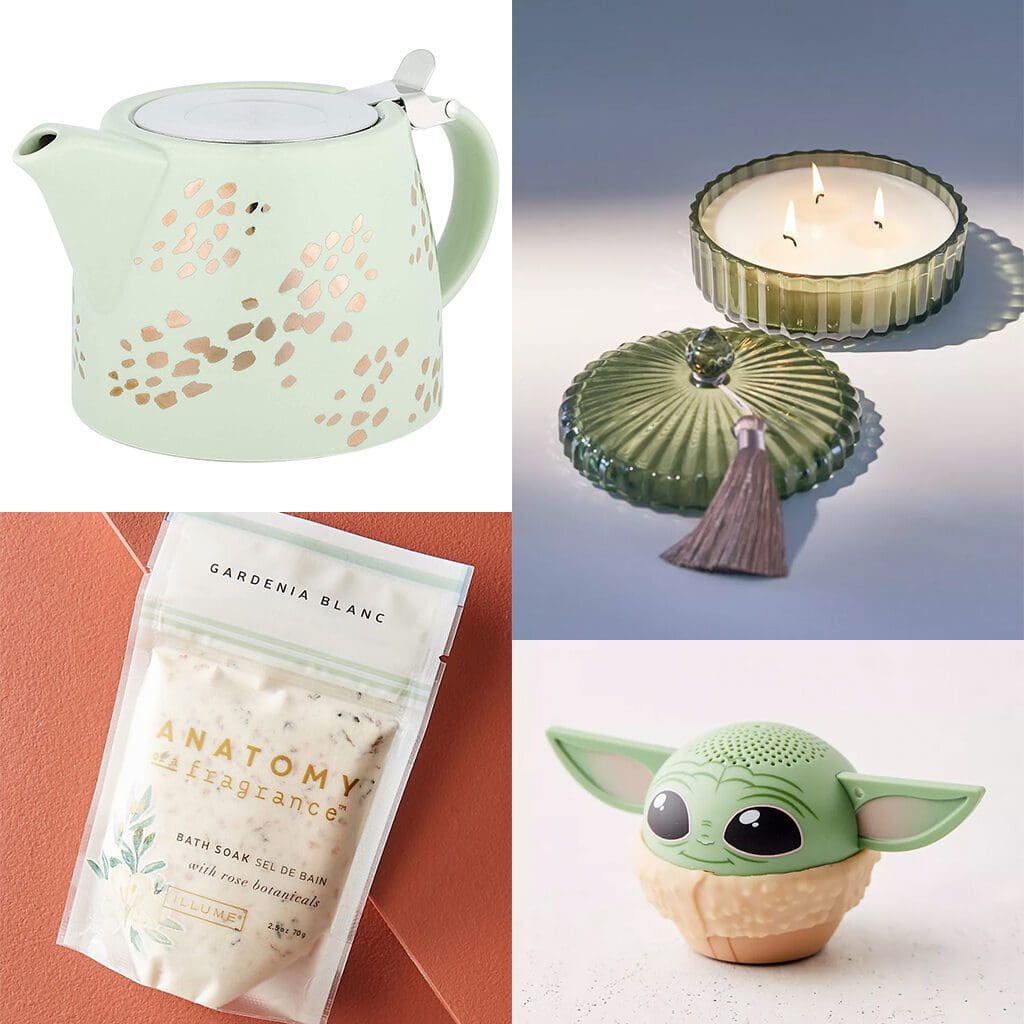 Top Row: Pinky Up Kettle | Chloe Glass 3-Wick Candle
Bottom Row: Gardenia Blanc Bath Soak | Baby Yoda Wireless Speaker
Must-Have Cozy Night In Styles
I've started eyeing some replacement pieces for my hang-out clothes. Since we're reaching the one-year mark of the pandemic, it might be time to get something that makes me feel a little more put-together on a daily basis. Whether it's a cozy sweatshirt or sweater, a nap dress, or a cute and coordinated jogger and sweater set, find something that makes you feel good and go from there.
Top Row: Beach Happy Pullover | Mini Coffee Body Scrub |Nora Nightie | Snoopy Light |Trapeze Slip
Bottom Row: Heatable Plushie | Cooling Facial Globes | Essential Oil Diffuser | Jacques Stripe Pullover
What to Do for a Cozy Night In
Movies and Netflix marathons are always a great idea for a cozy night in, and New Year's Eve this year is no exception. Watch something new and intriguing, like The Queen's Gambit (watched it, loved it, going to binge it again), catch up on a recent series (such as A Discovery of Witches), or go with a feel good favorite.
Top Row: Spa Day Headband |Da Bomb Bath Bomb | Hill House Ellie Nap Dress | Madewell Sweatshirt & Sweatpants | Disco Queen Jigsaw Puzzle
Bottom Row: "Je Suis Tired" Face Mask | Night Pillow | Backgammon Gaming Set |Aerie Fleece-Of-Mind High Waisted Short
Puzzles have been incredibly popular since we all started staying home more, and Madewell has a number of great options. Brett and I have been loving backgammon lately (we have this set) — it's a fun way to spend time together without staring at the TV all night.
Getting crafty is a great option, too! Try your hand at knitting with a colorful, guided We Are Knitters kit or pick up some crochet instructions from your local craft store.
Whatever you do, I hope you enjoy the opportunity to have a cozy night in!