Welcome back to the Cats & Coffee My Current Loves series. This edition features four things that stand out in the last month for me: my new clean beauty favorite Kosas Revealer Concealer, Chariteas' Herbal Infusion Tea Flight, the Great British Baking Show, and Antonia Fraser's Warrior Queens.
Check out my last edition of this series here, featuring stickers designed by one of my dearest friends, a great at-home pumpkin spice latte, a fascinating podcast from the New York Times, and a kitchen gadget that is making a world of difference in my cooking routine.
Let's dive right in:
Kosas Revealer Concealer Super Creamy + Brightening Concealer
I've been working on switching over to a fully clean beauty makeup routine as I finish older products. Recently, I picked up this Kosas Revealer Concealer to replace my almost-empty L'Oreal Infallible Full Wear Waterproof Matte Concealer. While the L'Oreal option is a great price and is available in a wide variety of colors, it's quite a heavy formula. The Kosas Concealer, on the other hand, feels much lighter and is far easier to blend.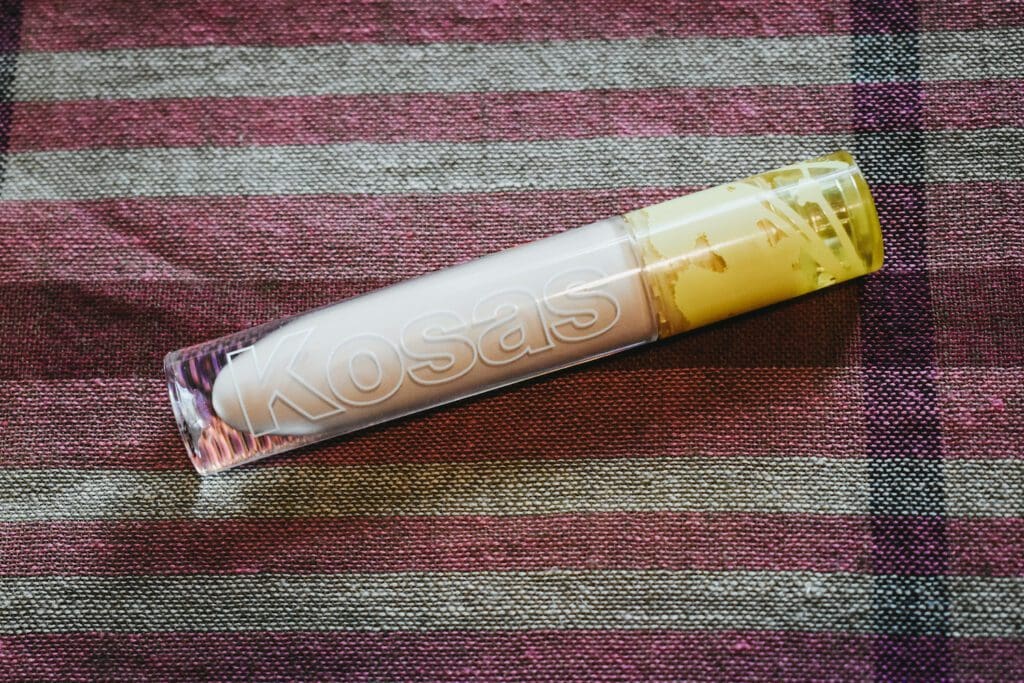 The Kosas Revealer Concealer is a vegan and cruelty-free formula, free of sulfates, parabens, and other undesirables. What's more, the formula works overtime to diminish dark circles and blemishes while also offering strong concealer coverage. It features arnica and panthenol to combat blemishes, as well as caffeine to brighten and peptides to help plump the skin. And, at $28, it's not a bad price for clean beauty.
The only downside of this product is the packaging. Unfortunately, the top did crack and I've had to tape it back together. I'm not sure how it broke, whether I screwed the cap on too tightly or whether a cat was involved or both… But it wouldn't be the first beauty product damaged by my furbabies (RIP Fenty highlighter palette…).
Check out the Kosas Revealer Concealer at Sephora, Nordstrom, or the Kosas' brand website. (It is available on Amazon, but is over $40 for some reason; it's $28 at the other three options.)
Chariteas Loose Leaf Herbal Infusion Tea Flight Sampler
Last month, Chariteas was kind enough to gift me a loose leaf tea sampler to try. I'm a huge loose leaf tea drinker, so I'm always excited to try new brands, particularly those that promote good causes. Chariteas, an Oregon-based tea company, replants trees for each purchase of tea from their website. Really, a win-win all around!
Chariteas sent me a small sampler of their Herbal Infusion Tea Flight. This flight includes Blueberry Cobbler, Berry Fields Forever, and Olive and Dingo's Color Changing Tea blends. The flight set includes 9 ounces of loose leaf tea in total for $36, and each serving of tea leaves can be steeped twice.
The Berry Fields Forever has been my favorite flavor so far, particularly when it's iced. It features a distinctly fruity flavor that is sweet but not overwhelming. Basically, it's a great option for anyone who likes fruity tea but also wants to move away from the conventional tea bag option you can get from grocery stores.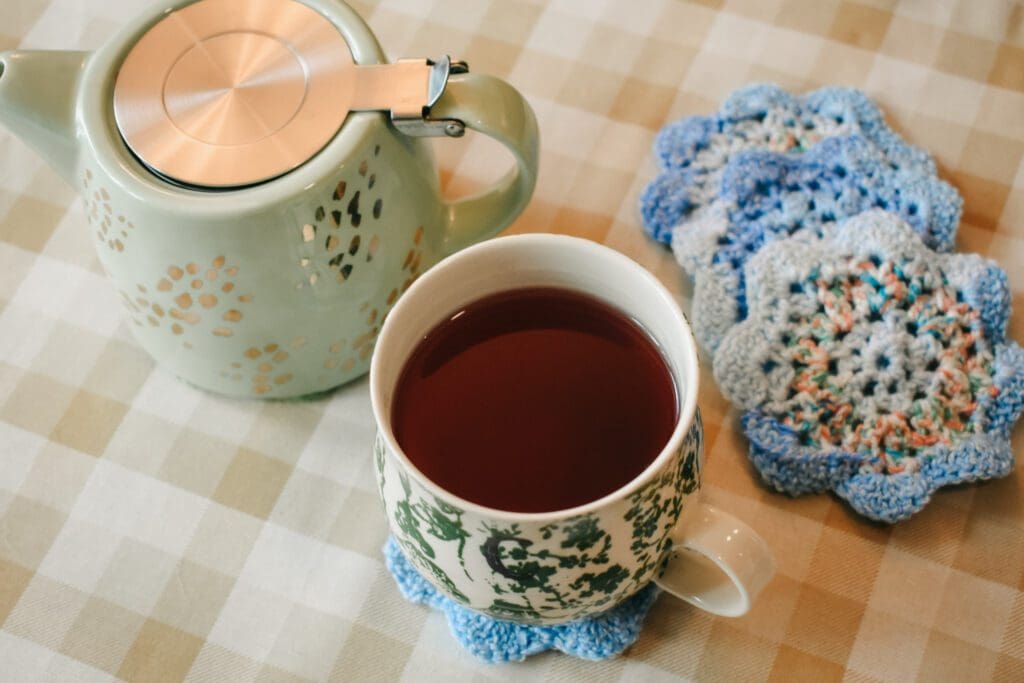 P.S. Do you like my tea pot and coasters? This Pinky Up tea pot is the perfect size — it makes 20 fluid ounces of tea and is small enough to easily store. Shop all of my handmade coasters in my Critter Crafting crochet shop.
Explore Chariteas' loose leaf blends, other products, and mission here. I'm eyeing this Victorian Faire blend, featuring black tea and Italian bergamot. Sounds great!
The Great British Baking Show
I had seen bits and pieces of the Great British Baking Show before I started watching the series in earnest a few weeks ago. While I had previously found it interesting, I couldn't help but feel like it just made me really crave cakes and baked goods.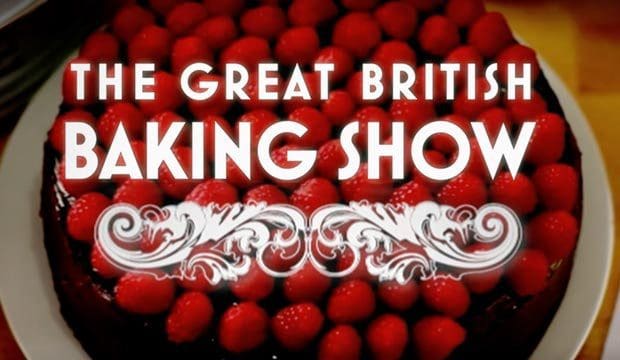 Fast forward to month seven of the pandemic and I found myself running out of light and fluffy TV shows to watch. So I decided to give it another shot. And now I'm hooked.
I don't know if the show makes me want to bake, or if it makes feel overwhelmed but he amount of work that goes into making some of these recipes, but I can't pry myself from the TV. It isn't going to be a good day when I finish all the full seasons on Netflix, but I anticipate that will be sooner rather than later.
The Warrior Queens: The Legends and the Lives of the Women Who Have Led Their Nations in War by Antonia Fraser
Antonia Fraser is a prolific historical writer, highlighting historical figures such as Mary Stuart, Marie Antoinette, and the many wives of Henry VIII. In Warrior Queens, Fraser details the lives, triumphs, conquests, and failures of a variety of female rulers throughout history, including Cleopatra, Boadicea, Zenobia, Tamara, Catherine the Grate, Caterina Sforza, Queen Elizabeth I, and many others. This book is a study of strong women who led armies into battle and rose to mythic status throughout history.
Pick up Antonia Frasers' The Warrior Queens: The Legends and the Lives of the Women Who Have Led Their Nations in War from Bookshop.org, Amazon, or Walmart.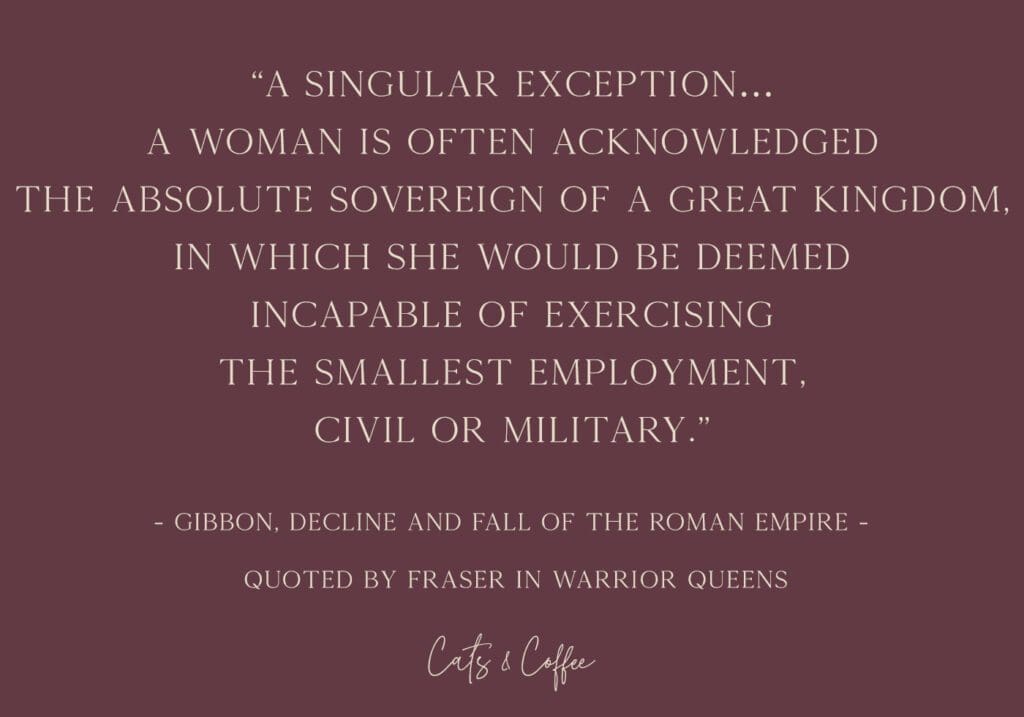 ---
You Might Also Like…
---
More Favorite Finds