Rice Bowl Recipe Basics & Inspiration
Broccoli was buy-two-get-one the other week at Publix, so I've been eating broccoli for days now. I had a bag and a half left after I froze some and made a different pasta dish. Between the bag of broccoli and the butternut squash, though I knew I could cook up something good. Enter, this simple and satisfying rice bowl recipe!
Jump to Recipe
Ingredients for the Plant Based Rice Bowl
This is a pretty straight forward recipe that can be tweaked however you want. Here's what you'll need:
About 2 cups of broccoli (I used 1 small steamer bag of fresh broccoli)
1/2 diced butternut squash
4 small tomatoes
2-3 smashed garlic cloves
2-3 tablespoons of diced onion
Olive oil
1/2 cup dried lentils
1/2 cup of brown rice
Optional: cheese for on top, or go with your favorite vegan cheese
Pro tip: butternut squashes are super cheap and super easy to freeze. I diced up the whole squash while I was making this dish, and froze half for later! Plus, you can easily use the scraps to make your own vegetable stock.
Building the Rice Bowl
First, I added the diced butternut squash, white onion, garlic, and olive oil to a deep sauce pan. I let these ingredients simmer a bit while I diced the tomatoes.
Second, I added the broccoli florets to the pan. I topped off the broccoli with a bit more olive oil and incorporated the oil and broccoli into the squash blend. Then, I added the tomatoes and incorporated those.
Next, I poured the dry lentils and brown rice into the pan and mixed them in with the vegetables. I quickly added water to the pan — about 1.5 cups at first and added more throughout as needed.
I let the rice, lentils, and vegetables simmer for a while on mid-high heat (started at high, dropped it down after ten or so minutes).
The brown rice can take a long time to cook, so it's important to keep an eye on the water content. There's a lot of water in the vegetables, so I like to start out with less water than is traditionally necessary (IE: 2 cups of water for 1 cup of rice) when cooking the grain with the vegetables. It's always easier to add water than to soak excess up.
Once the rice and lentils were soft, dinner was ready! I plated it, added some cheese, and tried it out. Tasty!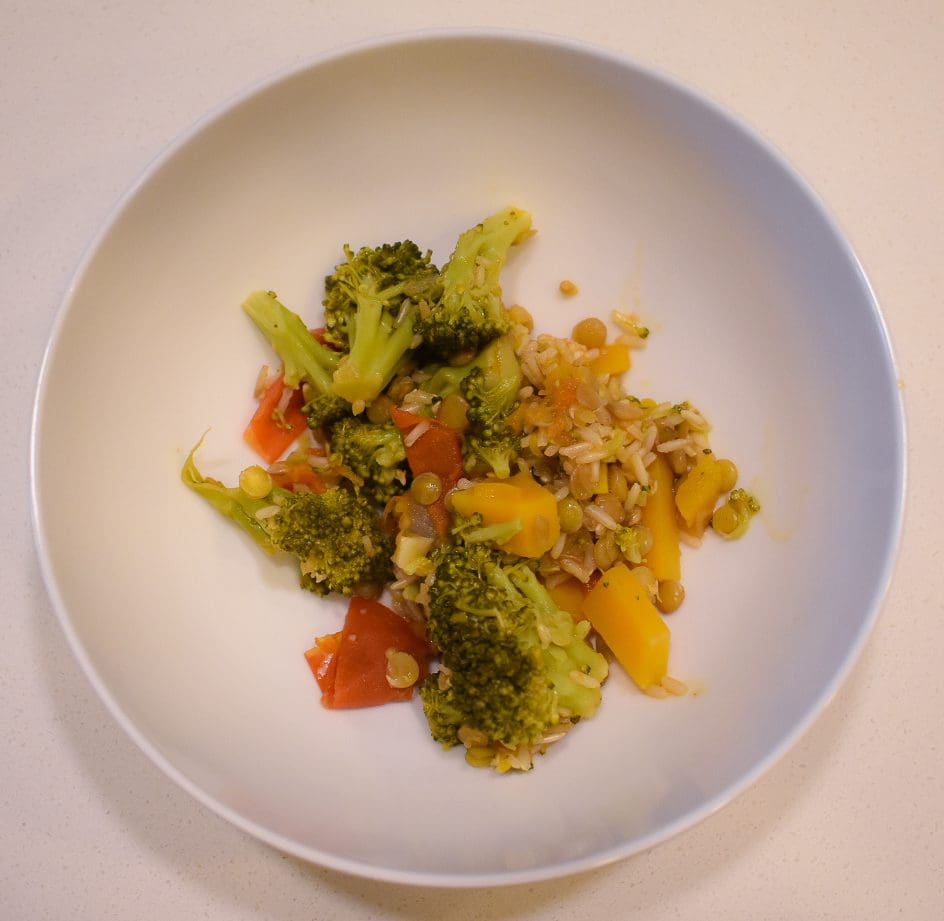 Vegan, But With Optional Cheese Topping
The rice bowl recipe, without the cheese on top, is a great vegan meal option. If you want to keep it that way, you can skip the cheese or go with a vegan cheese option. Alternatively, try adding a bit of nutritional yeast to the recipe or on top for a vegan cheesy flavor.
This recipe is a winner with or without cheese for me. After I took these photos, I added a bit of shredded mozzarella and it was a nice touch, but it's also great without.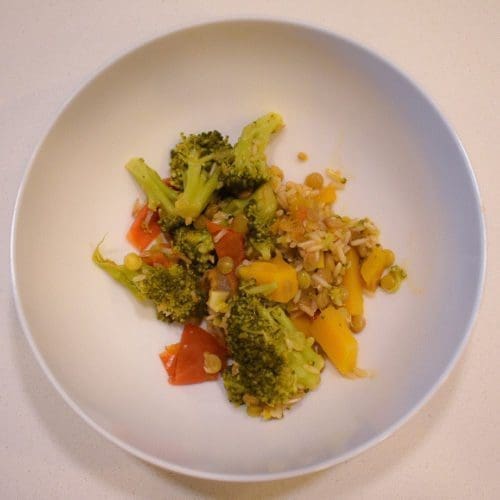 My Simple & Satisfying Rice Bowl Recipe: Brown Rice, Broccoli, & Butternut Squash
Ingredients  
2

cups

Broccoli Florets

1/2

Butternut Squash, Diced

4

Small Tomatoes

2-3

Cloves

of Smashed Garlic

2-3

Tbsp

Diced White Onion

2

Tbsp

Olive Oil

1/2

Cup

Dried Lentils

1/2

Cup

Brown rice

Optional: Shredded Cheese
Instructions 
Dice butternut squash and onion, smash garlic, and add these to a saucepan with olive oil on medium heat.

After incorporating the diced ingredients, add the broccoli florets and tomatoes and mix them all together.

Add the dry lentils and brown rice to the pan and mix everything together.

Add 1.5 cups of water to the pan and increase the heat until it boils.

Once it boils, reduce heat to mid-high heat and let it simmer.

Stir regularly to ensure the rice and lentils don't stick to the bottom of the pan. Add more water if necessary. It should take approximately 20 minutes to cook the rice all the way through.

Test rice and lentils for softness. If they're to your liking, go ahead and plate and add cheese, if you'd like!
Looking for other vegetarian meal prep options?
Check out my Roasted Pomodoro Pasta and Pasta e Ceci recipes!
---

---